2017 NFL Mock Draft: Cleveland Starts It Off With Fireworks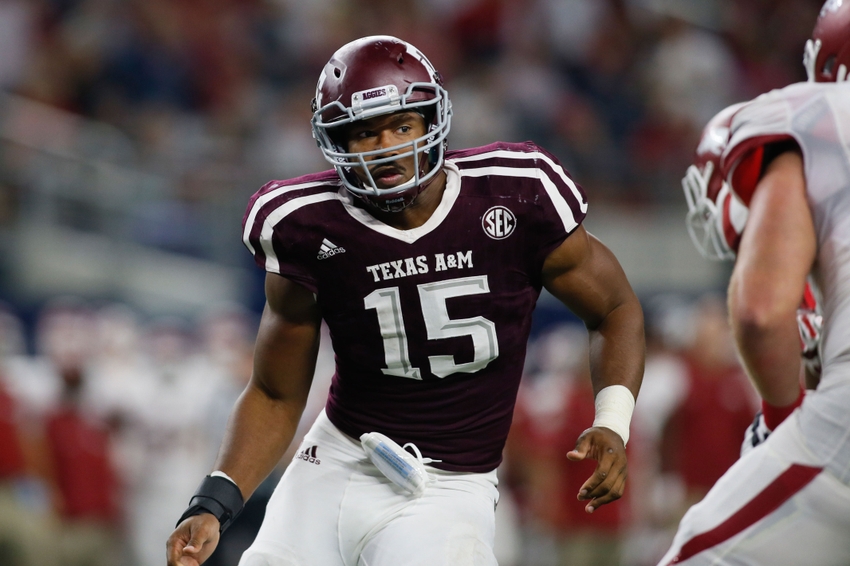 The shifting on both the pecking order and the players expected to go early continues. This 2017 NFL mock draft reflects that much.
In this instance it's more of a rundown of the top 32 section by section, exploring how the shifted order has impacted who will go where and when. Of course it wouldn't be the draft without a shocker to kick things off.
1. Cleveland Browns
1
Myles Garrett
DE,

Texas A&M
Nearly everybody will expect the Cleveland Browns to go after a quarterback for obvious reasons. The problem is none of the QBs in the 2017 class look like better prospects than Myles Garrett. He is hands down the most talented and as close to a sure thing as any team will get in this draft. The Browns defense got one playmaker in place with Jamie Collins. Now they add another.
2. San Francisco 49ers
2
DeShone Kizer
QB,

Notre Dame
Chip Kelly has never been able to take a quarterback of his own in the draft this high. If he's going to run the offense his way, that has to change. The San Francisco 49ers are going nowhere with Kaepernick and Gabbert. DeShone Kizer is not a finished product yet but he's got the highest upside of anybody. A true athletic specimen with a good head on his shoulders. Clean up his fundamentals and he will be something to watch.
3. Chicago Bears
3
Mitch Trubisky
QB,

North Carolina
Jay Cutler may not be dead yet after he reminded everybody what he could do on Monday Night against the Vikings. That doesn't change the fact he'll be 34 next year. This team desperately needs a young arm in the pipeline to groom for the future. Mitch Trubisky is the hot name rising up boards. He's got the tools: strong arm, accurate, poised, mobile and not prone to bad decisions. He just needs a little more seasoning.
4. Jacksonville Jaguars
4
Jabrill Peppers
S,

Michigan
The Jacksonville Jaguars may not be run by Gus Bradley for much longer. Either way that should not stop them from continuing to fortify their defensive lineup whenever and wherever possible. In truth there are so many places they will be able to plug Jabrill Peppers. He's that good of an athlete. Odds are though he's destined for safety where he could become a superstar at the free position with his size, athleticism and playmaking instinct.
5. Carolina Panthers
5
Jonathan Allen
DE,

Alabama
If there is any pick that can be filed under "no brainer," it's this one. The Carolina Panthers build their defense around the front four. The best 4-3 units have a dominant front that can apply pressure and stop the run virtually by themselves, leaving the linebackers and secondary to focus on other tasks. Jonathan Allen is emerging as a beast at Alabama. Not only big and able to hold the point of attack, but quick and violent as a pass rusher. A perfect fit for that scheme.
6. New York Jets
6
Deshaun Watson
QB,

Clemson
Will the Jets give up on Christian Hackenberg that fast? If they're picking this high it's their best chance to get a more proven talent at that critical position, which Hackenberg is not. Deshaun Watson may be struggling a bit more this year but he's still putting up big numbers. On top of that he's lost just one game since the beginning of 2015. He's got great athleticism, a sharp mind and a good enough arm to make the big throws. Put him behind a sturdy offensive line and watch him work magic.
7. Indianapolis Colts
7
Jalen Tabor
CB,

Florida
The defense of the Indianapolis Colts really is a mess. Though well-coached and boasting one or two decent pieces, it's a unit that is playing second fiddle to the offense. They have no identity of their own. Part of that is the simple talent deficiency. Adding Jalen Tabor could begin to change that. He's a legitimate cover corner teams can leave out on an island and trust in press-man coverage. Put him across from Vontae Davis and they may have something going.
8. San Diego Chargers
8
Malik Hooker
S,

Ohio State
Much of the success for San Diego still rests on Philip Rivers and his ability to score points. Until the Chargers can consistently get stops on defense, they won't compete in the AFC West. One person they've missed is safety Eric Weddle. Without him their pass defense has been spotty at best. So they look to bolster that position. Malik Hooker has become a principal playmaker for Ohio State. He's got size, range, ball skills and the toughness to play down in the box.
9. Baltimore Ravens
9
Leonard Fournette
RB,

LSU
Ozzie Newsome is not a man to mess around. If he sees an easy pick, he'll take it. Getting fancy has never suited him. He likes SEC players and he likes his offense being able to run the football. What better way to do that than with a monster like Leonard Fournette. He is the complete, three-down back the Ravens haven't had since Jamal Lewis. He runs hard and with power but has an extra gear that makes him a threat to score if he reaches the open field.
10. Tennessee Titans (via LA)
10
Quincy Wilson
CB,

Florida
For the first time in years it looks like the Tennessee Titans have something going. Their offense continues to take big steps forward around Marcus Mariota. So now they have to get him some help with defensive stops. Pass coverage remains hit-or-miss with them due to spotty play at cornerback. Quincy Wilson is the "other" Florida corner opposite Tabor. Some even believe he might be the better one. He too has the length, athleticism, speed and instinct teams look for.
11. Miami Dolphins
11
Derek Barnett
DE,

Tennessee
Age is becoming a significant issue for the Dolphins defensive line. Their top edge rushers in Cameron Wake and Mario Williams are over the age of 30. They can't be expected to last much longer. So the team decides to go young at defensive end. Derek Barnett may not have the hype of Garrett, but his production in a power conference would suggest he knows how to sack quarterbacks. He's big, quick, aggressive and runs with a high motor.
12. Tampa Bay Buccaneers
The Buccaneers are still trying to build a core on defense. They have some good pieces in place but one or two spots remain a problem, like safety. It's been a revolving door there for some time. Often the only fix is the obvious one. Jamal Adams is part of a strong safety class in 2017. His game is more the tone-setter style. He's dangerous when near the line of scrimmage. A good tackler and fierce hitter. That said, don't overlook him in coverage.
13. New Orleans Saints
13
Marlon Humphrey
CB,

Alabama
The fact they tried to trade for Joe Haden signals the point clear enough. New Orleans is really hurting for cornerback help due to injuries and talent problems. Marlon Humphrey may yet return to Alabama given his youth but there is no question he's among the best corners available. A big body with that mentality of sticking to receivers down the field. He operates with a certain swagger and has a short memory when he's beaten, which isn't often.
14. Arizona Cardinals
14
Reuben Foster
ILB,

Alabama
The Arizona Cardinals have a defense that is built on being aggressive. Sometimes it works and others it doesn't. Part of the reason for this is they simply don't have certain pieces in place to handle. Inside linebacker has quietly been a modest position for them. An upgrade could be a real help. Reuben Foster is their type of guy. He's a sure tackler with a sense for stopping the run. On top of that he's got the awareness and explosion to blitz.
15. Cincinnati Bengals
15
Zach Cunningham
LB,

Vanderbilt
Historically the Bengals have loved to load up on quality linebackers whenever possible. They may be due for such a move again, given the importance of the front seven to their defense. It won't take the coaches long to pinpoint how good a player Zach Cunningham is. Despite being surrounded by questionable talent, he continues to thrive at Vanderbilt with big plays. He's got NFL size, top tier instinct and enough speed to go sideline-to-sideline.
16. Tennessee Titans
16
Corey Davis
WR,

Western Michigan
Aside from defensive help, the Tennessee Titans should never dismiss their duty to give Mariota more weapons. What they have at wide receiver is adequate, but hardly what one would call premium. Corey Davis is a name shooting up boards of late. The fact he's dominating good defenses while playing at Western Michigan is the classic sign of a future NFL player. He's big, rangy, features a steady pair of hands and runs good routes to get himself open.
17. Detroit Lions
17
Dalvin Cook
RB,

Florida State
The Detroit Lions offense has become all about Matthew Stafford. That might look good on the stat sheet, but it's not helping enough in the win column. Running the football would be a big boost, which they can't do. Fortune smiles on them though. Adding Dalvin Cook brings that extra ingredient they need. He's strong and tough enough to handle heavy workloads. At the same time it's his ability to catch the ball and function in space where he's most dangerous.
18. Buffalo Bills
18
Cam Robinson
OT,

Alabama
The easiest way to good offensive football is dominant blocking up front. Buffalo does not have that. If they ever want to take down New England, then that's an area Rex Ryan knows he must invest. Cordy Glenn has one tackle spot nailed down. Time to fix the other. Cam Robinson is on a lot of black lists for his off-the-field issues, which are considerable. Nevertheless he's a physical specimen who can plow open running lanes and keep his quarterback clean. Ryan is a gambler and this is right up his alley.
19. Washington Redskins
19
Davon Godchaux
DE,

LSU
Part of the reason the Redskins are so inconsistent on defense is because they're not a complete unit. They're strong in some areas and weak in others. Chief among their issues is the defensive line, currently led by a rather pedestrian group of talents. Nobody who can truly affect the game. Davon Godchaux isn't one of the big names, but he's quietly showing he should be. A big defensive lineman with size to handle run plugging but is emerging as a legitimate pass rusher.
20. Cleveland Browns (via PHI)
20
Sidney Jones
CB,

Washington
Joe Haden appears like he's not going to be on the roster much longer for the Cleveland Browns. It's clear enough they're going young across the board. So if he's gone by next year, they have to seek a potential replacement. Washington looks like it's loaded up on high-caliber talents. None more so than Sidney Jones. Another good-sized corner with quickness and fluidity. Able to hang in man coverage. Put him behind Garrett and that should be a fun pairing.
21. New York Giants
21
Raekwon McMillan
ILB,

Ohio State
Just take one look at the New York Giants linebacking corps and it's fair to say the team has been somewhat neglectful of that area the past few years. There really is nobody in the group that could be considered a long-term starter. The defensive line and secondary get the love, but those positions matter just as much. Adding Raekwon McMillan would be a big step in the right direction. He's dependable, tough, athletic and smart. A plug-and-play starter.
22. Green Bay Packers
22
O.J. Howard
TE,

Alabama
Their running backs are hurt. Their tight ends are no good. Obviously the Green Bay Packers have become a wide receiver-driven team and it's really hurting the offense in terms of its versatility. They've tried to find answers at tight end but so far without success. That's why taking O.J. Howard is the obvious course. The Alabama standout is exactly what they're looking for. He's a basketball-type athlete who runs the field with speed and uses his considerable size to box defenders out when making catches.
23. Kansas City Chiefs
23
Jarrad Davis
ILB,

Florida
Thanks to Derrick Johnson, inside linebacker has remained an afterthought for years in Kansas City. He's 34 now though. It's something they can't ignore. Not if they want to risk a steep drop off at such a key position in their defense. Thus Jarrad Davis is the pick,and a good one at that. Coming from Florida he's another athlete who flies to the football. A steady, reliable tackler who can play downhill but isn't a weak point when asked to drop in coverage.
24. Oakland Raiders
24
Mike McGlinchey
OT,

Notre Dame
It's clearer than ever that the Oakland Raiders live and die by the right arm of Derek Carr. That's not a bad thing. If they want to continue doing that though, it will require constant investments in his protection. Tackle is an area that may soon require attention. He may have hinted a return to school, but players have changed their minds a lot over the years. Mike McGlinchey is another in a long line of quality edge protectors coming out of Notre Dame. Just solid in almost every category.
25. Pittsburgh Steelers
25
Chad Kelly
QB,

Ole Miss
Look. Ben Roethlisberger is the undisputed starter for the Steelers. That being said he's now in his mid-30s and has once again missed a number of games with injury. How much longer can he hope to last under the constant pounding? Pittsburgh has to prepare for life after him. Chad Kelly is a surprise pick, but he is also a high ceiling gamble. A classic gunslinger with a rocket right arm who can hang four touchdowns on a defense at will when he's hot. He'll need to mature more, both on and off the field first though.
26. Atlanta Falcons
The Atlanta Falcons are winning as expected. Matt Ryan and the offense are carrying the load. However, signs are steadily growing that the defense is coming around. There is still work to do but Dan Quinn has it pointed in the right direction. Next on the agenda? Continue to improve the back end, specifically at corner. They could really use somebody who can get their hands on the football. Desmond King had eight interceptions in 2015 alone. He's a ball hawk who can match up with receivers inside or outside.
27. Houston Texans
27
Roderick Johnson
OT,

Florida State
Is Bill O'Brien committed to Brock Osweiler? Only time will tell on that. If the Texans do stick with the young quarterback, then their ongoing job is to build around him. The offensive line is suffering some problems with injuries at tackle. Not to mention the advancing age of Duane Brown. He may not be getting the spotlight he would've a year ago, but Roderick Johnson has the chops for playing NFL tackle. He's big, can move well, and blocks with power and tenacity. Clean up his fundamentals and he'll be good.
28. Seattle Seahawks
28
Carlos Watkins
DT,

Clemson
The offensive line still needs work but this draft isn't going to help the Seahawks as much as they'd like. So they decide to add another talented body to their already loaded defense. The secondary gets the big attention but that defensive front is just as critical. Carlos Watkins was a fringe name at the start of the year but he's steadily beginning to show how good he can be. A big body who plays tough against the run, his improvement as a pass rusher is what keeps drawing attention lately.
29. Philadelphia Eagles (via MIN)
29
Mike Williams
WR,

Clemson
Watching the Philadelphia Eagles over the past few weeks it's clear they have something special in Carson Wentz. However, like any quarterback he's only as good as the weapons around him. His are limited. At wide receiver in particular. Mike Williams continues to show improvement from his untimely neck injury last year. He's looking like the big, athletic target he was. Clemson is a factory for good receivers. He is their latest product, and can end up being a true #1 for Wentz.
30. Denver Broncos
30
Jake Butt
TE,

Michigan
Anybody who knows Gary Kubiak and the offense he runs knows he loves to use the tight end as a receiver. It was true of Shannon Sharpe and then of Owen Daniels. When he has one who can get open and catch, the offense is infinitely harder to stop. Jake Butt is exactly the type of guy the Broncos would want. Not only is he a big, athletic target who can receive but he's shown lots of blocking ability at Michigan. The type of guy who never has to come off the field.
31. Dallas Cowboys
31
Charles Harris
DE,

Missouri
The Dallas Cowboys always seem to get more out of their defensive linemen than they should. A testament to how good Rod Marinelli is at elevating his players. It's no excuse to stop trying to give him more talent to work with. If Charles Harris is still on the board this late in the 1st round, Dallas should be giddy. The Missouri defensive end is exactly the kind of aggressive, violent edge rusher Marinelli likes. He just finds his way into the backfield and disrupts plays.
32. New England Patriots
32
Tim Williams
OLB,

Alabama
Leave it to the Patriots to just continue defying anything considered normal in the NFL. On the surface it looks like they've decimate their linebacker position by trading Chandler Jones and Jamie Collins. Then again, this is how they always operate. So here they go again, grabbing an understated player at the exact position they need help. Tim Williams may seem undersized at first glance but he's a hybrid type of player who is great at rushing the passer. Belichick will find plenty of uses for him.
This article originally appeared on