2017 NFL Hall of Fame: Predicting the Likely Favorites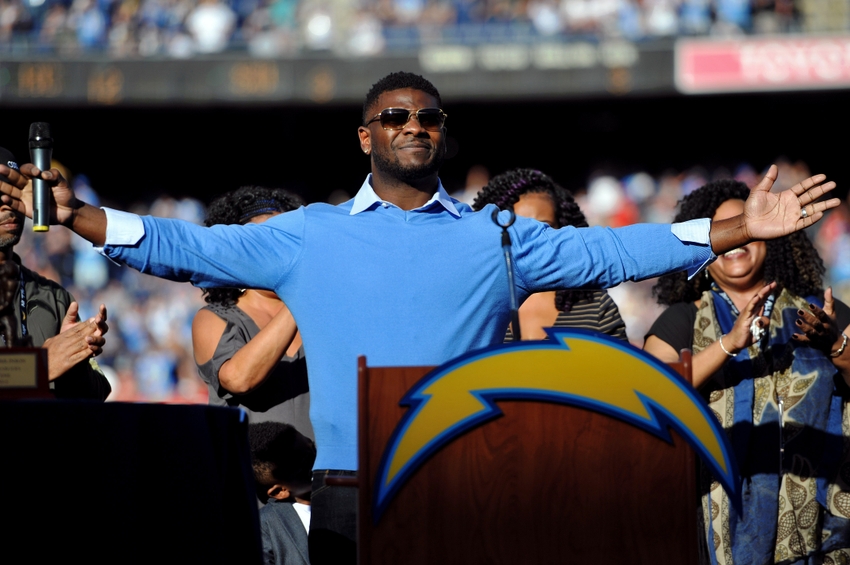 The 2017 NFL Hall of Fame class is beginning to narrow. Canton awaits for the next eight members ready to be enshrined. So who will get in?
To help answer this question, the remaining 27 men up for the vote will be split in categories based on the strength of the cases they bring. Some of course will be almost shoe-ins while others might need a lot to break their way. In the end it will again prove that the Pro Football Hall of Fame is notoriously difficult to get in.
Locks:
Hall of Fame locks should be players who dominated their respective eras. League history can't possibly be referenced without bringing up their names. Looking at this class, there are three that stand out the most.
LaDainian Tomlinson
Not only was he the best running back in the NFL for a good six or seven years, he was also one of the games' great role models. Tomlinson was excellent on the field and off it. He compiled over 19,000 yards from scrimmage and 169 touchdowns. He never got a ring, but it won't matter.
Brian Dawkins
The moment his name comes up, people immediately see his unforgettable entrances during player intros. Those are then followed by some of the best safety play of the modern era. Not only was Dawkins a fierce hitter, his 41 interceptions and 36 forced fumbles prove his greatness.
Terrell Owens
He would've been a slam dunk first ballot guy had he bothered to just shut his mouth and play football. As it stands Owens was frozen out by the voters because of his long history of being a distraction. He's also the second leading receiver in NFL history. Lesson learned. Put him in.
Strong cases:
These are made up of the men who might have a few question marks regarding their chances. Maybe they don't have a ring or didn't play long enough. Still, they should be able to get in at some point in the near future.
Kurt Warner
One of the greatest stories in NFL history. Went from bagging groceries to league and Super Bowl MVP. Took two different teams to a Super Bowl and led one of the top offenses of ever assembled.
Steve Atwater
One of the most notorious hitters ever. A ferocious safety who could knock out guys twice his size. Also an eight-time Pro Bowler with 25 interceptions and two Super Bowl rings.
Tory Holt
Was great from the moment he entered the league. Holt won a Super Bowl his rookie season then went on to make seven Pro Bowls in an eight-year span. Every box is checked for enshrinement.
Terrell Davis
He only played seven seasons and that holds many voters back. Thing is Davis did more in that span than most players do in 10 or more including two rings, an MVP and 2,000 yards in a season.
Roger Craig
A trailblazer. The idea of a running back functioning as an extra receiver didn't start until Craig showed up. He has three rings and became the first-ever 1,000 rushing and 1,000 receiving back.
Ty Law
One of the great ball hawks of his era. People talk about Brady and Belichick but Law was a huge part of the Patriots' rise to greatness. He has 59 interceptions and three rings. That's enough.
John Lynch
Another of those notorious safeties who struck fear in the hearts of actual football players. Lynch had 28 interceptions, 13 sacks and won a ring with Tampa Bay. That's accomplishment.
Jason Taylor
He never got a chance at a ring, but for a long period of time Taylor was one of the premier sack artists of a decade. He ranks 6th all-time with 139.5 sacks. More than Lawrence Taylor.
Dark horses:
These are the guys that have certain Hall of Fame qualities about them that may sway voters. At the same time they may not have done enough or have stiff competition to where it will be difficult to sell.
Morten Andersen
He played 25 years in the NFL. Sure he's a kicker but that's still pretty impressive. Also being the all-time scoring leader in league history with 2,544 points certainly should help his case.
Isaac Bruce
The quiet killer of the "Greatest Show on Turf" Rams. Bruce was the guy who always made the big plays when they mattered most. He delivered e a Super Bowl-winning catch, so that should help.
Alan Faneca
Played 13 seasons at a high level. That's extraordinarily difficult for an offensive lineman. Faneca went to nine Pro Bowls and helped Pittsburgh win the Super Bowl in 2005.
Jimmy Johnson
The architect of the Dallas Cowboys dynasty of the 1990s. Built a juggernaut that won three Super Bowls in four seasons. Unfortunately may have hurt himself by leaving the team too soon.
Kevin Mawae
For 16 years he was one of the best, most underrated interior offensive linemen in the league. An eight-time Pro Bowler who reached his first at age 28 and last at age 38. Consistent excellence.
Clay Matthews
One of the most enduring linebackers in recent memory. Matthews played 19 years, collected over 1,500 tackles, 69.5 sacks and 16 interceptions. Cleveland hasn't been the same since he left.
Hines Ward
Probably the most physical wide receiver in NFL history. Ward was a linebacker playing that position. He reached four Pro Bowls, won two Super Bowls and delivered some iconic hits.
Darren Woodson
On a team of stars, he was always the overlooked man. Woodson patrolled the back end of the Cowboys defense during the dynasty years, picking up three rings and five Pro Bowls.
Unlikely:
Just as the word implies. These are players who could get in one day but can't be sold in any way to where they get in this year. All of them have too many red flags or too much competition to make it possible by any stretch.
Tony Baselli
For a good five-year stretch, Baselli was the best left tackle in football. This was an era where Jonathan Ogden and Orlando Pace playued. Sadly his career was cut short by numerous injuries.
Don Coryell
One of the greatest innovators ever. Coryell ushered in much of the modern passing game that fans see today. He more than many coaches revolutionized offense. He just didn't win enough.
Chris Hinton
His claim to fame is being part of the blockbuster trade that got John Elway to Denver. People never remember Hinton was a seven-time Pro Bowl offensive lineman. It's really kind of sad.
Joe Jacoby
A charter member of the iconic "Hogs" offensive line that paved the way to three Washington Redskins Super Bowl titles. Jacoby reached four Pro Bowls too but lacks in memory impact.
Edgerrin James
One would think posting over 15,000 total yards and scoring 91 touchdowns would be enough for prime consideration. Sadly James is considered to have benefited from playing with great QBs.
Mike Kenn
Being the best player on a team that doesn't win really sucks. Mike Kenn knows. Outside of two or three brief playoff runs the five-time Pro Bowler was stuck with some bad Atlanta teams.
Karl Mecklenburg
The player himself was great for a long period of time. Problem is nothing he did stands out as such. Never had more than 13 sacks in a year and got humiliated in the Super Bowl three times.
This article originally appeared on