2017 NFL Free Agency: Predicting New York Giants 5 Biggest Moves
Neal Lynch/FanSided via NFL Spin Zone

Fansided
The 2017 NFL free agency period is right around the corner. Predicting the five biggest moves the New York Giants will make.
The New York Giants are currently in the bottom 40 percent of the league in available cap space at $34.4 million. There are 18 other teams that have more money to spend on free agents. Therefore, the Giants' odds of out-bidding other franchises are slim. The biggest looming item affecting their budget is Jason Pierre-Paul.
Does the team want to commit long-term to a dynamic 4-3 defensive end who's been unable to stay on the field? JPP has said he doesn't want another one-year "prove it" deal. However, reports have indicated Big Blue might be applying the franchise tag like they did before the fireworks accident in 2015.
If Pierre-Paul signs elsewhere, the Giants would have more money to pursue a really big move. Almost no one's talking about how the Giants have three cornerbacks from the 2016 roster (half the unit) entering free agency. Instead, most outlets suggest the Giants might release or trade Dominique Rodgers-Cromartie. Given how thin the secondary is right now, that would be insane. The better move is restructuring his contract to save $2.79 million.
Most have called for the Giants to replace soon-to-be third year pro Ereck Flowers at left tackle with a veteran like 35-year-old Andrew Whitworth. So, the franchise is going to blow close to $10 million per year on a guy who can maybe only give you two more years? True, Whitworth hasn't missed a game the past three seasons and has only missed two starts since 2009, but wouldn't that make him due for a downfall? Why not build for the future beyond Eli Manning?
While the cornerback and left tackle positions need to be addressed, there are bigger moves for the Giants to make. Here are my predictions for the top five.
Note: All salary and cap figures are via Spotrac.
5. Giants Cut Shane Vereen, Sign Eddie Lacy
Shane Vereen will be an unrestricted free agent in 2018. His cap hit of nearly $5 million has many suspecting the team will release him before he's due a $500,000 roster bonus on March 13. At the very least, the Giants could release Vereen after June 1. That move would save $3.75 million, but would add $1,166,667 to the dead cap.
Do the Giants—or any of their fans—feel comfortable entering the 2017 season with just Paul Perkins and Shane Vereen at running back? One can't forget Orleans Darkwa, who's a restricted free agent, though Darkwa regressed in 2016. He's proven he can pick up tough yards in the past, however. Vereen's been electric when he gets his hands on the ball, but his injuries last season are worrisome.
Vereen hasn't put up the numbers that Eddie Lacy has, yet Vereen's due to earn more money. Lacy is capable of averaging more than 200 carries per season while Vereen hasn't topped 100 in one year to date. Even Perkins totaled more than 100 rushing attempts in 2016 while starting only one game.
Personally, I'd love to see Vereen get one more shot. If the Giants want to get the most bang for their buck on Vereen, he should have the second or third most touches on offense behind Odell Beckham and Sterling Shepard. However, bringing in Lacy at a lower price tag and higher productivity rate is the sensible move. It would be insurance (and relief) for Perkins. Lacy's weight is a non-factor once you get him out of cheese-laden Wisconsin.
4. Giants Bring In Kenny Britt And/Or Jack Doyle
I've said it before: Martellus Bennett is not the long-term answer for the Giants at tight end. Could he have a better single season than Will Tye? Absolutely. Is it worth Bennett's asking price? No.
For the Giants to pick up two viable free agent targets for Eli Manning, they'll have to address Dwayne Harris. The returner/receiver had the eighth highest cap hit on the 2016 roster and the 10th highest cap hit so far in 2017. He made almost as much as Victor Cruz in 2016, yet didn't come close to producing Cruz's numbers, which were way below average. In fact, Harris lost snaps on offense to undrafted free agent Roger Lewis and seldom-used free agent pick-up Tavarres King.
Despite making the Pro Bowl in 2016, Harris will turn 30 in September and is coming off his worst season in terms of all-purpose yards since his rookie season in 2011. The G-Men should restructure Harris' contract to save $1,466,667. If Harris balks, the Giants could release him after June 1 and only have $800,000 count against the cap.
Big-bodied Los Angeles Rams receiver Kenny Britt would be a perfect fit for the Giants. The 28-year-old is the ninth highest graded free agent wideout by Pro Football Focus. Britt's market value is $6.7 million, which is a lot for a "third" wide receiver. However, his impact on third down conversions and red zone efficiency would be worth the cost. Britt can also stretch the field, averaging almost 16 yards per reception.
At tight end, Big Blue has 2016 sixth round draft pick Jerell Adams and re-signed exclusive rights free agents Will Tye and Matt LaCosse. But, the team's not expected to re-sign impending unrestricted free agent Larry Donnell. To fill the void, the Giants should go with Indianapolis Colts tight end Jack Doyle.
The four-year pro had a breakout season in 2016 serving as the security blanket for Andrew Luck. Eli Manning is at his best when he's got a security blanket (See: Steve Smith in 2007-08, Jake Ballard in 2011-12). Doyle has the same market value as Bennett, but will only be 27 when the 2017 season begins. Bennett will be 30. While Bennett could have one or two good seasons in him, Doyle could have four.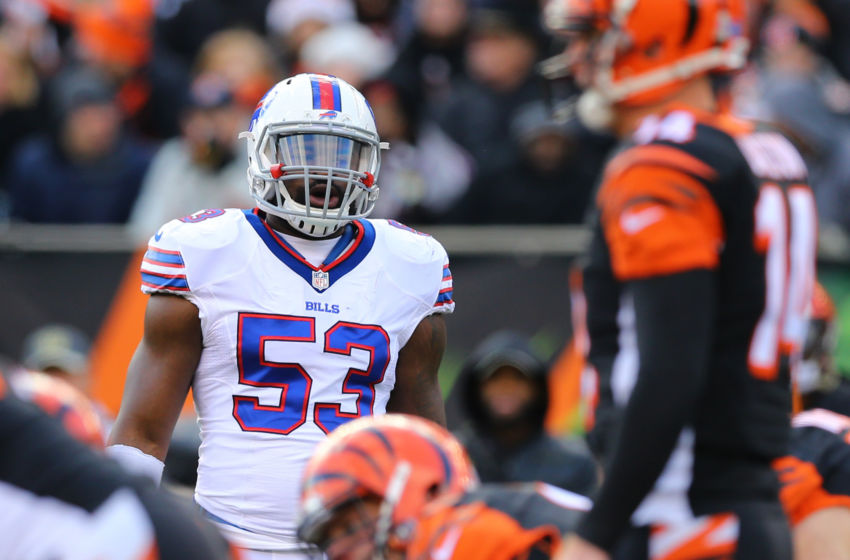 3. Giants Cut J.T. Thomas, Sign Zach Brown
J.T. Thomas hasn't panned out for the Giants since signing as a free agent before the 2015 season. He's only started 11 of 32 possible games and had to take a pay cut in 2016 after suffering a season-ending injury in the season opener. Thomas has the eighth highest cap hit in 2017 at $4 million and the Giants would save $3 million if they released the five-year pro from West Virginia.
Without Thomas, the Giants are left with 2014's fifth round pick Devon Kennard and captain Jonathan Casillas at outside linebacker. Both had their best season in a Giants uniform last season, with Casillas having a career year. Kennard will be 26 while Casillas will be 30.
Mark Herzlich, Keenan Robinson, and Kelvin Sheppard are looming free agents. Though Giants.com has shown praise for Robinson, calling him New York's best cover linebacker, and Sheppard, Pro Football Focus had them poorly rated. Would the Giants really bring back Robinson at a lofty price tag? It seems that the money could be better spent elsewhere.
The top free agent linebacker is Dont'a Hightower, but the 26-year-old is too expensive and will get paid eight figures per year, if he even leaves New England. That leaves the Giants with Buffalo Bills linebacker Zach Brown. Brown would be a perfect fit for Big Blue as a highly productive, well-respected player and at a cheaper cost.
2. Giants Re-Sign Pierre-Paul, Let Hankins Walk
As I mentioned in the introduction, the biggest free agent decision the Giants will make in 2017 revolves around Jason Pierre-Paul. This is the third offseason in a row that Pierre-Paul's future with the Giants has been up in the air.
Pierre-Paul's estimated market value is $14.6 million per year. According to PennLive.com, the franchise tag for defensive ends should be approximately the same amount. ESPN's Jordan Raanan believes the franchise tag for Pierre-Paul would be unlikely, but if the two sides can't reach a long-term deal before the tampering period begins, the Giants would be wise to apply it.
If the Giants sign Pierre-Paul, they won't re-sign Johnathan Hankins. The Giants need that money to address the offense, specifically the line. If Pierre-Paul bolts, Hankins has a much higher probability of staying with the team, but it's still not a guarantee. Once a productive player, Hankins' performance declined in 2016 and there are questions of if he'll ever return to form.
The Giants aren't exactly thin along the defensive line. They also have Jay Bromley, Robert Thomas, Kerry Wynn, Romeo Okwara, and Owa Odighizuwa in rotation. Okwara, in particular, stood out down the stretch. Keep in mind, the Giants didn't really miss Jason Pierre-Paul following his season-ending injury in Week 13.
Fans shouldn't fret if the team can't ink Pierre-Paul and Hankins. Big Blue could sign two of the NFL's best free agent pass rushers in Jabaal Sheard and Dominique Easley.
1. Giants Replace Jerry and Newhouse With Warford & Wagner
Giants fans have been dying to upgrade the right side of the offensive line for a few seasons now. Right guard John Jerry had an exceptional year in 2016, but is still a liability run-blocking. Right tackle Marshall Newhouse got hurt and lost snaps to 2015 seventh rounder Bobby Hart.
The top free agent guard is Kevin Zeitler of the Cincinnati Bengals. At an estimated market value of almost $12 million per year, the Giants are most likely out of the running to land him. T.J. Lang has been a contender, but he'll be in 30 in September and also will command a large sum on the market. Andrew Norwell is a restricted free agent with the Minnesota Vikings, who have less space under the cap than the Giants. Ultimately, that acquisition would end up costing the Giants a draft pick, though.
The most appropriate fit for the Giants is Larry Warford of the Detroit Lions. Warford will turn 26 in June and has been an above-average player at the position in recent years. More importantly, though, he won't break the bank for New York as others might, which would then allow them to add a tackle as well. The tackle lining up to Warford's right needs to be Baltimore Ravens free agent Ricky Wagner. Wagner will turn 28 in October as another high-upside, cost-effective possible signing for the G-Men.
One can opine all dang day about weapons, but if the Giants can't open holes for running backs or protect their quarterback, weapons are moot. Fortifying the offensive line will propel the Giants offense and the team into the Super Bowl.
This article originally appeared on