2017 NFL Free Agency: Likely Landing Spots For Top Names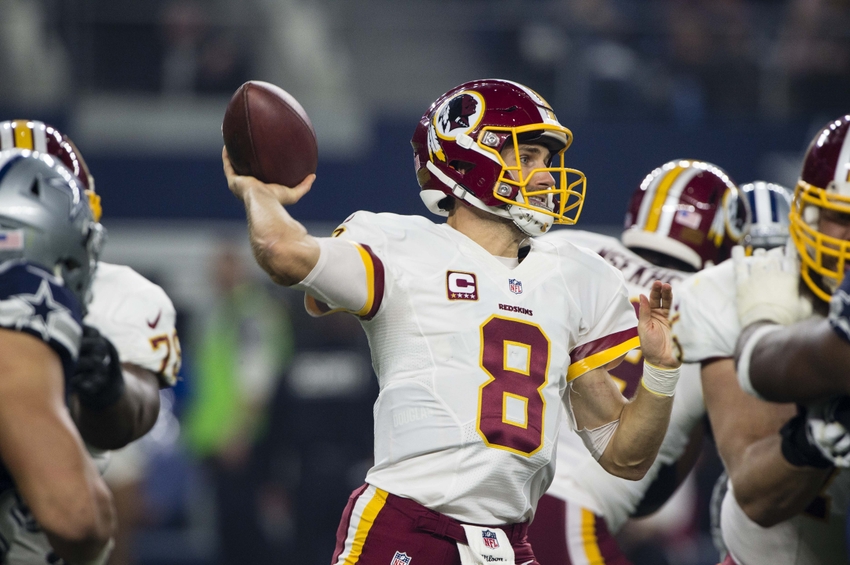 The draft will get most of the talk but 2017 NFL free agency figures to factor heavily into how next season goes. Specifically with where top players land.
As everybody knows this is just as hard to predict as the draft. Still it's interesting to speculate on likely decisions that will be made. Will this play re-sign with his current team or look elsewhere, and who will move to sign him if he chooses the latter course? This list will cover 20 of the top free agents expected to be available and what the likely outcome will be for them.
1. Arizona Cardinals
1
Chandler Jones
OLB,

Arizona
The Cardinals gave up a 2nd round pick in order to acquire Chandler Jones from New England. The odds are they wouldn't have done that if they weren't confident they could sign him to a long-term deal. They could have upwards of $37 million in 2017 cap space, so this shouldn't be a hard negotiation. He can be a part of their pass rush for the next 5-6 seasons if this gets accomplished. There are no indications he's unhappy there.
2. Cleveland Browns
2
Jamie Collins
ILB,

Cleveland
The Browns have no reason to panic on this situation. They knew they needed a playmaker on defense they could build around. Jamie Collins is that type of a player. With a possible $65 million in cap space they have the negotiating power to keep him happy on the financial front. Even if he were to play hard ball they have the franchise tag in their back pocket. It would take a minor miracle for Collins to leave Cleveland in March.
3. Pittsburgh Steelers
3
Le'Veon Bell
RB,

Pittsburgh
Historically the Pittsburgh Steelers have always operated around the same doctrine. Build the team through the draft, avoid free agency and re-sign your own players. It's what they've done for years and there's no reason to think that will change. Le'Veon Bell will be their top priority by a wide margin. He's highly effective in their offense and won't eat up a ton of cap space. It wouldn't surprise if they reached an extension deal with them well before the market opens.
4. Washington Redskins
4
Kirk Cousins
QB,

Washington
Kirk Cousins hasn't been shy about his displeasure with the Redskins front office about his long-term contract. Nevertheless he's pushing towards a big pay day with another strong season in Washington. The Redskins wanted to wait until they were sure and now it's fairly clear that Cousins can play. They can and should pay him well for being patient. The sticking points will be how high the price goes and whether they try to shortchange him for turning 29 in 2017.
5. Carolina Panthers
5
Kawann Short
DT,

Carolina
They weren't willing to spend the money on Josh Norman because the Panthers believe in building a defense from front to back. That means Kawann Short is almost certain to get a hefty raise since he is now unquestionably their best defensive lineman. Losing him would make a difficult situation much, much worse for this team that people thought could get back to the Super Bowl. No expense should be spared to make this happen.
6. Tampa Bay Buccaneers
6
Alshon Jeffery
WR,

Chicago
The Chicago Bears hoped to get a career year from Alshon Jeffery. Instead they got erratic play and a PED suspension. So his stock will be in flux. The Buccaneers decide to be aggressive, hoping to put their young offense over the top by adding Jeffery as a highly quality #2 target opposite Mike Evans. The idea of course being to give Jameis Winston a pair of twin towers to overrun defenses through the air. It would definitely make for a potent combination.
7. New England Patriots
7
Dont'a Hightower
OLB,

New England
The Patriots are going to have a ton of cap space in 2017 but most of it will likely be spent retaining a high number of their own free agents. Dont'a Hightower should be one of their priorities. After all, they've already shipped out other key pieces in trades. They need somebody on that side of the ball who is reliable. Hightower is a smart, tenacious defender who has steadily done his job for them every season. He'll get a nice payday.
8. Oakland Raiders
8
Eric Berry
S,

Kansas City
The Oakland Raiders have to know that they're a good defense away from Super Bowl contention. So far their veteran additions haven't gotten the ball rolling. What they could use is a leader on the back end, somebody who understands how to direct the action while making his share of plays. Stealing Eric Berry from their cash-strapped rival Chiefs would be a coup of the highest order. Pairing him with promising youngster Karl Joseph could make for a deadly tandem.
9. Cincinnati Bengals
9
Kevin Zeitler
OG,

Cincinnati
The Cincinnati Bengals are another of those teams that don't dabble much in free agency, preferring to draft well and re-sign their own players. Kevin Zeitler has been a solid member of their offensive line since his rookie season. His name is hardly ever mentioned, which is often a sign of an offensive lineman doing his job. Their funds aren't huge but they will have plenty to give the young guard a decent contract to return. Then they can shift their focus towards the draft.
10. San Diego Chargers
10
Melvin Ingram
OLB,

San Diego
It took more time than anticipated due to injury complications, but Melvin Ingram has blossomed into quite an effective outside linebackers for the Chargers. He has 16.5 sacks in his past 27 games. The cardinal rule of the NFL is never to let good pass rushers go if at all possible. San Diego should have the cap space to get a deal done without having to worry about him testing the market. Whether they try to shortchange him like they did Joey Bosa is another story.
11. Green Bay Packers
11
T.J. Lang
OG,

Green Bay
After losing Josh Sitton, the Green Bay Packers knew they would have to make sure they didn't lose dependable guard T.J. Lang too. Protecting Aaron Rodgers is the single most important facet of their success. When he's getting hit, the offense suffers. This is a team dependent on scoring points and Lang is an unheralded part of that. Ted Thompson is big on building from within, so re-signing his own players is part of that process.
12. Arizona Cardinals
12
Calais Campbell
DE,

Arizona
He won't be in line for any sort of raise but Calais Campbell is way too important for the Cardinals to let out the door. The defensive end is the lynch pin to their entire defense. He's often the one doing the dirty work up front whether it's making tackles, drawing double teams or even intercepting the occasional pass. Even at age 30 he's an effective veteran presence. Arizona has nobody who can replace what he does, especially given the ugly situation with 1st round pick Robert Nkemdiche.
13. Houston Texans
13
A.J. Bouye
CB,

Houston
Jonathan Joseph isn't getting any younger. So hanging on to quality young cornerbacks who are emerging in their secondary is just smart business practice for the Houston Texans. A.J. Bouye isn't a household name for many people but he's quietly had solid season. He's got versatility to offer both in coverage and as a blitzer. Keeping him around is common sense, especially when the Texans don't have other pressing in-house needs to deal with.
14. Chicago Bears
14
Tony Jefferson
S,

Arizona
The Chicago Bears secondary is a mess. There isn't a single playmaker of note in the bunch. Only a mix of interesting youngsters and average Joes. This team needs somebody on the back end who can make things happen rather than wait for them to happen. Tony Jefferson has turned himself into quite the presence in Arizona and he'll be looking to carry that to the next team. He's tough, smart, aggressive and capable of playing the run or coverage.
15. Cleveland Browns
15
Terrelle Pryor
WR,

Cleveland
It was made clear weeks ago that there is almost no player on the Browns roster they consider a priority to keep. One of the few they did was none other than Terrelle Pryor. It was hard to understand why but the weeks that followed have shown a promising young athlete who has turned himself into a quality wide receiver. Keeping him in place along with Corey Coleman should give their next quarterback a pair of solid weapons to utilize.
16. Kansas City Chiefs
16
Dontari Poe
DT,

Kansas City
Re-signing Berry will be too expensive for Kansas City, and that's a shame. Still, they should be able to maneuver enough of the cap to hang onto nose tackle Dontari Poe who remains a key part of their strong defensive line. His mixture of size and athleticism would be difficult to replace and the good news is nose tackles don't command as much money in free agency as other positions. They'll just have to hope they can fill the safety void in the draft.
17. New York Giants
17
Jason Pierre-Paul
DE,

New York
The New York Giants signed Jason Pierre-Paul to a one-year deal because they weren't sure if he could be the same player he was prior to his tragic hand injury. Seems their caution wasn't needed. The defensive end seems to be back to his old self, providing the type of pass rush and big plays the defense needs in order to finally compliment their offense. He may not get the uber dollars he would've pre-injury but the team now knows he can still play.
18. New England Patriots
18
Martellus Bennett
TE,

New England
The injury situation with Rob Gronkowski is become a legitimate concern as he undergoes another back procedure. That makes the retention of Martellus Bennett, their previous trade acquisition all the more important. He's a quality #2 guy who has been to a Pro Bowl. It's not hard to imagine he can be their main option at tight end if Gronk continues to suffer these setbacks in the future. Besides that he won't command huge money either, and that's a New England classic.
19. Los Angeles Rams
19
Trumaine Johnson
CB,

Los Angeles
They weren't able to keep Janoris Jenkins this year, but the Rams will be in good position to secure their other top corner Trumaine Johnson for the long-term after franchising him this season. The ploy seems to have worked out in their favor. Johnson has had a good year but not anything close to the one he had last season. This means they should be able to get him back on a slightly cheaper deal. Either way, it will be important for their defense that he returns.
20. Buffalo Bills
20
Zach Brown
ILB,

Buffalo
One of the more underrated players set to hit the market. The Buffalo Bills defense has a strong front seven and Zach Brown is that guy every unit needs who does a bit of everything. In classic inside linebacker fashion he's a great tackler and always around the football. Yet it's his added value as a blitzer that makes him a priority for the team to keep in place. Money won't be a huge deterrent in this case unless for some reason Brown wants out.
This article originally appeared on