2017 NFL Free Agency: Early Predictions For Top 15 Players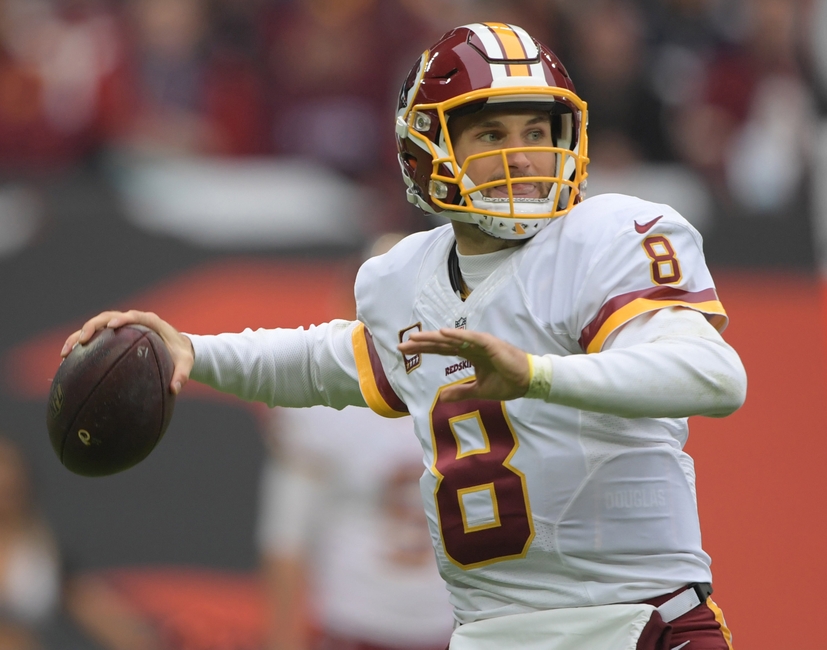 With 2017 NFL free agency only a few months away, it's time to put together some predictions for where some of the top players on the market will sign.
On March 9, the new league year begins and 2017 NFL free agency officially gets under way. While we're still a ways off from that date, it's never too early to start looking at who's available and predicting where they could land.
So I've put together this list of predictions to help you with your early preparation.
Unfortunately, the 2017 NFL free agency class is a bit of bummer. This is the time when the miserable 2013 draft class finally hits the open market, which won't leave teams looking to rebuild with many options. It's not ideal, but that's how it goes when college football can't put together a strong incoming class of talent.
Still, there should be some noteworthy names available when that time comes. It is important to keep in mind, though, that some of these players will likely re-sign with their current teams before March 9. If that's the case, they obviously won't be available to ink a deal elsewhere.
So without further ado, let's take a look at my predictions for where the top 15 available players of the 2017 NFL free agency class could sign.
15. Melvin Ingram, OLB – San Diego Chargers
2016 Salary: $7,751,000
Where he will sign: Indianapolis Colts
As we've seen this season, the Colts' pass defense has been a mess. A big part of that has been their inability to get after opposing quarterbacks on a consistent basis. Addressing the pass rush would obviously be paramount to resolving that issue in 2017. Signing Melvin Ingram during free agency would be a significant step in the right direction.
According to Pro Football Focus, Ingram has been one of the best edge rushers in the NFL this year. He's done an excellent job of keeping quarterbacks on their heels, having finally unlocked a big chunk of his potential over the last two seasons.
With Ingram in the mix, the Colts would finally have a young, electric pass rusher on the defense. While the duo of Erik Walden and Robert Mathis has been okay this year, an upgrade is definitely needed. Bringing aboard the current Chargers star would make things much easier for the Indy secondary moving forward.
I'd anticipate several teams making a run at Ingram next offseason, assuming San Diego doesn't re-sign him. However, between the talent and cap space the Colts possess, I think they can convince him to move to the Midwest.
14. A.J. Bouye, CB – Houston Texans
2016 Salary: $1,671,000
Where he will sign: New York Jets
At this moment, the Jets are in a bad financial situation. Muhammad Wilkerson and Darrelle Revis are soaking up way too much of the salary cap and they aren't even making positive contributions. Let's say in this hypothetical situation, though, that Wilkerson is traded and Revis retires.
That leaves New York with much more room to work under the cap. As a result, they can go out and target a young, intriguing player like A.J. Bouye. We all know their secondary could use an injection of youth based on the way its played in 2016.
Revis is a shell of his former self, and none of the Jets' other cornerbacks have stepped up. They desperately need some new playmakers on the outsides, which is why targeting a starting-caliber cover man in free agency seems like a logical next step.
Bouye is coming off a breakout season, which may some a tad concerning. However, Jets head coach Todd Bowles is a defensive mastermind who would love to mold a player like Bouye. He may be a one-year wonder, but what we've seen in that one year is well worth the risk. As long as the Texans don't find a way to keep him in Houston, I have to believe the Jets will be players for his services.
13. Terrelle Pryor, WR – Cleveland Browns
2016 Salary: $1,671,000
Where he will sign: Cleveland Browns
It's disappointing, but I just don't see Terrelle Pryor going anywhere this offseason. He's already expressed his desire to stay in Cleveland (via the Chronicle) and I don't see the Browns letting him get away.
Why? Well he's proven to be a sensational NFL-caliber wide receiver in 2016, despite all of the skepticism. In fact, he's about the most promising player on the roster apart from maybe Jamie Collins. The Browns would be crazy to let him walk via free agency.
It also helps that Cleveland has tons of money to spend. The Browns are expected to have the highest amount of cap space to work with when free agency rolls around, and will likely spend a significant amount of it to make sure Pryor stays put.
Before the trade deadline, the Browns were rumored to be willing to sell just about every player on the roster. The only player who allegedly wasn't available was Pryor, who seems to have a bright future in Cleveland. Rest assured, general manager Sashi Brown will find a way to re-sign him in 2017.
12. T.J. Lang, G – Green Bay Packers
2016 Salary: $5,200,000
Where he will sign: Minnesota Vikings
As we've seen during their mid-season meltdown, the Vikings desperately need some help on the offensive line. While GM Rick Spielman prefers to build through the draft, I find it hard to believe they won't target some big names during free agency.
The past has shown us that players are often willing to stay within the division when signing elsewhere, especially in the NFC North. Josh Sitton did it when the Packers released him at the start of the season. So why wouldn't T.J. Lang do the same if Green Bay let him walk via free agency?
Minnesota will be searching far and wide for offensive line talent this offseason. They need look no further than Lang, who is one of the best guards in the NFL. Even with Alex Boone and Brandon Fusco on the roster, the former Green Bay star would be a welcomed addition in the Twin Cities.
Not only would he give them a reliable run blocker, but Lang is easily one of the best interior pass blockers in the league. I'm sure both Sam Bradford and Teddy Bridgewater would be smiling from ear to ear if the Vikings could lock up Lang this offseason. The Vikings need to take their roster's shortcomings seriously. If they want to take full advantage of this team's potential in 2017, signing players like Lang would be wise.
11. Chandler Jones, DE – Arizona Cardinals
2016 Salary: $7,799,000
Where he will sign: Arizona Cardinals
There's some uncertainty when it comes to Chandler Jones. While he's been an impressive part of the Arizona defense this season, it wouldn't be surprising if the Cardinals were a bit hesitant to dish out a massive deal to keep him in Glendale considering his character concerns.
With that being said, I wouldn't be surprised if they did re-sign him. I mean, he's been one of the top pass rushers in Arizona this season. The pending free agency of Calais Campbell will also put the Cardinals in a tough situation where they may be forced to choose one over the other.
Unfortunately for Campbell, I think Jones will be the guy to get the new deal. He's younger, has way more upside, and brings more pass-rushing chops to the table. Plus, the former Patriot has obviously proven his worth in only one year.
When it comes down to it, I just can't see the Cardinals parting with Jones. They didn't give up a former first-round pick and a 2017 second-round pick for one season's worth of production.
10. Trumaine Johnson, CB – Los Angeles Rams
2016 Salary: $13,952,000
Where he will sign: Carolina Panthers
After the way this season has gone, I don't see the Rams convincing Trumaine Johnson to re-sign. They'll definitely try, but a quick trip to the open market will result in the young cornerback finding a better fit elsewhere.
In fact, why wouldn't the Panthers be interested in signing him as a Josh Norman replacement? He's got the talent and upside, and also wouldn't cost as much as the now-Washington cornerback was demanding last offseason.
While Johnson has taken a step back this year as Los Angeles' top cover man, there's no denying he's a quality cornerback. As we all know by now, those cost a pretty penny to sign during free agency. I just don't see the Rams willing to spend the necessary amount to sign Johnson back, especially with the other guy I'm predicting they bringing aboard.
In Carolina, Johnson would immediately fill a huge need. The Panthers have been shredded in the secondary this season, a big part of why they've become irrelevant less than a year after their Super Bowl appearance. If they're going to get back to their winning ways, upgrading the pass coverage needs to be prioritized.
Adding Johnson isn't a solve-all, as the Panthers will need more support at cornerback. Bringing back a true No. 1 cover man will be a big help moving forward, though.
9. Dont'a Hightower, ILB – New England Patriots
2016 Salary: $7,751,000
Where he will sign: New England Patriots
Much like Pryor, I just don't see any scenario where Hightower leaves his current team. The Patriots parted ways with Collins in part because they needed cap space to re-sign their star middle linebacker. That's why there's no way he escapes from Boston.
New England has made it clear they're prioritizing getting Hightower under a new deal. He's the star of that defense, and one of the top inside linebackers throughout the league. Allowing him to even test the waters would be a very poor move by Bill Belichick. Put simply, it isn't going to happen.
The Patriots will get Hightower under contract before the new league year begins, and all will be dandy. The team doesn't lose its defensive leader and tone setter, and he becomes one of the highest paid inside linebackers in the NFL.
I wish there was more to tell you to convince you this prediction is correct. However, there really isn't more that needs to be said. Hightower will likely finish his career as a Patriot and that's all there is to it.
8. Andrew Whitworth, LT – Cincinnati Bengals
2016 Salary: $9,000,000
Where he will sign: Minnesota Vikings
Let's be honest—the addition of Lang wouldn't be enough to fix this Minnesota front five. Especially with Matt Kalil and Andre Smith headed for free agency, the Vikings need to add at least a couple of new bodies up front in 2017.
Hence, the signing of Andrew Whitworth as well. And while I understand the skepticism surrounding the soon-to-be 34-year-old offensive tackle, there's no denying he's still one of the NFL's best blindside blockers.
Over the last two years, Whitworth has been one of the most dominant left tackles in the game. He's done an excellent job of keeping Andy Dalton's rear end off the turf, which is exactly the type of player the Vikings need after what they've had to go through in 2016.
Then again, just about anything woud be better than T.J. Clemmings at this point.
The only problem is Whitworth will likely cost a significant amount of money to sign. Despite his age, he's still one of the most reliable left tackles in the league. Especially with the way he's played this year and with the lack of tackle talent in the 2017 draft class, needy teams will be ready to spend on proven offensive linemen.
With his ties to Mike Zimmer, though, I think Whitworth will opt to go to Minnesota. He's said he'd like to finish his career with the Bengals, but I don't see them being willing to dish out enough money to keep him around. It's not like they went out of their way to re-sign the aging Reggie Nelson last offseason.
7. Jason Pierre-Paul, DE – New York Giants
2016 Salary: $10,000,000
Where he will sign: Atlanta Falcons
As great as Jason Pierre-Paul has been for the Giants, I think it's time for him to move on. The team supported him during the whole firework ordeal, but a change of scenery seems best for the star defensive end. The Falcons could use some help with getting to the quarterback, which makes this an ideal fit.
Even with one and a half less fingers, Pierre-Paul is still one of the NFL's top pass rushers. He's been a menace for opposing quarterbacks in 2016, and should continue to be for the foreseeable future. While the Falcons will likely have to move some money around, they could easily find a way to sway JPP towards heading south.
Pierre-Paul would be an excellent fit across from Vic Beasley, who's enjoying a breakout season. The former first-round pick is finally figuring out how to turn his athleticism and speed into production, and would absolutely benefit from playing alongside Pierre-Paul.
Obviously the financials would be a big factor here. However, if Dan Quinn is serious about adding more assets to his defense, finding a way to get JPP under contract would seem like a smart move for Atlanta.
6. Kevin Zeitler, G – Cincinnati Bengals
2016 Salary: $8,070,000
Where he will sign: Miami Dolphins
It seems pretty simple, right? The Bengals would obviously re-sign one of the top guards in the league. However, that may not be the case when 2017 NFL free agency rolls around. In fact, he could be offered a number of opportunities to see if the grass is greener elsewhere.
As Rand Getlin mentioned back in September, Cincinnati tabled talks with Zeitler. This led many to believe he'd be given a chance to see if he could get his desired deal on the open market. If I had to guess, I'd say that could very well happen—especially with so many offensive line-needy teams out there.
Now I see the Dolphins as a team worth watching in the courting of Zeitler. Their offensive line has quietly been a mess this season, with more starters than you can count on both hands. It's actually rather surprising how well Jay Ajayi and Ryan Tannehill have fared this year.
Adding Zeitler to the mix, however, would give this group a huge boost. That would allow them to send one of their subpar guards to the bench, replacing them with a Pro Bowl-caliber player.
Like most of the guys on this list, signing Zeitler would cost the Dolphins quite a bit. Luckily, they'll have a good amount of cap space to work with next offseason. And as Ndamukong Suh taught us, they aren't afraid to spend big bucks on big-name free agents.
5. Eric Berry, FS – Kansas City Chiefs
2016 Salary: $10,806,000
Where he will sign: Kansas City Chiefs
No matter which way you look at it, there's no reason for Eric Berry to sign anywhere else. Unless the Chiefs run out of cap space, I can't imagine the All-Pro safety playing elsewhere in 2017.
Kansas City already made Berry its franchise player this season after he made a miraculous comeback from his battle with Hodgkin Lymphoma. Despite his health issues, he returned to the field and was his dominant self. That's why the Chiefs slapped him with the franchise tag in the first place.
He didn't disappoint either. After a holdout during training camp and the preseason, Berry has been unstoppable this year. He's producing like a star, and earning impressive marks from Pro Football Focus in the process. Trust me when I say the Chiefs are getting their money's worth with this dynamic safety.
Will he make it to the open market? There's a possibility, especially after his 2016 holdout. However, even if that is the case, I find it hard to believe Kansas City lets him walk.
Berry is the heart and soul of the secondary and failing to sign him would be a huge blow to this team. The front office knows that, which is why I don't foresee it letting his future unfold any other way than retiring a Chief.
4. Alshon Jeffery, WR – Chicago Bears
2016 Salary: $14,599,000
Where he will sign: Los Angeles Rams
Based on everything we've heard about the relationship between Alshon Jeffery and the Bears, he's not coming back in 2017. They used the franchise tag once, and likely won't convince him to re-sign after how things have panned out in the Windy City.
So where will his NFL career take him next? I think the Rams could be a terrific landing spot for the big, physical receiver.
They already have a star in Tavon Austin, but he's a fast, elusive weapon who doesn't provide much value in the red zone or jump-ball situations. Kenny Britt has filled that role well in 2016, but I wouldn't be surprised if he left via free agency. Brian Quick looks the part, but obviously hasn't lived up to his second-round billing.
That's where a guy like Jeffery comes in. He's got tremendous hands, excels in jump-ball situations and knows how to find the end zone. Especially with how bad Los Angeles' offense has been, they could use an injection of star power. Jared Goff would also love it if the Rams could convince Jeffery to come to LA. I think it'll happen, although I would understand his hesitance given Jeff Fisher's new extension.
3. Kirk Cousins, QB – Washington Redskins
2016 Salary: $19,953,000
Where he will sign: San Francisco 49ers
There is a very good chance that Kirk Cousins re-signs with the Redskins in the end. At the same time, I wouldn't be totally surprised if the rising star opted to let a bidding war decide his fate. That's why the 49ers make a lot of sense here.
Apart from the Browns, the 49ers are expected to have the highest amount of cap space available next offseason. And with Colin Kaepernick likely to be shown the door, Chip Kelly and Co. will be looking for a new quarterback to take this franchise into the future.
So why not spend big money on a proven arm like Cousins?
After a rough start to the year, Cousins has come on strong for Washington. He's got their offense firing on all cylinders, and is putting on a performance worthy of a Pro Bowl appearance. Heck, he may even get the Redskins to the playoffs if he can keep things rolling smoothly through the end of the regular season.
Still, I think he'll want to test the waters. The Redskins will give him the opportunity and the 49ers will swoop in and offer him more than D.C. is willing to part with. Kelly gets his star quarterback and Cousins gets his opportunity to turn things around in San Francisco.
2. Kawann Short, DT – Carolina Panthers
2016 Salary: $1,157,584
Where he will sign: Carolina Panthers
There are probably a number of reasons why the Panthers let Josh Norman walk this offseason. One of the main ones, though, has to be that they needed the cap space to re-sign Kawann Short. That's why I'm confident he won't be going anywhere in 2017.
Short is arguably one of the best interior defenders in the NFL right now. The Panthers have enjoyed his presence on the inside since he landed in Carolina. Realistically, he's even eclipsed Star Lotulelei as the superstar at defensive tackle. That's why the Panthers will find a way to keep him this offseason.
Sure, he'll likely get a number of calls if he even makes it to the open market. But it seems a bit crazy for Carolina to actually let him leave, especially after they already let one defensive star depart last offseason.
Whether they use the franchise tag or come to terms on a new deal, the Panthers will convince Short to stay put this offseason. Their defense took steps backwards in 2016, and the loss of Short may be too much for this franchise to handle. They'll realize that, and dish out the money necessary to keep him around.
1. Le'Veon Bell, RB – Pittsburgh Steelers
2016 Salary: $1,030,150
Where he will sign: Pittsburgh Steelers
Although it's going to be difficult for the Steelers to match the price Le'Veon Bell likely wants to be paid, I can't imagine them letting him walk. He's arguably the best running back in the NFL right now when healthy and not suspended. Would any team actually let that type of player test free agency?
Unless they decide they can find a comparable replacement for a fraction of the price, Bell isn't getting away. It's not like DeAngelo Williams is a long-term answer, and he's also a free agent come March. Chances of him getting away are much better. The third-string back is Fitzgerald Toussaint, who isn't exactly a starter-in-the-making.
That's partly why they can't let Bell go. The other part is that he's simply an elite talent. Not only is he an amazing runner, but he's also a playmaker in the passing game. When he's at full strength and actually on the field, Bell is an absolute force for the Pittsburgh offense.
It's going to cost the Steelers an arm and a leg to keep Bell. While it won't be anywhere near Adrian Peterson money, it's going to put a significant dent in the cap space they have available in 2017. That's the price you have to pay for elite players, though.
This article originally appeared on