2017 NFL Free Agency: 10 Players In Line For Huge Paydays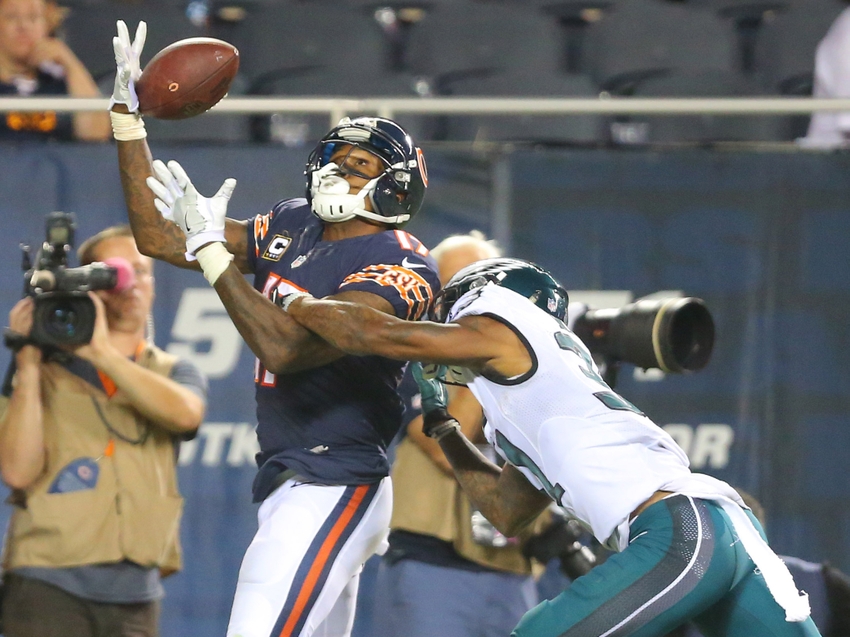 Next to the draft there is no more exciting off-season event to look forward to than 2017 NFL free agency. The question moving forward is who boards the hype train?
That is to say there are several names out there who are already lining up for massive paydays from every position, offense and defense. Based on the first two weeks of the regular season, which players are the ones that bear watching? Keep an eye on these guys.
Latavius Murray (RB, Oakland Raiders)
Last year the Oakland Raiders were confident they had something special at running back in Latavius Murray. After a few early bumps in the road, he finished with a strong enough season to make his first Pro Bowl. He collected just shy of 1,300 total yards and scored six touchdowns. So far in 2016 he's off to another strong start. Through two games he has collected 173 total yards from scrimmage, is averaging 5.3 yards per carry and scored two touchdowns.
He is the unquestioned bell cow in the backfield for the Silver and Black. The good news is the team could have as much as $42 million in cap space in 2017. That should make re-signing him relatively easy. Adrian Peterson is the highest-paid running back at the moment, making an average of $14 million per year. The next closest though are LeSean McCoy and Jonathan Stewart at a more modest $7-8 million per year. Expect Murray to hover in that territory.
Alshon Jeffery (WR, Chicago Bears)
There isn't a lot going right for the Chicago Bears offense at present. The offensive line is struggling to pass protection. Running the ball has become an afterthought and their offensive coordinator Dowell Loggains seems routinely overmatched. One of the few lone bright spots through two ugly games has been Alshon Jeffery. The wide receiver bet on himself by accepting the franchise tag and so far it's paying off. In two games he has 201 yards on just nine catches.
Injuries have been his primary hindrance in the past and he's dealing with one yet again. Still the production is there, despite the ongoing unwillingness from the Bears to find more ways to get him the football. There is no question that he will become the biggest target on the open market come next March if he plays the rest of the year like he has so far. Chicago will be in position to prevent him from leaving. They will have the ability to tag him again if necessary, not to mention upwards of $50 million in available cap space.
Willie Snead (WR, New Orleans Saints)
Where Jeffery is the slam dunk moneymaker going into 2017, the New Orleans Saints may be hatching another late in the game. The name Willie Snead didn't register on many radars at first but after finishing with 984 yards in 2015, people started to realize the young man could play. His start to this year only furthers the belief he's going to get a massive raise from his modest undrafted rookie deal. At 226 yards and two touchdowns he's on pace to shatter both his marks from a year ago.
Given the popularity of shorter, quicker receivers in the league nowadays he's bound to get tons of attention. Of course he'll be a top priority for the Saints who know they must do everything possible to keep Drew Brees properly armed. Cap space won't be at premium but they should have upwards of $20 million or more. Unless Snead is seeking top dollar the two sides would be able to work out a deal. Much of it depends on what the young receiver thinks he'll be worth.
Kevin Zeitler (OG, Cincinnati Bengals)
This past off-season has proven that interior offensive line blocking is more coveted than ever before. Kelechi Osemele notched a huge contract from the Raiders and Pro Bowler Kyle Long received an extension from Chicago to the tune of $10 million per year. One can expect Cincinnati Bengals guard Kevin Zeitler to get similar action. He's been a rock steady member of their front since he was drafted, both as a run blocker and a pass protector.
Given his age and the demand around the league for dependable interior linemen, there is no question that Zeitler will have a considerable market for his services. The question becomes can the Bengals retain him? The answer is yes, if they want to. Current projections have the team at upwards of $43 million in salary cap space. That should be more than enough for them to work out a deal, assuming Zeitler has no desire to take his talents elsewhere.
Matt Paradis (C, Denver Broncos)
Gary Kubiak always has a way of building productive offensive lines and his usual magic is at work again with the Denver Broncos. As expected they have a solid rushing attack and are managing to put together decent passing games despite having an inexperienced quarterback in Trevor Siemian. One of the main components to this success has been the maturation of third-year center Matt Paradis. He's become one of their most reliable players on offense, even though it's often easy to miss.
Given the strength of interior pass rushes these days, nobody can put a premium on having a good center. That makes somebody like Paradis, who is still quite young (26) so valuable. There may be a push from the outside to gain his services but with plenty of salary cap space going into 2017, the odds are John Elway will do what is needed to ensure he remains a Bronco. Then again this team has let good players go before.
Kerry Hyder (DT, Detroit Lions)
This is not a name people expected to be talking about so early in the season. Why should they? Kerry Hyder was an undrafted free agent for the Detroit Lions who only played one game in 2015. Seems they had this potential ace up their sleeve the whole time. Hyder is off to a roaring start this season, collecting three sacks in his first two games. Neither of which he started. Some might view him as undersized at 6'2″, 280 lbs but there is no denying his ability as an interior pass rusher.
In such cases it stands to reason that Hyder, if he finishes this season strong, will be seeking the biggest possible payday. After all, he's well within his right to do so after living on such a small rookie contract. Detroit will have around $30 million in cap space. They should be able to retain his services provided they feel the price isn't too steep. Given his age and ascending talent it feels like this is a player they want to keep, especially given the age of veterans like Haloti Ngata.
Melvin Engram (OLB, San Diego Chargers)
It took a few years for things to get on track but it seems the 1st round pick the San Diego Chargers invested in Melvin Ingram is really starting to pay off. After producing double digit sacks for the first time in 2015, the outside linebacker is off to a great start this season with two sacks through week two. With all the talk about Joey Bosa and his future, Chargers fans should really start worrying about what's going to happen to their actual best pass rusher.
The premium for players who can produce 10 or more sacks every season is among the highest in the NFL. That means Ingram, if he can duplicate what he did a year ago, is looking at upwards of $12 million per season. Probably more if he can push the sack total to 15 or higher. Free agency is all about timing. This could be a big problem for the Chargers. They will have around $20 million in cap space next year. With a number of other free agents to consider, they may have to make sacrifices.
Jamie Collins (OLB, New England Patriots)
Bill Belichick knows his linebackers and Jamie Collins may turn out to be the finest the Hall of Fame could will ever produce. He has emerged to not only become a top linebacker in football but a big threat to win Defensive Player of the Year. In just three games he has 23 tackles, two interceptions and a sack. No matter where a person looks on the field, Collins always seems to be there trying to make a play on the football.
The New England Patriots will be faced with a tough decision in 2017 though. While they'll have plenty of salary cap space available ($63 million) they will also have a number of key players looking for new deals. This includes Sebastian Vollmer, Dont'a Hightower, Martellus Bennett, Logan Ryan, Jabaal Sheard, and Malcolm Butler. If Collins tries to push his price high enough amidst that, the Patriots have a history of not overpaying even for great players.
Marcus Cooper (CB, Arizona Cardinals)
One thing the Arizona Cardinals are known for in the past couple years is their ability to make productive trades. Of course Carson Palmer is probably their greatest steal to date, but there have been others. The most recent may end up being cornerback Marcus Cooper. After failed attempts to stick in San Francisco and underwhelming in Kansas City, the young man seems to have finally flipped the switch. He broke out against Tampa with two interceptions and a touchdown.
At 6'2″ Cooper is the absolute premium height teams are looking for in their cornerbacks. If he can finish the year strong there is no question he'll have them lining up for a chance to hand him a new deal. Maybe even into the $10-12 million territory. Consider the Cardinals already have so much money invested in Patrick Peterson, that will be a difficult sell for them. Especially with Chandler Jones due a new contract as well. GM John Keim will have to get creative.
Tony Jefferson (S, Arizona Cardinals)
Turns out Cooper isn't the only defensive back the Cardinals may have to pay up in order to keep. Young safety Tony Jefferson is establishing himself as one of their most reliable secondary tacklers. He's tremendous around the line of scrimmage. Already he has 21 tackles on the season. Given how often he's been near the football, it's just a matter of time before he produces a big play. At just 24-years old, his value is spiking in a big way.
A number of other key players are lined up for new deals. The team also has pretty solid depth at safety. Odds are this may be the last season Jefferson plays in Arizona. It's a numbers game, both in terms of playing time and money. Like most young players Jefferson is seeking a maximum contract. Based on their cap situation there is just no way the Cardinals will be able to give him one. So that could put one more intriguing name on the safety market.
This article originally appeared on