2017 NFL Draft: Zay Jones, the Best Receiver Nobody's Talking About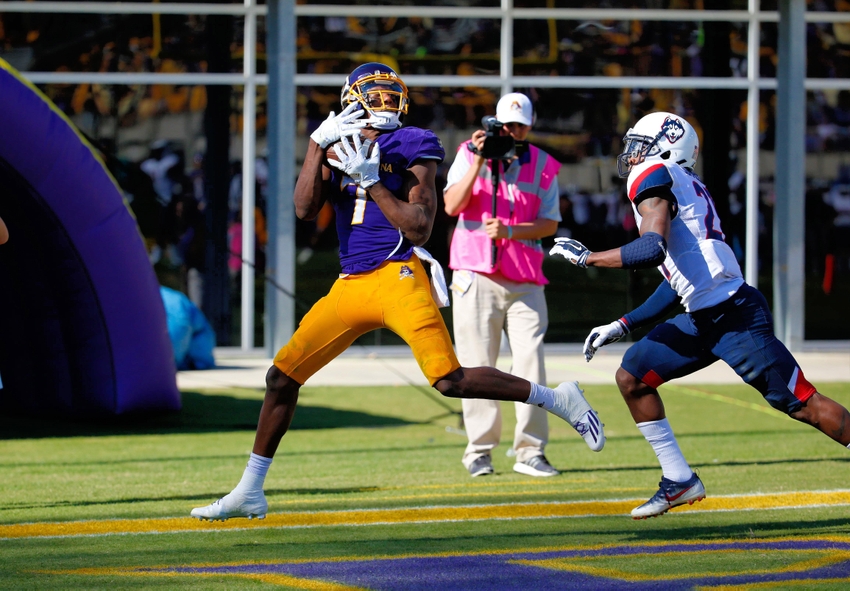 East Carolina senior wide receiver Zay Jones is a 2017 NFL Draft hopeful you don't know about yet, but you should.
The wide receiver position is one of the most coveted positions in the NFL Draft. A premier receiver is one of the most sought after positions for any NFL team, especially with the NFL becoming a more passing focused league as time goes by.
With Mike Williams, John Ross, JuJu Smith-Schuster and Corey Davis all getting deserved attention, the 2017 NFL Draft is shaping up to have a terrific class. However, also part of this class is an often overlooked name that has quietly been evolving his game and climbing the NCAA career receptions list. That player is Zay Jones from East Carolina.
Jones, a four-year standout in Greenville, is 6-1 and 197 pounds with good length and strong hands. He is one of the more mild-mannered, focused receivers in the nation that allows his play to do the talking for him. Jones has 139 receptions for 1,473 yards and six touchdowns through just 10 games. He leads the nation in receptions, receptions per game, receiving yards and receiving yards per game—all by a wide margin. These gaudy marks have already set career highs for Jones, even with two games remaining.
"I credit my coaches for opening up the route tree for me," Jones said. "Coach [Phil McGeoghan] has really opened it up for me. I used to be more of just an inside guy, but now I get looks all over the field and run more routes. He and Coach [Scottie Montgomery] have really taught me a lot about being an NFL caliber receiver."
This progression will allow Jones to follow in the footsteps of Dwayne Harris, Justin Hardy and others as receivers to make the jump from Greenville to the NFL. Jones is also following closely behind Hardy as he climbs the ladder and likely passes his former teammate on the all-time NCAA receptions list. Jones currently sits seven receptions behind Hardy and will likely pass him this week against Navy. Jones does not look at it as a chance to beat Hardy's record, however.
"I have tremendous respect for Justin. He was a great teammate and taught me a lot," Jones said. "But I don't look at it as trying to break his record. I look at this as a chance for me to set my own record. Leave my own legacy."
Jones is leading his own legacy and it is based on his work ethic. Jones has been lauded as one of the hardest working players the current coaching staff has worked with. He also uses his quiet confidence and resolute demeanor make him a favorite among teammates and coaches.
While most look at the stats, the Biletnikoff Award semifinalist is true a student of the game. Jones has worked tirelessly to improve his route running ability, worked on his catch strength to become a more reliable target and become a much more reliable blocker. His attributes his persistent to the want to leave a lasting legacy at East Carolina and to best position himself for a successful future.
While other receivers may have the name recognition, it is truly Jones' style to fly under the radar throughout a record-setting season. Many have Jones pegged as a mid-round draft selection. Some do not think he should take home the Biletnikoff award (his numbers should make him a runaway winner). That doubt does not bother Jones. Even if his name is not known across the nation, he claims he will continue to work hard every day and do everything he can to set himself up for a successful future.
Let this serve as notice to all; Zay Jones is a receiver with the size, speed, agility, stats and demeanor to be a future playmaker in the NFL. Whether you currently know his name or not, he is the best receiver that you are not talking about right now. But soon enough, you will be.
This article originally appeared on