2017 NFL Draft: Why the 49ers Should Trade Down in Round 1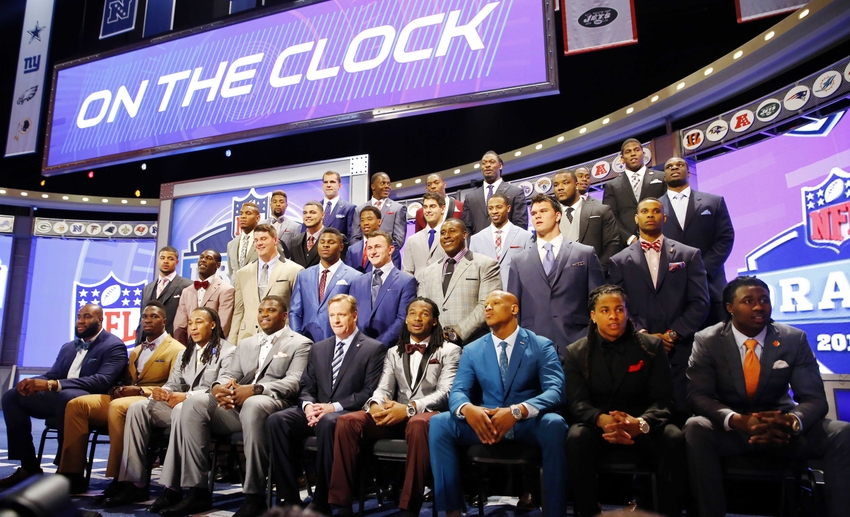 The San Francisco 49ers have no shortage of needs in the 2017 NFL Draft. And while the Niners are projected to have a top-five pick easily, trading down might wind up being the better option.
If the 2016 season ended today, the San Francisco 49ers would own the No. 2 overall pick in the 2017 NFL Draft.
NFL Draft: Positional Priority List for the 49ers in 2016
Of course the season doesn't end today, and the Niners could still wind up swapping picks with a number of bottom-dwelling teams — ones like the Cleveland Browns, Chicago Bears, New York Jets or Jacksonville Jaguars.
But let's assume San Francisco winds up with the second pick in 2017. If that happens, the Niners would be wise to trade down in Round 1.
Yes, top-five picks are extremely valuable. It doesn't take a draft genius to figure that out.
Right now, the 49ers own 10 picks in the upcoming draft. This does not include compensatory picks, which won't be announced until the offseason.
Based off their 1-9 record and talent-strapped roster, those 10 picks aren't going to come anywhere close to fixing this franchise.
Let's take a deeper look at why San Francisco should trade down.
Myles Garrett or Bust
If Texas A&M edge rusher Myles Garrett is available at No. 2, let's just disregard this whole argument.
Garrett is widely viewed as the top prospect in the NFL Draft. And the 49ers could sure use his pass-rushing prowess to alleviate a need that has existed over the past two-plus seasons.
It's possible Garrett falls to the Niners at No. 2, if they pick there. Pro Football Focus' Steve Palazzolo recently mocked Garrett to San Francisco at this spot.
The problem is the Browns also have no shortage of needs. And it wouldn't be surprising at all to see Cleveland go with the best player available.
That player is Garrett.
Value and Need not a Match for the 49ers
Other top-five talents include Alabama defensive lineman Jonathan Allen, LSU running back Leonard Fournette, Clemson quarterback Deshaun Watson and Clemson cornerback Cordrea Tankersley, depending on whose big board one likes.
The 49ers have fairly good depth and up-and-coming talent within the secondary — although a Michigan safety/linebacker/whatever-defensive-player-you-like like Jabrill Peppers would be nice — so a top-five defensive back doesn't make a lot of sense.
Although general manager Trent Baalke sure loves his corners, if he's still here in 2017.
Fournette was tabbed by CBS Sports' Rob Rang as the next coming of Adrian Peterson.
San Francisco will need to add some competition at running back to help spark No. 1 tailback Carlos Hyde. But a top-five pick to do this? Probably not. And this year's running back class is pretty deep already.
Yes, the Niners defensive line could use some help. But adding a player like Allen would negate development of San Francisco's last two first-round picks, Arik Armstead and DeForest Buckner, to a certain extent.
And the quarterback position? It's a need for sure. But betting on someone like Watson at No. 2 seems more of a risk, considering Watson's inconsistencies this season. And 2018 is shaping up to be a better QB class anyway.
Increase the Pot of NFL Draft Picks
A No. 2 overall pick holds a ton of value. Just ask the Philadelphia Eagles, who moved up to the second spot to grab quarterback Carson Wentz in 2016. What did the Eagles give up again? It was a lot.
This isn't to say the Niners will be able to find such a lucrative trade deal. But let's get an idea what the pick would be worth.
According to Pro Football Talk, the No. 2 overall pick is worth 2,600 points. A move down to No. 5 overall (1,700 points) could net San Francisco a second-, third- and a fourth-round pick, based on the numbers.
Take a look at the chart, and you can come up with an infinite number of possible scenarios.
Should something like this happen, the Niners would still have a top-five pick and yet add another early pick, along with two mid-rounders, to the pile.
They need all of them.
These numbers aren't set in stone, but you can get the idea. San Francisco can still hold onto a top-level pick while easily adding more picks in what needs to be a home-run draft.
So if the value and need doesn't match early on, moving down is what the 49ers need to do here.
This article originally appeared on