2017 NFL Draft: Week 12 Prospect Stock Report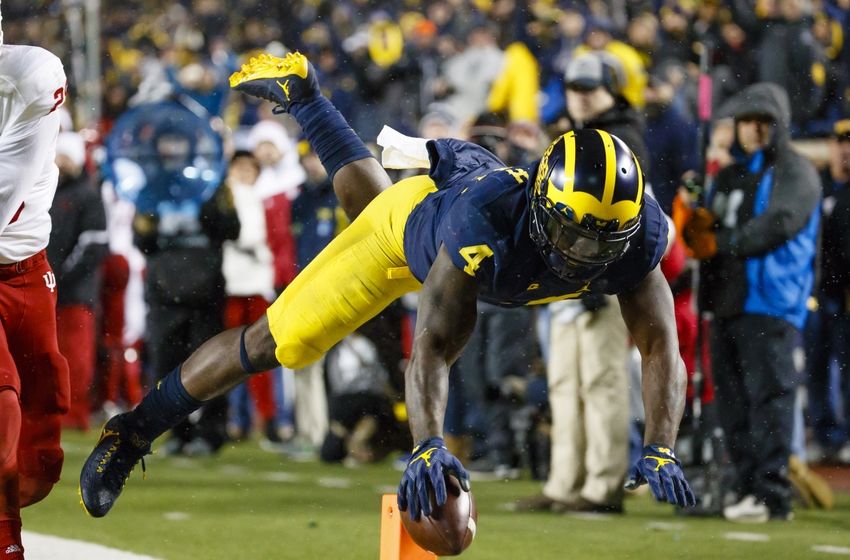 Week 12 of the college football season is in the books. Although there weren't as many upsets as a week ago, there were plenty of performances by 2017 NFL Draft prospects that caught the attention of scouts.
Get the FanSided App
After this past weekend's slate of games, some schools have just one game remaining in the season. For 2017 NFL Draft prospects at those schools, their film grade is basically finalized, however postseason all-star games loom large for those who earn invitations.
This late in the season, the majority of games are magnified in importance as teams battle for conference championship berths and bowl bids. For some of the prospects on this list, they took advantage of the opportunity and increased their draft stock. For others, week 12 is one they'll want to quickly forget.
Stock Up: Offense
Corey Davis (WR – Western Michigan) and Zay Jones (WR – East Carolina): Corey Davis and Zay Jones have had two extremely productive college careers. Both have also seen their 2017 NFL Draft stock rise this season as they've showcased next-level skills while playing in mid-major conferences. In week 12, Jones broke an FBS record, while Davis closed in on one of his own.
Against Navy, Jones caught 12 passes for 212 yards and two touchdowns. Those 12 receptions bring his career total to 392, which is five more than the previous record held by Justin Hardy, a former East Carolina wideout. The record-breaking reception came on a flawlessly run corner route in which Jones finds the soft spot in the Navy zone and gives his quarterback a large window in which to place the football.
While Jones set the new career reception mark, Davis is well on his way to becoming the new record holder for career receiving yards. With College Gameday's appearance bringing extra attention to Kalamazoo, Davis and the Broncos shined in a 38-0 win over Buffalo.
Davis caught 13 passes in the game, tying his career high. He also added 173 yards and two touchdowns. He's now surpassed 1,200 receiving yards in each of the last three seasons and is only 19 yards away from breaking the all-time FBS record of 5,005 set by Trevor Insley of Nevada in 1999.
At this point, it's a matter of how far out of reach will Davis put the record. Western Michigan will host Toledo on Friday with a spot in the Mid-American Conference championship game on the line. A win for Davis and company guarantees the Broncos will have two games remaining after the week 13 contest.  Even if his production is just average in the final three games, Davis should eclipse 5,300 yards for his career.
Of the two, Davis is the better 2017 NFL Draft prospect and someone who should be a first-round pick. Jones on the other hand, will likely hear his name called on day two of the draft.
Saturday Blitz 15h
College Football Playoff Rankings: Projected Top 10 after Week 12
De'Veon Smith (RB – Michigan): Playing in poor weather conditions with a backup quarterback, Michigan had no choice but to rely on the running game to knock off Indiana. Not fooling anybody, the Wolverines ran the ball 50 times in the 20-10 victory. 23 of those carries came from De'Veon Smith, who rewarded Jim Harbaugh with 158 yards and both Michigan touchdowns on the ground.
The Michigan offensive line opened up huge running lanes against the Hoosiers, but it was Smith's ability to beat the second level of the defense that was most impressive. He showed off solid athletic ability in the open field to elude linebackers and defensive backs, while also demonstrating the power that he's been running with for much of this season.
In a loaded running back class, Smith won't be selected until late in the draft, but he's someone who can be brought in to keep the chains moving and milk the clock late in games. With a matchup against Ohio State this weekend, Smith will have a chance to showcase his skills against a unit with NFL-level talent on all three levels.
Jonnu Smith (TE – Florida International): In last week's contest against Marshall, Jonnu Smith caught one pass for 15 yards. Despite the lack of production, Smith saw his 2017 NFL Draft stock rise just for being on the field.
Less than three weeks ago, it was announced that Smith would miss the rest of the season after his girlfriend allegedly scalded him with boiling water. Despite being severely burned, the senior tight end missed just one game. His return to the field for the final home game of his career clearly inspired his teammates, as the Golden Panthers beat Marshall 31-14.
Smith's return to the field also opens up the possibility he could participate in a postseason all-star game. He's a potential candidate for the Senior Bowl, however Evan Engram and Gerald Everett have already accepted invitations with O.J. Howard, Jake Butt, Jordan Leggett and Jeremy Sprinkle likely to round out the six open slots. More likely, he'll be invited to the East-West Shrine Game or NFLPA Bowl.
Stock Up: Defense
Caleb Brantley (DT – Florida): There's nothing more helpful to NFL scouts and decision makers than to see a prospect play on a big stage with something on the line. With the game and a spot in the SEC championship game on the line, Caleb Brantley is the one who shined. The Florida defensive tackle helped his 2017 NFL Draft stock as much as anyone in the country in week 12.
LSU had two chances to tie the game from the one-yard line and on both plays running back Derrius Guice was stuffed by the interior of the Florida defensive line. Brantley and his teammates held their ground and didn't allow the LSU offensive line to generate any push up front. It wasn't just this drive either. Brantley finished the game with three tackles for a loss.
Brantley isn't as highly rated as teammates Teez Tabor or Jarrad Davis, but on this day he was the best player on the field. His stock is on the rise, and could potentially sneak into the second day of the 2017 NFL Draft.

FloridaGators
16

LSUTigers
10
Tre'Davious White (CB – LSU): In the same game on the other side of the ball, Tre'Davious White also helped his 2017 NFL Draft stock. The LSU cornerback broke up a career-high four passes in the loss.
Prior to this contest, White had never been credited with more than two pass breakups in a game. One reason for that is opposing quarterbacks don't often challenge him, however Florida continuously attempted to throw his direction. White displayed very good awareness and agility as he broke towards the football and prevented his man from coming away with a reception.
Unlike Brantley, there's no debate as to whether White will enter the 2017 NFL Draft. He's a senior and will finish up his college eligibility this season. Although he hasn't officially accepted an invitation, White is expected to join teammate Duke Riley at the Senior Bowl in January.
Stock Down: Offense
Pat Elflein (C – Ohio State): Pat Elflein is one of the top center prospects for the 2017 NFL Draft, however his performance against Michigan State in week 12 was not one of a draftable prospect.
With Malik McDowell out for the game, the interior of the Ohio State offensive line should have dominated the defensive tackles of the Spartans. Instead the quickness of the backups caused fits for Elflein, who committed three penalties in the game, two of which were holds.
With a much more talented pairing in Michigan's Ryan Glasgow and Matt Godin coming up for the Buckeyes in week 13, Elflein must step up his game in order to keep QB J.T. Barrett upright for the biggest game of the season.
Brady Gustafson (QB – Montana): Brady Gustafson's college career is over after Montana fell to rival Montana State and failed to land a spot in the FCS Playoffs. After receiving comparisons to Carson Wentz prior to the season for no other reason except he was the top-rated FCS quarterback, Gustafson struggled to carry over any of that preseason momentum into the regular season.
Sure Gustafson had a streak of four-straight games with four touchdown passes, but those games were against below-average FCS defenses. He faced just three opponents ranked in the top 60 in terms of defensive passing efficiency. In those contests, he completed just 55 percent of his passes for an average of 221 yards per game. He also had a five to three touchdown to interception ratio.
His career ended with a clunker of a performance in the battle for the Great Divide Trophy. Montana State held him to just 192 yards for the game as Gustafson returned to the field after missing two games due to injury. He may receive an opportunity to play in a postseason all-star game, however the 6-foot-7 QB is currently on the outside of the 2017 NFL Draft looking in.
Pharaoh Brown (TE – Oregon): Senior tight end Pharaoh Brown suffered one of the worst-looking injuries of recent memory back in 2014 which nearly resulted in his leg being amputated. He would go on to miss the entire 2015 season before making his triumphant return this season. Despite having a career year in 2016, it's now doubtful that he'll be selected in the 2017 NFL Draft.
Brown's stock has plummeted after The Daily Emerald, published an article that detailed three separate violent acts Brown was allegedly involved in over the past two years. The article, which can be found here, goes into more detail, but the bullet points are that two of the fights involved teammates and another his girlfriend at the time.
Brown was already suspended for a bowl game back in 2013 for his involvement in a snowball fight (hard to believe, but true), but the accusations in this article are much more severe. Brown was held out of the win over Utah for what the school called a leg injury. His status for the season-finale against Oregon State is unknown.
Stock Down: Defense
Malik Hooker (FS – Ohio State): Malik Hooker has played extremely well this season against the pass, however his ability to slow down the run was exploited by Michigan State. There were several plays in which he was caught out of position and the Spartans, particularly running back L.J. Scott, took advantage.
In the play below, Ohio State calls a cornerback blitz and forces Hooker to cover the receiver to the left of the offensive formation. Michigan State runs the ball and Hooker is unable to get back into position to make the stop. Scott bursts through the defense and gains 61 yards on the play.
It wasn't a terrible game for Hooker, but it is one that will force NFL scouts to go back and see if his awareness and range against the run is a consistent issue. With Michigan potentially starting a backup quarterback, Hooker will have an opportunity to improve his grade against the run this weekend.
Takkarist McKinley (DE – UCLA): Like Hooker, it's widely known that Takkarist McKinley is a much better defender in passing situations than he is against the run. His struggles versus the ground game once again showed up against USC.
McKinley has an non-stop motor as he attempts to chase down the QB, however opposing offenses are starting to take advantage of this. Freshman Sam Darnold, who is deceptively mobile for a 6-foot-4, 225-pound QB, had plenty of success running the read option to McKinley's side of the field.
 McKinley's over aggressiveness has gotten the best of him at times this season, and the play above is an example why. While he once again proved he's one of the best pure pass-rushing edge defenders available in the 2017 NFL Draft by getting the better of USC tackles Chad Wheeler and Zach Banner, he hasn't proven to be anything more than a third-down outside linebacker at the next level.
This article originally appeared on