2017 NFL Draft Underrated Prospects: Montravius Adams, NT, Auburn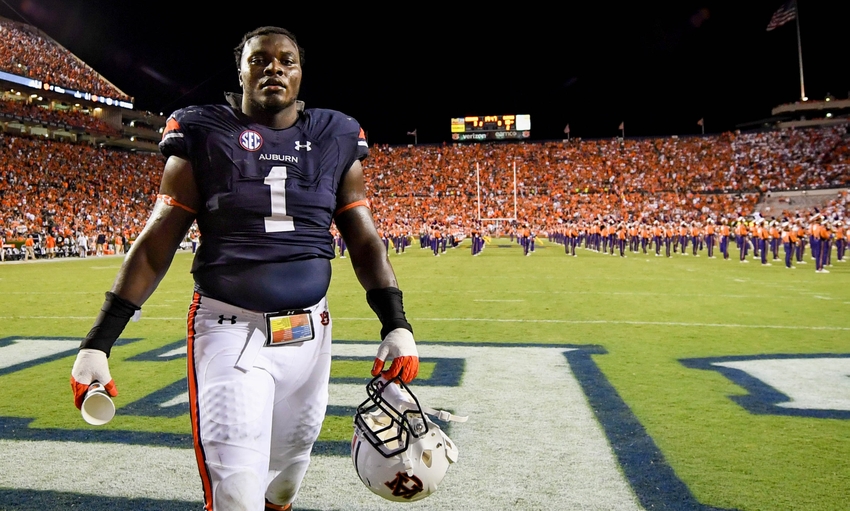 Welcome back to The Underrated! This week, I discover another hidden gem for the 2017 NFL Draft! 
Coming out of the blue corner, from Dooly County, Georiga. He weighs 305 lbs and hovers over his opponents at 6'4, Montravius Adams! That's as close to Bruce Buffer as I'll ever get so I hope you all enjoyed that. It's another week, therefore, it's another edition of The Underrated for the 2017 NFL Draft!
Meet Montravius Adams, an exceptional talent on the defensive line at Auburn University. At times, he flashes first round talent and other times, he looks just like a big body lost in space. Most of his inconsistencies are due to work ethic concerns. Back in March of 2016, he returned to Auburn for "unfinished business." Some of that business was to make one last run with his teammates at Auburn and the other was to graduate from college with his degree.
Throughout his time at Auburn, Montravius Adams has been very productive. In the first game of the 2016 season against Clemson, he had 5 total tackles. Then a few weeks later, he went on a tear against Texas A&M and LSU. Between both games, he totaled: seven tackles, three tackles for loss and 1.5 sacks. But again, there are inconsistencies.
Just two weeks ago against, Georgia, he had six tackles, two tackles for loss and a sack. Last week, the Tigers played Alabama A&M. and you would think he would have had some type of tackle. In reality, he actually didn't record a single tackle. However, he did intercept a pass, which is something he's done twice in his career.
For position purposes, Montravius Adams is going to be a nose tackle at the next level. Put him in any 3-4 defensive scheme and he's head up on the center for almost every down. The question is, can he play every down? At this time, he can't. He will become a situational player during his rookie season, but with time he should become that every down player. If I had to choose a pro comparison for him, it would be Nick Fairley.
Much like Fairley, Adams is listed at 6'4 and around 305 lbs. He can only hope that his measurements don't come back like Fairley's in the 2011 NFL Draft (Fairley was shorter and weighed lighter than listed in college). They both played in the same scheme at Auburn and were both focal points of stopping the run and creating a good pass rush.
At times, Adams plays high and loses the battle at the line of scrimmage. When he loses that battle, he's either too slow off the ball or not properly using his hands to get off a block. With time, he'll learn that he can't overpower and manhandle every blocker. There are plays where he's making the tackle before the running back makes his cut.
Right now, Adams isn't a first-round talent. However, he does bring raw talent, power and experience to the table. Patience will be the key with him. Once that time is invested, he'll become a great player. As for today, his 2017 NFL Draft stock is in the late 2nd-round or early 3rd-round.
Size will never be a question for Adams. The ability to play against pro caliber players is there. He has the stats to back up his ability and size. But there are concerns from game to game consistencies and there are work ethic issues.
With out a doubt, he can become a starter at the next level. Will it be year one, or will it take some seasoning at the next level? Whatever the case may be, Montravius Adams should be on everyone's draft board and eventually, he'll be a name you'll get familiar with on Sunday's.
This article originally appeared on