2017 NFL Draft: Top 50 Prospects Halfway through Season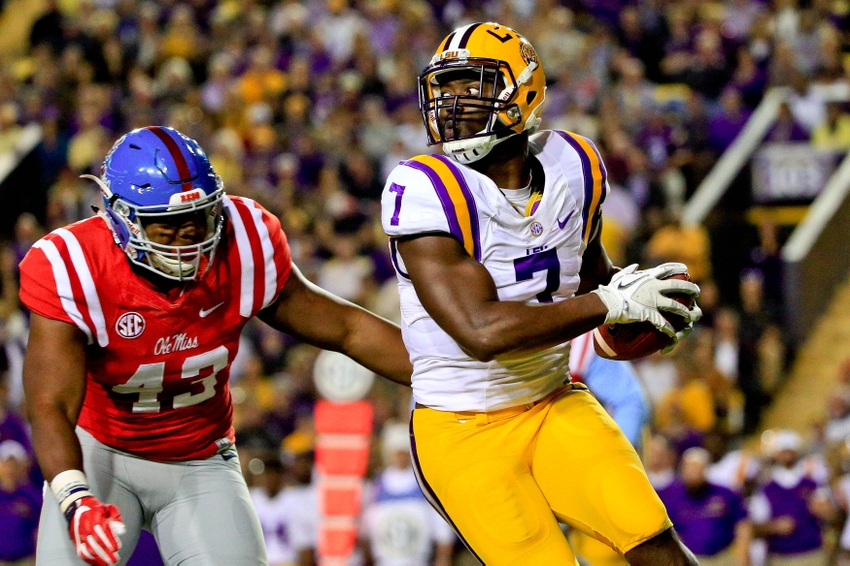 With college football regular season over halfway over, here are the top 50 NFL draft prospects through Week 10.
Even though the college football and NFL regular seasons are still in full swing, it's never too early to look at the NFL draft, especially considering how much talent is in this year's class.
Sure, these rankings will change over the next six months, but looking at the top prospects right now will give us plenty of time to continue focusing in on them to determine whether or not they're going to be legitimate talents at the next level.
This list of Top 50 prospects is based off of my personal scouting notes alone, with my grades weighing this season more heavily than previous ones. I have watched as much tape as possible on these 50 guys, but unfortunately there are a few prospects I have yet to get a good enough look at to make determine where they should be ranked. Here's an incomplete list of guys I haven't gotten to yet who could very well wind up in my top 50 in the coming weeks:
Caleb Brantley, DL, Florida
Cordrea Tankersley, CB, Clemson
Jake Butt, TE, Michigan
Armani Watts, S, Texas A&M
Jehu Chesson, WR, Michigan
Ethan Pocic, C, LSU
Marcus Williams, S, Utah
JuJu Smith-Schuster, WR, USC
Lowell Lotulelei, DT, Utah
Roderick Johnson, OT, Florida State
Ryan Ramczyk, OT, Wisconsin
Keeping in mind that none of these guys will be on this list, here are my Top 50 NFL draft prospects through Week 10 of the college football season.
This class of wide receivers isn't exactly the deepest we've seen, but there are still a few guys that have caught my eye so far this season. One of those comes out of SMU in redshirt sophomore Courtland Sutton.
Despite playing for a 5-4 Mustangs team, Sutton continues to stand out with his impressive production. In eight games, Sutton has put up 698 yards and five touchdowns on 39 receptions.
Scouts will be drawn to Sutton thanks to his 6'4", 215-pound frame. He understands that he's bigger than the guys covering him, so he comes into games with an aggressive mindset. That comes in handy when his quarterback throws up 50-50 balls to him, because he does a great job adjusting his body to make the catch over defensive backs.
He may not be getting a ton of attention now, but as the draft gets closer, scouts are going to start talking about Sutton a lot more than they are at the moment.
When ignoring the off-field issues, Oklahoma's Joe Mixon is one of the most talented prospects in college football right now. However, a video of Mixon assaulting a woman in 2014 will have a lot of NFL teams concerned about picking up the redshirt sophomore if he declares after this season.
If Mixon is able to convince teams that he's grown up since the very disturbing assault, he'll get a chance in the league because of his talent. The Oklahoma prospect is a big play threat any time he touches the ball. He has the ideal combination of size and speed along with his elusiveness helping him break off some big plays. Mixon can also make plenty of plays in the passing game, as made evident by his three receiving touchdowns and five total scores in the shootout against Texas Tech a couple of weeks ago.
Mixon is far from a complete prospect at the position, however. Despite his elusiveness, Mixon is rarely able to shake off tacklers and it is unclear whether or not he can be a capable blocker in pass protection when needed.
The upside is there for Mixon to play a role similar to one that Tevin Coleman plays in Atlanta. However, he'll need to be able to answer questions that scouts will have about his off-field incident.
Anytime someone is draft eligible and has the same genetics as an elite NFL player, scouts are going to pay attention to him. As the brother of three-time Defensive Player of the Year J.J. Watt, Wisconsin outside linebacker T.J. Watt is getting plenty of attention.
Watt has only been playing the outside linebacker position for a littles less than a year and a half, but he's quickly developing into one of the most dominant defensive players in the Big Ten.
With the injury to teammate Vince Biegel earlier this season, Watt was able to showcase his talents on a more consistent basis. He made the most of the situation, racking up sacks game after game to become a potential All-American candidate.
Obviously, Watt is still a raw talent at the position. However, given his 6'5", 243-pound athletic frame and family history, teams will be taking a long look at T.J. if he decides to go pro after this season.
Confidence has never been a problem for Ole Miss Rebels quarterback Chad Kelly. The 22-year-old has been certain that he'd be an NFL quarterback for some time now, and it doesn't hurt that his uncle Jim Kelly has been grooming him for years.
Unfortunately, off-field issues have raised plenty of red flags for Kelly. All of the incidents that he's been involved in have dropped him on my big board, but the talent is definitely there for Kelly to be an NFL quarterback.
Kelly might be the best example of a gunslinger in this year's draft class. He has top-tier arm strength and can zip balls to his intended receivers. The Ole Miss quarterback can make all of the throws, but it's the mental aspect of the position that he can struggle with. Kelly tends to stare receivers down and make poor decisions from time to time, leading to a lot more turnovers than NFL scouts would like to see from a college QB.
If Kelly can work on the mental portion of playing quarterback and prove that he's become a more mature person off of the field, I wouldn't be surprised to see a team take a chance on him in Day 2 of the draft.
One of the most overhyped qualities in a wide receiver is size. Sure, size can be a factor if you're naturally a physical receiver with great hands who can make catches in traffic, but if you're a polished route runner with elite speed, you can still play at the next level regardless of how big you are.
Oklahoma's Dede Westbrook is proving that he's one of the best receivers in college football this season despite coming in at just 6'0" and 175 pounds. He has been on an absolute tear as of late, picking up 12 total touchdowns in a five-game span.
Westbrook has the soft hands and speed to make plays all over the field, but especially as a deep threat. He may not be the biggest guy and scouts will complain that he was limited upside as a senior, but Westbrook has the tools to make an immediate impact as a slot receiver in the NFL.
I'm not nearly as high as a lot of people are on Miami quarterback Brad Kaaya. The Hurricanes prospect simply hasn't done enough this season for me to think that he's worth a first-round pick, and although I know I'll get a lot of heat for this one, he's barely in the top 50 of my big board right now.
Kaaya had another ugly game this week against Notre Dame, completing 26 of 42 passes for 288 yards, a touchdown and an interception. The Miami QB struggled under pressure, which has been a problem all season. Any time the pocket collapses even a little bit, Kaaya goes into panic mode and makes bad throws.
I will say that I really like Kaaya's throwing motion and his arm strength. When there's a clean pocket he can have some great touch on his passes.
However, any NFL quarterback has to deal with pressure in the pocket, and if Kaaya can't make throws under duress, it's hard to believe that he'll be able to do so in the NFL.
Georgia Bulldogs running back Nick Chubb has had a really disappointing year. That sentence deserves an asterisk considering he's coming off of a gruesome leg injury and is playing behind a really bad offensive line, but the lack of production hurts Chubb in a class full of talented running backs.
When he's at his best, Chubb draws comparisons to someone like Frank Gore. He has excellent vision, and at 5'10" and 228 pounds he's compact and strong enough to fight through contact and break tackles.
The biggest concerns scouts will have with Chubb is his lack of speed and whether or not he can stay healthy after such a concerning leg injury last season. If he can answer one or both of those questions, his future in the NFL will be bright. If not, we could see him slide down into the third or even fourth round.
The Virginia Tech Hokies are having a solid season in their first year under head coach Justin Fuente. The offense has been rolling, and wide receiver Isaiah Ford has been putting up some solid numbers.
The junior receiver has already caught 46 passes for 648 yards and six touchdowns. At 6'2" and 190 pounds, Ford has great footwork and speed to create separation and burn past defensive backs. He has soft hands and is capable of making tough catches in traffic.
For a receiver that's 6'2", Ford could stand to add some weight to his frame once he's in the NFL. His inconsistency is also a bit of a concern, but the flashes he's shown this season are enough for him to land in the top 50 prospects halfway through the season.
Hidden away on one of the weaker teams in the Big Ten is one of college football's most promising pass rushers in Illinois Fighting Illini star Dawuane Smoot. Although he's only picked up two sacks this season, Smoot has shown flashes of what could make him a second or third-round pick in April.
Smoot does a great job of bursting off of the edge and bending the corner to get to the quarterback. He stays low and uses that leverage to make sure he can make the play when he gets close to the ball carrier.
The Illinois prospect is still a raw player from a technique standpoint and he isn't the most disciplined prospect. Still, the potential is there and the right coaching staff could turn Smoot into a key playmaker.
Tackles are an overrated stat for a linebacker, but Vanderbilt's Zach Cunningham is still getting a ton of hype from a lot of media outlets. I'm not as big of a fan as others are, but I can see the appeal with some flashes he's shown this season.
Cunningham can do a really nice job of shedding blockers to get to the ball carrier. He is also more than capable of dropping back in coverage when he's asked to.
However, Cunningham can struggle mightily in the open field and frequently misses tackles. He can also take bad angles when in pursuit. While it's not necessarily a bad thing, his starting stance is awkward and might need to be fixed to help him get off of the snap more efficiently.
There is a lot to like with Cunningham, but I think that the hype train is going off of the rails a little bit.
Tennessee Volunteers cornerback Cameron Sutton has missed the majority of this season with a severe ankle injury, but prior the going down, he looked every bit like a legitimate NFL defensive back.
Sutton is a tough, physical cornerback who looks every bit like someone who could thrive in man coverage at the next level. With a 6'1", 181-pound frame, Sutton will need to add some weight, but that shouldn't be too hard.
Although Sutton can get burned at times, he has great recovery speed to make a stop and prevent the big play. The ankle injury is going to worry some scouts, but if he's 100 percent heading into the combine and offseason workouts, he should start making some noise and climb up teams' draft boards.
Running back is the position I feel the most confident scouting. While I couldn't tell you where other scouts have Clemson running back Wayne Gallman, I believe that this kid is the real deal.
Gallman isn't the fastest or most athletic running back in this draft class. What he does have, however, is excellent vision. Gallman is decisive enough to consistently pick up positive yardage while fighting through contact for those extra yards. Easily the most exciting thing that jumps out on tape with Gallman is his elite jump cut, which he uses to make defenders whiff at the line of scrimmage.
Scouts are going to fall in love with Gallman because of his willingness to block in pass protection. Here's a great example of how effective he is as a pass blocker.
The Clemson running back is going to naturally be overlooked in this draft class that's loaded with players at the position. However, whoever ends up picking Gallman could wind up with one of the biggest steals of the draft.
The Indiana Hoosiers aren't exactly an elite program out of the Big Ten, but they have produced some solid NFL players over the years. Recently, they have produced a pair of promising young running backs in Jordan Howard and Tevin Coleman.
Both of those guys can thank offensive guard Dan Feeney for opening up rushing lanes for them.
Feeney has missed a lot of time this season with a concussion, but when he's on the field, the IU guard is as dominant as they come. Not only does he pave the way for his running backs, but he rarely allows pressure on his quarterback.
Offensive guard isn't the sexiest position, but Feeney is a guy who could wind up getting drafted earlier than you'd expect.
There are plenty of players standing out for the Washington Huskies during this impressive breakout season. One guy that has a chance to sneak into the first round for the Huskies defense is safety Budda Baker.
Baker is fast and aggressive, allowing him to cover the field sideline to sideline. He's also a solid tackler when needing to make a play, although he can struggle in the open field when it's just him and the ball carrier.
The biggest concern for Baker is that he's still small despite continuing to add weight, coming into this season listed at 5'10" and 192 pounds. Given his frame and skill set, he could translate best as a cornerback, but that will be up to whatever team decides to take a chance on him.
There are plenty of top-tier running backs in this draft class, but one guy that's starting to make noise as a potential first-round pick is Oregon's Royce Freeman.
Freeman has great size for an NFL running back coming in at 5'11" and 230 pounds. Despite that size, the Oregon running back is also surprisingly quick, showcasing some nice cuts when he sees a hole to break off big plays.
There are some questions about whether or not Freeman can be an every-down back. He's unproven in pass protection and has very rarely caught passes out of the backfield this season.
Still, with that size, speed and vision, Freeman is an awfully appealing prospect at the position.
When watching tape on other Ohio State Buckeyes defensive players, one guy that keeps showing up is Marshon Lattimore. He's starting to climb up my Top 50, and he could continue to rise as long as he keeps making big plays.
Lattimore has the footwork and recovery speed to contain his assignment all game long. His impressive ball skills also allow him to create turnovers or simply break up passes.
For a cornerback coming in at 6'1", Lattimore could probably do a better job of using his hands in press coverage. He also struggles to get off blocks when trying to make plays against the run. Still, the talent is there for Lattimore to play in the NFL, the question is just how early he'll get drafted.
Lamar Jackson is getting all of the attention for the Louisville Cardinals, but there are a few players on that defense that could wind up getting drafted in the later rounds in April. One guy who has the upside to potentially be a second-round pick is edge rusher Devonte Fields.
Fields may be inconsistent, but when he's feeling it, he can be one of the most intimidating pass rushers in the nation. What makes Fields so dangerous is his explosiveness off of the snap, allowing him to bend the edge and get to the quarterback.
Another overlooked part of Fields' game is his ability to anticipate the pass if he can't get to the quarterback and then bat down the pass at the line of scrimmage.
If he can work on his technique and become a more consistent all-around player, there's no reason he couldn't become a first-round pick, especially with a solid combine workout and interviews.
This has been a disappointing junior season for Ohio State linebacker Raekwon McMillan. Although his film hasn't been great in 2016, I'm still leaving him at No. 33 purely based off of his upside.
McMillan has the prototypical size of an inside linebacker at 6'2" and 240 pounds and he can be a tough assignment for anyone to block. However, the big problem with McMillan this season has been his tendency to bite on play-action and read options, leaving some huge holes open for some big plays.
If McMillan can start to turn things around before the end of the season, he can save his junior season. However, if he continues to bite on plays and allow big plays, he's going to fall out of the top 50 in the near future.
The tight end position has continued to evolve over the years with more of a focus on making plays as a receiver over being more of a pure blocker. This season, there are a few tight ends making names for themselves in that department.
One tight end that's been making a lot of noise is Alabama's O.J. Howard. He's continuing to get more involved in the Crimson Tide offense, giving true freshman quarterback Jalen Hurts a safety blanket.
Howard presents a serious mismatch for defenses, coming in at 6'6" and 242 pounds. He's still working on running cleaner routes, but the size and speed make him dangerous with the ball in his hands.
The Alabama tight end isn't going to be the next Rob Gronkowski (who is though?), but a team that needs a tight end should seriously consider picking up Howard.
The Washington Huskies have turned into one of the best teams in college football over the course of the past couple of seasons thanks to the consistent number of pro prospects to come out of the program. Sidney Jones is just another one of those guys ready to make a name for himself in the NFL.
Jones is one of the best shutdown corners in the nation, and teams have rarely thrown his way because of that. Utah's Troy Williams was bold enough to go his way on Saturday, and Jones nearly picked him off with this impressive play.
With his instincts, ball skills and ability to completely blanket receivers, Jones has the potential to keep moving up my big board by continuing to shut down his side of the field on a weekly basis.
This year's class of offensive tackles isn't exactly great, but Alabama's Cam Robinson has at least been one name that's continued to make some noise.
Robinson is a massive prospect coming in at a whopping 6'6" and 327 pounds. As a monster run blocker, Robinson projects best as a right tackle. He's still developing in pass protection and can get beat around the edge by the more explosive edge rushers in the SEC.
Still, for a team that needs help opening up rushing lanes, Robinson is going to be an awfully appealing option late in the first round.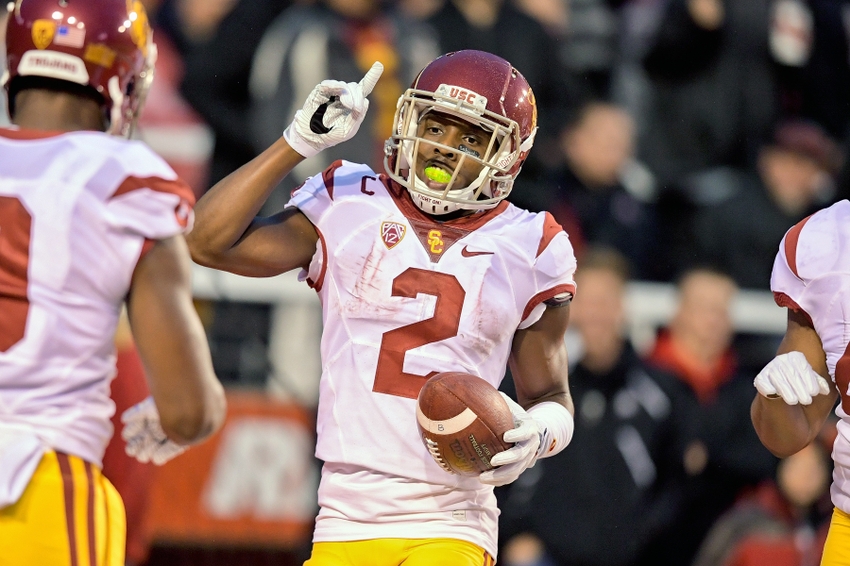 He might not be the biggest guy out there, but USC cornerback Adoree Jackson is a joy to watch thanks to his pure speed and athleticism. Those physical tools have made him a nightmare in the return game, with Jackson picking up touchdowns on both punt and kick returns.
While Jackson could be a return man in the NFL, scouts will be more focused on his play as a cornerback. Jackson has really smooth hips and great speed, although he struggles to consistently contain wide receivers.
Consistency will be the biggest hurdle Jackson needs to overcome, but the upside is there for the USC prospect to be a human highlight reel in the NFL.
I can't blame you if you haven't been watching the Missouri Tigers this season, because they flat-out stink. However, they still have one of the more exciting edge rushers in college football with Charles Harris.
There are a handful of edge rushers ahead of Harris on this list, but I'm not sure any of them have the polished pass-rushing moves that the Missouri prospect has. Harris has a lethal spin move and some great hands to get away from offensive linemen and get to the quarterback.
Harris is also a solid player against the run. Although his upside may be limited since he's already such a technically sound pass rusher, teams will still be getting a guy ready to make plays in the backfield as soon as they draft him.
With so many talented cornerbacks in this year's draft class, Alabama's Marlon Humphrey isn't getting a lot of attention. Then again, he hasn't really stood out since the Crimson Tide's season opener against USC, but the talent is still there.
Humphrey is a physical corner who thrives in man coverage. When the ball carrier comes his way, he's more than capable of making the tackle. His long limbs allow him to jam receivers at the line and his closing speed allows him to make plays on the ball.
Although he can get beat deep, Humphrey's length and speed should help him make a case as one of the better defensive backs in this class. Playing for Nick Saban on an elite Crimson Tide defense probably doesn't hurt either.
It's amazing that the Florida Gators aren't having a better season with all of the talent on that defense. He's not the best prospect on that defensive unit, but Gators linebacker Jarrad Davis is a guy that will be playing on Sundays.
The best word to describe Davis would be disruptive. He's an aggressive tackler that doesn't let guys get by him once he makes contact. The Gators prospect is also really confident when dropping back in zone coverage, which allows him to break up passes and make plays by reading the QB's eyes.
Discipline is something that Davis will need to keep working on. There are times when he can get too aggressive and try to take a shortcut to the ball carrier, which opens up some huge rushing lanes for ball carriers. If he can work on that, then Davis will be a solid contributor wherever he winds up.
On an Alabama Crimson Tide defense just stacked with talent, outside linebacker Tim Williams tends to get overlooked at times. However, there's no denying that Williams is one of the most dominant pass rushers in the nation with 6.5 sacks and eight quarterback hurries this year.
At 6'4" and 252 pounds, Williams is an explosive and athletic pass rusher who can get around offensive tackles to get to the quarterback. Although he's a dominant edge rusher, Williams is extremely raw everywhere else.
Williams will need to continue to develop as a more balanced outside linebacker who can drop back in coverage or stop the run. However, the Alabama prospect can come in on third downs and passing situations as a rookie and make plays right away.
North Carolina Tar Heels quarterback Mitch Trubisky wasn't exactly a household name heading into the season. Now, the quarterback has been so impressive that he's making an argument as a potential first-round pick.
Trubisky has been one of the most efficient quarterbacks all season, completing 72.1 percent of his passes with just two interceptions. His ball placement is consistent on short and intermediate routes, he's got enough arm strength to make some tough throws and he's got the pocket awareness to avoid pressure and extend plays.
The only big knock on Trubisky at this point is with his deep ball. The UNC prospect rarely hits guys in stride deep, usually underthrowing receivers or straight-up missing. Other than that, Trubisky looks like the real deal based off half of a season of play.
If you've watched Stanford at any point this season, you've probably noticed Solomon Thomas making plays on the defense. Although he's only a redshirt sophomore who could return to play for the Cardinal in 2017, he could declare after this season and probably be a first or second-round pick.
The first thing that you notice when watching the film on Thomas is his violent hands. That hand speed helps him disengage from offensive linemen to get in the backfield and make plays, whether that's stopping the running back or getting a sack.
By staying low, using his hands and being technically sound, Thomas is capable of routinely making plays in the backfield. He translates best as a 3-4 defensive end, so the right defensive scheme in the NFL could give Thomas the potential to be a major contributor for a franchise.
Jabrill Peppers gets all of the love on the Michigan Wolverines defense, but cornerback Jourdan Lewis is also starting to make a big name for himself this season. Plays like this one he made to seal the win over Wisconsin probably don't hurt.
Some will be quick to knock Lewis for his smaller frame at 5'11" and 186 pounds. However, Lewis plays like a true outside corner, especially against the run, doing a great job of wrapping up the ball carrier in open space.
In the passing game, Lewis has elite ball skills and at times looks like he's tied to the hip of whoever he's covering. Whoever drafts Lewis will be getting someone who can immediately come in and play the nickel corner position at an extremely high level.
It has definitely been a down year for Stanford running back Christian McCaffrey. An undisclosed injury and teams stacking the box have made it difficult for the Cardinal star to make a lot of big plays, but he's still a legitimate NFL talent.
McCaffrey looks like the definition of an offensive weapon. He has elite acceleration and speed to break off huge plays, whether that's out of the backfield or in the passing game. He needs to get stronger if he's going to be a workhorse No. 1 running back, but he could come into the league and immediately be a third-down RB who can also take some snaps out of the slot.
Teams will knock McCaffrey for the tough season he's currently having, but it'll be hard for teams drafting late in the first round to pass up on someone who can run the ball, catch passes and return kicks and punts with the potential to break off huge plays.
Florida Gators cornerback Jalen "Teez" Tabor isn't even the best cornerback on his team. Having said that, Tabor is still definitely a first-round caliber defensive back given everything he's done this season.
Tabor has good size for a cornerback, coming in at 6'0" and 201 pounds. His speed and aggressiveness allow him to jam receivers at the line and then shadow them and anticipate their routes. His instincts allow him to correctly guess routes pretty consistently, but that can occasionally backfire and allow him to get burned deep.
Guess work can backfire more often in the NFL, but the skills and instincts are good enough from Tabor for teams to look at him in the first round.
It has been a really tough season for the Florida State Seminoles defense, especially with the absence of safety Derwin James. However, on the bright side, defensive lineman DeMarcus Walker has been making a name for himself by generating pressure on opposing quarterbacks.
Heading into Saturday's game against the Clemson Tigers, Walker had already picked up 8.5 sacks and three forced fumbles. That's a great way to start this season after picking up 10.5 sacks in 2015.
Walker likely projects best as a defensive end at the next level, but he's been used all over the line for Florida State. At 6'3" and 273 pounds, Walker explodes off of the line of scrimmage and stays low to gain leverage and drive offensive linemen back.
He may not be fast enough to be an edge rusher, but Walker could wreak havoc on quarterbacks at the next level as a 4-3 or 3-4 defensive end.
Iowa cornerback Desmond King could have gone pro after last season, but he decided to stay for his senior year with the Hawkeyes. After another impressive year in college football, there's no way King isn't a first-round pick in April.
King brings a different skill set than a lot of other cornerbacks in this draft class. What makes the Iowa prospect stand out is his reliability in the open field when making tackles, with King rarely whiffing on open-field tackles.
The senior corner also has fantastic ball skills and great hip movement to break up passes regularly whenever the ball is thrown his way. Although he can sometimes lose his man in zone coverage, King looks like he'll be a fantastic cornerback in the NFL in man coverage.
Wherever King winds up in the NFL, he's going to make a name for himself in a hurry.
If your favorite NFL team is looking for some help at the safety position this year, then you're in luck. There are plenty of top-tier prospects at the position this year, and while LSU's Jamal Adams isn't my top-ranked safety, he's still one of the more talented overall players in this class.
At 6'1" and 211 pounds, Adams can match up with just about anyone in the passing game, whether that's a slot receiver or a tight end. He loves playing near the line of scrimmage and plugging up rushing lanes as well.
There are a couple of holes in Adams' game, but the biggest one is making tackles in the open field. That can be corrected with the proper coaching, but his versatile skill set will help him make the case as a potential first-round pick.
The Buckeyes secondary is one of the best in the nation thanks to guys like Lattimore and his partner in crime at cornerback in Gareon Conley. Even with Eli Apple and Bradley Roby gone, thte Buckeyes continue to develop first-round corners.
Conley jumps off of the tape when watching Ohio State's defense thanks to his athleticism and ball skills. He has the frame at 6'1" and 195 pounds to be an outside cornerback in the NFL, although he could benefit from adding some more weight.
The Ohio State defensive back's instincts and hips allow him to shadow cornerbacks and prevent them from catching passes. If that translates to the NFL, then Conley is going to quickly become a household name for whatever franchise picks him up.
After a frightening neck injury last season, Clemson Tigers wide receiver Mike Williams has come back and played at an extremely high level, all but solidifying himself as the top wide receiver in this draft class.
Williams is one of those guys that has that unique combination of size and speed. The Clemson receiver comes in at 6'3" and 225 pounds and seems capable of breaking off big plays on a consistent basis. He rarely drops that ball either thanks to his soft hands.
The only question is whether or not Williams is helped out by his elite quarterback, but no one can question this kid's toughness after everything he's gone through.
The Ohio State Buckeyes have one of the most talented teams in college football, but arguably their top draft prospect this year is a redshirt sophomore in safety Malik Hooker.
Hooker has been jumping out on tape ever since the season opener against Bowling Green when he came up with two interceptions, including this ridiculous snag.
The ball skills are obviously there for Hooker, but what makes him stand out as a prospect is his incredible ability to read the quarterback's eyes. He realizes when a QB is staring a receiver down and gets to his target before the ball does to make a play. His speed also allows him to cover deep from sideline to sideline.
There's still no guarantee that Hooker declares, but if he does, he should be an early first-round pick.
Forget about the fact that the Notre Dame Fighting Irish are having an incredibly disappointing season. When you turn on the tape for quarterback DeShone Kizer, you can't help but be impressed with him as an NFL draft prospect.
Kizer looks the part of an NFL pocket passer thanks to his ideal size at 6'4" and 230 pounds. That frame also comes with a terrific arm that Kizer uses to zip balls into his receivers' hands regardless of where they are on the field. Some of his throw show some beautiful touch, especially near the end zone, when he can drop the ball on a dime.
However, there are some concerns with Kizer's football IQ. There are a number of throws that the Notre Dame QB makes that will just make you shake your head, either throwing at a guy in double coverage or simply not seeing a linebacker underneath who can pick the pass off.
If Kizer can work on read defenses and making the right throws, there's no reason he couldn't be the No. 1 quarterback in this class heading into April.
When it comes to pure pass rushers in this draft class, Auburn's Carl Lawson is one of the best. Heading into Saturday's game against Arkansas, Lawson already had an absurd 6.5 sacks and 18 quarterback hurries.
Previous injuries have a lot of scouts lower on Lawson than I am, but the Auburn prospect has stayed healthy all year and looked dominant against some solid teams. At 6'2" and 260 pounds, Lawson has fantastic strength and speed to blow by offensive linemen on his way to the quarterback. His long, powerful arms also allow him to create separation.
The tape is limited on Lawson and we have yet to see him make a legitimate impact against the run. However, Lawson's upside is through the roof if he stays healthy and he could become a dominant 3-4 outside linebacker at the next level.
The era of safeties with swagger like Brian Dawkins and Ed Reed is long gone, but there's a new safety coming out of Texas A&M that has the confidence of those guys, and his name is Justin Evans.
When watching the tape on Evans, the first thing that stands out is that he's a thumper. The Aggies safety loves to make the big hit, and he's not afraid to do so or let you know what he just did.
Evans has also continued to develop his ball skills this year, making him a more complete all-around safety prospect. While he'll need to bulk up a little bit (listed at just 200 pounds) to play strong safety in the NFL, everything else is there for Evans to become a future star at the position with his aggressive mentality, big-play potential and on-field swagger.
This quarterback class is far from perfect, and while there are a number of guys who could be the No. 1 QB by the end of the year, the safest best is probably going to be Clemson's Deshaun Watson.
Watson has the arm talent and mobility that teams will fall in love with. He may still need to add some weight to his 6'3", 215-pound frame, but all of the physical tools are there. The Clemson prospect has great ball placement and can make all of the throws that he'll need to at the next level.
When watching the tape, the biggest problem that I have with Watson is that he rarely goes through his reads. Instead, he'll take off if his No. 1 option is open. That may be due to the offensive scheme, but that's something he'll need to work on when he runs an NFL offense.
There have been plenty of comparisons between Michigan State's Malik McDowell and former Oregon defensive lineman DeForest Buckner. Halfway through the season, those comparisons are continuing to look more and more realistic.
At 6'6" and 276 pounds, McDowell has been an extremely versatile D-lineman for the Spartans, lining up anywhere from nose tackle to defensive end. He's dangerous against the run and can also generate pressure on opposing quarterbacks.
The big concern with a defensive lineman as big as McDowell is that he needs to focus on staying low in order to avoid getting pushed back. He also struggles against the double team, but then again that's something a lot of guys can struggle with heading into the NFL.
With the physical tools and potential that McDowell brings, he belongs in the conversation as one of the 10 best draft prospects.
When it comes to shutdown cornerbacks, there's not a more dominant prospect in college football than Florida's Quincy Wilson. In a class loaded with talent in the secondary, Wilson comes out as the top corner.
Even though Wilson doesn't have elite speed like some defensive backs have in this class, it doesn't really seem to matter. The Florida prospect has the ideal size of an outside corner at 6'1" and 213 pounds. He uses that frame aggressively by jamming receivers in press coverage and making sure nothing gets to them in man schemes.
Combine that skill set with fluid hips and natural ball skills and you have the No. 1 cornerback in the 2017 NFL draft.
If this was any other draft, Florida State's Dalvin Cook would probably be the top-ranked running back prospect. Even though he isn't this year, Cook is still an incredible talent that is one of the 10 best players in this class and one of the most talented running backs in an absolutely stacked group.
When I watch Cook, I can't help but think about a young Chris Johnson during his days with the Tennessee Titans. Cook is a home-run hitter who has terrific acceleration and vision, allowing him to break off huge plays when he sees an opening.
It's going to take the right team to pick up Cook, but if he can find a franchise with a solid offensive line, he'll become a Pro Bowl running back within a few years.
Plenty of scouts and media members might not have Tennessee's Derek Barnett this high on their respective big boards, but I'm a huge fan of the defensive end for the Volunteers.
The Tennessee coaching staff has constantly praised Barnett for his leadership, especially with how he's stepped up with other guys like Cameron Sutton going down on the defense.
Barnett looks like a great potential edge rusher or 4-3 defensive end at the next level. Not only does he do a great job of bending the edge to generate pressure on the quarterback, but he can also manhandle offensive linemen to create separation and make big stops in the run game.
With his combination of strength, athleticism and leadership, Barnett is someone who scouts are going to fall in love with in the months leading up to the draft.
With so many prospects coming out of Alabama with first-round talent on a consistent basis, Crimson Tide linebacker Reuben Foster stands out as one of the most impressive players in this year's draft class.
When you watch the tape on Foster, his tackles stand out. The Alabama prospect is an absolute thumper that can lay out ball carriers, putting fear in the hearts of offenses. His instincts are also elite, as made evident by this impressive play right here.
Inside linebackers aren't valued as highly as they used to be in the draft, but Foster is the kind of talent you don't see very often. Whoever takes him will likely be drafting a future star at the position.
Hybrid defenses players are starting to find homes in the NFL, and there's currently a guy coming out of Michigan that's going to completely revolutionize how pro defenses operate.
Wolverines safety/cornerback/linebacker/return man/offensive weapon Jabrill Peppers is without a doubt the most versatile player in this draft class. His top-tier athleticism and instincts allow him to make plays all over the field, whether that's breaking up a pass, laying out a ball carrier or taking a punt return for a touchdown.
The biggest question regarding Peppers is whether or not he can specialize at one position in the NFL. While Peppers probably translates best as a safety, the right defensive coordinator could utilize Peppers by having him play all over the field to force opposing offenses to plan around him and open up opportunities for other players.
We may not have ever seen a player quite like Peppers, but that shouldn't stop NFL teams from taking him in one of the first few picks of the NFL draft.
This year's draft class is arguably the deepest at the running back in a long, long time. Despite a number of backs making it on this top 50 big board, LSU's Leonard Fournette is still far and away the most talented running back in this year's draft class, if not the best since Adrian Peterson.
Fournette has everything you're looking for in a franchise running back. Not only does he come in at 6'1" and 235 pounds, but he has elite speed, vision and acceleration combined with an aggressive mentality to run all over opposing defenses.
The LSU star isn't the kind of running back who is going to get too cute, either. Instead of spins moves, Fournette prefers to come right at you and drive you into the ground with a brutal stiff arm.
An ankle injury had kept Fournette on the sideline for a handful of games this season, but even if the LSU star didn't play another down in college, he'd still be the first running back taken in April.
If you haven't noticed Alabama defensive lineman Jonathan Allen at this point in the college football season, you haven't been paying attention.
The Crimson Tide lineman has been arguably the most impressive player on Nick Saban's squad this season. Not only has he consistently gotten to opposing quarterbacks and plugged up rushing lanes, but he's also picked up a pair of defensive touchdowns on fumble returns.
At 6'3" and 294 pounds, Allen is an explosive athlete that could translate as an interior lineman or even a five-technique defensive end at the next level. He uses his strength and leverage to push linemen back and generate interior pressure, causing all kinds of problems for offenses.
Perhaps Allen's greatest strength is his excellent hands to disengage from would-be blockers. Here's a great example of that.
It seems like Allen is playing at a higher level every time he takes the field, which is why he comes in as the second-best prospect in this draft class.
When it comes to the biggest can't-miss prospect in this year's draft, there's no question that it's the dominant edge rusher out of Texas A&M, Myles Garrett.
Just looking at Garrett you realize how dominant he can be at the next level. The Aggies edge rusher comes in at a massive 6'5" and 270 pounds, using every inch and pound of that frame to manhandle opposing offensive linemen.
Not only is Garrett incredibly strong, but he's also faster than his frame would indicate. He uses that deadly combination to push linemen back or bend the edge to get to the quarterback, causing mayhem along the way.
The scariest part about Garrett is that he's still developing his technique. Once he becomes a more polished pass rusher, Garrett has the potential to be one of the most dominant defensive players in the NFL.
This article originally appeared on