2017 NFL Draft: Top 25 Big Board after Week 11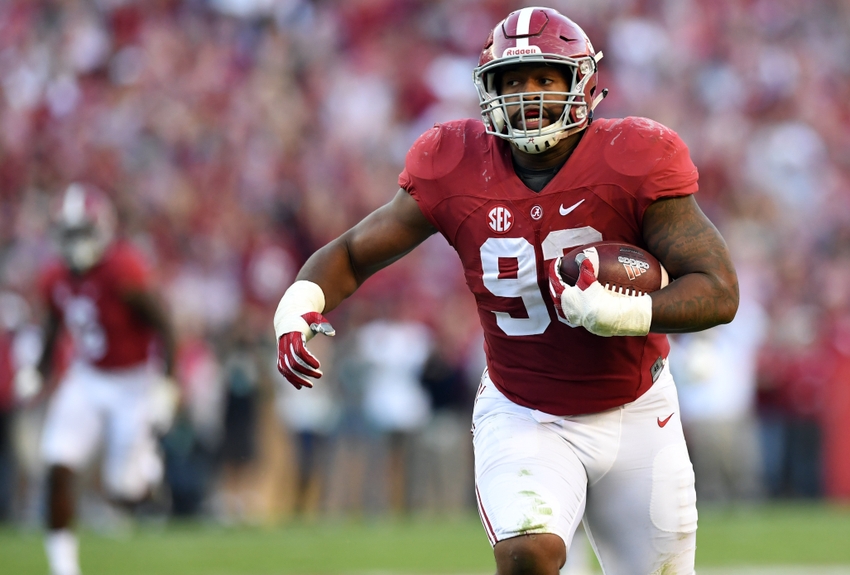 As we near the conference championship games, these 25 NFL draft prospects have been standing out all year.
In the wake of one arguably the most chaotic Saturday in college football this season, many will be focused on how the College Football Playoff will shape up. At the same time, there are still plenty of players around the nation who continued to show why they could be taken in the first round of the 2017 NFL draft.
This year's draft class is filled with talented defensive backs, edge rushers and running backs. There are plenty of players to keep an eye on as we march on towards April, but here are the top 25 guys that I've thoroughly scouted who have currently have a first-round grade.
Although this draft class is particularly thin at the offensive tackle position, Wisconsin's Ryan Ramczyk has started to stand out as the top prospect O-line prospect. The Badgers have always prided themselves on a strong offensive line, and Ramczyk has been a been factor for them this year.
A Division III transfer, Ramczyk came to Wisconsin and immediately started at left tackle for the Badgers once he was eligible to take the field. Ever since, Ramczyk has been a dominant force for his team.
Coming in at 6'6" and 314 pounds, Ramczyk is a hard guy for defenders to get through. The Wisconsin prospect rarely gives up pressure in pass protection, but he's also is effective in the ground game, especially when it comes to getting to the second level.
It's never easy for someone to handle the NFL's most dominant edge rushers coming out of college, but Ramczyk is a guy with a lot of potential who could become long-term starter in the league.
It's never a sure thing that an underclassmen will declare for the NFL draft. However, if Stanford's Solomon Thomas does decide to go pro after this season, there's no reason he shouldn't be a first-round pick.
Thomas saw his first playing time last season, and showed plenty of promise by racking up 10.5 tackles for loss. This year, Thomas has been on a tear once again, already racking up 12 tackles for loss and seven sacks.
Although Thomas might not be the biggest defensive lineman at 6'3" and 273 pounds, he is capable of making big plays thanks to his consistently low pad level and nice technique. His violent hands help him disengage and get through the line of scrimmage to create some chaos in the backfield.
If he decides to leave, Thomas will likely translate best as a five technique defensive end in a 3-4 scheme. If the right team is picking late in the first, that's where he could hear his name get called.
Like I said earlier, this draft class is filled with talented defensive backs, whether that's cornerbacks or safeties. Texas A&M's Justin Evans might not be getting the attention that a lot of these guys are getting, but he's definitely a player teams could fall in love with.
Evans is a confident safety, and he's not afraid to let his opponents know that. The Aggies prospect is a heavy hitter who loves to drive his shoulder into unsuspecting ball carriers. Meanwhile, his ball skills have developed nicely this season, as made evident by his four interceptions on the year.
The biggest concern scouts will probably have is regarding his size, coming in at just 200 pounds on a 6'1" frame. If he can continue to bulk up and show up with a good workout at the Combine, there's a chance he could climb into the middle of the first round.
Cornerbacks are going to continue to move up and down my draft board simply because there are so many talented ones to watch this season. Michigan's Jourdan Lewis is someone who could be higher, but is still definitely worthy of a first-round grade.
Lewis isn't the biggest guy for the Wolverines at just 5'11" and 186 pounds. He's also overshadowed in the secondary by Jabrill Peppers. However, when you watch the film, Lewis looks like an immediate starter for an NFL franchise.
The Michigan cornerback is so quick that he can stay with even the speediest receivers. Minimizing the space between himself and his assignment allows him to show off his natural ball skills. Despite his size, Lewis is also an aggressive and reliable open-field tackler.
At the very worst, Lewis will be a more than capable nickel cornerback. However, there's a chance he could find a home on the outside with the right coaching and talent around him.
It has been a tough season relatively for the Stanford Cardinal, but they were able to bounce back a bit this week thanks to a a 52-27 blowout win over the Oregon Ducks. Running back Christian McCaffrey was a big reason for their success, picked up 135 rushing yards and three touchdowns in the win.
McCaffrey has been relatively quiet this season due to an undisclosed injury, but the Stanford star has looked like his old self for the past three games. With nearly 1,400 total yards and 11 total touchdowns, no one can deny his production.
While McCaffrey isn't the top-ranked running back in this class, he brings a unique skill set that the others don't. McCaffrey is a speedster who is capable of running the ball, making catches out of the backfield and even return punts and kicks.
However, McCaffrey doesn't exactly have the build of an every-down back at 6'0" and 200 pounds, nor is he going to wow anyone in pass protection. However, McCaffrey is such a deadly offensive weapon that it'll be hard for NFL teams to pass on his big-play potential.
Despite a less than stellar offense, the Florida Gators are 7-2 in large part due to their defense, which is littered with NFL talent. Jalen "Teez" Tabor might not even be the best cornerback on his team, but that doesn't mean he won't still be a first-round pick in April.
Tabor has been a tough player for opposing quarterbacks to throw at, with the Florida Gators junior already picking up four interceptions this season, including one he took back for a touchdown.
With the size at 6'0" and 201 pounds to play on the outside, Tabor has a great combination of size and aggressiveness that makes it tough for receivers to create separation on him. He tends to anticipate throws fairly often, and while that can sometimes hurt him, his instincts allow him to usually make the right play.
Teez will need to work on making plays in the open field against the ball carrier, but he's already a polished cornerback who will benefit from a man coverage scheme.
If your team is in the market for a 3-4 defensive end who can rush the passer, then there are few options more appealing than Florida State's DeMarcus Walker.
The Seminoles defense has sorely missed their star safety Derwin James this season, but Walker has been a wrecking ball in the pocket all year. In fact, Walker is tied for third in the nation this season with 11 sacks to go along with three forced fumbles.
Like Thomas, Walker is a little small for a defensive lineman at 6'3" and 273 pounds. However, Walker plays much bigger by exploding off of the snap while using his strength and leverage to make big plays.
The argument could be made that Walker could become a 3-4 edge rusher at the next level, but I'm not sure he's fast enough to make that transition. However, Walker is a dominant pass rusher on the line and could be a nice fit as a five technique defensive end.
The Mitch Trubisky hype train is gaining some serious traction over the past few weeks. The North Carolina Tar Heels quarterback has been playing at an extremely high level all season, and the tape is showing that he could be a legitimate NFL QB.
Trubisky has been completing over 70 percent of his passes with 22 touchdowns compared to just four interceptions. He's able to do this because his ball placement is incredibly consistent and he does a good job of going through his reads to find the open man.
He's not the most athletic guy, but Trubisky does have some really good pocket awareness to avoid pressure in the pocket. The biggest concern is with Trubisky's deep ball. He doesn't have the strongest arm and he struggles to hit guys deep in stride consistently.
Still, Trubisky has a solid 6'3", 220-pound frame with the awareness and ball placement to be a starting quarterback.
The Washington Huskies may have lost to USC on Saturday, but wide receiver John Ross continues to make big plays. Admittedly, I only dived into Ross's film just last week, but after watching him you quickly realize that he might be one of the most talented players in this entire draft class.
Ross had a big matchup against Adoree Jackson this past week, and he came away with another big outing. The Washington receiver caught eight passes for 154 yards and a touchdown, with the score coming on this beautiful move that left Jackson frozen in his tracks.
What makes Ross such a dangerous vertical threat is his combination of elite speed and polish route running. His excellent footwork makes it hard for defensive backs to know where he's going, allowing him to routinely create separation.
With the soft hands and blazing speed to keep making plays, there's no reason Ross shouldn't keep climbing up draft boards.
The Iowa Hawkeyes don't have a ton of elite playmakers, but that didn't stop them from pulling off the shocking upset over the Michigan Wolverines this week. Despite the lack of top-tier talent, there is at least one Hawkeyes player who should hear his name called early in the NFL draft.
Iowa cornerback Desmond King could have gone pro last season, but he decided to spend another year with the Hawkeyes. His draft stock hasn't fallen one bit because of that decision, with King making big plays all over the field.
The first thing that stands out when watching King is his ability to make tackles in the open field. King rarely lets anyone get past him, and that's a crucial trait for a star corner. Although he can occasionally get burned in zone coverage, King still has the fluid hips and ball skills to come up with big stops.
King isn't the biggest guy, but he's athletic and aggressive enough to be an outside cornerback in the NFL.
Although I have Ohio State's Gareon Conley one spot ahead of Iowa's King, I'm essentially considering it a tie between these two for the second best cornerback in this draft class. Conley gets the slight edge mostly because of his frame of 6'1" and 195 pounds, which he could potentially keep adding weight to.
Assuming that Conley can get a little bigger once he plays in the NFL, the Ohio State prospect has the chance to be a shutdown corner. He has the athleticism and instincts to stay tied to the hip of his receiver along with the ball skills to break up passes or grab an interception.
Conley might be helped by the other defensive playmakers on his team, but if he can continue to play like he has been this season, he should be one of the first cornerbacks taken.
Other NFL draft analysts from other media outlets aren't as high as I am on Auburn edge rusher Carl Lawson. I get that there are some concerns about his injury history, but Lawson has stayed healthy all year and played at an exceptionally high level.
Through 10 games this season, Lawson has racked up 9.5 sacks and a ridiculous 23 quarterback hurries. What makes Lawson so dangerous is his raw power combined with his 6'2", 260-pound frame. His long arms also allow him to manhandle offensive linemen to make the moves that he wants on the edge.
As long as he continues to stay healthy, there's no reason that Lawson shouldn't be considered one of the best edge rushers in this year's draft class.
There is a constant debate over who the No. 1 quarterback is in this year's draft class. Many argue that it's Deshaun Watson (he's at No. 26 on my big board and just barely missed the cut), while others are starting to talk up North Carolina's Mitch Trubisky. However, Notre Dame's DeShone Kizer looks to have the highest upside of any QB in this class.
All of the physical tools are there for Kizer to be a franchise quarterback. He comes in at a solid 6'4" and 230 pounds while possessing a terrific arm and the athleticism to extend plays by escaping the pocket.
However, it has been a tough season for the Fighting Irish and Kizer has made his fair share of mistakes. Sometimes his decision making can just make you shake your head, but there's no telling how much of that is on Kizer or the coaching staff.
He's not a perfect prospect, but Kizer has enough of the tools you want from a franchise quarterback that someone could reach for him early in April.
Is your favorite NFL team struggling to come up with turnovers, especially in the secondary? If that's the case, then you might want to do your homework on Ohio State Buckeyes safety Malik Hooker.
Even though Hooker is only a redshirt sophomore, the Ohio State safety already looks like one of the best defensive backs in the nation. He's made all kinds of plays out of the safety position, racking up five interceptions, four passes broken up and 4.5 tackles for loss.
Hooker is able to make so many plays on the ball because of his incredible vision and range. He does a great job of reading the quarterbacks eyes and taking off towards the intended target as soon as the QB commits. Once he gets to the ball, his ball skills are put on full display.
The talented safety can sometimes bite on fakes, but Hooker is so talented that those mistakes are few and far between.
The Clemson Tigers have a number of playmakers on their offense, but wide receiver Mike Williams might just be their best NFL prospect. That's crazy to say considering Williams received season-ending neck surgery a year ago.
However, Williams has returned to the field and has continued to play at a high level. Despite the devastating loss to Pittsburgh on Saturday, Williams was still able to put up 202 yards and a touchdown on 15 receptions.
Williams has a unique blend of size and speed that a lot of scouts will be drawn to. At 6'3" and 225 pounds, Williams is athletic enough to win almost any 50-50 ball thrown his way, and his soft hands mean that he'll rarely drop passes.
Guys like Ross are trying to narrow the gap, but Williams is currently still the clear No. 1 receiver in this class.
The LSU Tigers have turned things around under interim head coach Ed Orgeron over the past few games. Sure, some of that has to do with the return of Leonard Fournette, but the defense has benefitted mightily from the play of guys like Jamal Adams.
Adams is a disruptive player that can do a little bit of everything for the Tigers. The safety prospect thrives near the line of scrimmage when playing against the run, routinely making big tackles in traffic. In pass coverage, Adams continues to improve and matches up well with tight ends or receivers thanks to his 6'1", 213-pound frame.
The biggest thing that Adams will need to work on is his open-field tackling, but everything else is there for him. He's a proven leader with the instincts and athleticism to become a serious threat in the league.
Michigan State defensive lineman Malik McDowell has already been drawing a lot of comparisons to former Oregon Ducks lineman DeForest Buckner, who was an early first-round pick in last year's draft. However, the argument could be made that McDowell will be an even better player in the NFL.
McDowell is an intimidating force on Michigan State's defensive line, coming in at 6'6" and 276 pounds. Depending on the team and defensive scheme he plays in next year, McDowell could translate as either a defensive end or defensive tackle.
The Michigan State prospect is a force to be reckoned with against the run and pass, but he needs to continue to work on staying low out of his stance. That's easier said than done given his size, but it's not impossible.
If McDowell can land with the right team, there's no telling how dominant he could become.
When it comes to the best cornerback in college football right now, that title might have to go to Florida Gators corner Quincy Wilson. He's been one of the leaders for the Gators defense this year, picking up three interceptions, three pass breakups and three tackles for loss.
Wilson may lack elite speed like other cornerbacks in this class, but he makes up for it with his great size at 6'1" and 213 pounds. He's still a great athlete and uses his size to get receivers off of their timing at the line of scrimmage in press coverage.
Opposing quarterbacks rarely throw Wilson's way, and when they do they usually regret it. If he can play like that in the NFL, then he's going to become a star very quickly.
If this was any other draft class, Florida State running back Dalvin Cook would probably be the top player at his position. Even though Cook is only the second-best running back in this class, he's still talented enough to come in at No. 7 on the latest big board.
Production hasn't been an issue for Cook this season. The Seminoles running back already has 1,642 total yards to go along with 14 total touchdowns in 10 games with no signs of slowing down.
Cook is the definition of a home-run hitter. He has the vision to find the hole and the top-end speed and burst to hit that hole with a full head of steam. The way he plays reminds me a lot of Chris Johnson during his early years with the Tennessee Titans.
It's highly unlikely Cook is drafted this early, but whoever takes him could very well be finding their starting running back for the next five to 10 years.
After such a magical start to the season, the Tennessee Volunteers lost three straight games to take them out of the College Football Playoff race. They've bounced back with a couple of big wins, and they still have some legitimate NFL talent on that roster.
Easily the most impressive prospect on the Volunteers this season has been Derek Barnett. The defensive end has been dominant all season with 10 sacks, 16 tackles for loss and two forced fumbles.
Barnett is still developing into a more complete player, but he's so difficult for offensive linemen to block because of his length, strength and explosiveness off of the snap. His combination of strength and speed allow him to get into the backfield often.
He's not getting the attention of some other edge rushers, but Barnett looks like the total package to become a talented 3-4 edge rusher or 4-3 defensive end.
Insider linebackers can make or break a defense, but there have been few prospects over the past couple of years who looked capable of becoming superstars at the position. That's not the case with Alabama's Reuben Foster.
Foster continues to line of intimidating inside linebackers to come out of Alabama. He has the size to play the position at 6'1" and 245 pounds as well as the elite instincts the position requires.
Although Foster is still improving as a blitzer against the pass, he's a more than capable player when it comes to stopping the run or dropping back in coverage. With so few holes in his game, Foster has superstar potential written all over him.
When it comes to defensive playmakers, there's not a more versatile athlete in this entire draft class than Michigan Wolverines star Jabrill Peppers.
Head coach Jim Harbaugh has said that Peppers can play 13 different positions, but all scouts are concerned about is whether or not he'll be able to specialize in one. Based off of his skill set and size (6'1", 205 pounds), Peppers could probably translate best as a safety at the next level.
With elite instincts, impressive speed and an aggressive mentality, Peppers is able to make plays all over the field. He may not be the most technically sound player in coverage as a pure safety at the next level, but there's no denying that Peppers has serious potential to become the next defensive star wherever he goes.
LSU running back Leonard Fournette has been in the national spotlight ever since he stepped foot in Baton Rouge. Since then, Fournette has continued to live up to his lofty expectations, and when he likely declares after this season, he'll be the clear No. 1 running back in this class.
Fournette has drawn comparisons to Adrian Peterson since he was in high school, but those comparisons aren't totally out of the question. The LSU star has that rare combination of size (6'1", 235 pounds) and speed that makes him almost impossible to bring down.
There really aren't any holes in Fournette's game, but scouts will do their due diligence on him. There will likely be questions about his ankle injury this season that he's supposedly not returned to 100 percent from. Other than that, Fournette is so talented that it will be a surprise if he's not one of the first five players taken in April.
A couple of weeks ago, I was certain that Texas A&M edge rusher Myles Garrett was going to be the No. 1 overall player on my big board by the time the NFL draft rolled around. While I'm not so sure about that anymore, that shouldn't take away from Garrett's potential as an NFL pass rusher.
Garrett has been dealing with an ankle injury lately, but he's still been able to pick up four sacks and nine quarterback hurries this year. When he's healthy, Garrett is so difficult to block because of his incredible strength and his 6'5", 270-pound frame.
That frame and strength make it easy for Garrett to bully offensive linemen, but he also has the speed off of the edge to bend the corner and get around would-be blockers as well. Because he's so physically dominant, Garrett hasn't had to rely on his technique, but that just means that there's even more room for him to grow.
He's not the No. 1 overall player right now, but it's definitely close.
As the season has progressed, one draft-eligible player has continued to impress scouts more often than anyone else in the nation. Alabama Crimson Tide defensive lineman Jonathan Allen is that person.
Not only has Allen come up with seven sacks and nine quarterback hurries this season, but he's also recovered two fumbles and taken them all the way to the house for touchdowns.
At 6'3" and 294 pounds, Allen is as dominant as they come on the defensive line. He can drive offensive linemen back by staying low and relying on his strength or disengage with blockers using his violent hands to clog up rushing lanes.
Quite simply, Allen has been the most dominant defensive lineman in the country and is quickly drawing comparisons to players like Ndamukong Suh. He might not have the upside that Garrett has, but Allen already looks ready to become a Pro Bowl player at the next level.
This article originally appeared on