2017 NFL Draft: Texas D'Onta Foreman Scouting Report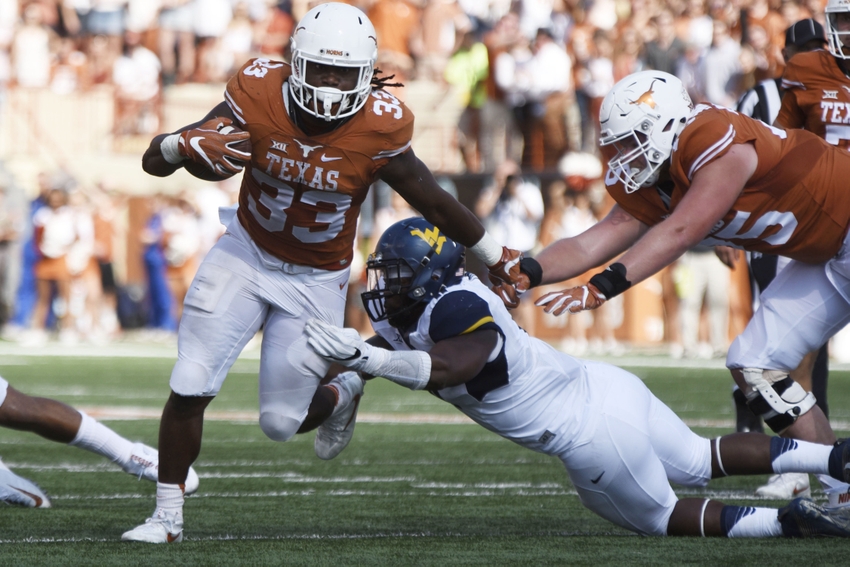 Texas' D'Onta Foreman is a fast rising prospect who could push his way into the later part of the 1st round.
D'Onta Foreman is a big-bodied running back prospect who features deceptive speed. In fact, he has arguably the best 2nd gear in the 2017 NFL Draft running back class. This is someone who quickly shoots through open holes and takes it to the house.
Foreman is a north-south runner who looks to get up field. He shows the ability to run with patience and allow his blocks to set up. His overall quickness helps him press the hole and work to the sideline. However, it's that 2nd gear that makes him special and allows him to outrun defensive angles.
It's important to note that some of Foreman's production might be a product of his environment. Texas' offensive line does an excellent job creating space and generating a push off the line. Also, the defenses in the Big 12 are far from juggernauts.
Another concern is ball security as there were more than a few occasions where Foreman put the ball on the ground.
Foreman often gets 2-3 yards down field before the first defender approaches him. This allows him to get a full head of steam.
However, it's easy to see Foreman's talent as a running back despite his favorable environment. The Big 12 defenses may struggle to stuff the run, but they have elite athletes that Foreman has outrun.
Foreman's effectiveness as a pass protector will catch the eye of evaluators. He features the awareness to identify the immediate threat, meets the pass rusher in the lane and anchors after contact. It's his ability to hold up in pass protection that makes Foreman a 3-down back.
Overall, this is an explosive runner who is a touchdown waiting to happen. The fact he doesn't shy away from the dirty work only increases his potential.
Current Draft Status: 1st Round
More from With the First Pick
This article originally appeared on