2017 NFL Draft: Texas A&M Josh Reynolds Scouting Report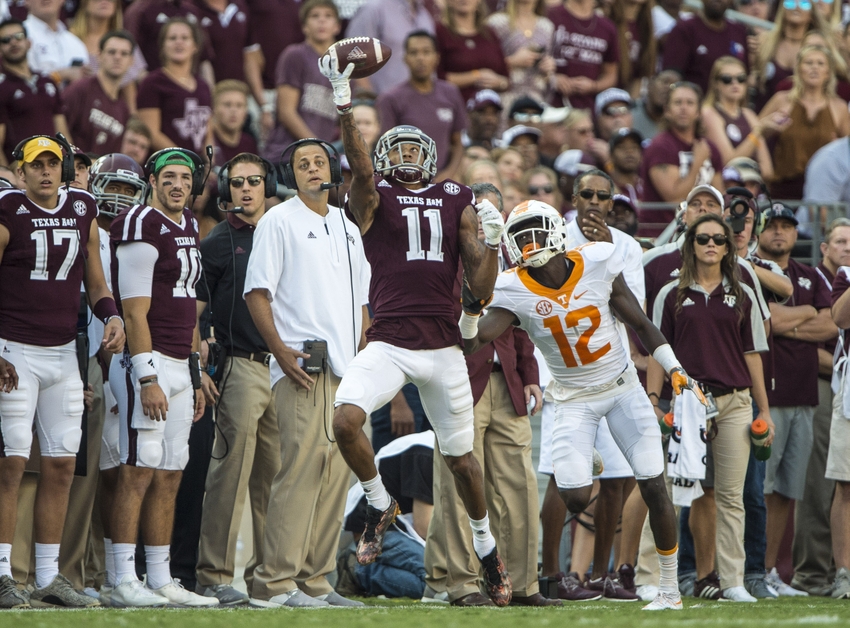 Texas A&M's Josh Reynolds has emerged as one of the more exciting wide receiver prospects in the 2017 NFL Draft.
Josh Reynolds is a long and athletic wide receiver prospect. He uses his size and length to his advantage by routinely high pointing the football. His commitment to plucking the ball away from his frame is also important to his success.
Reynolds combines his size with excellent body control which allows him to adjust to poorly thrown balls. He has a knack for helping his quarterback by making the acrobatic catch. His willingness to work back to the quarterback is also extremely helpful.
He is a solid overall route runner thanks to his fluid movements. Reynolds can cleanly get in and out of his breaks which helps him create sold separation. He shows good awareness in that he can find the open spots in a defense.
More from With the First Pick
Reynolds flashes good overall speed, but is more of a long strider. This means he needs a little more time to get up to full speed. It's not a major issue because he does most of his damage deep down the field.
His size and leaping ability make him a great red-zone threat. The quarterback can feel comfortable lobbing the ball in Reynolds' direction because he aggressively attacks the ball.
Reynolds brings added value with his effort as a blocker. He loves to get physical and looks to drive the defender down field. This comes in handy on running plays but also on wide receiver screens. His willingness to do the dirty work likely means he'll have no issues contributing on special teams.
Overall, Reynolds is a playmaker who can hurt a defense deep down the field. He is also a solid route runner which makes him more than a deep threat.
Current Draft Status: 2nd Round
This article originally appeared on