2017 NFL Draft: Tennessee Titans Midseason 7-Round Mock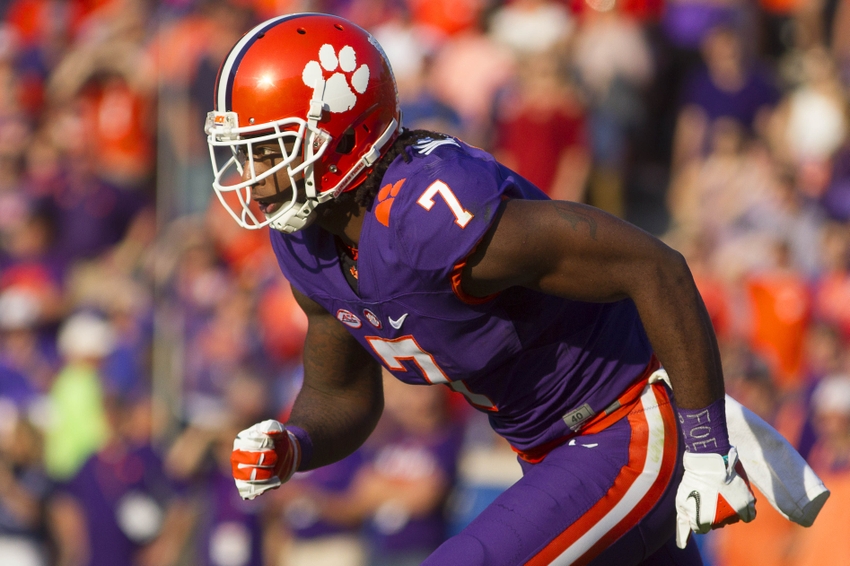 The Tennessee Titans appear on the cusp of something great, so what might their 2017 NFL Draft look like? We mock draft all seven rounds at midseason.
In case you hadn't heard, the Tennessee Titans are building something quite nice out in Nashville. After bottoming out in a big way over the past couple of seasons, they've approached the draft and free agency with caution and precision. With quarterback Marcus Mariota leading the way, you now have to believe that they are a solid 2017 NFL Draft from being possible favorites in the AFC South.
At midseason, the Titans sit at 4-5, still very much alive in the division. However, as you could guess for a team that's been completely rebuilding, there are also glaring holes still. That's where the draft will come into play. And at this point in the 2016 campaign, what better time than now to mock the 2017 draft for the Titans through all seven rounds?
There are clear needs when it comes to this Tennessee team, despite their progress. They need a cornerback in the worst way to place opposite of star Jason McCourty. Moreover, they need a receiver that can break open big plays and take the top off of defenses consistently. Other needs include a young tight end, defensive tackle, edge-rusher, offensive guard, and potentially a safety if the right situation presents itself.
The Titans enter the 2017 NFL Draft with a strange collection of picks. As of right now, they'll be picking twice in the top-10 as they own both their pick and that of the Los Angeles Rams. However, they don't have a second-round pick, but then have two more picks in the third—their own and a compensatory selection. They then own their pick in the fourth, fifth, and seventh rounds. Tennessee is also owed a conditional pick from the trade that sent Andy Levitre to the Atlanta Falcons.
So overall, the Titans have seven selections throughout seven rounds, but not the traditional one per round. Subsequently, it was important to hit their most dire needs early and then go from there in regards to value.
This mock draft was run by FanSpeak's On the Clock simulator which, using FanSpeak prospect rankings and user-voted team needs, simulates the picks of the 31 other teams while you select for a team of your choosing. Here is how the 2017 NFL Draft plays out for the Tennessee Titans in this mock at midseason.
Round 1, Pick 6: Teez Tabor, CB – Florida (Pick via Los Angeles Rams)
As the Los Angeles Rams continue to add to their losing streak, the first-round pick that they owe the Titans continues to improve. That's the best news that they could get in Tennessee. With that, the franchise is able to stay in position to address their biggest need with the best player at the position. That need is of course at cornerback and Jalen "Teez" Tabor out of Florida is hands-down the best of his draft class.
Granted, some rankings have Alabama's Marlon Humphrey now over Tabor and there are even some mock drafts with crazy things like Teez's Florida teammate Quincy Wilson going over him. That's all a mistake in my mind, but the Titans end up with Tabor nonetheless. At 6-0, 201 pounds, Tabor has a frame to go with fantastic athleticism and ability in coverage. While he sometimes relies too much on his physical tools, a bit of NFL coaching could make him into a shutdown corner at the pro level.
Continually this season, the Titans have been burned opposite of Jason McCourty because of the shortcomings of Perrish Cox in coverage. Even if you have a solid overall defense outside of that one spot, having such an inefficiency at corner can ultimately kill the unit's ceiling. Tabor would likely be able to slot in immediately and shore up that position, thus making the Tennessee defense much more fearsome.
Round 1, Pick 10: Mike Williams, WR – Clemson
After benefitting from the Rams being terrible, the Titans then benefit from their own shortcomings in the 2016 season. They get their second selection in the top-10 and address another big need. For the past few seasons, one of the biggest shortcomings of the Titans offense has been their lack of a big, viable downfield playmaker in the passing game. They'd hoped that Dorial Green-Beckham or Justin Hunter would fill that role once upon a time. Now that it's clear they won't, it's another need to address.
Lucky for them, Mike Williams out of Clemson is sitting there at No. 10 and he fits the billing for what they need and/or desire. Williams has vaulted JuJu Smith-Schuster in most rankings to earn the distinction as 2017's top receiver prospect. And he deserves every bit of adulation coming his way. Standing 6-3 at 225 pounds, Williams isn't the burner that can beat anyone over the top. However, he has the frame and physical tools to beat almost any defensive back in the air while also still having enough speed to get open off of clean routes.
Williams seems like a can't-miss type prospect at wideout, but also a player that's shaped exactly like the void in the Tennessee offense. With players like Kendall Wright, Rishard Matthews, and Tajae Sharpe already in-tow, Williams could add another dynamic to the offense. Mariota-to-Wiliams could become a feared AFC South connection sooner rather than later.
Round 3, Pick 10: DeMarcus Walker, EDGE – Florida State
When the 2016 college football season began, you could find DeMarcus Walker listed among the best defensive ends in the country when it came to their draft pedigree. After the shortcomings of the Florida State defense along with (minor) injuries came into play, though, he's been steadily slipping down draft boards. As the Titans have to wait until Round 3 to pick again, though, Walker could wind up being tremendous value at this spot.
Even with the lackluster showing by the Seminoles defense as a whole, you can't ignore the production off of the edge for Walker. He's tied for second in the country with 11 sacks on the year and has every physical tool to be a consistently disruptive pass rusher. However, he certainly needs work with his technique as he doesn't exactly have a great number of "moves" to get free off of the edge. He relies far too often on physical gifts to get the job done, which will require coaching moving forward. Simply, he's inconsistent with form and/or effort and, thus, not as effective as he seemingly should be.
That said, he fits a need for the Titans as they could use help off of the edge. Moreover, he'd benefit greatly from playing outside of Jurrell Casey on the interior as the big man inside demands so much attention. In terms of addressing need, looking for value and upside, and potentially hitting a home run early in the third round, Walker was an easy choice here.
Round 3, Pick 37: Billy Price, OG – Ohio State
In the first round of the 2016 draft, Tennessee made the wise decision to not only gain more draft capital by first trading down, but then to trade back up to address their offensive line. While Taylor Lewan had shown his tremendous value at left tackle, right tackle was an issue. They took Jack Conklin and he's been the answer in every way. Conklin has been near perfect for the Titans at right tackle this season. Now it's time for them to turn their attention to the interior of the line.
Billy Price is an interesting prospect at guard for a number of reasons. First, you see his size at 6-4, 315 pounds and think that he obviously has an NFL frame to play guard. However, he's struggled with his form and technique at times, particularly in regards to getting flagged when in pass-protection. However, he has the strength and physicality that you like to see accompany his size on the interior.
What's more, Price's best moments with the Buckeyes throughout his time as a starter have been in the running game. At least under Mike Mularkey, this Titans team leans heavily on the run. That would then allow Price to play to his strengths more often than not while he continues to develop and pick up the nuances of NFL-level pass blocking. In an area that they need both depth and improvement, this is the sensible selection given who was available at the position.
Round 4, Pick 10: Azeem Victor, ILB – Washington
One area that isn't necessarily a concern for the Titans right now, but definitely needs to be addressed is in the middle of the field. At middle linebacker, they simply don't have the playmaker they need that can both drop back into coverage and adequately move laterally and burst forward to defend the run. Having not addressed that yet, I had to take the best player at the position still on the board in the fourth round. That left me with Azeem Victor out of Washington, a player who could develop into quite a defensive weapon in the NFL.
Starting with the drawbacks and why Victor is in the fourth round, his athletic traits and test numbers don't exactly jump off of the page. He's not particularly fast north-to-south and can't jump out of the gym by any means. That said, there's still a ton that you have to like about him. The first thing that jumps off of the page is his size at 6-2, 230 pounds, he offers a strong frame with great length to clog up the middles of the field. And what he lacks in straight-up speed, he makes up for with both his quickness and reaction time.
What's more is that Victor has shown time and again that he has tremendous instincts when it comes to making plays in the middle of the field. In Washington's toughest matchup to date, prior to Week 11's game against USC, as they played Utah, he totaled a ridiculous 16 tackles and was the driving force for the defense in the big victory. The Huskies linebacker will need to get acclimated to the speed of the game, but he's plainly proven what he can do in the middle of the field. With the right coaching, nabbing him in the fourth could look like a steal down the road.
Round 5, Pick 10: Johnathan Ford, S – Auburn
Though not as pressing as their need at cornerback, Tennessee could use some help on the back end of their defense and secondary. Not only are they a bit thin at the safety spot, but also simply could stand to receive an influx of talent. Again looking for value in the late rounds of the draft, targeting a player like Johnathan Ford at this spot makes a great deal of sense then for the Titans in the fifth.
The first thing that jumps off the page about Ford is his versatility. He was recruited by the Auburn Tigers as a running back, but they converted him to a safety as a sophomore and he picked up the position almost effortlessly. As if that weren't impressive enough, Ford then spent much of his time as a junior playing nickel corner and working out of the slot. He once again showcased that he could get the job done with elite physical traits. Just to top things off, he's also had success in the return game for the Tigers throughout his career.
In Round 5, the Titans aren't going to find a player that can revolutionize their defense at safety. However, adding a player like Ford would instead make a ton of sense. He has the size at 5-11, 204 pounds to realistically still play free safety in the NFL, but then has the ability to slot in as the nickel corner as well if they really want to rid themselves of Perrish Cox. Throw in the fact that he can contribute as a return man and passing on Ford here would be a mistake.
Round 7, Pick 10: Billy Freeman, TE – San Jose State
Though it may feel like it's so from time to time, Delanie Walker isn't going to play forever. He's been the most consistent presence for the Titans passing game in recent years, with Mariota at quarterback and even before. In the later rounds of the 2017 draft, though, Tennessee should be eyeing a potential replacement and a player that could work with Walker to develop into a viable NFL tight end. Billy Freeman is a guy that could potentially be a sleeper that fills that role.
Frankly, Freeman may have had a bit more value coming out last season when his team was a bit more talented and thus productive. His numbers have slipped tremendously since last year when he caught 48 balls for 586 yards and six scores. However, at 6-3, 231 pounds, there's potential with Freeman. He's shown an ability to get open and be a sure-handed target and could certainly develop into a solid blocking tight end with more weight and strength and a bit of work with technique.
Taking a player like Freeman in the seventh round is exactly the type of move the Titans need to make. He has potential, but needs the time to develop and work so he reaches that. That time will be available playing behind Walker, but will also afford the Titans the chance to develop a tight end once Walker has retired.
This article originally appeared on