2017 NFL Draft Team Needs: Breaking Down All 32 Teams
George Stockburger/FanSided via NFL Mocks

Fansided
NFL Mocks has examined all 32 NFL teams, and highlighted each team's top three needs once the clock starts at the 2017 NFL Draft.
NFL Mocks expert George Stockburger and the rest of the NFL Mocks staff break down which positions must be addressed through the NFL Draft and free agency. Analysis comes from various writers, and is supplemented by the editorial staff.
Arizona Cardinals
Key draft needs: QB, G, WR
Record: 5-8-1
Quarterback – With the age of 37 approaching and a rocky 2016 season, the likelihood of starter Carson Palmer retiring is possibly increasing by the week. The Cardinals are not a team that is huge on spending free agency dollars. So in the case of Palmer retiring, a franchise QB such as Notre Dame's DeShone Kizer or North Carolina's Mitch Trubisky are possibilities and great fits. Both are strong-armed quarterbacks with ideal NFL size.
Guard – Interior blocking has been an issue this season for the Cardinals this season. The right guard in particular needs immediate upgrade. They are likely to target a signal caller in round one as expected. While mid-rounds are prime stages for the Cardinals to upgrade the guard position, especially for a potential rookie franchise QB. Be mindful of a prospect such as Issac Asiata of Utah in the middle rounds. As well as Clemson's Jay Guillermo or Pittsburgh's Dorian Johnson.
Wide receiver – Veteran Larry Fitzgerald has been a consistent staple in Arizona and likely to take his final bow at the end of the season. A hole sits on the roster with the recent release of Michael Floyd. So it seems that the team will soon need a go-to guy at receiver. A prospect like Virginia Tech's Isaiah Ford have the size and skill to be a solid fit in the offense.
Atlanta Falcons
Key draft needs: DE, DT, G
Record: 9-5
Defensive end – This season has seen the emergence of 2015 first-rounder Vic Beasley for the Falcons. Injuries have also caused the team to lean on veteran Dwight Freeney a little more than they prefer. Defensive end Dewaune Smoot out of Illinois provides size and explosiveness to team with Beasley as does hybrid linebacker/ defensive end Carl Lawson from Auburn. The mid-rounds can be the range for the team to find someone such as Ohio State's Tyquan Lewis.
Defensive tackle – This will not be a pure defensive tackle selection here as the Falcons employ a hybrid defensive tackle/strong-side defensive end. Backup Ra'Shede Hageman has not progressed as planned and a player such as Montravius Adams out of Auburn can be the ideal fit for the Falcons at defensive tackle in the early rounds. Middle round consideration such UCLA's Eddie Vanderdoes can also be a welcoming addition.
Guard – The Falcons are not in dire need at the guard position with veterans Andy Levitre and Chris Chester. Yet, both have a few miles on their bodies and Chester has flirted with retirement in recent seasons. Even with a possible return in 2017 by both, building depth is never bad. Mason Cole of Michigan fits the mold of a Falcons lineman and will be available in the mid-rounds.
Baltimore Ravens
Key Draft Needs: WR, EDGE, FS
Record: 8-6
Wide receiver – The Ravens' receiving corp is not bad, they're not good, but they're not bad. They could use an upgrade and another boundary threat that has a track record of consistency and staying healthy. Fortunately for them, there are several to choose from in this draft.
Virginia Tech's Isaiah Ford could be a good addition for them that they could add at the end of the first round, or in the second round if they chose. Another option they could spring for in the middle rounds is LSU's Malachi Dupre, is a talented player, but his quarterbacks in college killed his numbers. Any option can't hurt them, but they need to add another repeatable threat in order for their offense to have some teeth. Breshad Perriman, and Mike Wallace won't cut it in the long run. Not to mention that 37 year old Steve Smith Sr. won't be around forever.
Edge Rusher – The Ravens need edge depth, and this is a great draft to have that need with the depth of the group coming out. Terrell Suggs is getting up there in age, and it can't hurt to add depth behind Matt Judon and Ziggy Smith. Not to mention, Elvis Dumervil has regressed considerably since his 14 sack season in 2014.
Takkarist McKinley from UCLA is a viable mid to late first round selection for them, with good speed off the edge and Demarcus Ware comparisons he could be a good get. Another guy they could look into is Alabama's Ryan Anderson, an underrated but very talented outside linebacker who can get after the quarterback .
The Ravens are 14th in the NFL in sacks (29) and could use another top tier edge rusher to help make their pass rush fearsome again. With young edge rushers being added to the roster it's a chance for them to move on from their older and more expensive pass rushers.
Free Safety – With Eric Weddle manning strong safety, and locked up until 2020 they're good at that position. But at free safety, with Ladarius Webb, they could seek to upgrade or build depth. Webb, 31, has one more year left on his contract and has played all 16 games only once since 2012.
Florida's Marcus Maye could be a second or third round upgrade there, and could be a solid option to move depth. He's a talented safety with good ball skills and run stopping abilities. If they want to make a move later, Virginia's Quin Blanding could be another solid choice to field at free safety.
They have one in-house backup in Marqueston Huff, but he's only played in eight games this season with the Titans recording no stats. The Ravens need help in the back-end, and this isn't a loaded draft safety wise. If they want to make an upgrade, they need to pull the trigger early to ensure one of the top safeties.
Buffalo Bills
Key draft needs: CB, WR, QB
Record: 7-7
Cornerback – Hypothetically, the Bills could survive with the cornerback group they have now. They shouldn't though. Stephon Gilmore is not deserving of his $11 million dollar contract, and has been subpar. Any team would love to have the lock-down services of Ronald Darby, but just like Sammy Watkins, has been a little hobbled this year. The Bills really need to invest into another corner though.
Wide Receiver – It's been a very informative season for the Bills, as they have been very shaky on offense. The receiver position took a hit in the beginning of the season when Sammy Watkins was injured, and will become a bigger problem when the season ends. Robert Woods, Marquise Goodwin, Justin Hunter, and Brandon Tate are upcoming free agents. That's a HUGE hit to your roster, and they can't really afford the most important one. Robert Woods can be replaced, but someone is bound to overpay for his services.
Quarterback – Don't fret, I still believe in Tyrod Taylor. I know that the Bills drafted Cardale Jones, but the Bills never were able to try him out. The quarterback class is decent. If, a big if, the Bills want to go in a different direction, this could be the class you could make the switch. Tyrod Taylor doesn't put up great big numbers.
Carolina Panthers
Key Draft Needs: CB, OL, RB
Record: 6-8
Cornerback – Removing the franchise tag from Josh Norman may have been the worst decision made by the Carolina front office. Instead of swallowing their pride and paying Norman for one season, the Panthers brass wanted to make a statement and not pay the top cornerback in the NFL. With rookies starting nearly every week, the Panthers defense has struggled to stop the pass.
Offensive Line – Cam Newton has been constantly pounded behind his offensive line, and has been vocally displeased with how many times he takes large hits. Replacing the pending free agent Mike Remmers at left tackle is the first step in protecting the Panthers franchise quarterback. Backups Ryan Wendell and Chris Scott will also be entering free agency, making the need on the offensive line even greater.
Running Back – For years people have talked about replacing Jonathan Stewart in Carolina. While Stewart is certainly not the worst starter in the NFL, an upgrade can be made. With a running back class as deep as the 2017 one, the Panthers can find a starting running back in the third or fourth round.
Chicago Bears
Key Draft Needs: TE, QB, CB
Record: 3-11
Tight End – Zach Miller is the only decent receiving tight end the Bears have and he's on IR once again. If Bucky Hodges begins to slip, the Bears could take a chance on a flashy target for their new quarterback.
Quarterback – Jay Cutler will be 34-years-old in 2017, and will be coming off shoulder surgery. Besides that, the team has no real backup plan either. They badly need a quarterback, and should be looking to draft one in the first round. North Carolina quarterback Mitch Trubisky projects to be the most NFL ready quarterback of the class should he declare. If Trubisky stays in school, da Bears will cross their fingers and hope Deshaun Watson falls low enough they can trade back into the first round.
Cornerback – The Bears secondary as a whole is a jumbled mess. They have some interesting young options at corner, but many have been hurt lately. Kyle Fuller looks to be done for the 2016 season with a knee injury. Defensive coordinator Vic Fangio called out Fuller, questioning his drive to play. Using a second round pick on someone such as Tre'Davious White or Desmond King would be a wise move.
Cincinnati Bengals
Key Draft Needs: LB, WR, OL
Record: 5-8-1
Linebacker – Cincinnati needed a linebacker going into this season and it never happened. It's allowed this defense to have the fourth-worst run defense in the NFL. Outside of that, Karlos Dansby is 35-years-old, and shouldn't be relied on to be in the core of your defense. Vontaze Burflict consistently plays in the grey zone when it comes to player safety, and can be suspended at any moment. Youth who bring proper technique and play recognition can fill the needs in Cincinnati.
Wide Receiver – Tyler Boyd will be a nice compliment to AJ Green at receiver, and has played decent in Green's absense. However, there are injury concerns to Green and their tight end, Tyler Eifert thanks to an injury suffered in the Pro Bowl. Losing Sanu in free agency did not make the situation in Cincinnati any easier either. Another second or third-round pick could be spent on a wide out to complement Boyd and Green.
Offensive Line – Drafting some offensive line depth is crucial for this team moving forward, especially since the line has allowed the second-most sacks this season. Andy Dalton can not take that beating, especially when he's waiting to sling the ball deep down field to Green or Boyd. Andrew Whitworth will be an aging free agent at the end of the season, and Cedric Ogbuehi is still a question despite being drafted in the first round back in 2015.
Cleveland Browns
2016 record: 0-14
Top needs: QB, WR, OT
Quarterback – Cleveland passed on Carson Wentz during the draft, opting for a combination of RG3, Josh McCown, and Cody Kessler. While Kessler has played okay in limited starts, the Browns have yet to find a long-term answer for the position. This will be critical to address during the off-season, and should be the center of their evaluations in the first and second rounds. If Sashi Brown and Hue Jackson decide there is not a quarterback worth drafting with the first overall pick, their second round pick could be used on a project who fell.
Wide Receiver – Terrelle Pryor has been a surprising bright spot on this Browns' offense and Corey Coleman has shown flashes, but the need at the wide receiver position still exists. A legitimate and reliable WR1 would go a long way in restoring confidence to this offense. Pryor and Coleman provide the downfield threat for whomever will be the Browns quarterback, but someone with a more refined route tree can take advantage of the holes underneath.
Offensive Line – Despite having Joe Thomas, a perennial All-Pro and future Hall-of-Fame left tackle, he is reaching the twilight of his career. Finding his replacement is a must, not to mention the right tackle has been a sore spot that has prevented this offense from establishing any control at the line of scrimmage. A third round pick is most likely to be used to address the depth at tackle.
Dallas Cowboys
2016 record: 12-2
Top needs: CB, DE, TE
Cornerback – Addressing cornerback will be a need as well. Morris Claiborne will be a free-agent at the end of the season and with limited cap space, may see his days in Dallas coming to an end. Anthony Brown has played well, but adding depth will be key for this defense. Using their projected late second-round pick on a cornerback is a likely path Jones will follow.
Defensive End – While the Cowboys' have the best record in football and have become the first team in the league to clinch a playoff spot, there are still needs to be addressed in order to sustain long-term success. Dallas has attempted to address the defensive end position multiple times, taking risks on second-round pick Randy Gregory and 2015 free-agent Greg Hardy. It would seem they failed on both and will once again need to find a pass rusher to pair with Demarcus Lawrence.
Tight End – Jason Witten has continued to play at a reliable level this season, but is obviously reaching the twilight of his hall-of-fame career. Gavin Escobar has been vastly underwhelming, and may not be on the team for much longer. These situations will force the Cowboy's to address the position at some point, as much as they hate to imagine a world without Wittin sporting the star.
Denver Broncos
Key Draft Needs: OL, TE, DT
Record: 8-6
Offensive Line – Denver has allowed 40 sacks this season, the third most in football. Trevor Siemian has been banged up in his first year as the Broncos starter, and rookie Paxton Lynch has been forced into the fire early because of it. Finding a blue chip offensive tackle will be the top priority on John Elway's wish list, as will some interior help.
Tight End – Virgil Green has just 19 catches for 220 yards this season, and appeared to have suffered a concussion in week 15. Julius Thomas has yet to be replaced, and second year back up Jeff Heuerman will not be the long-term answer. Expect Bucky Hodges, Jake Butt, or another top five collegiate tight end to find themselves in Denver.
Defensive Tackle – Malik Jackson is another player that has departed in free agency Elway has not properly replaced. Sylvester Williams will be a free agent after this season, making the need to find a starting nose tackle even more dire for the Broncos. A second or third round pick can be spent finding a run-stopper for Denver, who have allowed the fourth-most rushing yards this season.
Detroit Lions
Key Draft Needs: CB, LB, OL
Record: 9-5
Cornerback – Detroit did just sign Darius Slay to an extension in the off-season, but he's still only one guy. He can't cover every player on the field. They need much-needed help alongside him, unless you trust Nevin Lawson and Jonathan Banks. I'd prefer to see some more potential at the cornerback position. A first round pick might be the answer for a Lions team that has surprised many this year.
Linebacker – Paging DeAndre Levy, paging DeAndre Levy. This man got paid, and might never play again at this rate. Tahir Whitehead is doing the best he can, and things have gotten so bad/thin at linebacker, the Lions went out and brought back Josh Bynes. He's played okay, but keep in mind, James Lauranatis was in Detroit, last week. Adding depth at linebacker will be critical for the Lions should they wish to build the next NFC North dynasty.
Offensive Line – If the Lions lose Riley Reiff to free agency, they're going to need a right tackle. Also, Larry Warford needs to be re-signed so they could use a new right guard, as well. Besides just bringing him back or replacing him, they've constantly been changing players at the interior positions. It's time for them to get some consistency at all five offensive line positions.
Green Bay Packers
Key Draft Needs: OG, RB, CB
Record: 8-6
Offensive Guard – Prior to the beginning of the 2016 season, the Green Bay Packers inexplicably cut Josh Sitton, one of the best guards in the NFL. As the season has progressed, it has become abundantly clear that letting Sitton go was a mistake. The Packers now have a weakness among the interior of the offensive line and must look to the draft to find a long term solution. One possible target is Dan Feeney out of Indiana. He has experience at both guard and center, and would shore up the interior for the foreseeable future.
Running Back – Staying on the offensive side of the ball, the Packers could use help at the running back position. Starting running back Eddie Lacy can't stay on the field and James Starks is shell of his former self. Luckily for the Packers, the 2017 running back class is shaping up to be a historic one with enough talent that they should be able to find a starter.
Cornerback – Picking Damarious Randall in the first round two years ago was a head scratcher, and thus far the investment has not payed off. Randall has missed far too much time with injuries, and when on the field plays far too inconsistently. Sam Shields' health is also a concern, and the Packers can not rely on him for too much longer.
Indianapolis Colts
Key draft needs: OL, OLB, RB
Record: 7-7
Offensive line – There is no secret that the Colts offensive line has been unable to protect franchise quarterback Andrew Luck. The only safe spot on the line is left tackle Anthony Castonzo, who is a good but not exactly great blindside blocker. Western Michigan's Taylor Moton and Arkansas's Dan Skipper are solid mid-round prospects that can provide big building blocks on the right side to protect Luck.
Outside linebacker – Indianapolis is 23rd in the NFL in team sacks with nine-year veteran Erik Walden leading the team with eight. His production does not necessarily mean the position is reliable as veterans Robert Mathis and Trent Cole have given very little over the past couple of seasons. If the Colts want to target a pass rusher in round one, Tennessee's Derek Barnett can be the game-changer that Indianapolis truly needs.
Running back – The 33-year-old Frank Gore is chugging along but his better days are definitely behind him and the team will benefit from an injection of youth, speed, and skill in the backfield with Luck. Running back is also a definite possibility in the first round and Florida State's Dalvin Cook can upgrade the Colts offense immediately. If the team waits until the middle rounds, look for Clemson's Wayne Gallman or Tennessee's Alvin Kamara as options.
Jacksonville Jaguars
Key Draft Needs: OL, S, LB
Record: 2-12
Offensive Line – If they choose to not go after a signal caller in the upcoming draft they'll need to improve the offensive line for whoever they draft in 2018. At this current moment, the Jaguars offensive line ranks in the middle of the pack. They're 20th in QB hits and 19th in sacks allowed. These numbers aren't bad and attest to just how poor Bortles has played this season. However, Joeckel has been less than sub-par, Parnell could be upgraded and Beadles is nothing spectacular. Not to mention that this unit ranks first in the yellow flags department.
Safety – The play of Tashaun Gipson has been forgettable whether that be by injury or on the field. If the Jaguars were to move Jalen Ramsey to the more natural position of free safety, then cornerback would be on this list. It will all depend on who the next coach is.
Linebacker – Myles Jack has been solid dropping back into coverage, and will hopefully get more playing time going forward. Paul Posluszny has been a very good inside linebacker, but the team can save an extraordinary amount of money if they decide to move on from the veteran. Upgrading from Dan Skuta is another area Jacksonville can focus on.
Kansas City Chiefs
Key Draft Needs: WR, QB, DE
Record: 10-4
Wide Receiver – The Chiefs' leading receiver this year is their tight end, Travis Kelce, with 65 receptions for 815 yards and three scores. He has 90 targets on the season, and second highest amount of targets seen is 62 by the 5'10" receiver Tyreek Hill. Hill, Jeremy Maclin, Albert Wilson, and Chris Conley round out the Chiefs' receiving corp.
They need to upgrade and get a receiver who creates a legitimate explosive play threat every time they touch the ball. They could use a big play threat like John Ross III from Washington, or a big boundary target like Juju Smith-Schuster. With a late first round pick, it wouldn't be surprising to see them take a receiver.
Kansas City's receivers are not the strong point of their team, and with a stellar defense, and good running game it shouldn't be farfetched to see them take a talented receiver. There was a time when their receivers didn't score a touchdown for over a calendar year, stockpiling talent can ensure that won't happen again.
Quarterback – Alex Smith is enjoying a good year, completing 67.4% of his passes for 2,567 yards, 11 touchdowns, and four interceptions. However, at 32 years old, and with a history of head injuries it's time to start considering how much time Smith has left. But, not just how much time he has left, how much time he has left in which he can play effectively. Smith's not a top-tier quarterback, and his contract expires after 2018.
The Chiefs won't be able to draft a top quarterback this year given the success they're enjoying, however, there are some mid-round talents, like Iowa's C.J. Beathard who fit their scheme. Beathard or a Zach Terrell could be interesting developmental projects, and depth builders.
Look for the Chiefs to add a quarterback in the draft, or sign one as a UDFA once the draft ends. Their team is at a point where they need a top flight quarterback to put them over the top, and barring a trade up, they won't be able to land one.
Defensive End – The Chiefs are currently deploying Chris Jones and Rakeem Nunez-Roches at defensive end, they could use a younger player in the mix to add depth and talent. Nunez-Roches' contract expires in 2018, and they'd be wise to add defensive talent in this year's deep draft.
Some players they can explore in the late first round include Stanford's Solomon Thomas and Auburn's Carl Lawson. There are also some talents they can add later like Dawuane Smoot and Harold Landry later on. It also never hurts to add young lineman to build controllable depth in the trenches. The Chiefs defense is very talented already, and their needs are mostly offensive, but it would be useful to upgrade at end in a draft that's loaded with them. Andy Reid's defense can only go up from here, why not add talent to make it sustainable in the long-term.
Los Angeles Rams
Key Draft Needs: CB, OL, WR
Record: 4-10
Cornerback – The Rams made the decision last offseason to keep Trumaine Johnson instead of Janoris Jenkins, who followed the money and landed with the New York Giants. The Rams could lose Johnson if they're unable to come to an agreement prior to free agency, and it would leave them with even less depth at such a key position. Lamarcus Joyner is limited to the nickel spot due to his small stature and the outside corner spot alongside Johnson has been a revolving door all season long.
Offensive Line – Finding the right pieces along the offensive line to protect franchise savior Jared Goff and help open holes for Todd Gurley is a must, as what they currently have is not enough. Rob Havenstein has been solid at right tackle, but their most famous member, former second overall pick Greg Robinson, leads the NFL with 10 total penalties.
Wide Receiver – A true number one receiver is also needed for Jared Goff moving forward. Tavon Austin is a gadget player and both Brian Quick and Kenny Britt are free agents at the end of this year. USC WR Juju Smith-Schuster could be of intrigue to the Rams in the second round, as it must be noted that the Rams traded away their 2017 first-round pick to the Titans before the 2016 draft in order to select Goff.
Miami Dolphins
Key Draft Needs: DE, OL, TE
Record: 9-5
Defensive End – With 39 sacks this season, the Dolphins on paper don't look as if they need a pass rusher. Considering Cameron Wake and Ndamukong Suh account for 40% of those sacks, and three defensive ends will hit free agency, the Dolphins need to add depth to their defensive line in the later rounds. The uncertainty of Mario Williams heightens the need in South Beach.
Offensive Line – Laremy Tunsil is expected to move to left tackle with Brandon Albert being a possible cap casualty, creating a ripple effect across the offensive line. A first round pick could possibly be spent on a lineman capable of playing guard. If not an option in the first round, at the very least a third round pick should be spent to protect Ryan Tannehill.
Tight End – Jordan Cameron has been a massive disappointment in Miami coming out of Cleveland. With his contract with the Dolphins finally expiring, drafting a receiver such as Jake Butt or Bucky Hodges should be on the minds of Dolphins executives. The more receiving targets for Ryan Tannehill, the better going forward. He needs as much help as he can get at this moment.
Minnesota Vikings
Key Draft Needs: OL, WR, QB
Record: 7-7
Offensive Line – The offensive line has been the weakest unit on this team and has been largely responsible for the offense's inability to move the ball on a consistent basis. Any addition to this unit would be seen as an upgrade and should be looked at early and often. Matt Khalil and Andre Smith will both be free agents, and the team must decide whether or not either are worth paying up for.
Wide Receiver – While Stefon Diggs has proven to be the top playmaker on offense, 2016 first-round pick Laquon Treadwell has underwhelmed in his rookie season, showing the lack of speed and route-running ability that was questioned throughout the pre-draft process. In-fact, Treadwell has only been targeted three times. Minnesota will need to find a more effective long-term solution to complement Diggs, and hopefully Treadwell.
Quarterback – The Vikings are currently missing their first-round pick, traded away to the Philadelphia Eagles in a panicked move to bring over Sam Bradford after Teddy Bridgewater's injury. This will limit the Vikings' ability to find impactful players and will force scouts to be at the top of their game entering the off-season. Sam Bradford started hot this season, but has fizzled out due to a lack of playmakers around him and the lack of protection from his offensive line. With Bridgewater's future still up in the air, can Sam Bradford be their quarterback for the foreseeable future? It's a question that Minnesota will almost assuredly be asking themselves as soon as the offseason begins.
New Orleans Saints
Key Draft Needs: CB, LB, S
Record: 6-8
Cornerback – Defense will yet again be the focus for New Orleans, and the secondary comes first and foremost. Pro Football Focus ranks Sterling Moore, a pending free agent as the Saints best cornerback, but the 62nd in the league. The rest barely hit the top 100, if ranked at all. With a mid-round pick the Saints must find a shutdown cornerback with Matt Ryan, Cam Newton, and Jameis Winston in the division. Teez Tabor or Quincy Wilson should be options for New Orleans.
Linebacker – The Saints scrapped together some starting linebackers with Paul Kruger and James Laurainitis in free agency. The later is already off the team, while Kruger is set to be a free agent this offseason. Having a healthy Stephone Anthony and Hau'oli Kik'aha lightens the need, but having depth in the NFL is never a bad thing. At least one outside linebacker could be added at some point during the draft.
Safety – Jairus Byrd has been one of the worst free agent signings in recent years, but you can not blame the Saints for making that move when they did. Byrd has started just 30 games for the Saints through the first three years of his six-year deal. With Kenny Vaccaro taking a sudden step back, the Saints need to address both free and strong safety at some point. Vaccaro I'm not as worried about, but finding some depth should be something for the Saints to consider.
New England Patriots
Key Draft Needs: OL, LB, WR/TE
Record: 12-2
Offensive Line – New England's offensive line does not give up many sacks, just 23 after week 15 this year. They will have a decision to make with Sebastian Vollmer going into free agency at age 32, and may need to make a decision regarding Michael Cannon and Nate Solder. Rookie Joe Thuney has filled in at left guard, and a long-term starter at center could be looked into.
Linebacker – Jaime Collins was too rich for Bill Belichick's liking, resulting in him heading to the Browns. Dont'a Hightower will be a free agent, and Belichick could refuse to overpay him knowing how he operates. Spending their first round pick on an inside linebacker would not be an outrageous move.
Wide Receiver/Tight End – While Gronk comes across as a superhuman, multiple back and leg injuries are not something to look past. Martellus Bennett being a free agent could force the Patriots hand towards looking at a receiving tight end to either pair with a healthy Gronk or start. New England seems to find wide receivers out of nowhere, evident of Julian Edelman and Malcolm Mitchell's success. Finding a big receiver Tom Brady can just throw the ball up to might be worth the day-two pick at the end of the day.
New York Giants
Key Draft Needs: OT, MLB, QB
Record: 10-4
Offensive Tackle – At 35-years old, Eli Manning isn't going to be in the NFL too much longer. The Giants can however extend his career by protecting him and reducing the number of hits he takes. The offensive line has done a good job of that this season as Manning is on pace to be sacked fewer times this season than any of the past three years. However, the tackle position is an area of concern after this season. Both Marshall Newhouse and Will Beatty are unrestricted free agents and Ereck Flowers may be better off moving from left to right tackle. If Newhouse and Beatty don't return, look for the Giants to add a rookie and a veteran at the position.
Quarterback – Similar to how the Patriots have continued to groom backups behind Tom Brady, the Giants must do the same with Eli Manning. Ryan Nassib and Josh Johnson, the only other quarterbacks on the roster, are both free agents. The Giants don't have to spend an early-round selection on the position, but a day three prospect such as Davis Webb out of California or Central Michigan's Cooper Rush are possibilities.
Middle Linebacker – After bringing in Kelvin Sheppard prior to the 2016 season, this position wasn't expected to be a weakness for the Giants. After recording 105 tackles for the Dolphins last season, Sheppard is on pace for just 45 stops this year despite not missing a game. To make matters worse, Sheppard will be a free agent after this season and rookie B.J. Goodson has yet to impress. The name to watch for the Giants is Anthony Walker, Jr. of Northwestern. He's excelled as a middle linebacker in a 4-3 defense and appears ready to contribute immediately.
New York Jets
Key Draft Needs: CB, OL, LB
Record: 4-10
Cornerback – Darrelle Revis looks to be done, if not just in New York, but in professional football. New York's seven interceptions are the second-fewest in the league, and they don't have much young depth. With a high first round pick, the Jets could look to immediately replace Revis with Teez Tabor, Quincy Wilson, or Sidney Jones. Any of those options would be better than what the Jets have now.
Offensive Line – New York's offensive line has allowed 32 sacks, some being the fault of the linemen, and some being the fault of the quarterback. The franchise has invested a lot with Bryce Petty and Christian Hackenberg, and need to give each a chance. Finding a long-term starter at left tackle will insure the safety and future of the quarterback, whether it be Petty, Hackenberg, or someone else. Ultimately, help will be needed across the line, but offensive tackle is the first issue they need to tackle.
Linebacker – New York needs to decide what their future is with Sheldon Richardson going into the offseason. He has one more year remaining on his deal, but carries no dead cap if the Jets decide $8 million is not worth it. Darron Lee and Jordan Jenkins were good additions in the 2016 draft, but more talent is needed around them. Whether its replacing Richardson, or finding the heir to David Harris, the Jets need to address the issue at linebacker.
Oakland Raiders
Key Draft Needs: LB, CB, RB
Record: 11-3
Linebacker – The Raiders have some great pass rushing linebackers in Khalil Mack and Bruce Irvin. What they need are some top flight off-ball linebackers. Malcolm Smith is a free agent this year, and really the Raiders could upgrade there anyway. Having another beast to play alongside Khalil Mack would make this Raiders front-seven even more frightening.
Cornerback – Oakland has struggled some with injuries here, but the CB position could stand to be upgraded opposite David Amerson. D.J. Hayden is a free agent this offseason, so look for the Raiders to try to find some upgrades here. Sean Smith's contract allows Oakland to move on after one year, and the way he's played might warrant a one-and-done year for him in black and silver.
Running Back – Latavius Murray is a free agent, and I think the Raiders should look for an upgrade here anyway. Murray has been solid as has the depth behind him, but there's nothing spectacular running behind this excellent offensive line right now. In a class as deep as this year, the Raiders can not afford to pass on a quality back.
Philadelphia Eagles
Key Draft Needs: WR, CB, RB
Record: 5-9
Wide Receiver: Despite drafting Nelson Agholor in the first round last year, and trading for Dorial Green-Beckham, the Eagles wide receiving core is among the least productive in the NFL. Their best wide receiver this year has been Jordan Matthews, who is at best a number two receiver in the NFL. Drafting one, possibly two, wide receivers who can stretch the field and be a reliable target for Carson Wentz will be atop the Eagles offseason plans. Mike Williams, John Ross, and Corey Davis will be considered in the first round pick the Vikings pick, while Stacy Coley, Travin Dural, and Jake Wieneke will draw attention in the later rounds.
Cornerback: Just as dreadful as the wide receivers, Philadelphia's cornerbacks have been pieced together like a broken jigsaw puzzle. Seventh round pick Jalen Mills looks as if he could develop into something, but veterans Nolan Carroll, Leodis McKelvin, and Ron Brooks are major question marks. If not spending the entire game on the trainers table, the Philadelphia cornerbacks are allowing big plays left and right. The defensive line struggles because of the secondary's inability to force the quarterback to hold onto the ball for an extra second. Sidney Jones, Tre'Davious White, and Teez Tabor will be names to watch in the first round for Philadelphia.
Running Back: Rookie Wendell Smallwood looks as if he could be a decent change of pace back, but nothing more. That leaves Philadelphia with veterans Ryan Mathews and Darren Sproles, neither of whom can carry an offense or an entire season. Finding a workhorse who can take the pressure off Wentz, while also balancing the offense and breaking off large chunks of yards is a must for the Eagles. With such a deep running back class, the Eagles could wait until the third round for Samaje Perine, Donnell Pumphrey, or Corey Clement.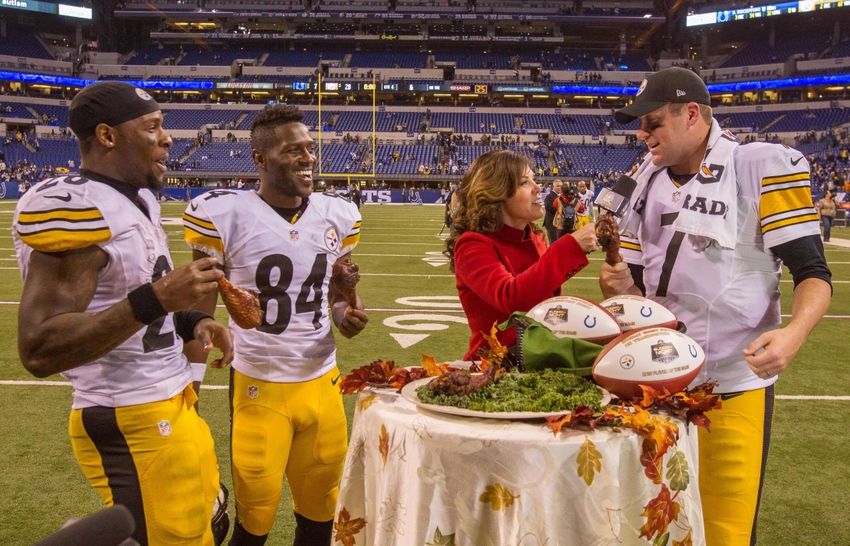 Pittsburgh Steelers
Key Draft Needs: LB, DE, QB
Record: 9-5
Defensive End – At defensive end the Steelers could use a pass rushing specialist to help boost the sack production of the Steelers defensive unit. Pittsburgh's 32 sacks aren't anything to sneeze at, but they can be improved. A healthy Cameron Heyward helps, but stronger depth can be added. A late-round pick could find value for the Steelers.
Linebacker – Jarvis Jones, James Harrison, and Lawrence Timmons are both in the final years of their current contracts and the Steelers would be smart to bring in some talent to compete at both OLB, and ILB. They do have Vince Williams, but he doesn't have the coverage ability to be a three down linebacker in today's NFL. It seems the Steelers are constantly drafting linebackers, but once again they must address the position. With a late first round pick, it may be difficult to find the physical stud they need. Perhaps Tyler Matakevich gets more playing time if Timmons is not retained.
Quarterback – Ben Roethlisberger is 34 and has again missed time due to a variety of nagging injuries. It's time for the Steelers to begin their search for a quarterback of the future. If they find one in the 2017 draft he will be able to learn for a few seasons behind a future Hall of Famer. A late round pick on C.J. Beathard, Pitts' Nathan Peterson, or Josh Dobbs could pay off for the Steelers.
San Diego Chargers
Key Draft Needs: OL, WR, OLB
Record: 5-9
Offensive Line – The Chargers have adequate talent, but they've been going with "adequate" for far too long. Philip Rivers is the life and soul of this franchise and in order to prolong his career, an upgrade on the offensive line is necessary. According to Pro Football Focus, the Chargers offensive line has allowed 147 total pressures so far this season, worse than every team in the NFL besides the Indianapolis Colts. Also, Melvin Gordon has gained 518 of his 838 rushing yards after contact, which says a lot about his blocking.
Wide Receiver – Keenan Allen is a game-changer when healthy, but he has been unfortunate with injuries over the past three seasons. Tyrell Williams has been a revelation in his absence, but there is no harm in picking up another outside weapon for Philip Rivers to throw to.
Linebacker – The Chargers exercised their fifth year option on outside linebacker Melvin Ingram after last season. If he bolts in free agency – which is unlikely, but not impossible – it would leave San Diego incredibly thin, there is an argument that Joey Bosa could play more of a hybrid role and the Chargers also have Jeremiah Attaochu on their roster, but besides Ingram, no one on the San Diego roster has more than five sacks on the season.
San Francisco 49ers
Key Draft Needs: QB, WR, LB
Record: 1-13
Quarterback – This could be Chip Kelly's last rodeo in the NFL, so despite there not being a quarterback worthy of being the second-overall pick the 49ers could reach for one. Kelly wants an accurate quarterback who will get rid of the ball quickly, but is there a player like that in this years draft? Physically, Deshaun Watson fits the bill, but his accuracy may not. Watson's mobility may be enough for Kelly to pull the switch and make it happen.
Wide Receiver – Kelly has a history of drafting wide receivers early from his days in Philadelphia. In fact, he drafted three wide receivers in the first three rounds as the Eagles coach. Two of those receivers (Josh Huff and Nelson Agholor) came out of the PAC-12, a conference Kelly has extensive knowledge of. If Juju Smith-Shuster falls to the second round for some reason, Kelly appears to be a natural fit.
Linebacker – The retirement of Chris Borland and NaVarro Bowman set the 49ers defense back further than they could replenish. With the style of defense 49ers players are forced upon with, having as much young depth at linebacker is essential to the future of the franchise under Kelly. Perhaps using their high second-round pick on a linebacker could be in the stars for San Francisco.
Seattle Seahawks
Key Draft Needs: OT, WR, CB
Record: 9-4
Offensive Tackle – The Seahawks are a shiny new sink that continues to drip. The play of Russell Wilson should never go unnoticed and they've had an assortment of plug and play backs that do their jobs. The offensive line has been atrocious. Even with Wilson trying to recover from a knee injury he's had to remain mobile because of them. The inside positions are a bit more solid but the whole unit could almost be replaced starting with the tackles. Unfortunately this isn't a strong tackle class so they'll have to do their research, which seems to be the only position they've constantly failed at.
Wide Receiver – Many will look at Tyler Lockett's big week and Doug Baldwin's numbers and say "ah they're fine". Let's face it though, Doug Baldwin isn't a number one receiver and would be a better asset as a strong number two. The Seahawk's need to look into grabbing a tall receiver who can force a high safety and corner back to his side. A player like that can open up the underneath routes for Baldwin and the seam routes for Lockett. Until then, the Seahawks will constantly be relying on Wilson to save them from team's that run a strong Tampa 2.
Cornerback – Since Brandon Browner left the Legion of Boom hasn't quite had the same taste. There have been a number of players to try to fill the role but none have been the answer. In a draft where starting corner back talent drizzles down to nearly the third round, the Seahawks will have a number of players to keep their eyes on in the first two rounds. With Earl and Kam Chancellor seeing increases in injury, it's best that the Seahawks have two corners who know their responsibilities and can take pressure off the safeties.
Tampa Bay Buccaneers
Key Draft Needs: DL, WR, S
Record: 8-6
Defensive Line – There will be multiple aspects of the Buccaneers defensive line to address. First is the departing depth in free agency with William Gholston, Akeem Spence, John Hughes, and Sealver Silva. Noah Spence could replace Gholston at defensive end, but the interior depth will still be an issue. The way his contract is structured, Gerald McCoy will be back in Tampa Bay for 2017, but after that is questionable. He's a very good player, but can Tampa Bay afford him with Jameis Winston and Mike Evans needing to be paid down the line?
Wide Receiver – Mike Evans leads the NFL in targets by a double-digit margin, not just because he's a big threat, but he's the only reliable receiver Winston has. Adam Humphries could be a decent number three receiver for the future, but after that it's a scrap heap. Finding another wide receiver to complement Evans will be important for Winston's continued development as a pocket passer. Vincent Jackson being a free agent coming off a torn ACL doesn't help the Buccaneers either.
Safety – Both starting safeties Chris Conte and Brad McDougald will be free agents this offseason, creating a difficult situation for a Buccaneers secondary that was already suspect. Jamal Adams will be out of reach for Tampa Bay, but Budda Baker might be a fit in the second round.
Tennessee Titans
Key Draft Needs: WR, CB, TE
Record: 8-6
Wide Receiver – Marcus Mariota has made significant strides this season, despite the lack of a true number one receiver. With two first round picks in the 2017 NFL Draft, that needs to change. The Titans need a big-bodied receiver with reliable hands who can keep the chains moving and be a top red zone threat. Corey Davis out of Western Michigan would be a great addition to the Titans receiving corps.
Cornerback – It seems as if cornerback is a top need for the Titans every season. It won't be any different prior to the 2017 NFL Draft, especially after the team parted ways with starter Perrish Cox after week 12. With Brice McCain and Jason McCourty both approaching 30-years old and Antwon Blake set to become a free agent, the Titans need to add youth to a secondary that has allowed more passing yards than any other team through 12 weeks. Promoting Kalan Reed from the practice squad was a start, but he was a seventh-round pick. Look for Tennessee to add another CB much earlier in the 2017 draft.
Tight End – Similar to the need at wide receiver, Marcus Mariota also needs a reliable tight end to continue to develop into an all-pro quarterback. Tennessee's top two tight ends, Delanie Walker and Anthony Fasano are both 11-year veterans and can't be counted on much longer. Jace Amaro was at one time thought of as a potential starter, but his star has quickly faded. Fortunately for the Titans, the 2017 NFL Draft will be loaded with TE talent and they should be able to find a future starter in the middle rounds.
Washington Redskins
Key Draft Needs: S, WR, DL
Record: 7-6-1
Safety – The Redskins' safety position is in a shambles. So long as they retain Cousins, this would be a position the Redskins could use a first round selection on this year. They have some good players at corner, but behind them, they need some serious help. Donte Whitner and Duke Ihenacho are both free agents, creating a larger hole at strong safety than before.
Wide Receiver – Both Pierre Garcon and DeSean Jackson are 30-years-old and free agents in the coming months, and are the two-highest paid players on the team, after the franchised-tagged Kirk Cousins. Jamison Crowder has emerged as a threat in the passing game along with Jordan Reed, but if neither Garcon or Jackson comes back next year, it's the unproven former first rounder Josh Doctson (who is on IR) and Jamison Crowder and not much else. A second or third round pick can be used on a wide receiver for Cousins.
Defensive Line – A lot of players along the Redskins' defensive line are free agents this year, including Chris Baker, arguably the best player they have up front. This is a serious area of need as well for their defense. Washington is towards the top of the league in sacks, but potentially losing Baker would damage that pressure even more. Ziggy Hood and Cullen Jenkins could also need replacing with a motley of free agents.
Follow NFL Mocks on Facebook and Twitter for NFL news and analysis, along with NFL Draft and College Football coverage
This article originally appeared on