2017 NFL Draft Scouting Report: Ryan Switzer, WR/KR, North Carolina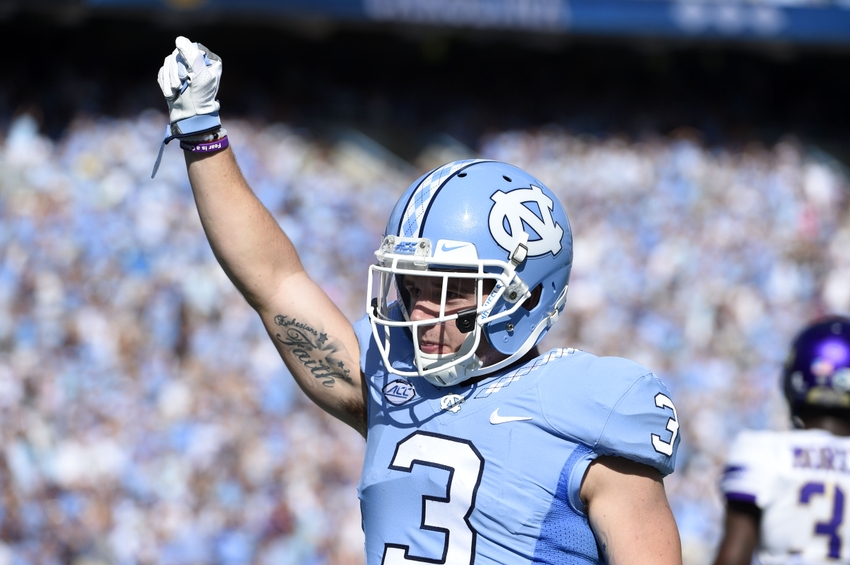 North Carolina's Ryan Switzer's playmaking ability should come as no surprise to the college football faithful. The dynamic senior entered this season as a top wideout in the ACC and one of the most lethal punt return men in the country. 
A clone of Packers receiver Randall Cobb, Ryan Switzer is able to turn short passes into huge yards with his elite spatial awareness and decisive quickness. He shows a great feel for angles and openings, which are evident on his punt returns.
Switzer is a great route runner, incorporating body fakes to set up defenders before bursting off and finding open zones in coverage.
A Swiss Army Knife in the North Carolina offense, Switzer often lines up at wide receiver and running back and works on jet sweeps and all kinds of pre-snap motions.
Watching the competitive matchups against both Pittsburgh and Florida State earlier this season, Switzer was Mitch Trubisky's main target in the clutch. When North Carolina needed a play, they turned to Switzer.
I always admire return men for their bravery, especially punt return men who have their head up while eleven defenders charge towards them. Switzer is someone who you need to game-plan for on special teams, just as Clemson did in 2015. He has the ability to flip the field entirely and change the game with one play.
Despite being willing, Switzer is hardly a dominant run blocker. He often goes low, as he would be overmatched in a straight battle. He dominates on short and intermediate routes where his quickness shines through, but due to his small frame, he is not the ideal target on deep routes.
He very rarely works outside of the slot receiver position, but that is not a huge issue,; it's where he is best
Switzer is also reluctant to call for fair catches on punt returns, which could lead to injury and/or turnovers. He undoubtedly has small hands, yet seems to catch everything thrown his way. He also makes more full-extension grabs than expected considering his stature.
Height: 5'10 Weight: 185lbs Class: Senior Hometown: Charleston, West Virginia
Career Stats: 218 Rec/2523 Yds/ 16 TD/ 95 Ret/ 1,059 Yds/ 7 TD (Stats)
With his special teams and receiver value, Switzer will receive plenty of hype throughout the draft process. North Carolina are losing a great player, but they have shown NFL teams exactly how to use him this season.
Get him the ball quickly and let him work his magic. All said and done, Ryan Switzer would be a fantastic pickup in the second round of the NFL Draft.
This article originally appeared on