2017 NFL Draft: San Francisco 49ers Likely to Pick at No. 2 Overall, per ESPN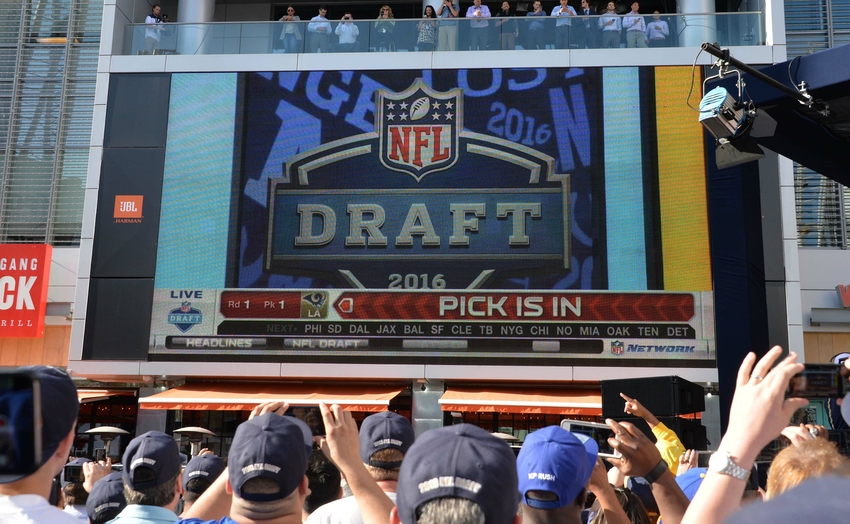 ESPN Stats & Information gives the Cleveland Browns the best chance to secure the No. 1 overall pick in the 2017 NFL Draft. The 1-8 San Francisco 49ers have the next best chance for the first pick, although the chance is much slimmer.
For those San Francisco 49ers fans hoping the team winds up with the No. 1 overall pick in the upcoming 2017 NFL Draft, you might want to curb your hopes.
According to ESPN Stats & Information, the Cleveland Browns are nearly a lock to secure the top pick in the upcoming draft:
ESPN's Football Power Index takes into account a number of things, but it primarily focuses on the strength of schedule.
Based on the numbers, the Browns have an 86.8 percent chance of walking away with the No. 1 pick. San Francisco has the next best chance at 10 percent — quite a difference.
This is exactly what would happen if the season were to end today. The winless Browns may not win another game this season, while the Niners might actually have a chance for another victory or two.
Here's a look at the Browns' remaining games:
Week 11 vs. Pittsburgh Steelers
Week 12 vs. New York Giants
Week 14 vs. Cincinnati Bengals
Week 15 @ Buffalo Bills
Week 16 vs. San Diego Chargers
Week 17 @ Pittsburgh Steelers
Maybe Cleveland manages to take home a win against the San Diego Chargers, who have been figuring out new ways to lose games seemingly every week. But it's also feasible to see the Browns finish 0-16 on the season as well.
San Francisco's remaining schedule is also difficult:
Week 11 vs. New England Patriots
Week 12 @ Miami Dolphins
Week 13 @ Chicago Bears
Week 14 vs. New York Jets
Week 15 @ Atlanta Falcons
Week 16 @ Los Angeles Rams
Week 17 vs. Seattle Seahawks
It wouldn't be surprising to see the Niners wind up winning on the road versus the Chicago Bears and potentially at home against the lackluster New York Jets. Any other win is going to be hard to come by.
If the Browns wind up taking Texas A&M edge rusher Myles Garrett, widely viewed as the best collegiate prospect, at No. 1 overall, the 49ers would likely have to turn their attention elsewhere.
Fortunately, San Francisco has no shortage of needs and can simply take the best player available. Or the team could trade down and secure even more picks in the draft.
This article originally appeared on