2017 NFL Draft Rumors: Cleveland Browns "honing in on" Mitch Trubisky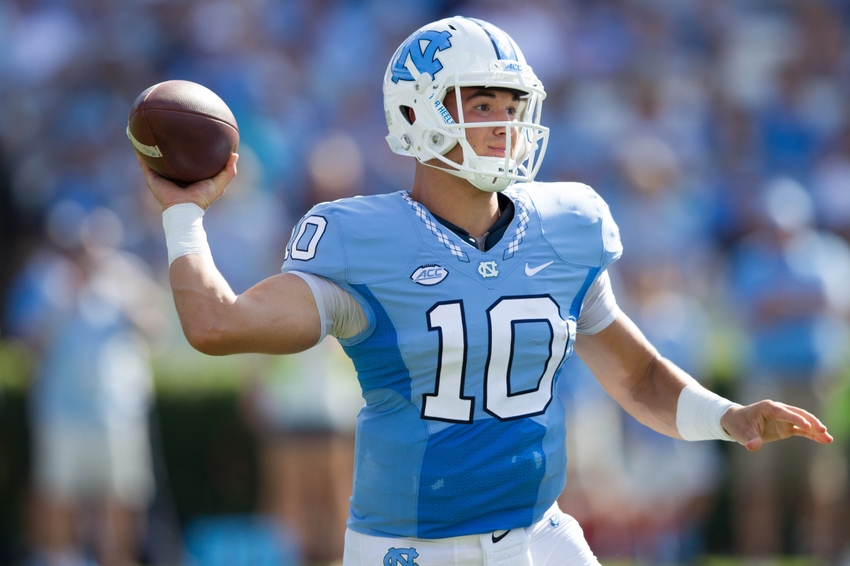 In their ongoing search for a young quarterback to build around, the Cleveland Browns are taking a look at one of 2017's draft-eligible signal callers.
With an 0-11 record this season, and a winless season looking realistic, the Cleveland Browns have plenty of problems. But an injury-forced revolving door at quarterback has not helped, and rookie Cody Kessler suffered his second concussion of the season on Sunday. Josh McCown, and possibly Robert Griffin III, will likely be under center for the Browns over the rest of this season. So a better plan for the future needs to be found.
According to Jason La Canfora of CBS Sports, the Browns are "honing in on" North Carolina quarterback Mitch Trubisky in the 2017 NFL Draft. The fourth-year junior is in his first year as a starter for the Tar Heels, and he has become a top pro prospect in the midst of a breakout season. Heading into this week's regular season finale against North Carolina State, Trubisky has thrown for 3,188 yards with 25 touchdowns and just four interceptions (69.7 percent completion rate) in 11 games.
The Browns notably traded down from No. 2 overall in the 2016 draft, and missed out on the chance to draft Carson Wentz as a result. A new front office regime has made it a priority to stockpile extra draft picks, but the Browns are heading for the No. 1 pick next spring and trading down is unlikely to be an option.
Trubisky is an Ohio native, and a former "Mr. Football" in the state, so there's the possible local angle to foster interest from Browns' fans. ESPN's Mel Kiper Jr. made Trubisky the No. 1 quarterback on his "big board" a few weeks ago, which speaks not only to Trubisky's rising draft stock but also to a shallow class of quarterbacks.
The importance of the quarterback position often leads to NFL teams reaching in the draft, or making aggressive trades up in the draft if there's a prospect they covet. The Browns also own the Philadelphia Eagles' first round pick next year, so they could take a quarterback with that pick.
The Browns have a lot of needs, so they could take the best player available with each of their 2017 draft picks and not go wrong. Reaching to draft a quarterback with a limited college resume is not unprecedented (Akili Smith, etc.), so the Browns would not be the first to make that mistake.
I'm not yet sold on Trubisky as a potential franchise quarterback, and it would be foolish for any team to take him in the first round just to show effort to address the position. The Browns have built up enough history since 1999 to invite skepticism about everything they do, and if nothing else Trubisky would be entering a situation where he would be in line to fail. Quite frankly, the Browns and a quarterback with artificially high draft stock look like a perfectly dysfunctional fit for each other.
This article originally appeared on