2017 NFL Draft: QB Chad Kelly gives stock huge boost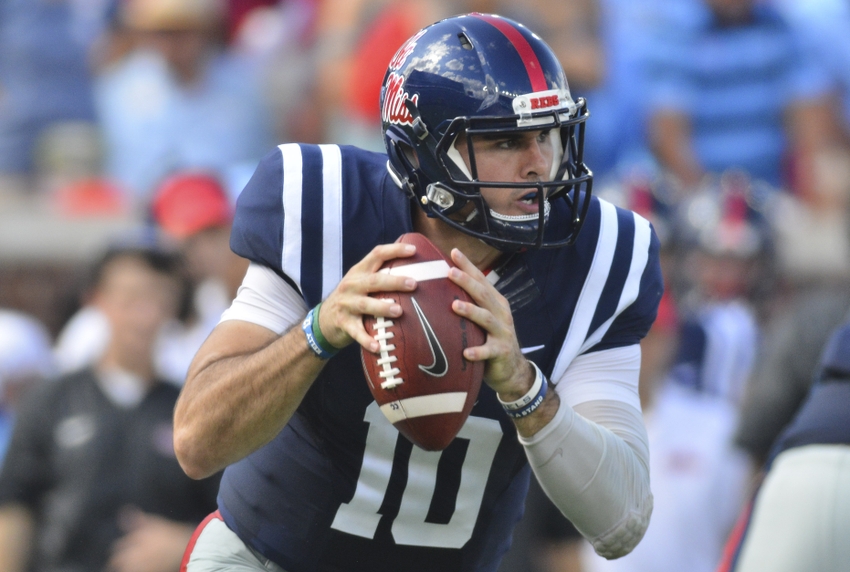 Everybody knew that Chad Kelly came with question marks regarding his status for the 2017 NFL draft. He has talent, but does he have the poise?
Often the best way to determine that is how he performs against the best teams. For weeks analysts have been saying that Kelly, the nephew of Pro Football Hall of Famer Jim Kelly, has the arm talent for the NFL but hasn't displayed the maturity or decision-making teams want to see out of future starters. For every great play he makes, there's a pretty bad one right around the corner.
Yet when he delivers a performance like the one he did against Alabama, even in a losing effort it's hard not to get excited about his future. The Crimson Tide defense had no answers for him all afternoon. He completed 26-of-41 passes for 421 yards and three touchdowns with one interception. Don't forget this is against a defense many consider stack with future 1st round picks.
The mix of arm strength and accuracy alone are going to have quarterback coaches throughout the NFL giddy with excitement. He can deliver a ball almost anywhere on the field if given enough time. Like many great quarterbacks, when he's in a rhythm it's almost impossible to stop him. Kelly carries himself with that borderline arrogance a quarterback must have. It's a matter of whether or not he can avoid falling into the same trap as others.
That trap of believing too much in his arm and not trusting his better judgment. There's a reason he's compared to guys like Jay Cutler and Brett Favre. The thing about guys with amazing arm strength is the fact that they believe they can fit the ball into even the tiniest windows, and sometimes it's true. Problem is more than half the time that pass is either knocked away or intercepted.
That will be the challenge for whichever team ends up drafting Chad Kelly, which is looking more and more like it will be in the top 32 next spring.
This article originally appeared on