2017 NFL Draft Prospects Who Must Step Up in Week 3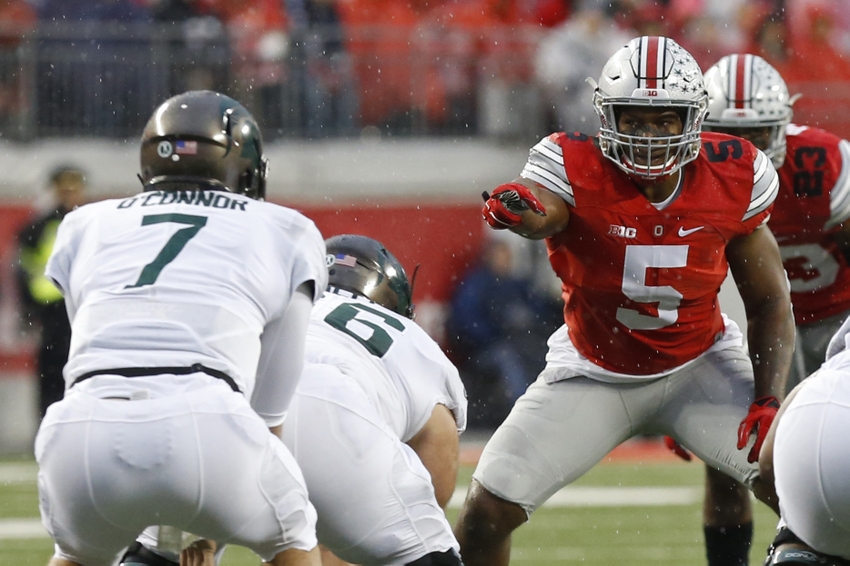 College football enters week three this weekend with a much more intriguing schedule than last week. Four games on Saturday will feature a pair of ranked teams, four more than a week ago. With so many high-profile games, there will be plenty of 2017 NFL Draft prospects to keep an eye on.
The prospects worth watching won't just be involved on those four games. Players from the FBS and even the FCS will need to step it up this weekend and deliver when their schools need them the most.
The 2017 NFL Draft may be another eight months away, but the clock is ticking for those who plan to enter the draft. Even with 10 or 11 games left for some schools, there are limited opportunities for these players to showcase their skills against top competition. That's the case for the following players, as their opponent or one-on-one matchup will be critical to their stock.
Chad Kelly (QB – Ole Miss) vs. Alabama
Editorial: Removing 'Dixie' Shouldn't Matter to Fans
This is an obvious one. Ole Miss quarterback Chad Kelly must be nearly flawless in order for the Rebels to upset the top-ranked Crimson Tide.
Ole Miss has won this matchup the past two years with two different quarterbacks. Chad Kelly last season and Bo Wallace in 2014 played extremely well against Nick Saban's defense. The two combined to throw for 592 yards, six touchdowns and no interceptions. As a team, the Rebels turned the ball over just once in those two contests.
Taking care of the ball will be the top priority for Kelly against a very aggressive defense. With just two starters returning on the offensive line from a year ago, Kelly must show elite pocket presence and get rid of the ball quickly when Alabama sends pressure.
Wallace and Kelly have gunslinger mentalities, however both have been very smart with the ball against Alabama. If this holds true again this season, Ole Miss could run their streak to three in-a-row against Alabama. A win over the Crimson Tide would certainly boost Kelly's stock in the 2017 NFL Draft.
Raekwon McMillan (ILB – Ohio State) vs. Oklahoma
Ohio State Buckeyes: Kyle Snyder Wins Gold To Cap An Unbelievable Year
In a game featuring numerous 2017 NFL Draft prospects on both sidelines, the most important player will be in the middle of the Ohio State defense.
Inside linebacker Raekwon McMillan leads the Buckeyes with 12 tackles on the season and is the heart of the defense. He'll likely add quite a few tackles to that total as Oklahoma will at some point have to establish a run game.
McMillan will be tasked with slowing down the rushing attack, which has surprisingly been led by Joe Mixon rather than Samaje Perine. An injury has limited Perine, however he is expected to see an increased workload against the Buckeyes.
The Ohio State inside linebacker will also be asked to help slow down dual-threat QB Baker Mayfield. McMillan has only been tested in coverage once this season, however look for the Sooners to try to isolate McMillan. Whether it's against the run or the pass, Mayfield's best chance to lead his team to victory will be to get McMillan into one-on-one situations in space against the talented Oklahoma skill players.
Avery Gennesy (LT – Texas A&M) vs. Auburn
Texas A&M has had at least one player selected in the first round in each of the past six drafts. While Myles Garrett is projected to extend that streak in the 2017 NFL Draft, it's another streak that could come to an end.
Get the FanSided App
The Aggies have become "Offensive Line U" recently with an offensive lineman being selected in the first round in each of the past four years. That streak is in jeopardy as Avery Gennesy is the only Texas A&M lineman expected to be drafted. He's currently a mid-round pick, so it will take a lot to move him up into the first round.
One way to boost his stock for the 2017 NFL Draft is to shutdown Auburn defensive end Carl Lawson. Lawson is a dangerous, but oft-injured edge rusher who can create havoc in an opponent's backfield when healthy.
Healthy is what Lawson is at this time and that doesn't bode well for Gennesy. A solid performance will not only help his stock, but it will get Texas A&M off to a solid start in the SEC West.
Nick DeLuca (ILB – North Dakota State) vs. Iowa
The North Dakota State Bison have started the 2016 season 2-0 on their quest for a sixth consecutive FCS title. Both wins have come against teams ranked in the top 10 in the FCS, but this weekend's road trip to Iowa will be a step up in competition.
North Dakota State will need to be at their best to pull off what would be considered a minor upset, and Nick DeLuca is the 2017 NFL Draft prospect who will lead the defense. DeLuca led the team last season with 135 total tackles; 54 more than anyone else on the roster.
DeLuca will spend a lot of time spying Iowa QB C.J. Beathard, who has started the season strong. Beathard and company like to control the ball and methodically move the chains. If DeLuca and the Bison defense can create a turnover or two and give the offense good field position, North Dakota State has a chance to pull off the upset.
Stacy Coley (WR – Miami) vs. Appalachian State
Chop Chat 3w
FSU Football 2016 Preseason Preview: Game 6 at Miami
The Miami Hurricanes have scored 108 points through two games this season, however the offense has not been in sync. Part of the problem has been the lack of big plays, especially through the air.
Big plays through the air is what Stacy Coley is known for. He's made a name for himself as Brad Kaaya's deep threat. This season however, he's only caught six passes for 51 yards. His biggest play this season only went for 13 yards.
While Appalachian State may not be at the same level as many of the teams Miami will face in the ACC, the Mountaineers secondary won't make it easy for Kaaya and Coley. In the opener against Tennessee, QB Joshua Dobbs only completed one of five passes thrown more than 15 yards downfield against Appalachian State. In a game that went into overtime, Dobbs only threw for 91 yards.
Before the season, Coley was in danger of facing punishment for his involvement in a luxury rental car scandal. Teammates Al-Quadin Muhammad and Jermaine Grace were dismissed for their involvement, however Coley was not punished. Although his stock won't take a hit for the car scandal, he needs to get back on track on the field in order to avoid falling further down 2017 NFL Draft boards.
DeMarcus Walker (DE – Florida State) vs. Louisville
Chop Chat 3w
FSU Football 2016 Preseason Preview: Game 6 at Miami
DeMarcus Walker burst onto the scene last season when he recorded 10.5 sacks for the Seminoles. He already has 4.5 this season and will look to add to that total Saturday against Louisville.
Sacking the quarterback won't be so easy this weekend as Florida State takes on Lamar Jackson and the Louisville Cardinals. Jackson is one of the most dynamic players at the position and has only been sacked once this season.
It's not just sacks however that Florida State will look for on defense. Despite averaging 66 points per game, Louisville has left a lot of points on the field as they have fumbled nine times through two games.
While turnovers will factor into the result, containing Jackson is what Florida State must focus on. Walker will not only have to put pressure on the sophomore QB, but he'll attempt to keep Jackson in the pocket as well. If Florida State doesn't allow Jackson to make plays with his feet outside of the pocket, the Seminoles will improve to 3-0.
This article originally appeared on