2017 NFL Draft: Oakland Raiders Late-Season 7-Round Mock Draft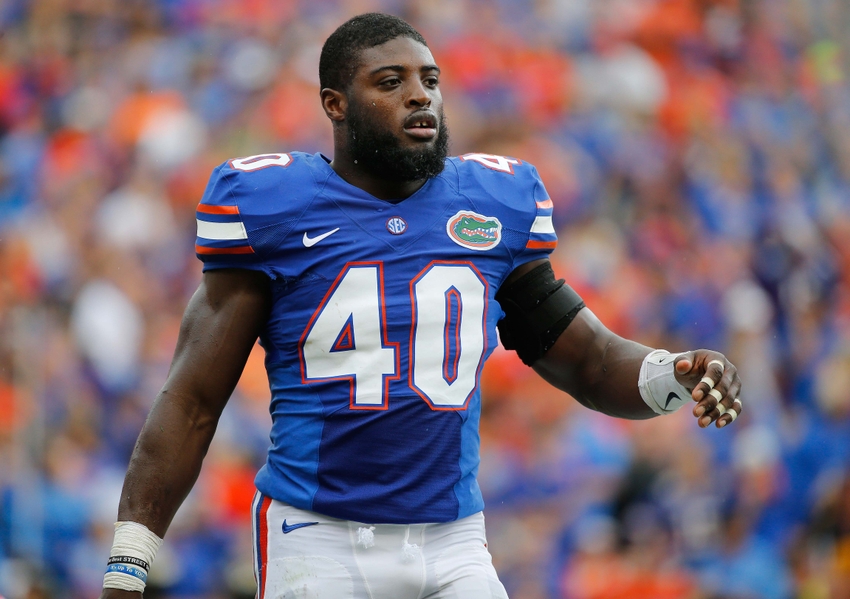 Even with the playoffs likely in the Oakland Raiders' future, it's never too early to put together a seven-round mock for the 2017 NFL Draft.
For the last few years, the Oakland Raiders have quietly built a powerhouse through the draft. Now owners of the best record in the AFC, it seems all of that hard work has finally paid off. However, no matter how far they go this season, the 2017 NFL Draft will still be instrumental to their continued success.
When draft day finally rolls around in April, it could be some time before the Raiders are even on the clock. They're currently slotted for the 31st overall pick entering Week 14 and will likely stay around that draft positioning (give or take a few spots) if they keep winning. It's a small price to pay to be a Super Bowl contender.
So what will the Raiders do when that glorious day rolls around? No one knows for sure, but it doesn't hurt to take a quick gander at what could be in store.
I can assure you their scouting department is already hard at work preparing for the 2017 NFL Draft. Watching film and writing up reports are common occurrences in those offices, which is why it only seems logical for us to join in on the fun now.
So, without further ado, let's take a look at how the Raiders could spend their seven current picks during the 2017 NFL Draft. Keep in mind, this is meant to be more of a commentary on positional needs and player stock than anything else—it's not a prediction of what will actually happen.
Round 1: Jarrad Davis, ILB – Florida
I've been a big proponent of the Raiders finding themselves a new middle linebacker for some time. I routinely mocked Reggie Ragland to them a year ago and am hoping they finally address the position in 2016.
Let's be honest—the Raiders' linebackers (excluding Khalil Mack and Bruce Irvin, obviously) are far from impressive. Malcolm Smith is an overrated player who continues to get slack for his Super Bowl heroics. Perry Riley Jr. was a solid mid-season addition, but is scheduled to hit free agency and may not re-sign. As for Daren Bates, I never expected much from him in the first place.
So where does the Oakland defense go from here? How about in the direction of a certain outstanding Florida linebacker by the name of Jarrad Davis?
Now I'll admit that Davis has his flaws. His run defense can still use some work, particularly in the technique department. With that said, he's one of the best linebackers in the nation in terms of pass coverage. Seeing as the Raiders have struggled mightily to defend the pass in 2016, it seems like a solid fit.
Davis has been lauded for his work ethic, tenacity and preparation. Adding that to the Oakland defense would make this team all the more dangerous in 2017 and beyond.
Round 2: Elijah Qualls, DT – Washington
I must say, I'm a bit surprised at how the defensive tackle position has panned out for the Raiders in 2016. Heading into the season, it seemed like one of their strongest groups. Dan Williams and Justin Ellis led the way, with quality backups behind them in Stacy McGee and Darius Latham.
Instead, the Raiders have seen wild inconsistency from the position. Williams and McGee have played well, but aren't even seeing the most snaps. The majority of the playing time along the interior goes to Denico Autry and rookie Jihad Ward, who have earned miserable marks from Pro Football Focus this year. The regression of Ellis hasn't helped, either.
Moving forward, the Raiders need a reliable presence in the middle who can make an impact on any down. That's why a guy like Elijah Qualls makes plenty of sense here.
The Washington product has been a star this season as the Huskies rose to the top of the Pac-12. Putting his powerful, well-rounded game on display on a weekly basis has elevated his stock and has him sitting pretty with more ground to gain between now and April.
The Raiders have the edges locked down with Mack, Irvin and possibly Aldon Smith. Now they need a dominant interior presence who can anchor the line and provide the occasional pressure up the middle. Look no further than Qualls in the second round.
Round 3: Eddie Jackson, FS – Alabama
Heading into this season, Eddie Jackson was seen as a potential first-round pick. Unfortunately, his stock took a significant hit for a number of reasons. A broken leg certainly didn't help his cause. Still, there's a lot of intrigue in the Alabama safety—especially for an Oakland secondary that needs more depth and a long-term option at free safety. We all know Reggie Nelson isn't going to last forever and has been far from a star this season.
While Karl Joseph looks like a keeper after his rookie campaign, the Raiders need someone who can be groomed into the accompanying free safety spot. Nelson only has one year left on his deal, and will likely hang up his cleats when the 2017 season comes to an end. Even Nate Allen is headed for free agency this offseason, which could further limit the team's safety depth moving forward.
Jackson would be a solid selection to fill that role. He's a tremendous athlete with sky-high potential, and would be a great compliment to Joseph's hard-hitting style of play. The Crimson Tide star isn't a tremendous run defender, but more than makes up for it with his coverage chops. Add in his value as an electrifying return man and Jackson is well worth the third-round selection.
Round 4: Erik Magnuson, OT – Michigan
Based on what we've seen in 2016, the Raiders have arguably the second-best offensive line in the league. The only weak spot on what appears to be an impenetrable front five is at right tackle.
Austin Howard has held down the starting spot for most of the season, but he's had his struggles. Menelik Watson, who's missed much of the year due to injury, has finally proven he belongs in the "bust" category and is headed for free agency come March. That means more talent is needed on the right side.
So it's safe to assume investing in the offensive line would be on the Raiders' offseason to-do list. They could hypothetically check that item off with the selection of Erik Magnuson.
The Michigan standout has spent the entire 2016 campaign paving the way for one of the college football's top scoring offenses. He's held down the right side with little trouble, showing improvement as both a run blocker and pass protector. Work is still needed in all facets of his game, but the potential is there.
With Watson likely gone, the Raiders need a young tackle prospect who can push Howard for the starting job. While I'm not entirely convinced Magnuson is ready to start just yet, he could eventually be the answer for Oakland on the right side.
Round 5: Ahkello Witherspoon, CB – Colorado
When it comes to the Colorado secondary, all of the talk surrounds Chidobe Awuzie. However, there's another player worthy of NFL consideration—that would be Ahkello Witherspoon.
The Buffaloes' other cornerback started the 2016 campaign off on the wrong foot. However, as the team continued to excel, Witherspoon began stepping up his game as opponents attempted to throw away from Awuzie. It's become clear he's worthy of mid-round consideration based on his recent play.
Obviously teams will love his length at 6-2, although he'll need to hit the weight room before he's ready to see extended action in the NFL. The Raiders could certainly provide that for him, though.
Realistically, they need some extra depth at cornerback right now. Although their starting duo of Sean Smith and David Amerson is strong, the talent further down the depth chart is worrisome. D.J. Hayden is set to be a free agent and was miserable this season anyway. T.J. Carrie has been solid, but there's not much at the position beyond that.
Witherspoon would provide excellent depth and upside at the position. Especially if he only costs the Raiders a fifth-round pick, I'm guessing they'd be very happy with the eventual returns.
Round 6: Cethan Carter, TE – Nebraska
I really though the tight end position was going to pay dividends for the Raiders in 2016. Unfortunately, that was far from the case.
Lee Smith fell to a broken ankle early in the season, stripping the Oakland offense of its blocking tight end. Clive Walford has played well, but didn't exactly live up to the billing as a breakout candidate in his sophomore season. Mychal Rivera will always be a decent option, but has likely already hit his ceiling.
It's time for the Raiders to find another young playmaker at the position, especially if Walford continues to underwhelm moving forward.
Enter Cethan Carter, a severely underrated prospect who has the potential to turn a lot of heads at the next level. He may not be the star tight end Oakland was hoping for with Walford, but the skills he's shown at Nebraska prove he can make a big impact on any down.
Carter is an outstanding blocker (just watch a few minutes of his game against Northwestern), using his relentless motor and impressive strength to win at the point of attack. He's also a plus athlete with reliable hands, although his usage at Nebraska has been disappointing. You can rest assured he'd be targeted early and often by Derek Carr. The Raiders' trio of running backs would also love to have him aboard.
Round 7: Jamari Staples, WR – Louisville
If I had to guess, I'd venture to say that Jamari Staples won't be available during the seventh round. However, at this moment, he's being overlooked by most in the scouting community. By the time workouts are done, though, he'll be on just about everyone's radar.
For now, though, we'll say that he's a Day-3 option for the Raiders.
Oakland has a tremendous receiving duo with Amari Cooper and Michael Crabtree. Even Seth Roberts has asserted himself as a quality No. 3 option in 2016. However, the Raiders are a bit limited at wide receiver beyond that.
Their fourth receiver, Andre Holmes, only has 10 catches this year and is scheduled to hit free agency in 2017. I wouldn't be surprised if the Raiders didn't bring him back. Assuming that's the case, adding some more depth via the draft would be wise.
Staples has all of the physical tools, but has flown under the radar this season while playing a complementary role in the Lamar Jackson show. With a year or two of NFL coaching, I'm confident he could develop into an exceptional contributor in Oakland.
This article originally appeared on