2017 NFL Draft: North Carolina Mitch Trubisky Scouting Report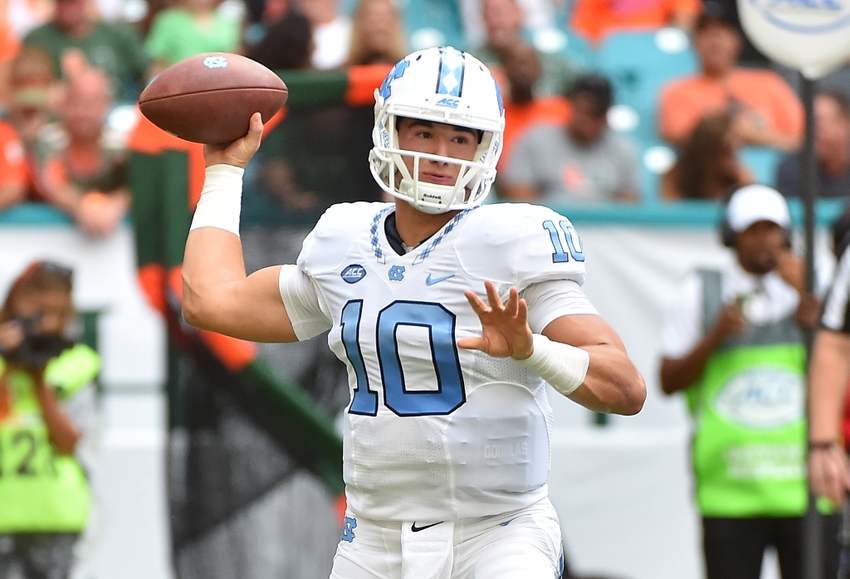 North Carolina's Mitch Trubisky has quickly become one of the more discussed 2017 NFL Draft prospects and one of the more intriguing members of the quarterback class.
Mitch Trubisky is a naturally gifted athlete who features a strong throwing arm and good mobility. He has the arm strength needed to attack the deep part of the field and also generate zip on most his throws. The issue is that he has a lot of areas that need improvement.
His biggest problems come with his feel for the position and mechanics. Obviously, this is a major issue and something that will take time to correct.
Trubisky has a habit of falling off his throws rather than stepping towards his target. This hurts both his accuracy and zip. There are plenty of occasions where Trubisky's sideline throws float to the target. NFL cornerbacks excel at jumping those passes and pulling down interceptions.
More from With the First Pick
His accuracy suffers because he releases the ball with an open shoulder and awkward footing. He needs to learn how to square his body to the target and explode off his back foot. A lot of his throws are all arm where he doesn't move his feet at all.
North Carolina's offense is based on getting the ball out of the quarterback's hands as quick as possible. This is one of the reasons why Trubisky has picked up some bad habits. It's tough to see any major changes being made while he's in the program.
Despite the negatives surrounding this game, Trubisky has the potential to develop into a strong NFL quarterback. He plays with great effort, is willing to stretch the field and can make plays with his feet. His arm strength is another thing that scouts will champion when evaluating Trubisky.
However, it's hard to watch him play and say this is a quarterback ready to play in the NFL. He needs to completely rework his throwing mechanics, learn to operate a pro-style offense and read a defense.
Current Draft Status: 4th Round
This article originally appeared on