2017 NFL Draft: Michigan Mason Cole Scouting Report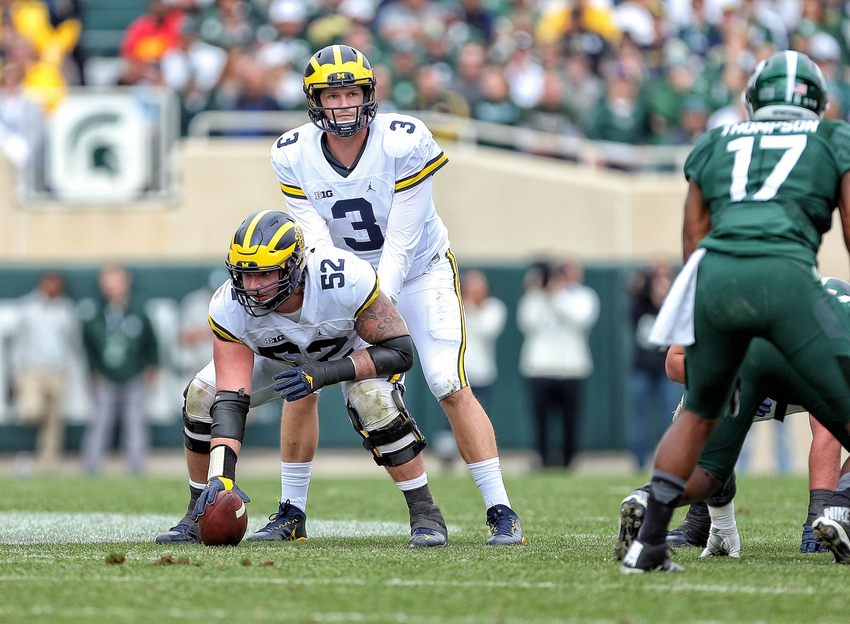 Michigan's Mason Cole is an experienced and powerful offensive line prospect eligible for the 2017 NFL Draft.
Mason Cole is the leader of Michigan's offensive line and does a good job setting the tone. His snap exchange with the quarterback is smooth and quick. This allows him to get his hands in proper position to throw a block.
Cole routinely gains inside hand placement and maintains leverage. He rolls his hips off the snap and delivers a powerful punch. His combination of strength, leverage and hand placement give him the ability to get a push off the line.
This is a smart player who understands the importance of angles. He doesn't just rely on his physical strength and is willing to seal defenders from the play.
More from With the First Pick
Cole is a solid athlete who can reach the second level, pull to the edge and work the screen game.
He keeps a wide base and hands up in pass protection. His balance helps him anchor after contact and keep pressure out of the quarterback's face. He keeps his head on a swivel and does a good job identifying the most immediate threat.
The one small concern with Cole is that he has a short/stocky build. However, he has long arms which basically negates any problems with his lack of height. In fact, most evaluators want a shorter center who can gain leverage easier.
Cole's lack of length does limit his position versatility meaning that he'll need to stick to the interior of the offensive line.
Current Draft Stock: 2nd Round
This article originally appeared on