2017 NFL Draft: Eddie Jackson Scouting Report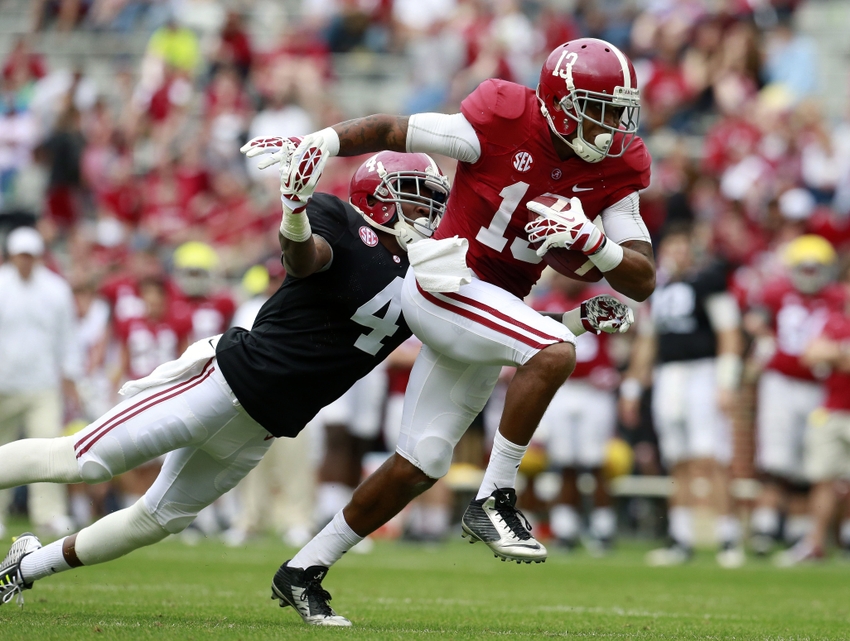 Where is the draft stock of one of the better Bama defenders in the last few years?
Personally, I think Jackson is wasted as a safety and should move back to boundary corner? He played that spot for Bama in 2014 then moved to safety. He clearly has good ball skills for a safety but he looks so much better when he's in man coverage rather than in space.
He is a natural ballhawk and had a beautiful INT of Deshawn Watson in the title game where he baited him into throwing a pass right to him. And this is what's so frustrating about watching the tape of him play in 2015: you know that he can make an INT if the ball is anywhere near him.
He has the eye for the ball, the speed, the acceleration and the ability to bait a quarterback into a bad throw. Most of his INTs came on this: he lurked and broke on the ball when the quarterback took the bait.
Whether it's scheme(essentially playing as a coverage strong safety) or coaching(being told to not get beaten deep) his ballhawk skills go to waste because he's playing too far back.
He needs to be closer up so that he can take a receiver and either use his speed/quickness to take them out of the play or to ballhawk. This is why I think he should move back to corner because as a corner, I have him as a 1st round talent.
A decent pro comparison might be Byron Jones. He was a safety/corner tweener who now has landed at free safety for the Cowboys.
I tend to think of Jackson as much more of a corner, but there's serious draftniks out there who swear he should be a coverage strong safety. I think that this is wasting his talents-even in a Cover-2 system where he'd be asked to range from that spot.
Draft Grade: 3rd round as a safety
a lot of safeties in the 2017 I'd rather have before him. High 2nd/late 1st as a corner. His ball skills are really advanced that I don't understand why Smart moved him to safety.
More from With the First Pick
This article originally appeared on