2017 NFL Draft: Cleveland Browns Pre-Combine Mock Draft
Peter Smith/FanSided via NFL Spin Zone

Fansided
The 2017 NFL Draft is under two months away, but with the Scouting Combine approaching, it's time to take another snapshot of the Cleveland Browns with a mock draft.
The upcoming NFL Scouting Combine is a critical part of the process. The medical evaluation is the reason it was established in the first place and the most important part, but the athletic testing has become increasingly important. That's especially true for the Cleveland Browns, who put so much emphasis on physical traits in their evaluation.
The athletic testing will provide a ton of information that provide hints into how the Browns will ultimately pick their players in April. In the meantime, the All-Star games and other revelations in the process have provided an increasingly clear picture of how players are going to go in the upcoming draft, so it's a good time to take another snapshot of this draft.
This is now the fifth edition of this mock draft with the goal to find players that fit what the Browns want in players and highlight some of lesser known players that could suit up for this team on Sundays. This is the previous edition that happened before the All-Star games.
The prospects that the Browns have targeted to this point have been able to run fast, jump high, be productive in college and stay clean off the field. Aside from just eye-balling it, the run fast and jump high will come into focus at the Combine and pro days, but production and character and identifiable for the most part.
As a reminder, this mock utilizes Fanspeak.com to give some framework as to where players might go. Obviously it's a simulator and there's weird random things that happen and it depends on the rankings used (CBS in this case), but it's as good a way to play this out as any currently available.
With that said, let's get into it.
Round 1: Myles Garrett, Edge – Texas A&M – 6-5, 270 lbs. (Listed)
8.5 of 38 team sacks (22.3 percent) and 15 of 111 tackles for loss this season (13.5 percent) despite missing two games
So there's about a week to go before this one is officially the pick in everything but handing in the card. Myles Garrett intends to fully participate at the combine and unless he steps on a landmine or, more importantly, the Browns team doctors find something problematic when they evaluate him, they'll have all the data they need to decide he's the top pick.
Gregg Williams has laid out the types of players he wants, stressing DNA and talking about being a motor coach. He's extremely confident he can get the most out of a player's ability, which just screams Garrett.
The biggest thing Garrett thing has done wrong in three years at Texas A&M is recording a video about his hometown team, the Dallas Cowboys, trading up for him. If that's the worst thing he does and Williams can maximize his immense talent, he is going to be a tremendously special player for the Browns on a defensive line with Danny Shelton coming off a impressive season and Emmanuel Ogbah showing promise as a rookie.
The Browns have not had the opportunity to take a talent like Garrett since Joe Thomas. Thomas is headed to Canton and there's no question that Garrett has the capability to be that type of player. Interviews will be important, but in terms of what the Browns are looking for, he is everything this regime has targeted in a player.
Round 1 (via PHI): Patrick Mahomes II, QB – Texas Tech – 6-3, 230 lbs. (Listed)
5,052 passing yards, 65.7 percent completions, 8.5 yards per attempt, 41 touchdowns, 10 interceptions and 131 carries for 285 yards rushing and 12 touchdowns
Patrick Mahomes is nothing short of quarterback plutonium. In the right hands, he can be a deadly weapon. In the wrong ones, he could easily blow up in a team's face.
Mahomes appears to have all the talent in the world with his physical traits. He has a huge arm, is accurate, has size and athleticism. Mahomes looks the part, acts the part and at times, plays the part.
The reason he's available for the Browns to take at 12 is because there are some legitimate concerns with Mahomes as well. Everything about his throwing motion and footwork is unorthodox. He has played a sandlot style of football with few consequences for mistakes because he has to carry the team anyway.
Mahomes also hasn't done much winning at Texas Tech and, however much people want to attribute that to a poor defense, it's nevertheless a grim reality. The biggest accomplishment for Mahomes in terms of performance might be his otherworldly performance against Oklahoma where he had 734 passing yards and ran for 85 yards with seven total touchdowns. The problem is, they still lost.
Mahomes is a big ball of talent and how he is handled by the Browns, or whoever gets him, is critical. The team has to pick their battles in terms of what they want to fix and what they want to leave be, but regardless of the path they choose, little of it improves during games with people trying to kill him. It improves through endless reps where he can focus on teaching muscle memory with better habits.
The balance the Browns have to make with Mahomes is they absolutely cannot rush him and play him because they are losing or due to injuries or anything else. Otherwise, the bad habits pop right back up as the player just tries to survive. They have to do what is best for him, which is going to be a deliberate process to put him in the best position to succeed. If they do that and he puts in the work, he has the talent to be a truly special quarterback.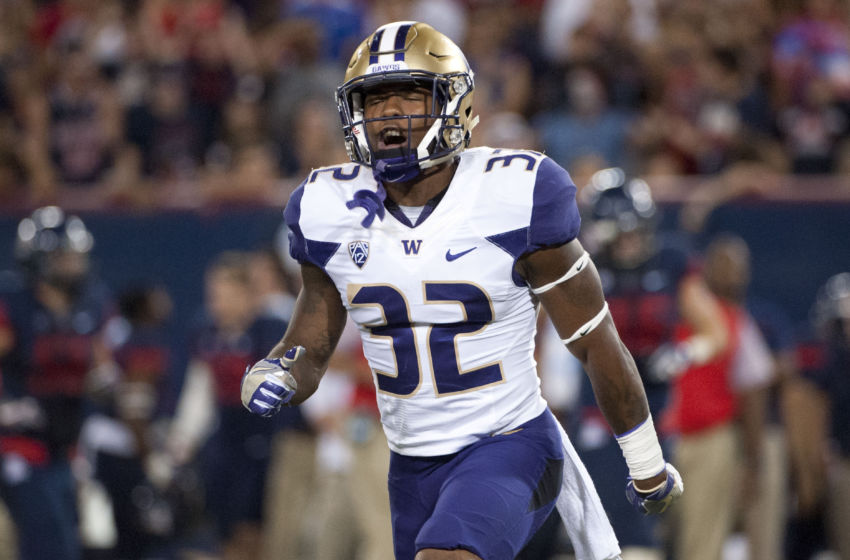 Round 2: Bishard 'Budda' Baker, S – Washington – 5-10, 193 lbs. (Listed)
49 of 572 team solo tackles (8.5 percent), three of 40 sacks (7.5 percent), 10 of 90 tackles for loss (11.1 percent), 6 of 40 pass deflections (15 percent), 2 of 19 interceptions (10.5 percent)
One of the biggest needs the Browns have to address is free safety. Currently, the depth chart at free safety is Ed Reynolds and the recently added Tyvis Powell. Budda Baker gives them someone who should be able to step in immediately with the hope of giving them a genuine playmaker on the back end of their defense.
Baker has tremendous instincts and processes information quickly, so he plays even faster than his athleticism would suggest. At times, Baker's range gives the impression that Washington's defense had an extra player. Baker has shown he can make plays in coverage, but he is fearless coming downhill with the ability to make plays behind the line of scrimmage.
The Combine will be interesting for Baker as a measure of his athleticism to see just how fast he is compared to how fast he seems to play. It is going to be interesting to see just how tall Baker is. The hope is he does clear the 5-10 mark, but his height is part of why he could be in play for the Browns at 33rd pick as opposed to being a first-round selection.
Round 2 (via TEN): Adoree' Jackson, CB – USC – 5-11, 185 lbs. (Listed)
60 of team 531 solo tackles (11.2 percent), 11 of 60 pass deflections (18.3 percent), 5 of 14 interceptions (35.7 percent)

4 punt return touchdowns and 2 kick return touchdowns over the past two seasons at 15.5 yards per punt return and 26 yards per kick return
Adoree' Jackson is another player that fits the style of player Williams says he wants on defense. A track athlete, Jackson should put on a show in Indianapolis and it's difficult to find the type of athleticism he is going to bring to the table.
Jackson also finds ways to make plays on the football and will create turnovers, which is a focus for Williams and head coach Hue Jackson. There is no question he needs to improve on his technique, so he plays with lower and with better balance. If the Browns can get him to polish up his game, he can be a terrific man cover corner.
The added ability of being one of the most dynamic returners in the country is something the Browns should take full advantage. It's possible Jackson would not start as a rookie as he develops as a technician behind guys like Joe Haden and Briaen Boddy-Calhoun, but he can still make an impact in the return game.
It's possible that Jackson could end up in the first round the way Artie Burns did last year. Burns, also raw, was drafted largely on potential and tremendous athleticism. The difference between Burns and Jackson is height as Burns was 6-0 while Jackson might be closer to 5-10. Similar to Ogbah, Jackson could be a slow burning rookie that is worth the wait.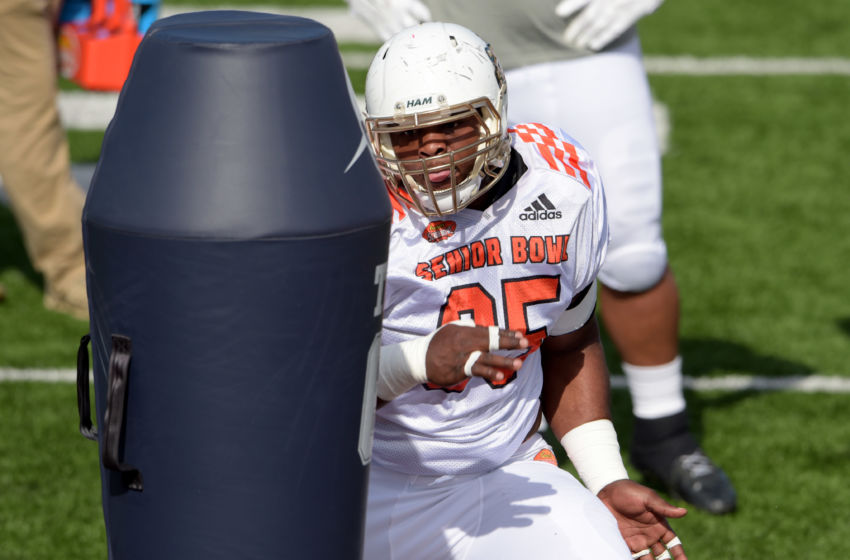 Round 3: Larry Ogunjobi, DT – Charlotte – 6-2.5, 304 lbs. (Senior Bowl)
Three of 14 team sacks (21.4 percent) and 13.5 of 49 tackles for loss (27.5 percent)
Larry Ogunjobi has one of the better stories in college football. He's a kid who got into football because there was a point in his life where he was 350 pounds and his parents were worried he might die. Between football and making a significant change to his diet, he transformed his body and has become a hugely strong defensive lineman with a ton of potential.
Ogunjobi, born to Nigerian parents, is also brilliant, going for a double major in biology and computer science while playing football. He's focused on football and believes his understanding of nutrition and the journey he's taken to the NFL gives him a professional mindset.
On the field, Ogunjobi has enormous legs and a massive hindquarters to generate power. He's also pretty quick off the ball, but he's still learning. He was productive for the 49ers, but in many ways, he's still figuring out how good he can be.
Ogunjobi has the ability to be a clogger and be able to take on double teams. He can rush the passer, but the main criticism with him is that he gets too excited when he has a shot at the quarterback, so rather than just trusting his ability, he spazzes out and misses opportunities. With reps and experience, that should improve, but Ogunjobi is one to keep an eye out in terms of how he performs on his athletic testing.
Ogunjobi has the ability to contribute at the 3-tech defensive tackle and could make his way into the starting lineup next to Shelton. He's exactly the type of player teams want to be able to bet on and his character should only be an asset for him in the draft.
Round 4: Adam Shaheen, TE – Ashland – 6-6, 277 lbs. (Listed)
Caught 57 of the team's 216 receptions (26 percent) for 867 of the team's 3052 receiving yards (28.4 percent) and 16 of the team's 62 touchdowns (25.8 percent)
For people not familiar with Shaheen, that's likely to end after the combine. Shaheen declared as a junior from Ashland, a Division II college in the well regarded GLIAC conference. This is the same conference as Tiffin, which just recently sent Antonio Pipkin to the Senior Bowl.
Shaheen dominated his level of competition, which is important. But because he declared as a junior, there will never be a true apples to apples comparison the way many others have in All-Star games like Pipkin. Shaheen is enormous and he can run. He is a former basketball player and moves like it, but he's always played football. Everything suggests that Shaheen has the right mindset to play in the NFL and is willing to learn to be physical to block as an inline tight end.
Obviously, the jump in competition will be a bit of an adjustment even more than it was for players like Seth DeValve out of Princeton and Anthony Fabiano out of Harvard. Nevertheless, his size, athleticism and ability to go get the football is undeniable and makes him an attractive prospect, especially in the red zone.
It may be a bit of a process, but Shaheen could play inline and become an extension of the offensive line, giving them a physical presence there while also having Gary Barnidge or Seth DeValve playing in the slot, creating mismatches all over the field. This would give them a more physically imposing unit in the running game and really open up the play-action game.
Shaheen will be a major focus at the Combine. Not only do teams want to see just how big he measures in, both in terms of height and weight, but his athletic testing and drill work will be important. This is the first real exposure Shaheen has had on a stage where he's around comparable talent, even if there's no pads involved. If he tests extremely well, it could move him up boards, but there is a cap with the concerns about level of competition.
The Browns have not been afraid to get players from smaller schools. This regime drafted out of the Ivy League and already has a player out of Ashland in Jamie Meder.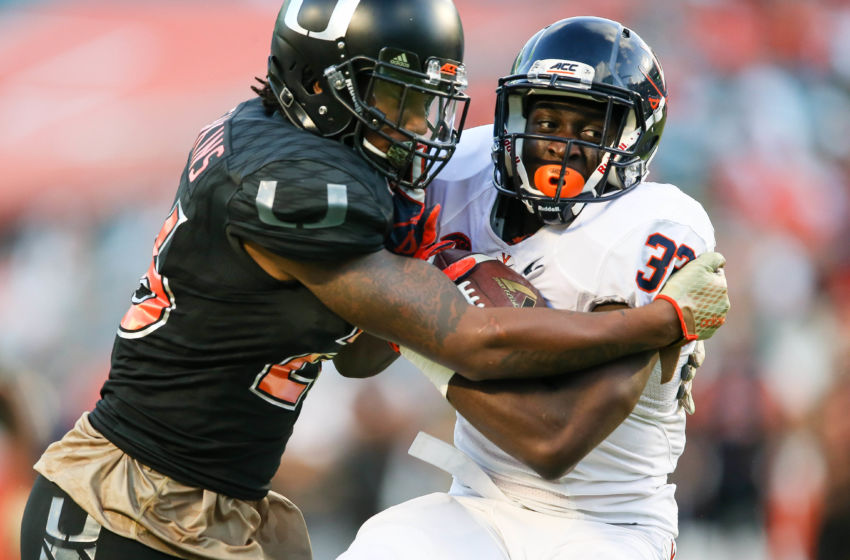 Round 4 (Compensatory): Rayshawn Jenkins, S – Miami – 6-1.25, 220 lbs. (Senior Bowl)
56 of the team's 540 total solo tackles (10.7 percent), 7 of 51 total pass deflections (13.7 percent) and two of the eight interceptions (25 percent)
So much has been made of the Cleveland Browns adding a hybrid safety that can also operate as a linebacker. The Los Angeles Rams did it with Mark Barron and while it appears that Jamie Collins will take over that role, the Browns still may want to add a player in that mold that can play on special teams and be a package player.
Rayshawn Jenkins actually measured in heavier at the Senior Bowl than his listed weight and looks the part already. He appears more than capable to play at the second level and performed a lot of linebacker type roles while he played for the Hurricanes. Jenkins, in many ways, operated as a run and chase linebacker, who showed good range and is physical, unafraid to take on blockers.
None of that means Jenkins can't still get looks as a deep safety, but it's just one more option with him. Jenkins looked good at the Senior Bowl in coverage and could give them another body to match up with tight ends. Jenkins should test well at the Combine, but a lot of teams may not have an obvious position for him. The Browns could be a perfect spot for him to appreciate him exactly as he is.
Round 5: Julie'n Davenport, OT – Bucknell 6-6.75 – 310 lbs. (Senior Bowl)
First-Team All-American, Three time First-Team All-Patriot League
This draft doesn't have a lot of polished offensive tackles. What it does have is a ton of players with fantastic bodies to play tackle that are still figuring out what to do at the position, which includes Julie'n Davenport. For a team like the Browns, this is a great situation because they don't need to rush him.
He's enormous and absolutely has an NFL body. Davenport dominated in the Patriot League, but was never really tested there. His first real taste of NFL competition was at the Senior Bowl where he displayed all of the promise of what he can be in the NFL, but also showed how much work is left to do.
The Combine for Davenport will basically be proving he has the foot quickness and agility to play left tackle, but he's shown that on the field. The key for him is getting him to maximize his ability to generate force and understand angles. Davenport is the ideal project tackle to put behind Joe Thomas as a long term project who can be a swing man for the time being. He has a lot in common with Le"Raven Clark out of Texas Tech, who was selected in the third round of the 2016 NFL Draft.
The Browns need to take a similar tact as they did with Shon Coleman last year, except they hopefully will have even more time with Davenport, since Thomas has no plans of retiring any time soon and Coleman is just starting his career.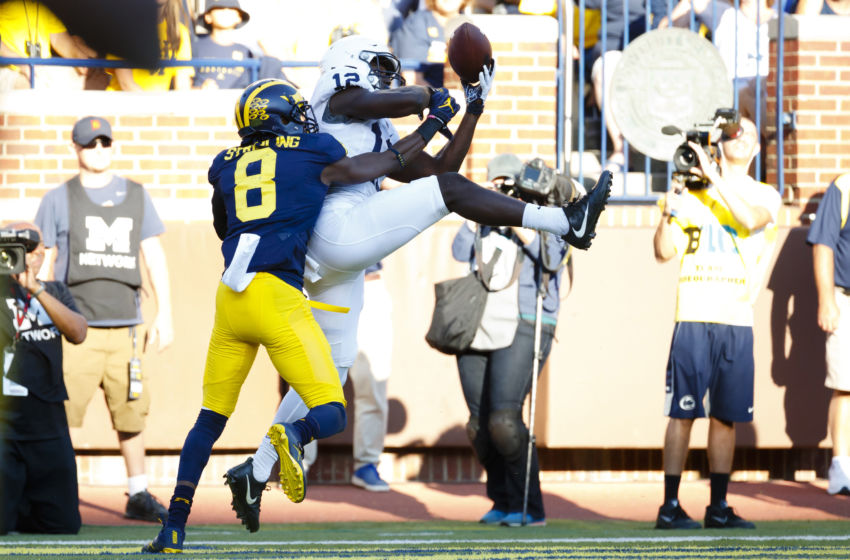 Round 5 (Compensatory Pick): Channing Stribling, CB – Michigan 6-1, 179 lbs. (Shrine Game)
13 of team's total 51 pass deflections (25.4 percent) and four of 13 interceptions (30.7 percent)
The Browns have some talent at corner, but along with Jackson, Channing Stribling gives them another cover that can play the boundary. Stribling is tall, long and skinny. He may be a player that struggles to gain weight, but he plays stronger than he looks.
Stribling is an obvious foil to corners like Jackson and Calhoun. They are better equipped to deal with smaller, quicker receivers while Stribling is suited to deal with receivers that bring size. This would allow the Browns to play more matchup based coverages. Against a team like the Pittsburgh Steelers, the hope is Jackson can keep up with Antonio Brown while Stribling can cover Martavis Bryant, giving them options.
The Wolverines had Jourdan Lewis on one side, so when teams wanted to avoid him, they went at Stribling. He was able to capitalize, causing turnovers and deflecting passes thrown his way. His length and range can frustrate opponents and Stribling knows how to use it.
Round 5 (Compensatory): Ejuan Price, DE – Pittsburgh 6-0, 255 lbs. (Listed)
13 of team's total 43 sacks (30.2 percent) and 23 of 90 total tackles for loss (25.5 percent)
Ejuan Price gives the Browns a changeup to rush the passer and that's all he's being drafted to do. He is short, but he's dense and despite not having elite agility, he manages to use find his way into opposing backfields.
If the Browns rotate out Garrett and Ogbah or move one of them inside, Price is a completely different look. Suddenly an offensive tackle has to adjust from taking on a huge body like Garrett's and try to stay in front of a smaller target like Price.
The other thing that drops Price to this range is his age. He's already 24 years old and that becomes the tipping point for teams. The Browns went this route last year with Coleman in the third round, so if Price is sitting here, it wouldn't be a surprise to see if they can get another pass rusher who can contribute quickly.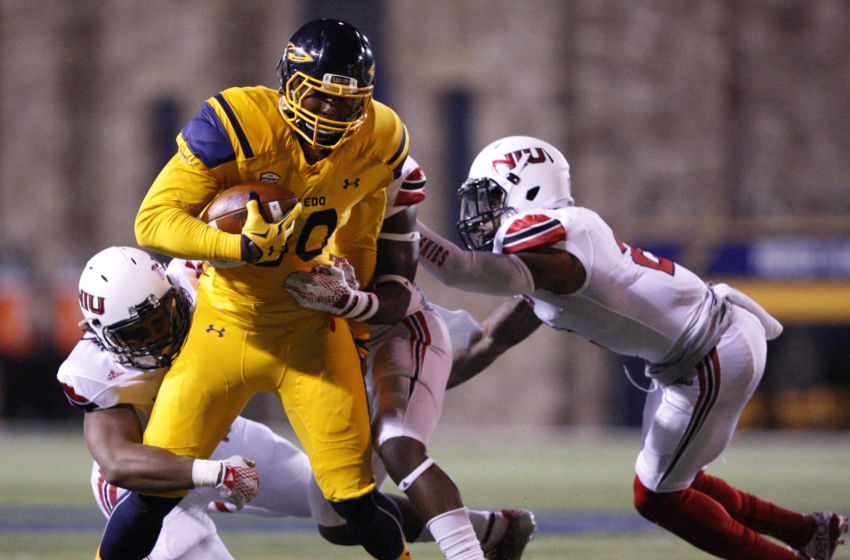 Round 6: Michael Roberts, TE – Toledo – 6-4.375, 261 lbs. (Senior Bowl)
46 of Toledo's 291 receptions this year (15.4 percent), 533 of 4,196 receiving yards (12.7 percent) and 16 of their 63 offensive touchdowns (25.3 percent)
The Browns go to the well a second time to add another inline tight end in Roberts. Roberts was utilized often as a yoked up wide receiver for the Rockets and scored a ton of touchdowns, but he is going to make his living in the NFL with his hand in the dirt.
Much like Shaheen, Roberts is stiff from the waist down, so it will be an adjustment to get him comfortable and explosive out of a three point stance. Along with Shaheen, Roberts would be competing for Randall Telfer to make the roster. Telfer has been a good run blocker but offers nothing as a receiver and has dealt with injuries.
As they did with signing Barnidge and adding DeValve at the space tight end spot, this would significantly bolster the true Y position, giving them what hopefully becomes a set of viable tight ends that can play with their hand in the dirt. Roberts and Shaheen are instantly mismatches as receivers and, if they can become blockers, playing a true ace formation with double tight ends becomes a great option for the Browns on offense, both running the football and with play action.
It's curious to see Roberts available this late with all he can do already plus the potential he has going forward, but it would be a great situation for the Browns to try to assemble a situation like the Cincinnati Bengals had with Jermaine Gresham and Tyler Eifert when Hue Jackson was their offensive coordinator. Gresham is now gone, but the Bengals are trying to recreate that formula with Eifert and C.J. Uzomah.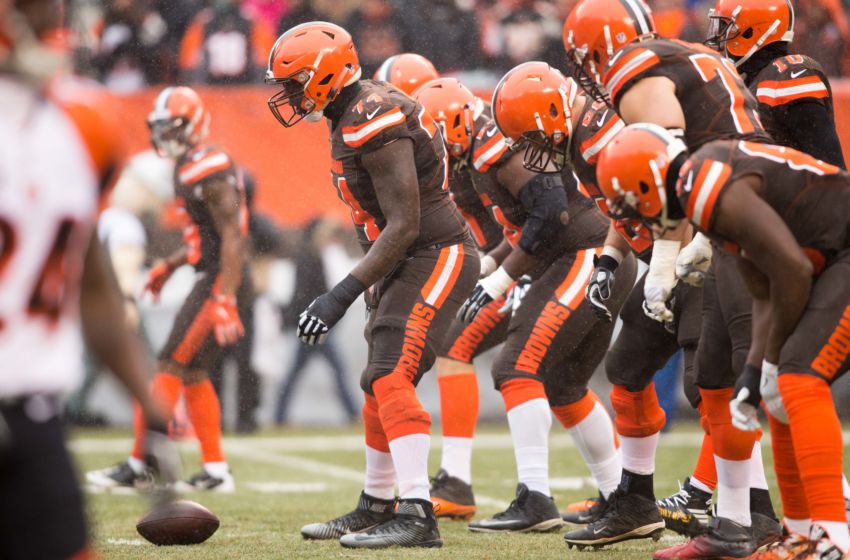 Summary and Analysis
1. Myles Garrett, DE Texas A&M
12. Patrick Mahomes II, QB Texas Tech
33. Budda Baker, FS Washington
52. Adoree' Jackson, CB USC
65. Larry Ogunjobi, DT Charlotte
106. Adam Shaheen, TE Ashland
141. Rayshawn Jenkins, SS Miami (FL)
146. Julie'n Davenport, OT Bucknell
176. Channing Stribling, CB Michigan
180. Ejuan Price, DE Pittsburgh
186. Michael Roberts, TE Toledo
The Cleveland Browns address the defense in a big way for the present and the future. Every player selected could contribute as a rookie, but Garrett and Baker are in the starting lineup almost as soon as the picks are official. The hope is they can become impact players quickly while players like Jackson and Jenkins have small roles early in their careers, which become more significant over time.
Offensively, the Browns add a lot of help, but all of it might be a slower burn than people prefer. Mahomes will be the most scrutinized being the quarterback, but the hope is he and Davenport are never on the field in 2017. Shaheen and Roberts may take a bit of development, especially when it comes to their blocking. It could be a situation like DeValve where he provides little flashes as a rookie but need until 2018 to take on a bigger role.
That part of the equation could be incredibly frustrating for fans as it was with the 2016 NFL Draft as a whole. The team took players high on upside but pretty low on polish and they took time to develop. They showed flashes, but were criticized heavily for not being able to contribute right now.
It wouldn't be a surprise if the Browns take the same path, especially since the team is not on a schedule to win now. Hue Jackson has been confident in his and his staff's ability to develop players and maximize the potential of these guys and the payoff for players like Mahomes, Shaheen and Roberts could be enormous and increase the number of ways the Browns can attack defenses.
This article originally appeared on