2017 NFL Draft: Cleveland Browns Post Combine Mock Draft
The Cleveland Browns 2017 NFL Draft takes shape with the combine over and free agency in full swing.
Not only have draft prospects finally put down concrete athletic data, but teams are signing players, which will impact their approach to the 2017 NFL Draft. For the Browns, their free agent signings to this point probably didn't have a major impact on their draft plans from their standpoint, but they certainly offer peace of mind for fans and critics.
Production and character are important for the Browns in their evaluation process, but this team put a significant emphasis on athletic ability and explosion. Between the combine, now completed, and pro days which are slowly progressing, athletic potential is no longer a guessing game. With concrete data, it is much clearer who fits the Browns criteria based on their dealings over the past year.
The goal here is to project players the Browns will target and may ultimately select in this year's draft. Here is the previous edition which was done before the combine and there will be a final one before the draft actually happens. As always, this will be done on using Fanspeak.com to provide the framework.
The one notable change since the last mock draft was done was the trade that had the Browns take on Brock Osweiler and his massive contract to get a second round pick in 2018 and move one pick from the fourth round to the sixth round. The Browns still have eleven picks. One is just happening a little later. The good news is it will be pretty difficult to get the first pick wrong, but let's take a look at the other ten.
Round 1: Myles Garrett, Edge – Texas A&M – 6-4.25, 272 lbs.
8.5 of 38 team sacks (22.3 percent),15 of 111 tackles for loss this season (13.5 percent) despite missing two games
Age: 21 (Date of Birth is December 29, 1995)
40-Yard Dash: 4.64s
3 Cone: DNP
Short Shuttle: DNP
Vertical: 41″
Broad Jump: 10'8″
Bench Press: 33 reps
Although Myles Garrett did not perform agility tests at the combine, he exceeded expectations in terms of explosiveness. The Browns have not been hiding the fact they intend to select Garrett with the No. 1 overall pick next month. In fact, new defensive coordinator is telling anyone who will listen they intend to take Garrett unless he's in prison.
From production to athleticism to character, Garrett has not only satisfied what was asked of him, he had room to spare. He was more productive and more explosive than Jadeveon Clowney, who was the top selection of the 2014 NFL Draft, who was a dominant force in this year's NFL playoffs.
Now, the focus is on how they take Garrett, add him to a defensive line including Emmanuel Ogbah and Carl Nassib, the second and third round rookies from the 2016 draft and Danny Shelton, a first round pick from 2015. The Browns not only have promising talent up front but it's also young with their best football hopefully ahead of them.
With the selection of Garrett, the challenge is for that young defensive front to live up to its billing. This is not only something that falls on Williams but the defensive line coach he hired in Clyde Simmons. Garrett is a better prospect than Clowney was in 2014 and a better prospect than Joey Bosa was coming out last year. He has the potential to one of the best players in the NFL at his position and be a foundation piece for a young defense.
Round 1 (via PHI): Patrick Mahomes II, QB – Texas Tech – 6-2, 225 lbs.
5,052 passing yards, 65.7 percent completions, 8.5 yards per attempt, 41 touchdowns, 10 interceptions and 131 carries for 285 yards rushing, 12 rushing touchdowns
Age: 21 (Date of Birth is September 17, 1995)
40-Yard Dash: 4.80s
3 Cone: 6.88s
Short Shuttle: 4.08s
Vertical: 30″
Broad Jump: 9'6″
Bench Press: DNP
Radar Gun: 60mph
Pat Mahomes is the best quarterback in the 2017 class, but it's going to take him time to prove it. He also passed every quarterback threshold. Mahomes has remarkable arm strength, the ability to drive the ball and accuracy to make it count.
For all the talent Mahomes has, he also has issues to improve upon as a quarterback. From his footwork, how he holds the ball to making better decisions with the ball in his hands, Mahomes is not a quarterback that should start immediately. The best plan for him is to have him sit with an eye for him being the starter in 2018.
If he can reach his potential, Mahomes can be a special quarterback in the NFL. There's nothing that limits him athletically or in terms of his arm, so he can do just about anything he's asked in an offense in terms of throws or how he can be utilized on the move.
For the Browns, he is a great fit for weapons like Corey Coleman and Kenny Britt on the outside. His ability to attack all areas of the field can open up opportunities for the running game and the underneath passing game to weapons like Duke Johnson and Isaiah Crowell.
Everything with the Browns points to them being scheduled to come together for the 2018 season. That includes Mahomes, who if he can take full advantage of the coming year, should be ready to take the reins of the offense and showcase the talent that has so many excited about his potential.
Round 2: Chidobe Awuzie, DB – Colorado – 5-11.75 – 202 lbs.
53 of 600 team solo tackles (8.8 percent), 6 of 68 tackles for loss (8.8 percent), 12 of 72 pass deflections (16.6 percent), 1 of 15 interceptions (6.6 percent), 4 of 36 sacks (11.1 percent)
Age: 21 (Date of Birth is May 24, 1995)
40-Yard Dash: 4.43s
3 Cone: 6.81s
Short Shuttle: 4.34s
Vertical: 34.5″ (39.5″ at Pro Day)
Broad Jump: 11′
Bench Press: 16 reps
Chidobe Awuzie has shown he can play anywhere in the secondary. In the Colorado's scheme, he has played their star position, which is the focal point of their defense, as well as boundary corner. Awuzie can cover and make plays on the ball while also being a physical presence that will make plays on pass catchers, backs and quarterbacks as a blitzer.
The one issue he has as a tackler is he tends to tackle too high and can fall off tackles as a result. He will just grab at what's at his height when running. If he can set his feet, drops his hips and make contact lower while driving his feet, he can be far more efficient and effective.
Awuzie would give the Browns a ton of options in their secondary. He does his best work with his eyes on the quarterback and able to attack downhill, so he can be the free safety. And even if he's a safety, Awuzie also makes it so the Browns can play a matchup defense. If there is a specific player they want him to cover, he has the capacity to follow them around and work to take them away specifically.
Whether they are in base with two corners, nickel with three or have more, Awuzie always gives them an extra defender that can be effective in coverage that can make plays on the football.
Awuzie has four years of good tape and has experience playing man and zone coverages, playing all over the field. He has been productive in a number of different areas of the Buffalo defense and his athleticism is outstanding. So as good as Awuzie has been, he has the potential to be an even better player at the next level.
Round 2 (via TEN): Larry Ogunjobi, DT – Charlotte – 6-2.625, 305 lbs.
3 of 14 team sacks (21.4 percent), 13.5 of 49 tackles for loss (27.5 percent)
Age: 22 (Date of Birth is June 3, 1994)
40-Yard Dash: 4.97s
3 Cone: 7.55s
Short Shuttle: 4.75s
Vertical: 32″
Broad Jump: 9'8″
Bench Press: 26 reps
Larry Ogunjobi is still learning when it comes to being a fully formed defensive tackle, but he has everything going for him. He went from being 350 pounds with his parents afraid he was going to die in high school to learning about and embracing nutrition along with strength training to completely change his body. His testing is impressive and shows just how hard he's worked.
Ogunjobi was a pretty productive player for the Charlotte 49ers and followed that up with a solid showing at the Senior Bowl. He's also charismatic and a brilliant student with a double major in Biology and Computer Science, so he won't have trouble selling himself to teams.
Ogunjobi offers a 3-technique defensive tackle that is strong enough to hold up at the point of attack and take on the occasional double team. He's also athletic enough where he can provide an additional pass rusher. Ogunjobi tends to get overexcited when he has a shot to get a sack and needs to relax and trust himself to make those plays.
The Browns have some bodies to potentially play the three up front, including Xavier Cooper coming into his third season and Desmond Bryant if the team opts to keep him, coming off a torn pectoral. Ogunjobi gives them a bright kid with physical potential that is just figuring out how good he can be, is focused and eager to learn and improve. With the other players they've added up front, Ogunjobi has the potential to essentially complete the defensive line other than adding depth.
Round 3: Adam Shaheen, TE – Ashland – 6-5.75 – 278 lbs.
Caught 57 of the team's 216 receptions (26 percent) for 867 of the team's 3052 receiving yards (28.4 percent),16 of the team's 62 touchdowns (25.8 percent)
40-Yard Dash: 4.79s
3 Cone: 7.09s
Short Shuttle: 4.38s
Vertical: 32.5″
Broad Jump: 10'1″
Bench Press: 24 reps
Adam Shaheen is an extremely impressive prospect with unworldly potential, but he's coming out of a D-2 school. It's not entirely clear just how early he will go, but the second round wouldn't be surprise. Nevertheless, presented with the opportunity to grab him at the top of the third round was too good to pass up, even though the Browns like their tight ends.
Gary Barnidge is a talented space tight end and mismatch. He's just not going to block anyone. Seth DeValve is another player that thrives in space with a ton of upside that has the team excited. Randall Telfer has had a rough time staying healthy, but when he's stayed on the field, he's an effective run blocker that just hasn't shown much as a receiving threat.
Last year, the Browns effectively took the Ivy League's Aaron Hernandez (from an athletic standpoint). They can follow that up this by potentially adding the GLIAC's answer to Rob Gronkowski.
Shaheen is simply enormous and dominated a lower level of competition. He's been a playmaker and brings an aggressive mindset when it comes to blocking. Shaheen needs to improve keep improviing when it comes to high pointing the football. He also needs to improve his flexibility from the waist down to make it easier to create leverage and control opponents when he blocks.
Like DeValve this past year, it will take Shaheen some time to acclimate to the NFL, but the Browns don't need him to be good immediately; it's about the payoff. The ideal situation is with the additions to the offensive line, including J.C. Tretter at center, Kevin Zeitler at right guard what they hope is the emergence of Shon Coleman at right tackle, they can attach Shaheen to the right and run the ball or utilize play action.
The trap and counter should be big components of the Browns offense having the right side block down and pulling guys like Bitonio and Tretter to the right to create running lanes for Crowell and Johnson. If that becomes a threat, they can get Shaheen the ball off of play action or utilize other weapons deeper down the field. Shaheen can become a dual threat inline tight end that can develop into a reliable target and best friend for Mahomes.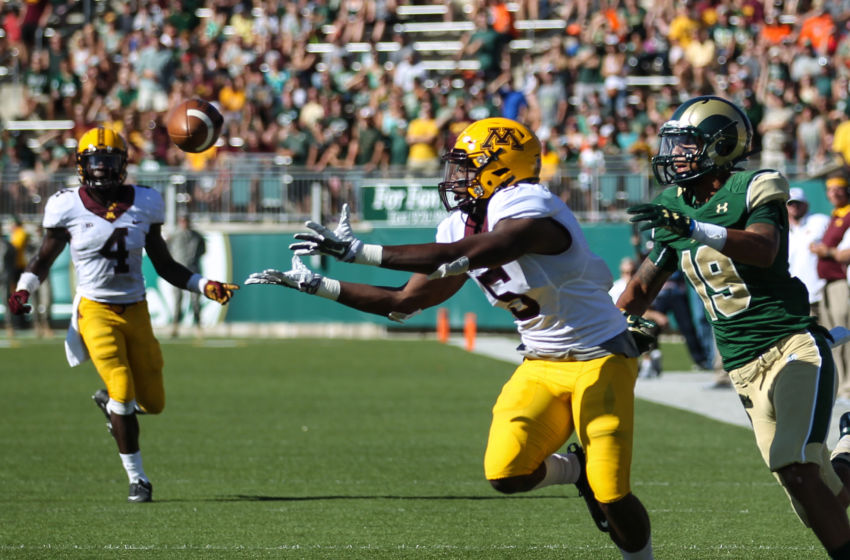 Round 4: Jalen Myrick, CB – Minnesota – 5-9.625 – 200 lbs.
11 of 47 team pass deflections (23.4 percent), 1 of 9 interceptions (11.1 percent)
43 career kick returns with an average of 24.4 yards per return, 1 touchdown
Age: 22 (Date of Birth is February 27, 1995)
40-Yard Dash: 4.28s
3 Cone: 7.06s
Short Shuttle: 4.22s
Vertical: 37.5″
Broad Jump: 10'4″
Bench Press: 13 reps
Many will look at Jalen Myrick's height and immediately decide he's a slot corner. Myrick plays bigger than his height would suggest. He's got a dense build and plays with strength with plenty of speed to run with opponents.
The fear for a corner like Myrick is that he will be overpowered. He's more than strong enough to hold his own and if opponents try to go deep on him, he's fine as long as he can use that muscle to fight for real estate and hold his ground down the field, using the sideline as his ally. In some ways this can be extremely annoying for big receivers because it can feel like someone is running under their legs when they want to jump.
His athletic profile actually shows someone better suited to play on the outside than the slot. Yes, he can probably play the slot and would not be overmatched in there, but the Browns have guys who can operate in the slot, including Jamar Taylor who they extended after the season.
The Browns added a corner from Minnesota when they added Briean Boddy-Calhoun from waivers last year from the Jacksonville Jaguars. It might be wise for them to bring in his running mate who appears to have more ability and upside. Myrick also compares favorably to Janoris Jenkins, who played under Williams when he was with the now Los Angeles Rams and wasn't afraid to play him on the outside.
Myrick is fearless when it comes to playing downhill and is a hitter, able to make plays behin the line of scrimmage. He needs to do a better job of securing the tackle rather than just trying to throw his shoulder into ball carriers but he's got some pop. His production as a tackler in college is a little concerning.
He also fits into the concept of playing more to matchups than just playing specific positions or sides. With Joe Haden presumably on one side, Myrick gives them a sleeker speed option that can hopefully match up against smaller, quicker receivers which give Haden fits; Antonio Brown is a notable example.
Myrick has experience returning kicks and punts for the Gophers. His punt returning skills leave much to be desired, but he has shown to be a threat as a kick returner. He should also be able to contribute on special teams between his speed and toughness.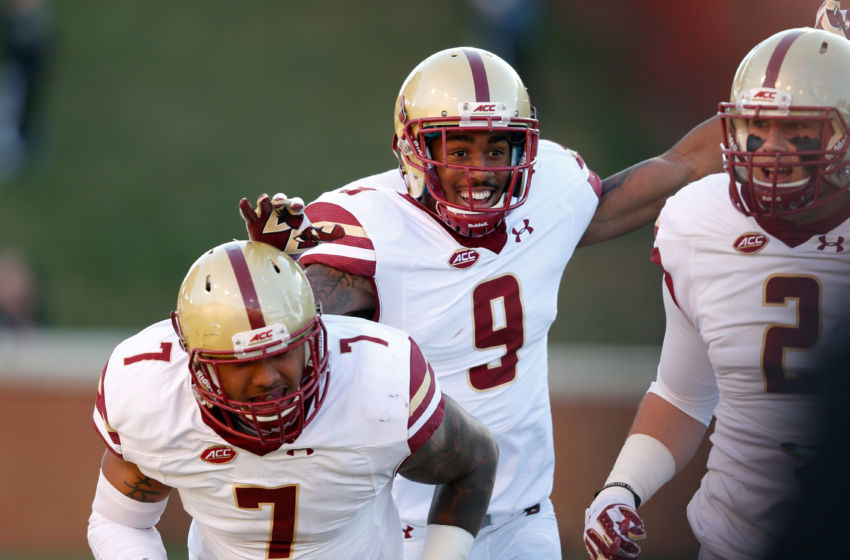 Round 5: John Johnson, S – Boston College – 6-0.625 – 200 lbs.
56 of 472 team solo tackles (11.8 percent), 9 of 49 pass deflections (18.3 percent), 3 of 12 interceptions (25 percent)
40-Yard Dash: 4.61s
3 Cone: 6.72s
Short Shuttle: 4.18s
Vertical: 37″
Broad Jump: 9'11"
Bench Press: 14 reps
As it was last year, Boston College is producing another talented safety almost under the cover of darkness because of their futility in terms of their record. Last year it was Justin Simmons, who was selected in the third round by the Denver Broncos. This year it could be the extremely talented John Johnson.
Johnson is a free safety, but appears capable of playing strong safety as well. Some will criticize his tackling and he needs to do a better job of running his feet through contact, but he also shows he can wrap up ball carriers and take them to the ground with a thud. If he can be consistent there, he provides an excellent hybrid option for the Browns.
While he doesn't have the speed to be a boundary corner, he's got more than enough agility to play in coverage either deep or in the slot. He can mirror running backs and may be someone who can stick with tight ends. If Awuzie excels as a safety but is moved down to play a particular matchup, Johnson may be able to come in and protect the deep middle behind him.
Johnson is another player with a ton of experience on special teams and should immediately be able to help the team there while he develops as a safety. He's someone that can help the team now and may be even better later.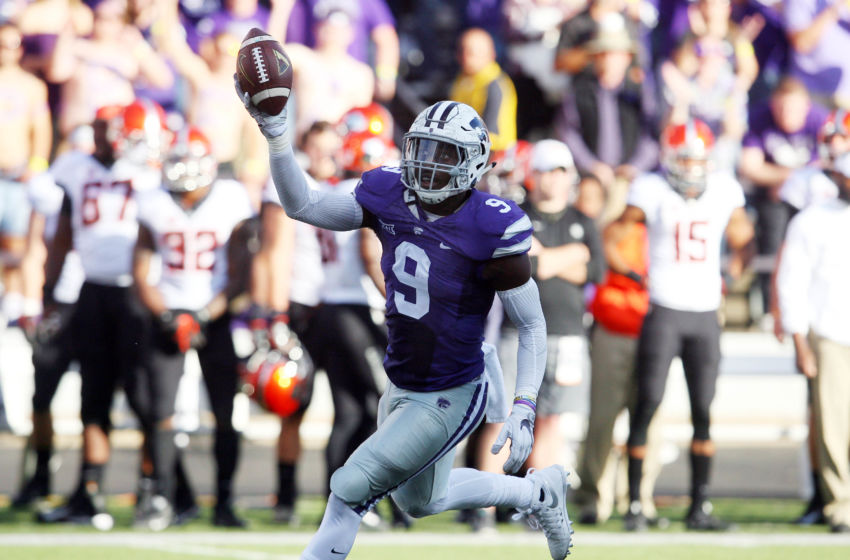 Round 5 (Compensatory): Elijah Lee, LB – Kansas State – 6-2 – 229 lbs. (Pro Day)
72 of 561 team solo tackles (12.8 percent), 6.5 of 70 tackles for loss (9.2 percent), 2 of 16 interceptions (12.5 percent)
Age: 21 (Date of Birth is February 8, 1996)
40-Yard Dash: 4.65s
3 Cone: 6.91s
Short Shuttle: 4.27s
Vertical: 38″
Broad Jump: 10'2″
Bench Press: 18 reps
Elijah Lee is an interesting player because he declared after his junior season, but wasn't invited to the combine, despite being having enough talent to warrant going. Lee has the production and athleticism to be a good NFL player and it wouldn't be a surprise if a team or few were hoping he wouldn't get invited to the combine, increasing the odds that he slips through the cracks so they can select him..
The only player behind Jamie Collins and Chris Kirksey that appear to have the type of athleticism and coverage skills of Lee is Dominique Alexander, the undrafted free agent who the Browns carried all season last year. Joe Schobert, last year's fourth round pick, might be able to help here some as well.
Lee can slip blocks and find his way to the ball carrier, but when he gets caught, he struggles to shed and gets driven off the ball. He shows decent vision and reaction while in zone coverage and has the athleticism to run with tight ends and backs in coverage.
If he can do a better job of locating and playing the ball while also improving his play strength as a run defender, Lee has some impressive potential down the road and gives the best position group on the defense some quality depth.
Round 5 (Compensatory): D.J. Jones, DT Ole Miss – 6-0.625 – 319 lbs.
2 of 20 team sacks (10 percent), 1 of 8 interceptions (12.5 percent)
Age: 22 (Date of Birth is January 19, 1995)
40-Yard Dash: 5.04s
3 Cone: 7.73s
Short Shuttle: 4.65s
Vertical: 28.5″
Broad Jump: 9′
Bench Press: 25 reps
D.J. Jones started his career at East Mississippi Community College, featured in the series Last Chance U, due to his grades. After two years there, Jones then went to Ole Miss where he's been the team's nose guard the past two seasons. Jones had better production as a junior, but this comes through the caveat of being a nose.
To this point, the Browns have not signed restricted free agent Jamie Meder. That could obviously change but if they opt to let him leave, they really don't have anyone behind Danny Shelton. Jones could be a good option to fill that hole, given his athleticism at the position.
Jones is squatty and low to the ground, but has better explosion and agility than some might expect for someone his size. He can hold at the point of attack, but he's not useless as a pass rusher. This is not to say the Browns would want him to be rushing the passer too much, but he's in there and the opponent passes, he isn't dead weight.
Since he'd be backing up Shelton, he would be someone that can come in and give everything he has for a relatively low number of snaps. He hopefully wouldn't be stuck out there for a ton of snaps and wear down, so he can give 100 percent on every snap he's in there. He does have long-term potential to be a starter, but he would be an ideal replacement for Meder if they don't retain him.
Round 6: Robert Davis, WR – Georgia State – 6-2.75 – 219 lbs.
67 of 231 team receptions (29 percent), 968 of 2,955 receiving yards (32.7 percent), 5 of 17 receiving touchdowns (29.4 percent)
Age: 21 (Date of Birth is April 2, 1995)
40-Yard Dash: 4.44s
3 Cone: 6.82s
Short Shuttle: 4.28s
Vertical: 41″
Broad Jump: 11'4″
Bench Press: 19 reps
The Browns aren't likely to be in the market for a wide receiver in this draft. That is, unless the value is too good to be true. One of the most underrated receivers in this year's class is Robert Davis.
From his production to his otherworldly athleticism, Davis has loads of potential while giving them another receiver with size. He performed better in his athletic testing than Josh Gordon. Davis is big enough to play on the outside but he's quick enough to play in the slot and he's done both.
It's a little peculiar that Davis doesn't have more momentum headed into the draft given how good he can be and how long he's been productive. Georgia State is relatively new to the FBS, but it is an FBS school, in the Sun Belt. And Davis impressed in games against Wisconsin this year and Oregon last year.
There is one big issue with Davis: drops. He has a ton of them. There are also a number of plays that aren't drops but it's because Davis doesn't yet know how to get to the ball properly. The talent on Georgia State has been such that none of his issues prevented them from going his way. For all of the problems, he makes enough plays where they kept going his way.
Some of this is due to some awful technique at the catch point. Davis doesn't really understand how to attack the football or position his body to create space for himself to make plays on the ball. There are times when his hands get caught in the defender because he lets them in his body so much as he simply doesn't have the skills to create proper separation.
Drops could derail Davis's career in the NFL. However his size and eye-popping athleticism, especially at this point in the draft, it's worth seeing if they fan help him fix the issues. If they can and he gets sorted out there, they get another playmaker for almost nothing in terms of cost.
Round 6 (via HOU): Xavier Woods, S – Louisiana Tech – 5-10.75 – 197 lbs.
60 of teams 615 solo tackles (9.7 percent), 3 of 44 sacks (6.8 percent), 6 of 47 pass deflections (12.7 percent), 5 of 9 interceptions (55.5 percent)
Age: 21 (Date of Birth is July 26, 1995)
40-Yard Dash: 4.54s
3 Cone: 6.72s
Short Shuttle: 4.13s
Vertical: 33.5″
Broad Jump: 10'2″
Bench Press: 19 reps
Xavier Woods is listed as a strong safety, but when asked (and I did) he'll explain he's actually a free safety that just shifts to strong based on their defensive call. He also has experience as a corner and has played nickel.
Woods has four years of starting experience and three years of outstanding production for the Bulldogs, being named first team All-Conference USA each of them. Some will suggest he's not consistent but the bottom line with Woods is when he is on the field, he finds his way to the football and has a knack for causing turnovers.
Woods is yet another player that offers the Browns a versatile defensive player in the secondary. Like with Johnson, he could potentially cross train at both safety positions and will contribute on special teams, which he has done in his collegiate career. Woods is a good athlete that has consistently produced during his career, so he has a chance to be a really nice NFL player.
Summary and Analysis
1. Myles Garrett, DE Texas A&M
12. Patrick Mahomes, QB Texas Tech
33. Chidobe Awuzie, DB Colorado
52. Larry Ogunjobi, DT Charlotte
65. Adam Shaheen, TE Ashland
108. Jalen Myrick, CB Minnesota
145. John Johnson, S Boston College
175. Elijah Lee, LB Kansas State
181. D.J. Jones, DT Ole Miss
185. Robert Davis, WR Georgia State
188. Xavier Woods, S Louisiana Tech
The focus is going to be all about the quarterback and it should be. Selecting Pat Mahomes is a huge cut by this front office to hit the quarterback position and succeeding there is critical. That being said, this draft is all about defense.
The Browns have few needs on offense, but much to prove. Their additions in free agency bring promise but also some pressure to deliver. Meanwhile, the defensive side has huge holes to fill and it needs a significant infusion of talent. It starts with Myles Garrett who should be a cornerstone he doesn't finish the defensive line. Adding Larry Ogunjobi gives them youth with potential at every spot up front.
The secondary has a few interesting pieces but the most secure player in the entire position group might be Jamar Taylor, the team's slot corner. They have some young players they may like such as Derrick Kindred and Briean Boddy-Calhoun, but they are nothing but potential at this point.
Of the four defensive backs selected, only Jalen Myrick is truly locked into a position. Chidobe Awuzie, John Johnson and Xavier Woods are all productive players and promising athletes that offer versatility and have experience playing all over the secondary. The hope is they help lock down the safety position, but they give Gregg Williams options in how he wants to play his defense and how he chooses to attack opposing offenses.
The defensive players in this draft are far more equipped to help in the immediate as opposed to the offense selections. They've all played a ton of football and could see reps on the defense, but at the very least should find their way into Chris Tabor's special teams units.
Everything is geared toward 2018 and the offensive players in this draft selected may not be able to really contribute much until then. Mahomes is best served to sit and get comfortable, confident in his mechanics and the offense while Adam Shaheen and Robert Davis may need time to be ready to contribute.
The entire draft is made up of explosive, largely productive players that appear to be clean off the field with substantial upside. This is consistent with the model the team used last year, save a few selections like Spencer Drango and Scooby Wright.
This draft also highlights the difference in talent level from last year. There are a number of elite athletes in this class and many of them are more equipped to contribute immediately than the group from last year. The combination of sheer talent and having a little more in place on defense may help these young players produce a little faster as well.
The hope is the Browns trust what they started with from an evaluation last year and have continued through free agency, will follow through with it again in the 2017 NFL Draft. If they keep with the same overall model and improve it, this draft could really vault them in terms of talent, even if they are still a sub .500 team this coming season.
This article originally appeared on