2017 NFL Draft: Cleveland Browns Midseason 7-Round Mock
Halfway through the season and yet to win a game, the most anticipated event for the Cleveland Browns is, as usual, the NFL Draft.
Between trades and free agent losses, the Cleveland Browns are scheduled to have 13 picks in the 2017 NFL Draft. Five of those picks are currently slated to be in the top 75 picks and they are the heavy favorite to pick first overall. Combined with the draft picks they made this past year, the Browns will have a huge opportunity to build a foundation to become a consistent team—if they make them count.
The Browns could go ahead and use all 13 of their picks, but the more likely scenario given how much youth is already on the roster is they will use some of their lower picks to move up and get specific players they have targeted, hoping to get more quality than quantity. It's important to note this year compensatory picks can be traded and the Browns currently have four or five of them.
The team could also look to continue to add assets for the future and acquire more picks for the 2018 draft, where they already have an extra second round and sixth round pick on top of their complement of picks.
This mock draft is done trying to go off of trends from the Browns displayed in the 2016 NFL Draft; the first with this regime in place. This is trying to target players the Browns would be interested in based on what they've shown as opposed to going just with players I would target.
The following mock draft has 12 picks on Fanspeak, which does not include the seventh round pick from the Indianapolis Colts the Browns reportedly have. That same source disagrees with which fourth-round picks the Browns own, so let's just roll with it. And the simulator doesn't have all of the players that will be picked at this point either.
Obviously, much will change between now and the actual draft, so this ends up being more about familiarizing fans with players they might hear about or end up on their team when the draft does happen. It's also fun. So, let's dive in.
Round 1: Myles Garrett, DE — Texas A&M (6-5, 270 lbs)
Undoubtedly, the Cleveland Browns will have substantial pressure to pick a quarterback and in making this move, it will force them to have a plan in place to get the passer they want. More than likely, they will have been working the phones leading up to this pick figuring out how they can maneuver to land their quarterback.
This clears the way for them to pick an impact player on the defensive line. To this point, the runaway No. 1 prospect has been Myles Garrett, though Jonathan Allen of Alabama is making a strong push. Judging by what the Browns valued in players last year, they want explosiveness and production.
Allen has more production than Garrett does to this point. But unless something shocking happens, Garrett is going to be far better in athletic testing and is still more than productive enough in his own right.
Garrett gives them what should be a premier edge player, but he also provides a versatile defensive lineman which the Browns need. Defensive coordinator Ray Horton has mixed up his fronts a great deal in Cleveland and has not had the players that could do it, having what should be a pure nose in Jamie Meder play end as an example.
Garrett can play the 5-tech in an odd front or slide outside and bend the edge. He could stand up if they choose, which is the role that Emmanuel Ogbah was initially slated to play. Ogbah wasn't equipped to play the 5-tech, so they ended that. However, Garrett can, providing a viable inside rush on top of everything else he does.
The scary part with Garrett is he doesn't turn 21 years old until December, so he may continue to fill out his frame and gain weight without losing any explosiveness or agility.
Round 1 (Pick from PHI): Mitch Trubisky, QB — UNC (6-3, 220 lbs)
More than likely, the Browns would be using some package of picks to move up to ensure they land Mitch Trubisky. They have the picks to spare, allowing them to target the quarterback Hue wants.
Trubisky is accurate, despite some lazy footwork at times. His throwing motion is extremely quick and compact, but he also can drive the ball with zip and down the field. He has also been a good decision-maker with the ball and shown impressive efficiency.
The problem with Trubisky is starting experience. Assuming he doesn't get hurt and opts to declare for the NFL Draft, Trubisky will have at most 14 starts. He's played some mop up duty behind Marquise Williams in past seasons, but this would be the only year that was his.
Hue Jackson may have specific criteria for evaluating quarterbacks, but it comes off as more about trusting his gut. He's worked with and liked any number of different types of quarterbacks. Trubisky has the accuracy he championed with Cody Kessler, but Jackson's confidence suggests he won't care about the lack of experience, believing he can mold the talent without it.
Trubisky would benefit from sitting a year and the Browns can roll with Kessler at the start of the season to see if he can take a firm grasp of the job. That would allow Trubisky to get comfortable in the offense and really work to improve his footwork so he can be more efficient as a passer.
The lack of experience from a historical standpoint is a sizable risk, but Hue is going to do things his way and Trubisky stands out as a quarterback he might envision being a franchise passer in his offense. He likes Kessler and this would give him two bites at the apple to find the right quarterback to lead his team.
Round 2: Jake Butt, TE — Michigan (6-6, 250 lbs)
The Browns don't have a true dual-threat at inline tight end. This seemed like something the team would have targeted last year, but they grabbed a super athletic space player in Seth DeValve in the draft. Gary Barnidge has been the pass receiving threat while Randall Telfer, picked in the sixth round in 2015, has been the inline blocking tight end for Jackson's offense.
Jake Butt gives them a player that can do both. Jackson had Jermaine Gresham and Tyler Eifert when he was the offensive coordinator in Cincinnati, inline tight ends that could block and be receiving options, which allowed them to bully opponents, control the middle of the field and open up play action passing.
It remains to see how well Butt will test, but he's productive in Michigan's offense and he has been groomed in a system that should translate nicely to the NFL. Jim Harbaugh's offense is about as complicated as there is in college football for gap scheme blocking and that's what the Browns run. So he could come in and contribute early.
Butt would give the Browns so many options on offense. Having Butt inline, they can play Barnidge in the slot and have Pryor line up out wide. That would give them a ton of size that is difficult to defend. That still leaves Corey Coleman as a wildcard that can line up all over the place and give them a supreme speed threat.
While Alabama's O.J. Howard is likely to test quite well, his lack of production may be what gives Butt the big advantage between the two of them. For all his talent and promise, Alabama has never made him a big part of the offense. Butt is a featured part of the Wolverines' attack.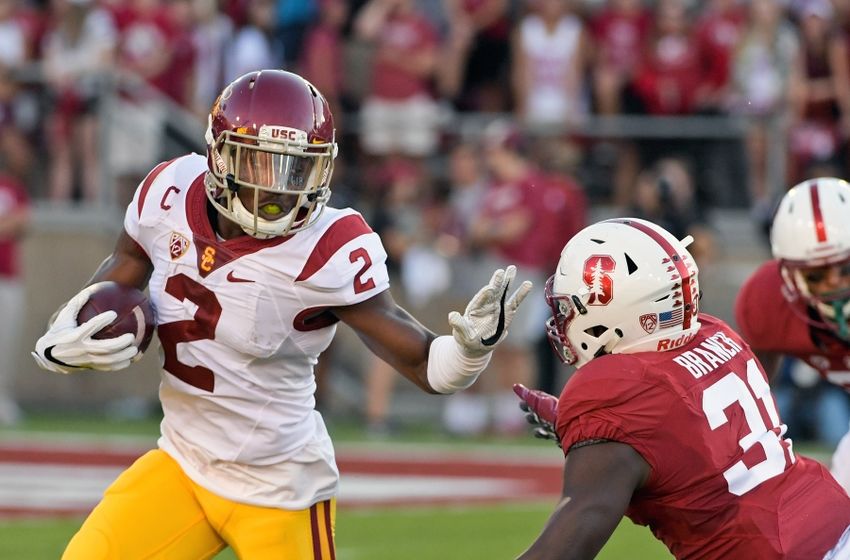 Round 2 (Pick from TEN): Adoree' Jackson, CB — USC (5-11, 185 lbs)
It's not exactly clear what type of corner Ray Horton wants in his secondary because of the amount of turnover they've had and no obvious investment to this point. The types of coverages they have played may be what he wants to run, but it's also possible it's more out of necessity given what he has than what he wants to do.
Assuming that he is running the coverages he wants to run, Horton appears to prefer corners who excel in off-man coverage. He has run a good amount of Cover-3 and man, but not much press. This is an area where Adoree' Jackson seems to excel.
Jackson has shown to be pretty disciplined with his eyes as he locks onto receivers. He has shown the ability to play man on without pressing but can also excel playing deeper in space. Jackson does a nice job in terms of taking away the receiver while being able to find the football while it's in the air. He has good ball skills and is a threat to cause turnovers.
A willing tackler who will support the run, Jackson needs to be more consistent as a tackler. His technique can get sloppy and he misses some tackles he shouldn't, but will occasionally make a big stick too.
Jackson has an added benefit on special teams. His first two seasons, the Trojans employed Jackson as a corner with some packages where he was a wide receiver because they wanted to use his playmaking ability. This year, he hasn't been a receiver, but he is returning punts and he is dangerous in that capacity as well.
The Browns need Jackson to play corner but they lost a weapon in Travis Benjamin this past offseason in the return game. Jackson could be an option that helps them fill that void.
Round 3: DeMarcus Walker, DE — Florida State (6-4, 280 lbs)
When the Browns lost Desmond Bryant to a torn pec in the offseason, it created a massive hole in the roster at defensive end. Carl Nassib was the only player that made sense to play the 5-tech end. The result has been failed experiments like Ogbah there and Jamie Meder playing out of position with Gabe Wright rotating on and off the roster.
Garrett can come in and provide some major relief there, but they could use another one as depth. DeMarcus Walker is a huge body that can play that spot while, like the others, providing additional pass rush. And like with Garrett and Nassib, Walker provides versatility.
Walker should be able to move around the line like Nassib does where he's had a lot of success rushing the passer for the Seminoles. This would give the Browns any number of options in how they want to attack opponents, giving them depth and variety. Even front. Odd front. Big. Small.
In many ways, Walker is a lot like Nassib. Very productive, but might get overlooked and be available lower than he should go. Walker wreaks havoc, making plays in the backfield both against the run and sacking the quarterback, plus he has a knack for causing fumbles.
With what Horton wants to do, the Browns cannot have enough versatile defensive linemen. On top of that, adding size that can get after the quarterback is valuable.
Round 4: Justin Evans, S — Texas A&M (6-1, 200 lbs)
The Browns need help on the back end of their defense. Jordan Poyer is a valuable player, but he's better suited as a role player than a starting free safety. He is decent as a stop gap and spot starter, but he's not a playmaker. Where he thrives is in nickel and dime packages. Poyer can line up at different spots, play coverage and still have bring some physicality.
Justin Evans always seem to be around the ball, making plays. He's shown the ability to cause turnovers and he's not afraid to be physical. Horton needs someone that can play the deep middle, but likes having someone that can come up and play near the line of scrimmage, blitzing at times. Evans appears willing and able to do that.
He is another player that brings some special teams value as he plays on the Aggies' coverage units and has returned kickoffs.
In a talented and unsettled safety class with a lot of teams looking for different things, Evans has the chance to go much higher. But he could be a great value for the Browns here with a chance to upgrade the free safety position.
Round 4 (Compensatory): Ryan Switzer, WR — UNC (5-10, 185 lbs)
The Browns obviously drafted four wide receivers last year in addition to finding gold in Terrelle Pryor. Nevertheless, the Browns might be happy to bring in Trubisky's favorite target from the Tar Heels, easily their most productive receiver.
Switzer has terrific agility with some speed and just finds ways to make plays. Andrew Hawkins has been a much bigger part of the Browns' offense than was expected, but Switzer might be able to fill a similar role. It would make for a good competition with receivers like Hawkins, Rashard Higgins and Jordan Payton.
Switzer also has special teams value. He has returned punts for North Carolina and was one of the most dynamic punt returners in 2015. His combination of skills could serve the Browns well in a big way. Even in Round 4, this is still a Cleveland team with a multitude of holes to fill. Finding a player at this point who can do multiple things well is of great value.
Round 4 (Compensatory No. 2): Ejuan Price, DE — Pitt (6-0, 255 lbs)
While Garrett and Walker were added in no small part to aid the pass rush, they were brought in to play predominately on the line. Price can put his hand in the ground but also stand up to rush the passer. He has been extremely productive over the past two years, both in the run and the pass, being a consistent backfield disruptor.
Price is obviously undersized in terms of his height, but he's got a thick build and plays with good leverage. He lacks the ideal ankle flexibility to bend around the edge, but he is effective rushing inside, outside, converting speed to power and flashes the occasional spin move. Price has some toughness, decent burst and has a knack for finding his way to the football.
The Browns like Emmanuel Ogbah, but beyond him, the position group is up for grabs. They've got several young players competing for reps, but none of them have stood out to this point. Price is added to the mix to see if he can stick to the roster and boost the pass rush.
Round 5: Damontae Kazee, CB — San Diego State (5-11, 190 lbs)
Adoree' Jackson was a good start, but the Browns have need of multiple corners. They will be losing Tramon Williams to the end of his contract (likely retirement), Joe Haden has been plagued by injuries the past two seasons and Jamar Taylor has been healthy this year, but abysmal in his performance.
The Browns could cut bait with Haden after the season, but given the $6.4 million in dead cap that would come with it, they might hold off until after 2017. When he's on the field, Haden is still pretty good, even if he's not worth the contract.
Kazee is another tough corner that can play off coverage and knows how to find the football. He has been a ballhawk the past two seasons, but he's been a very productive player over the past three. Kazee also been an aggressive run defender that has made numerous plays in the backfield.
Athletic testing will be important for Kazee's draft stock, but he looks the part on the tape and for the schedule the Aztecs play, Kazee has been a dominant player.
Round 5 (Compensatory) Julie'n Davenport, OT — Bucknell (6-7, 315 lbs)
A tall, lean left tackle, Davenport (not pictured) has four years of experience as starting left tackle for Bucknell and will likely be named to his third First Team All-Patriot League team this season.
If Davenport proves he's athletic, the Browns would be a great landing spot for him. He could learn behind Joe Thomas, getting reps with the first team offensive line when Thomas is off from practice while benefiting from his guidance. Davenport figures to be a long-term project that become the heir to the Joe Thomas throne.
Beyond finding a left tackle for the future, the Browns are largely happy with their offensive line. They have a few key pieces that are young and need to develop in Cam Erving and Shon Coleman. If they get to that point, they have a good amount of depth and the ability to really work on development on the guys behind them, which in this scenario, would include Davenport.
Round 5 (Compensatory Pick No. 2): Chidobe Awuzie, CB — Colorado (6-0, 205 lbs)
Continuing to attack the secondary, Awuzie plays a unique role in Mike McIntyre's defensive scheme at Colorado. He plays the same role as Bene Benwikere did when McIntyre coached at San Jose State. An off-cover corner at times to a star type role on the inside. Awuzie does a little bit of everything from coverage to run support to attacking on the blitz.
At this point in the draft, you're obviously not going to find a lockdown corner—or a sure-fire one anyway. However, you can find key situational players in Round 5 and that's exactly what Awuzie could be. What he does, he does well and could conceivably contribute at an NFL level.
For the NFL, Awuzie could be a similar type of player as Jordan Poyer. Depth and competition at multiple positions that can come in and contribute in nickel and dime packages. And his experience as a blitzer is a good fit for how aggressive and exotic Horton wants to be with his defense.
Round 6: Brian Hill, RB — Wyoming (6-1, 219 lbs)
One of the best kept secrets in the Mountain West Conference, Brian Hill is a between-the-tackles runner with power and terrific balance. He shows the ability to make opponents miss, run through tacklers and pick up tough yards.
Hill's biggest weakness might simply be the fact he lacks a second gear, so he's not a big homerun threat when he can get into the open field. The Cowboys also haven't thrown many passes to Hill. He's just a workhorse that runs hard and racks up yardage.
Hill is a junior and could stay in college, but this will be his second hugely productive year at Wyoming and may opt to declare as a result. He has room to continue adding weight on his frame if he chooses and could be competition for a third back on the roster along with Terrell Watson in training camp next year.
Draft Summary
1. Myles Garrett, Edge Texas A&M
1b. (From PHI) Mitch Trubisky, QB North Carolina
2. Jake Butt, TE Michigan
2b. (From TEN) Adoree' Jackson, CB USC
3. DeMarcus Walker, DL Florida State
4. Justin Evans, S Texas A&M
4b. (Compensatory) Ryan Switzer, WR North Carolina
4c. (Compensatory) Ejuan Price, Edge Pittsburgh
5. Damontae Kazee, CB San Diego State
5b. Julie'N Davenport, OT Bucknell
5c. Chidobe Awuzie, CB Colorado
6. Brian Hill, RB Wyoming
Despite having 12 picks, this mock did not address all of the Browns' draft needs. The most notable one that did not get picked was inside linebacker. As much as that would be a place to try to add an impact player, they went fast and there were better values available at the time.
After a certain point, it seemed like it would be throwing a body at the problem rather than bringing in someone that could really contribute. The smarter play seemed to be attack better values that also hit needs on the team, since the Browns have a ton of them while trying to maximize talent.
Even so, eight of the team's dozen picks were used on the defensive side of the ball, trying to enhance the team's ability to impact the opposing quarterbacks—pass rushers, versatility up front and adding defensive backs that might actually be able to cover someone.
Two of the four picks on offense were premium choices. The Browns may like what have in Kessler, but it's a massive wager to make that he's the man. They substantially upgrade the talent in the quarterback room and Butt opens up so many possibilities on offense.
The Cleveland Browns have a number of high selections and they need them to hit and make an impact. This draft truly gets maximized if the bets they're making on players they already have on the roster. Those two elements combined would enable the Browns to make a substantial jump next year and give them the foundation to become a contender a year later.
This article originally appeared on