2017 NFL Draft: Clemson Cordrea Tankersley Scouting Report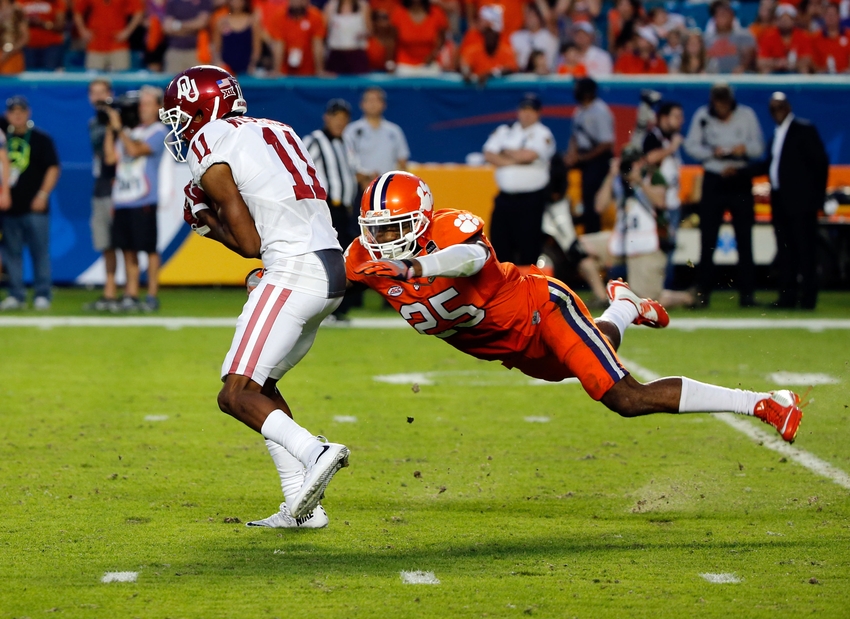 Clemson's Cordrea Tankersley is a bigger cornerback prospect who has ton of experience playing against a high level of competition.
Cordrea Tankersley is a long and strongly built cornerback who can play in multiple schemes. His size gives him the ability to matchup with different targets including bigger wide receivers and tight ends. In fact, Clemson asked Tankersley to matchup against Virginia Tech's Bucky Hodges this past season.
Tankersley is also effective because he knows how to use his body to his advantage. He routinely squares his body towards the quarterback with his head on the football. This allows him to track and break on the football.
He has excellent ball skills that make him a threat to pull down interceptions and generate pass breakups. His ability to read and react makes him a strong fit for a zone scheme. However, he has enough speed and fluidity to play man coverage.
More from With the First Pick
Tankersley is a tough player who gets involved in the running game. He doesn't shy away from contact and will fight to set the edge.
His performance at the combine will be important as Tankersley doesn't flash elite speed. However, he doesn't allow receivers to get behind him and is more than capable of turning and running with his target.
The key is that he plays fast, but there are some evaluators that like to reassurance with workout numbers.
An area where Tankersley needs to improve is keeping his hands off his target. Too often, he'll grab some jersey to help him keep his eye on the ball and not lose the location of the receiver. It's a dangerous game because it's technically holding. There are some refs who will let it slide while others will call it on every play.
Overall, Tankersley is a top-end prospect who has the talent to develop into a shutdown cornerback. His size and natural feel for the position give him the ability to fit multiple systems.
Current Draft Position: Mid-1st Round
This article originally appeared on