2017 NFL Draft: Chicago Bears Midseason 7-Round Mock
Who do the Chicago Bears land in this complete seven-round 2017 NFL Mock Draft at midseason?
While injuries certainly have not helped, the 2-6 Chicago Bears have left plenty to be desired this season. They made some major additions this offseason, but the Bears are clearly a team still in the rebuilding phase.
General manager Ryan Pace has done a great job of adding young talent to the mix in Chicago in recent years. Recent draft selections like Eddie Goldman, Leonard Floyd, Cody Whitehair and Jordan Howard have been great additions to the mix. That being said, the Bears still have obvious holes at extremely important positions.
Watching the Bears play this season may be tough, but they have some nice young talent to build around and a smart front office in charge of the roster. If they can continue to draft well and add impact players at a couple of key positions, the Bears will be in a position to succeed sooner rather than later.
This team is not playing for much through the rest of 2016 as we've reached the midway point. The most important upcoming event for Pace and company is clearly the 2017 NFL Draft. Chicago still has their pick in Rounds 1-5 and Round 7. While they don't have a selection in the sixth round, they do have an extra fourth-rounder to their credit. With that in mind, let's take an expanded look at what the Bears could do. Here is a complete seven-round 2017 NFL Mock Draft for the Chicago Bears.
This mock draft was completed by using the FanSpeak Mock Draft Simulator.
1
Mitch
Trubisky
Quarterback,

North Carolina
With the fourth-overall selection in this 2017 NFL Mock Draft, the Chicago Bears land a player who they hope becomes their franchise quarterback. I certainly considered a defensive stud like Jabrill Peppers or Jalen "Teez" Tabor, but the Bears simply must find a quarterback to lead them into the future.
I currently have Deshaun Watson as the best quarterback in this class. However, with Watson off of the board, Mitch Trubisky stands out as the best choice.
Trubisky has limited experience as a starting quarterback in college, but what we had seen out of him has been great. An extremely accurate passer who has a relatively strong arm and shows poise in the pocket, Trubisky has a bright future at the next level.
Everybody knows that Jay Cutler is not the future for the Bears at the quarterback position. And they would be wise to use this opportunity to land a potential franchise guy at the most important position on the field.
Trubisky is a bit of an unknown. That being said, he has looked great in the limited exposure that we have had of him. His accuracy as a passer and athleticism for the position are both top-notch, which would certainly help him compete at a high level right away. He is a guy who I am confident will succeed in the NFL, and would be a fantastic choice for the Chicago Bears at No. 4.
2
Ryan
Ramczyk
Offensive Tackle,

Wisconsin
After drafting their potential franchise quarterback in the first round, the Chicago Bears look to protect their investment here in the second. With Josh Sitton, Kyle Long and Cody Whitehair, the Bears are loaded on the interior offensive line. However, their starting combination of Charles Leno and Bobby Massie at tackle leaves plenty to be desired.
Unfortunately, the 2017 draft class is not exactly loaded at the tackle position. Cam Robinson appears to be a first round talent, but there is a lot of question marks after him. That being said, Wisconsin left tackle Ryan Ramczyk is emerging into the conversation.
Ramczyk has a great back story. He had Division I opportunities out of high school, but ended up committing to a Division II program, which he left before ever seeing the field. Ramczyk then went to technical school to be a welder, before coming back to football playing for the Division III program UW-Stevens Point.
Ramczyk landed at the offensive line factory in Madison, WI and has become the starting left tackle for the Badgers this season. His ascension into first-round consideration is not a fluke, as Ramczyk looks absolutely fantastic on the field.
His inexperience is a bit of a concern, but Ramczyk shows fantastic natural ability on the offensive line. He is an extremely quick and athletic lineman who shows great footwork and technique as both a run blocker and in pass protection.
While Ramczyk's athleticism is probably his most impressive trait, he also shows more than enough strength and power to be successful at the next level. Simply put, Ramczyk is the total package at the offensive tackle position. As an elite-level pass protector and great run blocker, Ramczyk would be a great selection for the Bears early in the second round.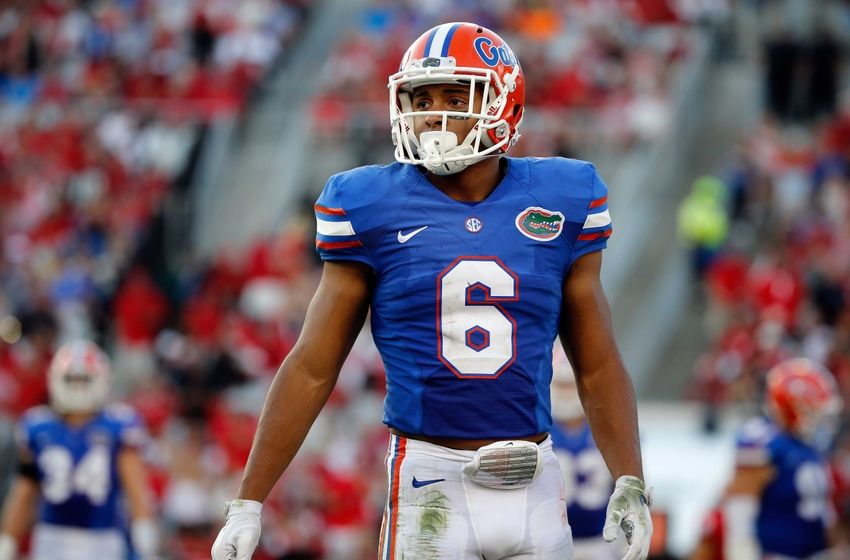 3
Quincy
Wilson
Cornerback,

Florida
After landing two offensive players to kick off this mock draft, I decided to focus on the defensive side of the ball in the third round. Florida cornerback Quincy Wilson stood out as a strong choice here. The Bears defense has looked solid in recent weeks. That being said, there are still plenty of obvious holes on that side of the ball. In particular, the secondary stands out as a position of need.
Some in the draft community consider Wilson to be a first-round prospect in this draft. Landing him in the third round is incredible value.
Listed at 6-1, 213 pounds, Wilson is a big and physical cornerback prospect. He shows great press coverage skills and undoubtedly has a chance to compete with the physical freaks at the wide receiver position in the NFL. Wilson is not the fastest defensive back in this draft class, but he shows good athletic traits and fantastic natural ability in coverage. His ball skills are also a major plus.
The Bears have a nice mix of high upside players in the secondary, but it would certainly not hurt to grab another option. Wilson is a talented player whose size and skill-set fits extremely well in Vic Fangio's defensive system. Make no mistake about it, this would be a tremendous pick for the Chicago Bears.
Led by Pernell McPhee, Leonard Floyd and Willie Young, the Bears actually have a nice stock of players who can rush the passer from the edge. That being said, in today's NFL where the passing game is key, you can never have too many guys who can get after the quarterback.
Here in the fourth round, the Bears find some nice upside at the position by bringing in LSU edge defender Lewis Neal. A quick and explosive athlete on the edge who shows a fantastic motor, Neal has a bright future at the next level.
The skill-set is certainly in place for him to be a star. However, Neal's production has been spotty this season. He led LSU with eight sacks last season, but his 3.5 sacks through eight games this season leaves plenty to be desired.
It's true that Neal has struggled to finish the job on the pass rush, but he has done a nice job of creating pressure. The high sack totals may not be there, but Neal undoubtedly has a big-time ability to rush the passer.
The combination of speed, athleticism, field awareness and a high motor makes Neal an extremely enticing player on the outside. He does have some minor technique issues and could use a more advanced pass rush repertoire, but Neal undoubtedly has the talent to succeed at the next level. Here in the fourth round, the Bears add to their impressive collection of pass rushers.
4
Chris
Wormley
Defensive Line,

Michigan
After trading down in the second round last year, the Bears picked up an extra fourth round selection in 2017 from the Buffalo Bills. With their second fourth-round pick, the Chicago Bears take a shot on a talented, but inconsistent defensive lineman out of Michigan. With a great combination of athleticism and power as a pass rusher, Wormley has legitimate first-round talent. That being said, he will have a wide range of outcomes on draft day.
Wormley is an extremely talented player who can make a difference on the field at any time, but he disappears far too often. Whether it is an effort issue or a lack of field awareness is unclear, but NFL teams will undoubtedly be worried about Wormley's tendency to disappear.
With Eddie Goldman, Akiem Hicks and Jonathan Bullard leading the way up front in the Chicago Bears' 3-4 defense, defensive line is not a major need for Chicago. That being said, an opportunity to land Wormley in the middle of the fourth round was far too tempting.
He is a talented prospect whose length, power and quickness up front would make him a perfect fit as a five-technique in the Bears defense. Also, Wormley would have the pass rush upside to be an impact interior rusher in the sub packages.
There would be a ton of upside in this selection, but it will be up to Wormley to make the most out of his NFL opportunity. Risky draft choice, but his talent is worth it at this point in the process.
5
Corey
Clement
Running Back,

Wisconsin
In Pace's two drafts as the Chicago Bears general manager, he has found a running back in the mid-to-late rounds. It started with Jeremy Langford in the fourth round in 2015 and continued with Jordan Howard in the fifth round last year.
Two years does not make a trend, but I would not be surprised to see Pace and company do something similar this year. The 2017 running back class is absolutely loaded. Leonard Fournette and Dalvin Cook lead the class as obvious first-round prospects, but there are many more talented backs in this class.
Included in this talented running back class is Wisconsin's Corey Clement. An agile and decisive runner, Clement is the latest of an extremely productive line of backs at Wisconsin. He is a natural runner who shows great ball carrier vision, fantastic balance, good power and the ability to create separation with his speed. Clement is not the most explosive or athletic runner in this class, but he has an impressive skill-set that will translate to the next level.
The Bears rushing attack has been decent this season, with Howard in particular showing some nice upside. That being said, it would not hurt to add another talented player to the mix. Drafting Clement would allow the Bears to give carries to all three backs as they compete to see who deserves the most playing time.
None of these guys will likely turn into an All-Pro talent, but continuing to add pieces to the mix increases your chances of landing an impact player at the running back position. Most importantly, landing Clement in the fifth round seems like fantastic value.
7
Mack
Hollins
Wide Receiver,

North Carolina
If the Bears take Trubisky with a top-five selection in this draft, he suddenly becomes the most important player on their roster. The Chicago Bears have some nice talent on both sides of the ball, but their lack of a franchise quarterback is clearly holding them back.
If they go all in on a guy like Trubisky, making him as comfortable as possible is a huge key. Drafting an impact offensive tackle like Ramczyk and improving the backfield by adding Clement helps, but so would drafting him a familiar target.
Seventh-round selections are more likely to be left off the active roster than be put on it, making it a great time to take a chance on a talented player. When this talented player happens to be a major college target of your franchise quarterback, it is even better.
Mack Hollins is an impressive deep threat receiver who has massive upside. At 6-3, 210 pounds, Hollins has the size that team covet at the position and he combines that with impressive speed. With his combination of size, speed and natural athleticism, it is easy to see the massive upside in Hollins' game.
That being said, he is an extremely raw route runner who also consistently has issues with drops. Hollins is far from a polished player and he is even out for the season with a broken collarbone. Hollins isn't a sure thing, but his upside on the outside is absolutely massive. Taking a shot on him in the seventh round is a perfectly acceptable risk—especially to pair him with Trubisky.
This article originally appeared on