2017 NFL Draft: Best Week 11 College Football Games to Watch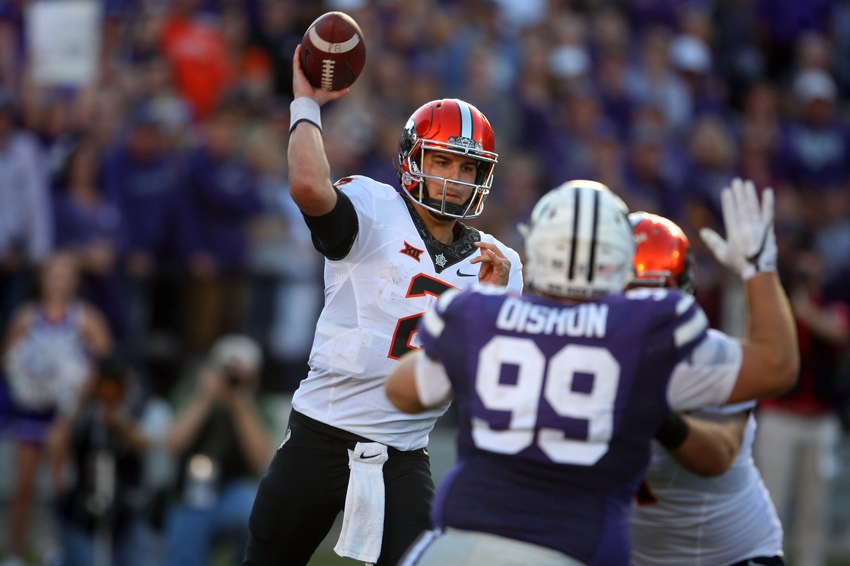 Taking a look at the best college football games from Week 11 for NFL Draft fans to scout, enjoy, and watch.
This week, there are not many ranked team vs. ranked team match-ups in college football. That said, there is a lot of talent that will hear their names called in April's NFL Draft playing Saturday. Simply, that leaves many of us with more than just the final score to look forward to.
The Week 11 college football schedule has just two games where ranked teams face each other. But more importantly, for those only interested in the NFL Draft aspect of college football, that leaves us with a variety of games to look forward to and possibly see players we hadn't before.
Let's take a look at some of the players who could be on our favorite teams next season. We'll take a look at the two games that have ranked teams against each other, plus there are three other games that can become attention getters, too. One of the ranked team games features a Top 5 quarterback along with a Top 15 wide receiver.
For NFL Draft fans, these are the five college football games you need to be watching on Saturday for Week 11 of the 2016 season.
No. 20 USC Trojans at No. 4 Washington Huskies (7:30 p.m. ET, FOX)
This is a nice primetime matchup between two teams that are sure to catch the attention of the national audience this Saturday. For the Huskies, one must have another look at wide receiver John Ross. Yes, he's had two knee surgeries during his collegiate career, but the 5-11, 190-pound wide receiver is coming off an excellent game on Nov. 5 at Cal.
In that game, Ross totaled six receptions for 208 yards and three touchdowns. Even more impressive, he had one of his receptions go for 67 yards. CBS Sports has Ross as the No. 2 wide receiver in this draft, with only Clemson's Mike Williams being ranked ahead of him. Both Ross and Williams are redshirt juniors.
USC has three players currently ranked as second-or third round prospects. One of those is offensive guard/tackle Zach Banner, the fourth overall guard in the draft. Banner is 6-8, 375 pounds. His father is former NFL defensive lineman Lincoln Kennedy.
This offseason, Dane Brugler wrote this of Banner:
"While he carries a lot of weight, Banner is a fluid mover for his size, doing a nice job pulling and getting in space to take away linebackers at the second level."
He won't be carrying the ball or making the big plays with throws, but watch Banner on Saturday night and see how well he makes things go for USC. Also, always keep eyes on Trojans receiver JuJu Smith-Schuster, who is capable of being downright incredible for this USC offense.
No. 24 LSU Tigers at No. 25 Arkansas Razorbacks (7 p.m. ET, ESPN)
The SEC gives us this matchup where a loss by one of the two teams is going to knock them out of the Top 25. That said, this game also has some NFL talent other than LSU running back Leonard Fournette.
LSU offers No. 1 ranked junior strong safety Jamal Adams and a second-round projection in center Ethan Pocic. Another second round prospect for the Tigers is cornerback Tre'Davious White.
Of those players, Adams is the top strong safety thus far in the draft rankings, as the 6-1, 213-pound junior is coming off a game against Alabama on Nov. 5 where he totaled six tackles and one interception, his first of the season. This season, Adams has 56 tackles (28 solo) and one forced fumble.
Arkansas tight end Jeremy Sprinkle is the sixth-ranked tight end by CBS Sports and the 110th overall ranked player. This season, he's caught four touchdowns and had two games where he's caught for at least 50 yards.
Sprinkle hasn't caught a touchdown in the past three games, but he did catch three passes for 51 yards against Florida on Nov. 5. The senior has totaled 23 receptions for 266 yards for the season.
This game has some NFL Draft star power to watch for sure, but these are just some of the players to watch Saturday evening.
Texas Tech Red Raiders at No. 13 Oklahoma State Cowboys (3:30 p.m. ET, FS1)
Oklahoma State has the fifth-rated quarterback in 6-4, 235-pound junior Mason Rudolph.
Rudolph still has another year of eligibility, but for this game, he'll be facing a defense that allows nearly 300 yards passing each game and over 500 yards of offense per game too.
Last Saturday, Rudolph passed for 457 yards on 29 completions for five touchdowns and two interceptions. It was the fourth game this season where he passed for at least 300 yards in a game. His touchdown-to-interception ratio is 22-to-4, but he's been sacked 24 times, so that is something to watch as well.
Also, keep a lookout for the 11th-rated wide receiver James Washington of OSU. The 6-0, 205-pound junior is a projected second- to third-round draft projection. This season, he's caught 50 receptions for 974 yards and eight touchdowns.
The Red Raiders don't have anyone projected to be drafted this season as of the most current CBS Sports prospect rankings. One player name to listen for from Texas Tech is center Tony Morales, ranked 19th at the position.
This is a day to watch Rudolph and see if he can gain at or over the 500-yard mark passing, a feat he's already accomplished once this season. That came on Sept. 17 versus Pittsburgh, as he was 26-of-46 for 540 yards with two touchdowns and no interceptions.
No. 10 Penn State Nittany Lions at Indiana Hoosiers (Noon, ESPN/ABC)
The Big Ten has surprised some with just how the conference has played out thus far in 2016, and one of the surprise teams of all college football has been the Penn State Nittany Lions.
They have a sophomore running back, Saquon Barkley, who isn't eligible for the draft for one more year, but there are others to talk about this week in this matchup.
Indiana has the top-ranked offensive guard in 6-4, 310-pound Dan Feeney. They also have on their roster 6-3, 220-pound wide receiver Simmie Cobbs Jr., a fifth-round projection who won't be playing as he's been injured this season.
The Hoosiers also have defensive tackle Ralph Green III, a projected sixth- to seventh-round projection.
For the Nittany Lions, they have a fourth- to fifth-round projection in wide receiver Chris Godwin and a possible seventh-round selection in outside linebacker Brandon Bell.
This year, Bell had an 18-tackle game (and one sack) against Ohio State on Oct. 22, with seven of those tackles being solo.
Though the names aren't stars on the national stage, you can bet when the combine and draft rolls around, we'll hear a lot more about them for sure. This is a nice game to get a head start on knowing some later round choices.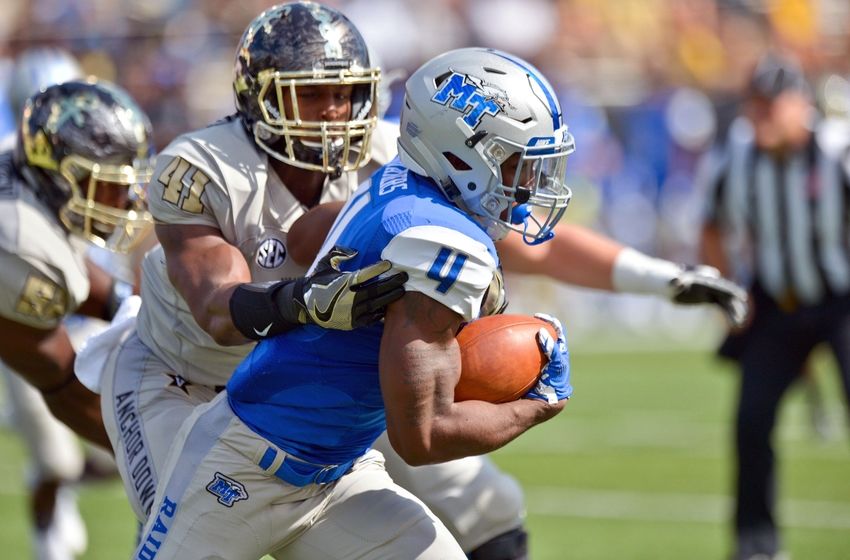 Vanderbilt Commodores at Missouri Tigers (3:30 p.m., SEC Network)
The two teams have just six wins combined on the season, but for the Commodores, they do have the No. 1 rated inside linebacker Zach Cunningham.
Cunningham is 6-3, 230 pounds, and while he's the top-ranked inside linebacker, he's also the 13th overall rated player, according to the CBS Sports draft rankings.
This season, Cunningham has compiled five games of at least 10 tackles, and in one of those games he totaled 19 tackles (13 assisted).
On the other defense, the Tigers have the fifth-rated defensive end and 28th-ranked overall player, Charles Harris, also a first-round projected player.
At 6-3, 260 pounds, the defensive end had an excellent game last Saturday at South Carolina. In that game, he totaled eight tackles (four solo) with two sacks, with that being his second game of multiple sacks this season. The other occasion saw seven tackles and three sacks against Georgia in mid-September.
This game may not be the best in terms of team football on either side, but the individual defensive players will make it worth watching on Saturday.
The mid-afternoon game could be a nice buffer in between the early games and some of the primetime matches. Plus, it is always entertaining to watch individual defensive players who could be drafted in the first round.
This article originally appeared on