2017 NFL Draft: Best Landing Spots For Top 5 Quarterbacks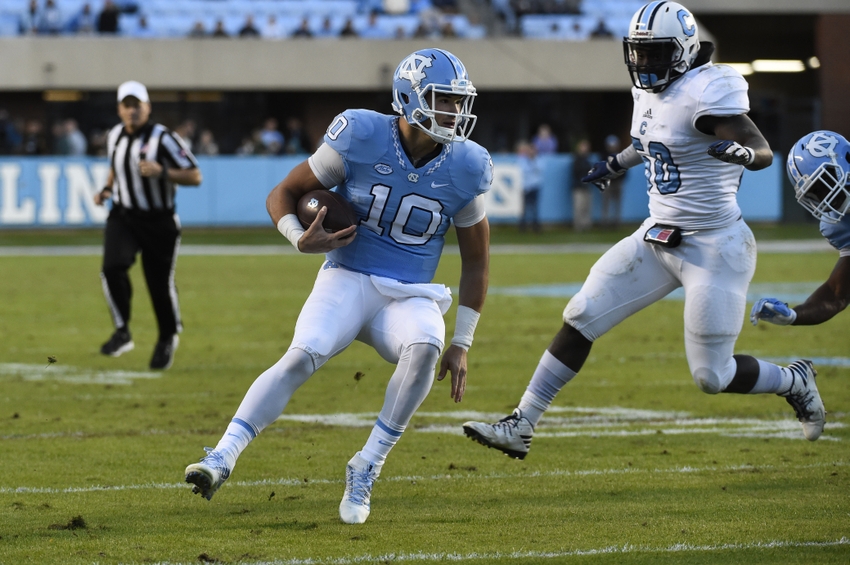 The 2017 NFL draft has the same tag as many others. It's quarterback class is likely to be "average." Truth is nobody knows that for sure.
Many classes given that labels have turned out some great players. There's no reason to think this one should be different. Often the way that happens is by the stroke of good fortune where the top prospects end up in the best possible situations for their talents. With that in mind, which teams should be considered the top matches for the five biggest names in this upcoming crop?
Deshone Kizer (Notre Dame)
While his stock has fluctuated the past month or so, many still agree that in terms of talent Deshone Kizer is the top quarterback in the 2017 class. He's got the total package:  size, arm strength, accuracy, mobility and smarts. The problem is he hasn't gotten the best coaching and therefor his production remains good but not "top pick in the draft" kind of good. People need to know more about him before determining if he's the real deal.
Best Fit:  Cleveland Browns
Hue Jackson likes his quarterbacks big and strong. He's also had success with types like Kizer before. During his brief stint in Oakland as head coach, he inherited former 1st round pick Jason Campbell. Together they helped the Raiders go 8-8 following the death of Al Davis. Kizer exhibits many of the same promising attributes as Campbell. There is no reason to think Jackson won't be able to maximize what he can do on the field.
Mitch Trubisky (North Carolina)
Certainly the Flavor of the Month lately. Mitch Trubisky really came out of nowhere. He was an unknown when the 2016 season started but a series of high-profile victories has put him in the spotlight. Scouts love his skill set from the quick, precise passing accuracy to mobility and good decision-making. Trubisky doesn't have lots of experience but he makes up for it by continuing to play well. He'll be a top pick if he finishes the year like he started it.
Best Fit:  New York Jets
Chan Gailey is an experienced offensive coordinator who's had a lot of success. Historically he's often preferred quarterbacks who can get the ball out fast and on time. Ryan Fitzpatrick and Kordell Stewart are two such examples. Trubisky exhibits attributes those two share but would likely be the most complete quarterback Gailey has ever coached. Give him an offense loaded with veteran talents and it's an ideal situation for a young quarterback.
Deshaun Watson (Clemson)
Following the national championship game last year, everybody was certain Deshaun Watson would be the top pick in 2016. His athleticism is elite, he can run and he showcased a poise when passing that good quarterbacks need. Sadly he had to go through another year and it hasn't helped his image. Some worry about his accuracy and have begun to question his decision-making. Still, he's got a good arm with a compact, tight release. Plenty to work with.
Best Fit:  San Francisco 49ers
That Chip Kelly offense is tailor-made for somebody like Watson. Kelly likes to run a spread system with an up-tempo element. Quarterbacks stay in shotgun frequently and are tasked with surveying and delivering the ball quickly to the open man. Read-option plays are also prominent. These are all things Watson has done with success at Clemson. San Francisco seems to like quarterbacks of this style, so it's a no-brainer.
Patrick Mahomes (Texas Tech)
One of the dark horses of the 2017 class that still isn't getting much attention. Patrick Mahomes has been setting passing records for much of the season at Texas Tech. He checks the boxes in terms of size, arm strength, mobility, accuracy and poise. He's the son of the coach and being developed by one of the brightest offensive minds in college football. On top of that he's tough and fearless to fire the ball down the field no matter the situation.
Best Fit:  Arizona Cardinals
Bruce Arians loves quarterbacks with the following attributes. They should be big, smart, dedicated workers and have a strong arm. He is a coach who loves to take the deep shots whenever possible. He did it with Peyton Manning, Ben Roethlisberger, Andrew Luck and now Carson Palmer. Mahomes will need lots of refinement in order to learn a pro-style offense, but he fits almost every parameter the Cardinals look for in their signal callers.
Luke Falk (Washington State)
Quarterbacks in spread offenses catch a bad rep these days. They don't play in more complicated schemes, therefore a stigma is attached to them that they are instant projects. Time has proven this isn't always the case. Derek Carr and Marcus Mariota are doing just fine. Luke Falk has the attributes necessary to make that jump as well. He's tall, sees the field well, gets the ball out quickly and shows good placement and accuracy on his throws. Not overly mobile but poised in the pocket.
Best Fit:  Chicago Bears
This is heavily dependent on if Dowell Loggains remains the offensive coordinator in Chicago. Time has proven he's a coach who prefers to run the offense through the passing game. He needs a quarterback who can deliver accurate, high-percentage passes and makes few mistakes. Brian Hoyer provided a blueprint. Falk has lived in the pass-happy offense at Washington State. He's no stranger to this style and is more talented than Hoyer is.
This article originally appeared on