2017 NFL Draft: 5 Prospects to watch in Week 12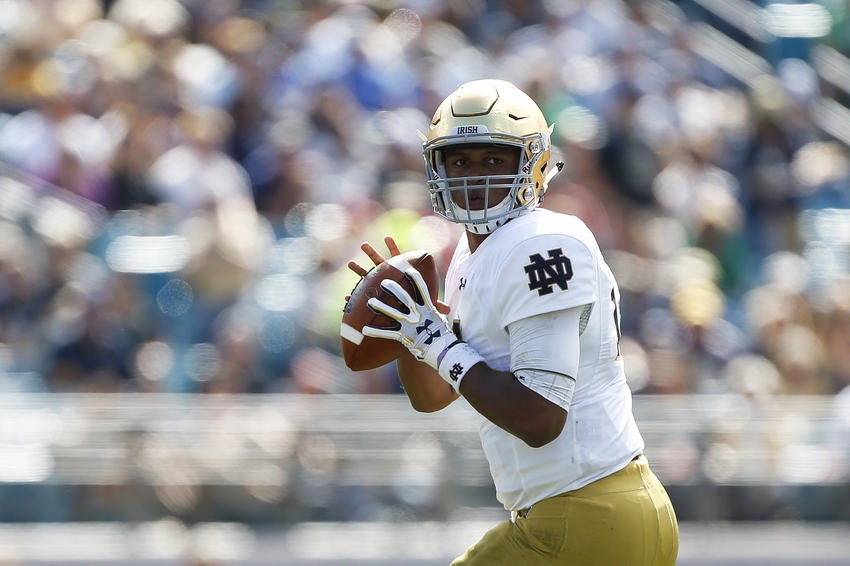 As we near the end of the college football regular season, these five NFL draft prospects have a chance to move up boards on Saturday.
Even though it's November, NFL teams are already going all in to prepare for the NFL draft in late April. A number of college players from around the country have made names for themselves, but a lot of prospects will help or hurt their draft stock in the coming weeks, especially when conference championships and bowl games roll around.
This week, there are a number of interesting matchups between top-tier programs. Here are just a few guys I'll be keeping a close eye on during Saturday's games as they attempt to climb up NFL draft boards.
5
Dede
Westbrook
WR,

Oklahoma
Right now, it looks like the top-tier wide receivers will be Clemson's Mike Williams, Washington's John Ross and Western Michigan's Corey Davis. However, Oklahoma's Dede Westbrook is one of those guys in that next tier of receivers who could wind up getting drafted in the second or third round.
After a slow start to the season, the Oklahoma senior has been on an absolute tear as of late. During his last seven games, Westbrook has caught 51 passes for 1,100 yards and 14 touchdowns while adding another touchdown on a punt return.
Westbrook only comes in at 175 pounds, but the Sooners receiver is a serious deep threat. He's got great speed and soft hands with the route running to create separation and makes plays after the catch.
This week, Westbrook and the Sooners are going against a talented West Virginia defense. If he can make a few more plays and find the end zone, he could start working his way into the discussion as a potential first-round pick.
4
Takkarist
McKinley
EDGE,

UCLA
This year's draft class is filled with some pretty impressive edge rushers, including guys like Myles Garrett, Derek Barnett and Carl Lawson. The UCLA Bruins might not be having a great season, but senior Takkarist McKinley has been making some noise thanks to some impressive performances.
McKinley has been on a torrid pace this season. Not only is he tied for first in the nation with 18 tackles for loss, but he's also come up with 10 sacks, five passes deflected and three forced fumbles.
What stands out when watching McKinley is the long arms on his 6'2", 265-pound frame. He uses those long arms and an explosive first step to get through the offensive line and make plays in the backfield.
The Bruins will need all of the help that they can get from McKinley in a tough game against a resurgent USC Trojans team that just took down Washington. When the Trojans are on offense, keep an eye out for McKinley to see just how disruptive he can be.
3
Chris
Wormley
DL,

Michigan
All of the NFL draft buzz surrounding the Michigan Wolverines is typically directed towards their talented defensive backs in Jabrill Peppers and Jourdan Lewis. However, senior defensive lineman Chris Wormley is another guy who should hear his name called in April.
Wormley isn't going to be a first-round pick, but the Wolverines senior has been making plays all season. Through 10 games, he's come up with 7.5 tackles for loss and 4.5 sacks.
At 6'6" and 302 pounds, Wormley has the size to move around the defensive line and play multiple positions. He's not an explosive athlete, but he's an incredibly disciplined player who has solid technique and is rarely washed out of plays by blockers.
The Wolverines should beat the Indiana Hoosiers easily this week, but Wormley could have a tough matchup if he ever lines up against Hoosiers guard Dan Feeney. That will be a key matchup to watch on Saturday to see whether or not Wormley is the real deal.
2
Jarrad
Davis
LB,

Florida
Outside of Alabama's Reuben Foster, there hasn't really been another linebacker to stand out as the No. 2 guy at the position. Vanderbilt's Zach Cunningham continues to make noise for the Commodores, while Ohio State's Raekwon McMillan hasn't really had the impact scouts were hoping he would this year for the Buckeyes.
For the Florida Gators, Jarrad Davis is a guy who could help his draft stock in a big way in the final few games of the season. His numbers don't blow anyone away (six tackles for loss, two sacks, four passes broken up), but he presents a pro-caliber skill set.
Davis is disruptive and an aggressive tackler coming in at a solid 6'2" and 328 pounds. He's more than comfortable dropping back in pass coverage, but the biggest concern is that his lack of gap discipline can open up some huge holes for running backs.
There isn't a better matchup to gauge Davis' NFL potential than this Saturday's game against the LSU Tigers. If Davis can make some plays against star running back Leonard Fournette, NFL scouts might start talking him up a bit more.
1
DeShone
Kizer
QB,

Notre Dame
Clemson quarterback Deshaun Watson's poor showing against the Pittsburgh Panthers last week has opened the conversation back up as to who is the best NFL prospect at the position. This class is far from great at the position, but Notre Dame's DeShone Kizer has the opportunity to solidify himself as the No. 1 QB prospect.
There's a lot to like about Kizer. He has the frame of a pro-style QB at 6'4" and 230 pounds with a great arm and some really nice touch on passes. He's also pretty athletic and is capable of extending plays with his legs.
The big problems are between the ears with Kizer. There are times where he'll force throws and wind up throwing interceptions that make you shake your head. Some concerns can be cast off on Brian Kelly and the Notre Dame coaching staff, but not all of them.
Saturday's game against Virginia Tech will be a great opportunity for Kizer to solidify his draft stock. All of the physical tools are there for Kizer to develop into a legitimate starting quarterback in the NFL, but he needs to prove it in games like this one.
This article originally appeared on