2017 Falcons NFL Draft Preview: Safety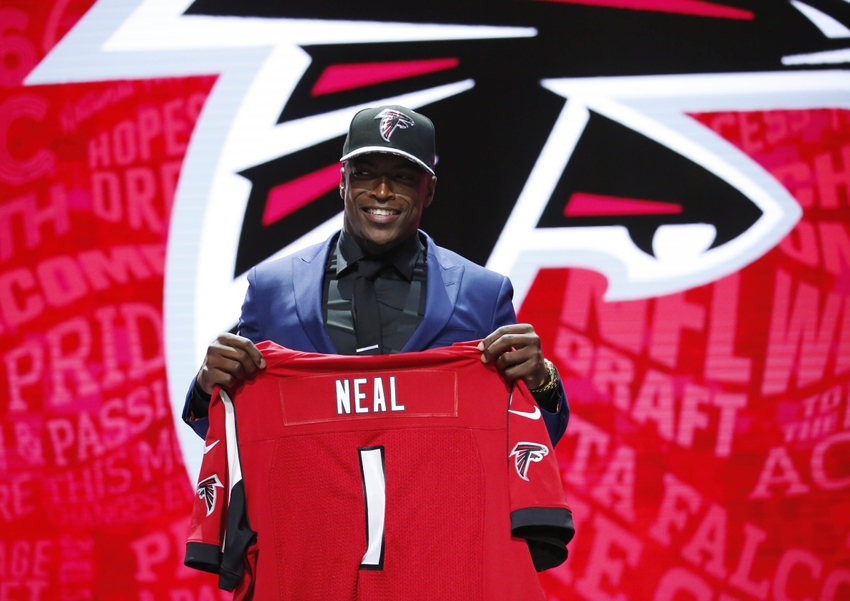 The Falcons are in need of help at the safety position. Can they find a good counterpart for rookie Keanu Neal in next year's draft?
As we continue on through the NFL's regular season, we see which teams have issues at certain positions, and try to decide what they can do to fix them. While some may prefer established talent in free agency, the NFL draft is one of the most exciting times for team to find some new, developmental talent that can become superstars for their new teams.
While high picks have expectations levied upon them instantly, there are always some diamonds in the rough that can be found in the later rounds of the NFL draft. One position people believe is a spot of need for the Atlanta Falcons is the free safety position, where Ricardo Allen has floundered across from rookie Keanu Neal. For every round, we have selected a player that could help the Falcons in this spot. Check out the slide show and let us know who you like best for our team going into the 2017 season.
Round 1: Budda Baker, Washington (5-10, 192lbs)
Considering the Falcons' projected record for the rest of the year, they will miss out on Ohio State product Malik Hooker, but Budda Baker is a strong consolation prize. Baker has been a sensation since stepping onto the Husky Stadium turf as a freshman. After adding an additional 10 pounds of bulk before playing, he played in all 12 games the Huskies played in 2014. He earned All-Pac-12 honors after recording 80 tackles, seven passes defended, and an interception against Oklahoma State in the Cactus Bowl. As a sophomore, he recorded 49 tackles, nine passes defended, and two interceptions on his way to earning Pac-12 1st team honors. Through 9 undefeated games for Washington in 2016, Baker has tallied 40 tackles, half a sack, two passes defended, and an interception. Though only a junior, Baker is one of the top safety prospects in the NFL draft this upcoming year.
Strengths: Kept his impressive speed even after bulking up, recording a 4.35 40 yard dash at Washington's winter conditioning. The leader of a strong Washington defense, actively communicating signals to the other defenders. Shows good range and can break on the ball quickly. Though some may consider him undersized, Baker is a very willing tackler, and can lay the wood at times. He has good fluidity and can turn his hips and run when playing a receiver at the line of scrimmage. Good hands and can come down with interceptions when timed correctly.
Weaknesses: While he is a good tackler for his size, Baker can miss on some tackles. Takes some bad angles to runners at times. He is still young and there is a decent chance he returns to school for his senior year. Major knock on him is the lack of size and stature, with some scouts not projecting him as a safety in the NFL. Suffered some ankle injuries in 2015, but do not seem to be playing into his production in 2016.
Round 2: Marcus Maye, Florida (5-11, 216lbs)
A bigger prospect in terms of size only, Maye would provide a bigger presence in the secondary for the Falcons compared to Baker and current Falcons safety Ricardo Allen. Bringing Maye to Atlanta would also pair him with former Gator teammate Keanu Neal. The pair excelled together last year as the back end of one of the strongest secondaries in the country. As a freshman, he played in 8 games, totaling 16 tackles (1 TFL) and an interception with a 30 yard return. In his sophomore and junior years, he showed a knack for knocking out the football, forcing 6 fumbles. He also recorded 3 interceptions in that time span. Through 9 games of his senior year, Maye has tallied 50 tackles, a sack, and an interception. He is one of the better free safety prospects in a relatively weak NFL draft class.
Strengths: Always around the ball every play. Shows the ability to cover receivers, running backs, and tight ends, lining up at the line of scrimmage at times. Maye is a decent arm tackler, easily wrapping up backs and tight ends as well. Good ball skills, with 5 interceptions, and forced 6 fumbles over a two year span. Fluid hips and easy to turn and run with a receiver. Shows some quickness moving laterally and in the short field. Good, fast breaks on the ball. 2015 All-American along with four other teammates.
Weaknesses: Maye often takes too long to diagnose run plays, and can get caught up sifting through trash. Easily blocked out of plays by tight ends and linemen at times. Can struggle with quicker receivers that are more refined route runners. May be caught between playing nickel cornerback and safety in the NFL. Relatively slow for his position, with a projected 4.55 40 yard dash time.
Round 3: Quin Blanding, Virginia (6-2, 210lbs)
Blanding is a true junior out of Virginia who has not received as much praise as he deserves at this point in time. Standing at 6 feet and 1 inch, he is hard to miss on the field for the Cavaliers. He has started every game since coming to Charlottesville, and has produced a whopping 338 tackles. In his freshman season, he had 123 tackles, 6 passes defended, and 3 interceptions. His sophomore brought him 115 tackles, an interception, and a forced fumble. Through 10 games this year, he already has 100 tackles, an interception, and 4 passes defended. He has been one of the strongest defenders in the country, yet remains to be seen on any major lists. Look for him to be picked early in the NFL draft, and make a strong impact for his team.
Strengths: As shown by the stats, an amazing tackler all around the field. Possesses the prototypical body type that NFL teams look for now in safeties. Shows fluidity in his hips and can cover well. Incredible motor, willing himself to play whistle to whistle. Shows discipline in coverage, playing his responsibility in zone and not playing too overaggressive with receivers moving away. Shows extreme passion for the game, proving to be a leader and a strong emotional presence on the field for a middling Cavaliers team. Praised by coaches as a "first in, last out" guy since day one of his freshman year.
Weaknesses: Can overplay run assignments and miss lanes at times. Sometimes gets too aggressive with his assignment, committing unnecessary penalties towards the end of plays. Still very young and may need time as a no. 2 safety before taking on a full time row. Somewhat slow, but that is expected due to his immense size at the position.
Round 4: Lorenzo Jerome, St. Francis (5-11, 190lbs)
One of the better small school prospects in this draft class, Lorenzo Jerome offers value as a free safety, nickel cornerback, and kick returner. As a member of the Red Flash, Jerome has tallied an impressive 18 interceptions, with 2 pick-6's. Coming out of such an unknown school in Pennsylvania causes some problems for his draft stock, but he has made the most of his abilities, racking up eye-popping stats since joining their team. While many teams might not like small school prospects, Jerome has a good chance of being selected in the NFL draft.
Strengths: Possesses some great positional versatility, playing three positions for the Red Flash in his four years at the school. Some of the best ball skills in the draft, with 18 interceptions and over 30 pass breakups. Return skills some of the best in the draft, showing the shiftiness required to break tackles early in the return when surrounded by gunners. Fluid movements in coverage, sticking to receivers all across the field. Strong blitz ability off the line. Top prospect in the division, likely to play meaningful snaps within a year of being drafted. Projected to be an All-NEC defensive back in 2016, marking his third consecutive year on the list.
Weaknesses: Looks smaller on tape than listed. Has missed games due to injury often in his career. Small school prospects are often boom-or-bust types, considering the low level of competition that Jerome faces. Runs hot and cold as a punt returner, either breaking away for a long return or not going anywhere. Will likely be drafted lower due to questions about the competition and his injury history.
Round 5: David Jones, Richmond (6-2, 210lbs)
Jones, a redshirt senior out of Richmond, has been a major player for the Spiders in his time on campus. In his first season in 2013, he recorded 36 tackles and his first career interception as he became a component of the Richmond defense. As a redshirt sophomore, Jones only played in 9 games, but he still totaled 33 tackles and 2 interceptions on the year. 2015 was unarguably has best year, where he led the entire FCS with 9 interceptions. He tied an NCAA record with 4 interceptions in one game against Albany. He also finished second on the team with 97 tackles last year. This year he has 29 tackles and 2 interceptions. Jones' size will likely lead him to a solid slotting in next year's NFL draft.
Strengths: Quick to diagnose plays, especially in the run game. Menacing presence in the secondary due to his size and strength. A strong tackler for one of the better FCS teams in the game. Great ball skills, shown by his 14 career interceptions (led the FCS with 9 in 2015). Not afraid to throw around his body and play all game long. Matches up well in man coverage with tight ends. Good team leader who is a communicator for the Spiders.
Weaknesses: Competition in the FCS may be called into question. Started very few games for the Spiders, which will be questioned by many, if not all, NFL scouts. Can overplay on some zone schemes, missing passes that could've been avoided.
Round 6: John Johnson, Boston College (6-0, 200lbs)
Johnson is one of the lone bright spots for the Eagles, who have been working their way back up since disappointing after the Luke Kuechly days. The defense has produced good late round NFL draft prospects in recent years, such as Steven Daniels, Connor Wujciak, and Justin Simmons, who you might have seen block a kick for the Broncos last week. After playing sparingly as a freshman, his sophomore season brought him 25 tackles and a pass breakup before going down with an injury in Week 8. Johnson recorded his first three interceptions, as well as 47 tackles. Through 10 games this year, he has 2 interceptions, 5 pass breakups, and 56 tackles. He is a strong presence for the Eagles, who have been trending upward in 2016.
Strengths: A strong tackler with great length for the position. Has split a lot of time between corner and safety. Good hands for a defensive back. Shows the ability to cover bigger receivers and tight ends. Can crash downhill and come into the backfield to wrap up or lay the wood on running backs. Has shown the ability to elevate his game against strong competition, with some of his best games coming against Louisville, Florida State, and Clemson. Johnson is a team leader who brings his passion with him to any team, and is a strong leader on the defense.
Weaknesses: Can get beat by some better receivers when matched up in man coverage. Not a refined technician, and may get called for pass interference more often in the pros. Will require help with footwork and will likely require a defined position to excel in the NFL, rather than switching between both safety spots and cornerback. Slow, even for his size.
Round 7: Casey DeAndrade, New Hampshire (5-11, 215lbs)
Playing in the same division as round 5 prospect David Jones, Casey DeAndrade was well regarded in the FCS coming into the 2016 season. After breaking onto the scene and recording 3 interceptions in four games as a freshman, DeAndrade totaled 69 (nice) tackles and an interception while averaging 9 yards per punt return for the Wildcats. He improved more in his junior season, with 76 tackles, 2 sacks, 2 interceptions, and 11.9 yards per return with a touchdown. Through 10 games this year, the senior defensive back has tallied 49 tackles, 2 interceptions (one pick-6), and 7.8 yards per return. One of the better UNH prospects to come out in recent years, DeAndrade could be the first player from New Hampshire around the NFL draft since RJ Harris in 2015, who was a member of the Falcons practice squad at one point in 2014.
Strengths: A captain for the Wildcats, DeAndrade is a good leader who also produces on the field while providing leadership for the team. A good, compact build with playing strength coaches look for. Almost looks like a linebacker when playing the run game. Quick movement to his responsibility on defense, whether it be zone or man. Adds good value as a returner, showing the ability to break away at times.
Weaknesses: Uneven, not so fluid movement in the hips causes him to waste some movement when following receivers or backpedaling. May be stuck as a "tweener" with no good position. May be better suited to add weight and play as a downhill linebacker. FCS competition isn't as competitive as some coaches want, which will make teams shy away from I-AA prospects.
This article originally appeared on