2017 Chargers opponents announced: L.A. and NFC East loom large
The San Diego Chargers released their 2017 NFL opponent list. The Chargers will play against the NFC East next year. It should be fun to see the Bolts against some Eastern powerhouses like the Dallas Cowboys, New York Giants and the resurgent Philadelphia Eagles and Washington Redskins.
Thankfully, the Chargers will have only one "away-home" game. Get ready to see the Silver and Black come out in San Diego (L.A.?) for the Raiders. I say thankfully because the Chargers will play the Cowboys in Dallas, or else the Blue and Silver would have come out for the Cowboys in San Diego, giving us two "away-home" games.
Pressing Questions for 2017: Los Angeles Bolts?
2017 will also bring with it some pressing questions, namely will the Chargers be in San Diego next year, or will Los Angeles have a second team?
Will the Chargers rebrand and do away with any semblance to the current San Diego Chargers?With the way things are now, is that even a bad thing?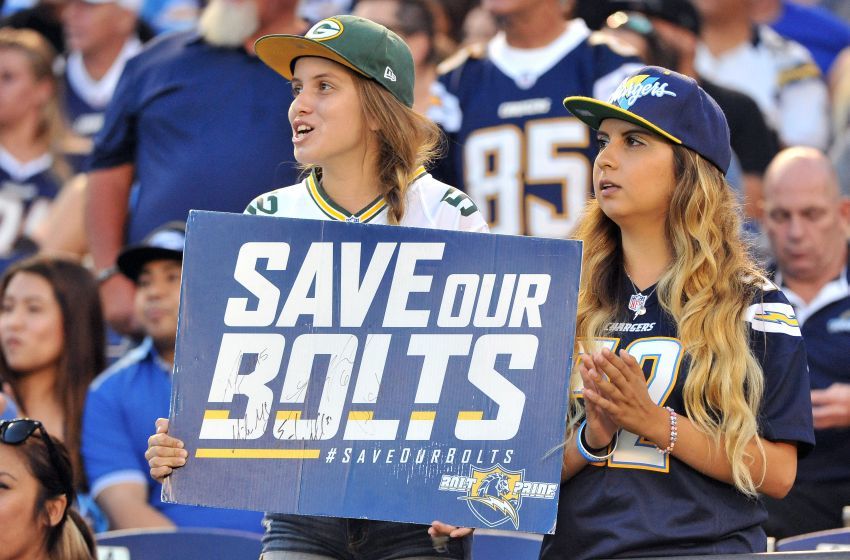 Aug 19, 2016; San Diego, CA, USA; Fans hold up a sign in reference to the Save Our Bolts initiative during the second quarter of the game between the San Diego Chargers and Arizona Cardinals at Qualcomm Stadium. Mandatory Credit: Orlando Ramirez-USA TODAY Sports
2017 Charger Opponent Stats
It is too early to guess how many wins the Bolts will get in 2017. However, even though the full 2017 schedule has yet to be released, current win/loss records tell us a lot about the quality of opposition the Chargers will face.
Here are some observations and thoughts:
As it stands now, the Chargers are 5-10 (.333).
Their opponents for 2017 up to this point are 106 – 88 (.546).
Seven of their 11 opponents have winning records this year.
Six of their 2017 opponents are going to the playoffs this season.
All four of their opponents with losing seasons have a worse record than the Chargers. However, the Chargers-Browns game last week proved that means nothing.
It's going to be tough to beat the Raiders, Chiefs and Broncos twice. The Raiders and Chiefs stepped up their game this year (Denver being the exception – but that "D"!), and the Chargers relapsed back to their losing ways.
The games versus the Patriots, Cowboys and Giants don't look rosy either. Also, all of those are away games.
As this season has shown us, home games also don't help much. Which brings us to:
Fan support may not be much better in L.A., especially if the team doesn't get off to a winning start.
I don't want to sound pessimistic, but a .500 season looks likely to me.
On second thought, am I being too optimistic thinking the Bolts can pull that off? What say ye?
More from Bolt Beat
This article originally appeared on