2016 NFL Trade Deadline: 5 Moves That Make Sense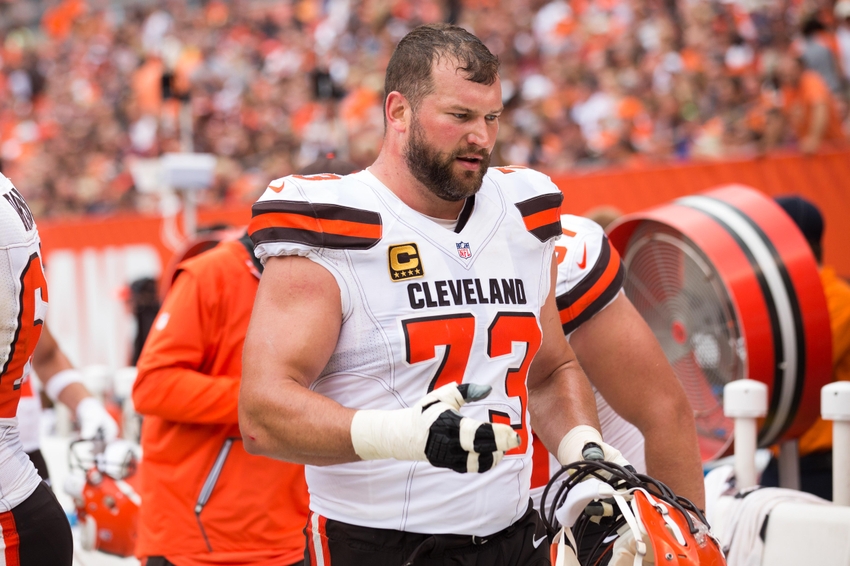 The 2016 NFL trade deadline is fast approaching. While football isn't known for tons of action of that kind, there are still plenty of possibilities.
It's just a matter of timing and finding the right fit. There are already some teams who could be in selling mode, looking towards 2017. Some of them have intriguing pieces they might wish to unload for draft help. Here are five possible deals that could make some sense.
Joe Thomas to the Seattle Seahawks
This is by far the most popular theory going around. For obvious reasons. It makes a ton of sense. Joe Thomas is 32-years old. Though he's still one of the best offensive tackles in the game, he's also desperate to at least get a chance to play for a Super Bowl. Being traded to a contender is his only hope at this point and the Cleveland Browns seem willing to oblige. It's just a matter of finding a team who fit the parameters and are willing to deal.
The Seahawks are always a team on the lookout for making bold moves. Given how depleted their tackle position has become, Thomas would represent the sort of godsend they're looking for. It would secure the blind side of Russell Wilson, who has taken far too many hits of late. What it comes down to is how much the Browns ask. Given Thomas' age it can't be too much. Odds are if any deal could happen in a few weeks, it's this one.
Joe Haden to the Oakland Raiders
Thomas isn't the only Browns player who could be on the move real soon. Turns out two-time Pro Bowl cornerback Joe Haden might also be on the block. His injury-filled 2015 season may have something to do with that. Even so he's only 27-years old and still has plenty of gas in the tank. Any team that is short on cornerback help would do well to consider him. If he regains his Pro Bowl form, which should be possible, then that is a huge get.
If any team is poised to make that move, it's the Oakland Raiders. They have the worst pass defense in the NFL at the moment. Being 4-1 in spite of it is a testament to how good their offense has become. That aside, head coach Jack Del Rio knows his team is poised to take command of the AFC West. The problem is he can't do it without better defense. Haden would be a game changer if it's the Pro Bowler they end up with.
Alshon Jeffery to the Tennessee Titans
At first glance this sounds crazy, but is it? Odds are the Chicago Bears are looking towards 2017 already. It's apparent their roster still needs a lot of work. GM Ryan Pace might love to get some extra draft pick. His biggest trade piece is Alshon Jeffery, who is currently on the franchise tag. It would likely take a 1st round pick in order for a team to get him at this point given the value of tagged players. So why would the Tennessee Titans be an option?
Two reasons. For one they really don't have any definitive go-to targets at wide receiver. Tight end Delanie Walker currently leads the team in receiving yards and Rishard Matthews is right behind him. That is not the kind of weaponry Marcus Mariota will need to make himself and that team a success. Better still is the fact that the Titans have two 1st round picks at their disposal in 2017. All they'd have to do is flip one to the Bears in exchange for Jeffery, with assurances the wide receiver would sign a contract extension upon arrival of course.
Antoine Bethea to the Washington Redskins
Another team that could be in selling mode already is the San Francisco 49ers. They're 1-4 with few prospects of getting back into the NFC West. Not with that quarterback situation they're not. Trent Baalke will be intent on collecting his annual haul of draft picks and one way to do it is unloading some veteran players. Topping the list must be Antoine Bethea. The safety has been great for them, but with Jaquiski Tartt coming on they can afford to deal him.
Meanwhile the Washington Redskins are surging back into the NFC East race. However, the loss of DeAngelo Hall at safety is something they likely won't mask forever. At age 32 Bethea can be called the perfect rental player. He won't cost that much to get and could give their secondary a huge boost in short term with his leadership and veteran savvy. Maybe not a blockbuster deal, but one that could pay off huge down the stretch.
Cameron Wake to the Los Angeles Rams
Jeff Fisher has done a good job getting his Los Angeles Rams to a 3-2 record early in the season but there are significant problem his team is facing that threaten to undo his work. A big one are the key losses his defensive line continue to suffer. It started with Chris Long in free agency and has since moved to injuries with Robert Quinn and William Hayes. They are fast running out of viable options to make that scheme effective, Aaron Donald or not.
Cameron Wake is not the player he was four years ago, but that doesn't mean the 34-year old isn't still effective. He's finding ways to apply pressure despite the Dolphins not playing him that many snaps. They might be willing to part ways with him at this point as their own season spirals out of control. It wouldn't cost much at all for the Rams to get him. If Fisher could squeeze one more good year out of Wake, then it would serve the purpose of getting that team aimed in the right direction.
This article originally appeared on