2016 NFL Predictions: NFC East Over/Under Win Totals a Mess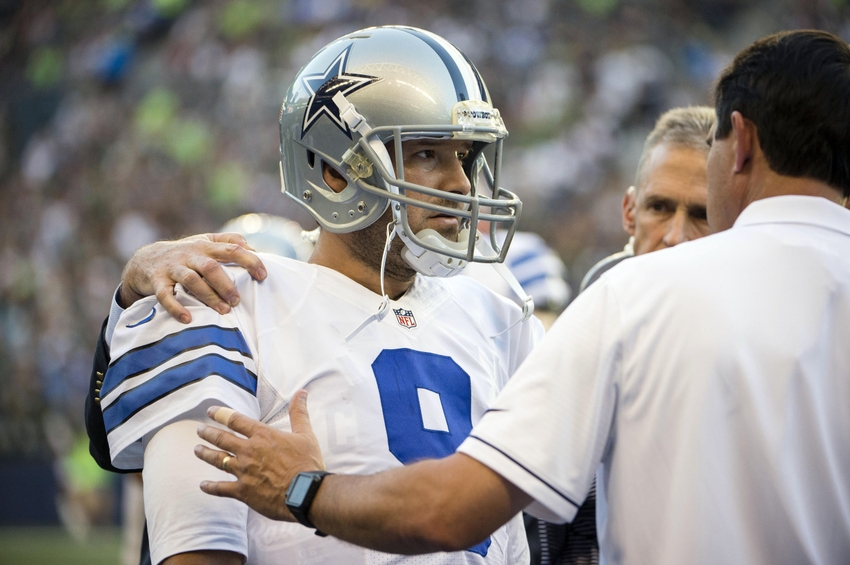 The NFC East is a mess, but betting the Over/Under win totals doesn't have to be. How far will the Dallas Cowboys fall minus Tony Romo? Not at all. 2016 NFL Predictions.
Dan Salem and Todd Salem debate in today's NFL Sports Debate. Two brothers from New York yell, scream, and debate sports.
TODD:
Over/under lines are not open to interpretation, but they are open for debate and discussion. Not all lines seem fair and balanced. Going through the NFL division by division pointing out these mistakes brings us now to the NFC East.
The projected NFC East order is as follows according to Bovada:
Dallas Cowboys 8
New York Giants 8
Washington Redskins 7.5
Philadelphia Eagles 7
This division is tricky because it is easily the tightest in the league. Only one full win separates first from last. Dallas is expected to finish first (or tied), despite finishing last in 2015. And Washington won this division last year by a full two games, yet receives just the third-highest over/under.
The Cowboys line makes sense for two reasons. They should be much improved on the club that finished in the cellar last season, and also, Dallas is a huge public team, meaning books always get more action on the Cowboys regardless of their talent level. Despite the absence of Tony Romo (for however long that lasts into the season), the Cowboys will get action on them. And their line has already dropped to represent the departure of their Pro Bowl quarterback.
My issue in the East is with Philadelphia, but I don't quite know where to place it. The Eagles have the best defense in the division by a wide margin. They also have a pretty darn talented offense. Despite the drafting of Carson Wentz, this isn't an offense being restarted. Sam Bradford is still going to lead this team in 2016. He isn't great, but he isn't a novice either. That leaves Philly as a pretty well-rounded roster.
I wouldn't be surprised to see Philadelphia finish anywhere in this division from first to fourth. That leaves me feeling like it's over/under should be higher. This is a good team. But is it better than the other three squads? Maybe. What's the solution here? Maybe Washington should be getting the lowest over/under despite its division crown. That feels disrespectful yet logical. We know turnover is rampant in the NFL season to season; why not in preseason spreads as well.
DAN:
The Redskins never felt like a really good team last year, but they played like one more often than not. Did they overachieve, or set the tone for things to come? I believe they set the tone, but their line is still solid. I'd bet them to win eight games, taking the Over, but going any higher is silly. They weren't THAT good last year.
As for your Eagles, I'm not sold on them being better than Washington, so a half game lower makes perfect sense to me. Something about the Giants also excites me this season, but someone has to be bad in this division. Slotting them at eight wins is a good line as well. Ultimately these three teams are too close to call, but I like the order.
I take issue with the new line for the Dallas Cowboys. Before Romo's injury they were at 9.5 wins, a perfect number for this football team. I think they excel this season, but whether that means improving to eight wins or ten is hard to say. With their line now at eight wins, I think it's seriously too low. Put the Cowboys back up at nine wins. This is still a really good football team.
Dallas will be without Tony Romo for a few games. My guess is that he returns after their bye, for their week eight game against Philadelphia. Is this a problem? No, not really. The Cowboys schedule is an easy one, with only two of their first six games looking difficult, games against the Bengals and Packers.
I can't count a single NFC East matchup as hard, considering how mediocre and even each team was just a season ago. Therefore Dallas likely goes 4-2 or 3-3 minus Romo. Of their remaining games after the bye week, only Pittsburgh scares me. That's three known losses, with every other game a potential victory.
Cowboys haters will jump all over this new line, taking the Under. Conversely, Dallas fans will jump all over the line and take the Over. Vegas is doing its thing, but that doesn't make this win total any less bogus.
This article originally appeared on