2016 NFL Predictions: Midseason Award and Super Bowl Picks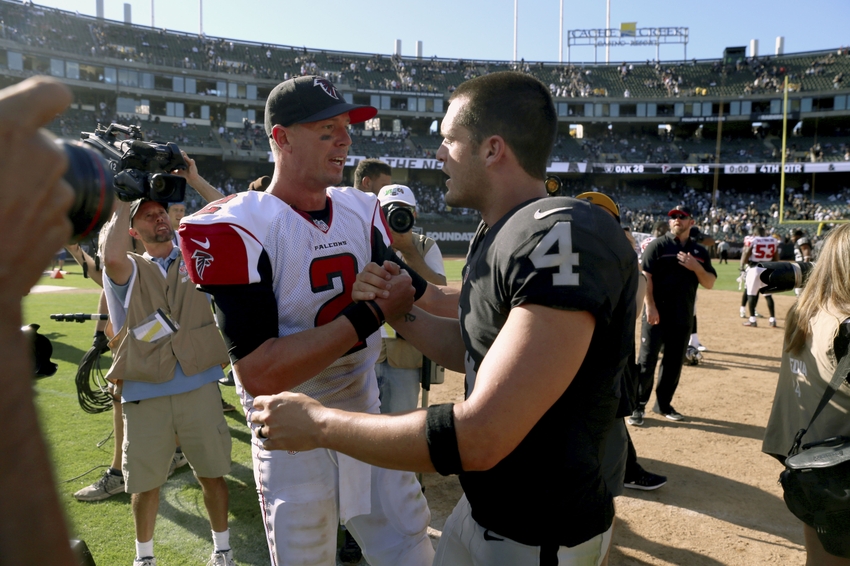 The award and playoff races are heating up across the league. With half the season in the books, it's time for another 2016 NFL predictions rundown.
Every major award category will be covered as will the current favorites to reach both the conference title games and the Super Bowl. The top contenders will be discussed for each and who the likeliest winners will be.
MVP
Top 5 contenders:
Derek Carr (QB, Oakland)
Tom Brady (QB, New England)
Matt Ryan (QB, Atlanta Falcons)
Drew Brees (QB, New Orleans)
Ezekiel Elliott (RB, Dallas Cowboys)
Always a competitive category within the context. People need to face facts. This is basically a who's the best quarterback award. Very rarely does a player from another position win it anymore. It's just how things are nowadays. While of course Tom Brady and Drew Brees will always get consideration, a couple of youngsters are casting their names into the pool in Matt Ryan and Derek Carr. The question comes down to which team would be in the biggest trouble if any of them went down.
Winner:  Derek Carr
The Patriots went 3-1 without Brady so that should be enough to dismiss him. Brees would be an obvious choice but the Saints haven't won enough games. No this is a race between Carr and Ryan. So why Derek Carr? The Falcons have a better defense (26th to 27th). It's that close. Oakland wouldn't have won even half their games without Carr putting up some pretty ridiculous numbers. He's playing at an elite level and deserves the title of Most Valuable Player.
Defensive Player of the Year
Top 5 contenders:
Von Miller (OLB, Denver)
Marcus Peters (CB, Kansas City)
Sean Lee (LB, Dallas)
Lorenzo Alexander (LB, Buffalo)
Landon Collins (S, New York)
The MVP of Super Bowl 50 has continued to dominate since February. With J.J. Watt out of the picture Miller now leads the league with 9.5 sacks. Peters continues his ridiculous pace of interceptions with five. He already has 13 in one and a half seasons of pro ball. Sean Lee doesn't show much on the stat sheet but anybody watching the Cowboys can see he their principal playmaker and leader. Alexander is just a half sack behind Miller and has more forced fumbles while Collins is emerging as a force at safety.
Winner:  Von Miller
At the end of the day it comes down to the big names. Von Miller has the biggest of that bunch. The Broncos are the defending champions and should get back to the playoffs. He's on pace to flirt with 20 sacks this season and that's despite constant attention from opposing offenses. Peters is probably the biggest threat to him at this point but cornerbacks typically have a hard time winning Defensive Player of the Year in the NFL.
Coach of the Year
Top 5 contenders:
Jack Del Rio (Oakland)
Jason Garrett (Dallas)
Bill Belichick (New England)
Dan Quinn (Atlanta)
Mike Zimmer (Minnesota)
"Black" Jack Del Rio has reinvented himself as quite the high-stakes gambler in Oakland of late. So far it's been paying off huge. Garrett has lost just one game despite starting two rookies at quarterback and running back. Belichick was and still is tops in the game after cruising to 3-1 without Tom Brady. Quinn is steadily showing an impact in Atlanta, having them play some inspired football and starting to beat good teams. Zimmer was a heavy favorite not too long ago. His recent slump can't erase what he's managed to do with a decimated Vikings roster.
Winner:  Jason Garrett
Del Rio may look like the favorite but frankly what Garrett has done is more impressive. This team was 4-12 last season. He then lost most of his pass rush to suspension and Tony Romo to a back injury. No big deal. He made adjustments around Dak Prescott and Ezekiel Elliott and the Cowboys are playing some of the best football in the league. That isn't a good job. That's a phenomenal job. Whether he can keep it up for another eight games is the big question.
Comeback Player of the Year
Top 5 contenders:
Andrew Luck (QB, Indianapolis)
Demarco Murray (RB, Tennessee)
Michael Crabtree (WR, Oakland)
Terrelle Pryor (WR, Cleveland)
Jordy Nelson (WR, Green Bay)
A year makes a big difference in this award category. Eric Berry was the runaway favorite in 2015, now there isn't a single defender in contention. Andrew Luck missed half of last season with various ailment but is now carrying his seemingly depleted team to victories. Murray looked dead in the water in Philadelphia and has regained his old form, ranking 2nd in the NFL in rushing. Crabtree has become a productive target in Oakland. Pryor reinvented himself as a receiver in Cleveland and it's paying off. Nelson has steadily recovered from his torn ACL last year.
Winner:  Andrew Luck
It's a tough competition but what Luck is doing shouldn't be possible. Normally it wouldn't be but that is just how elite he is. Little pass protection? Minimal help from the defense? None of it seems to matter. The Indianapolis Colts keep finding ways to win and it's often because he's pulling them out of the fire late in games. If that team somehow finds a way to win the division, Comeback Player of the Year won't be a good enough award for what Luck has done.
Rookies of the Year
Top 5 contenders (offense)
Ezekiel Elliott (RB, Dallas)
Dak Prescott (QB, Dallas)
Carson Wentz (QB, Philadelphia)
Jordan Howard (RB, Chicago)
Michael Thomas (WR, New Orleans)
Of course leading the charge are the Dallas twin tandem of Prescott and Elliott. Not only are they playing well but they are perhaps the biggest reasons the Cowboys are winning. Wentz isn't far behind. He's played above expectations thus far, despite being hampered by limited weapons. No surprise Michael Thomas is excelling with Brees throwing him the ball. The biggest stunner is Howard. A 5th round pick out of Indiana, he was third string on the depth chart when the season started and now has over 500 yards rushing.
Winner:  Dak Prescott
Most will assume Elliott but what Dak Prescott has done is far more impressive. He was a 4th round pick whom nobody expected to play and hasn't blinked since getting on the field. His lone defeat of this year was in the final seconds of the opener against the Giants.
Top 5 contenders (defense)
Joey Bosa (DE, San Diego)
Yannick Ngakoue (DE, Jacksonville)
Leonard Floyd (OLB, Chicago)
Deion Jones (LB, Atlanta)
Jatavis Brown (LB, San Diego)
It's pretty much a front seven showcase this year. Bosa, Ngakoue and Floyd have all emerged as dynamic pass rushers for their respective teams. Jones and Brown on the other hand have become versatile playmakers who can make tackles while also playing active coverage.
Winner:  Joey Bosa
It's all about who is having the most impact and the San Diego Chargers defense has been totally different since Bosa stepped on the football field. He missed the first three games of the season and yet still leads all rookies with four sacks.
Super Bowl
NFC championship matchup:  Atlanta Falcons at Dallas Cowboys
Dallas is becoming the runaway favorite for home field advantage in the playoffs while the Falcons might be the hottest team in the league. This could turn into a pretty epic shootout. Matt Ryan, Julio Jones and Devonta Freeman on one side. Dak Prescott, Ezekiel Elliott, Dez Bryant and Jason Witten on the other. The two defenses are well-coached but just may not have the manpower to keep up in this one.
AFC championship matchup:  Oakland Raiders at New England Patriots
The young gun against the old gun. It seems almost fitting that the Raiders would see their first Super Bowl appearance in 14 years against the team that started their downfall with the infamous Tuck Rule game in 2001. Derek Carr vs. Tom Brady. Can Oakland slay the ghosts of their past or will Foxborough claim another conference championship victim for the Patriots machine? That would be a fun game to watch either way.
Super Bowl matchup:  Atlanta Falcons vs. New England Patriots
History shows it's never a good thing when playoff teams have to lean on rookies to get them to a Super Bowl. That is why the Cowboys will fall. As for Oakland, they just don't have the defense to handle Brady while the Patriots will find a scheme effective enough to at least limit Derek Carr. That sets up a fascinating matchup between Atlanta and New England. Dan Quinn is no stranger to the Patriots. He faced them in the Super Bowl two years ago as defensive coordinator in Seattle. Will that experience and the Falcons offense be enough?
Winner:  Patriots
With Peyton Manning out of the way, the rest of the AFC doesn't look like they can stop New England. Meanwhile most of the NFC team, including Atlanta have flaws that the Patriots can exploit. It's for those reasons that Belichick and Brady cement themselves in all-time history with a fifth Super Bowl title.
This article originally appeared on