2016 NFL Predictions: All Wrong in NFC West Over/Under Win Totals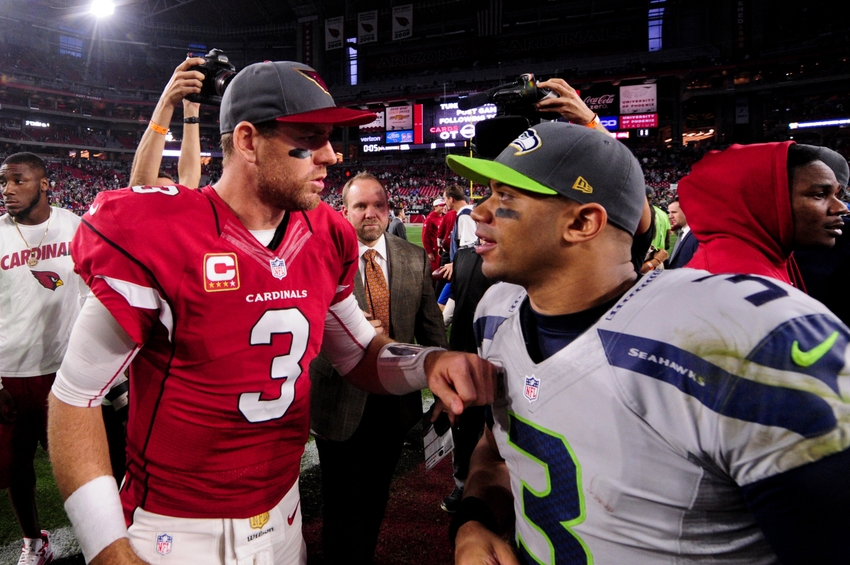 The best team in football is second in its own division according to Vegas. But that's not the only thing wrong with the NFC West betting lines
The NFC West has two of the conference's best teams in the Seattle Seahawks and Arizona Cardinals. But apparently Vegas sees one much better than the other—and it's not who you think. Plus they have the Los Angeles Rams at .500 and the San Francisco 49ers looking respectable. It's all wrong.
Two brothers from New York, Dan Salem and Todd Salem, discuss the NFC West in Tuesday's NFL Sports Debate.
Todd Salem:
We have reached the conclusion of our divisional romp through the NFL, pointing out the incorrect preseason over/under win totals. The final division to cover is the NFC West. This is a good one to finish out with since there is an argument to be made for changing every single line in this division!
Here is how Bovada has the division in terms of their over/under totals:
Seattle Seahawks: 10.5
Arizona Cardinals: 9.5
Los Angeles Rams: 7.5
San Francisco 49ers: 5.5
None of the over/unders are terrible, but none of them are good either. First and foremost, why is Seattle ahead of Arizona? Arizona is the best team in the NFC and doesn't even have the highest over/under in its own division. People are harping too much on Carson Palmer's last playoff game. He was horrendous, but unless he goes the way of Jake Delhomme, it won't end his career. Palmer will be fine.
Which means, the Cardinals will be really good and should easily eclipse 10 wins. I'm not as sold on Seattle. The lines for these two teams should be flipped and I would still take the over on Arizona.
In the other half, San Francisco's line is the lowest and it is still a little too high. This is far and away the worst team in the conference. Who realistically has confidence in the 49ers going 6-10 or better? I'm not buying it.
Lastly, I could be talked into the Rams' line being too high as well, though I feel the most comfortable with where Los Angeles is set in this division. LA should have an elite defense even if its offense crashes and burns. That likely won't get it to .500, but a competent quarterback season puts them in the discussion. I'd take the under, but maybe the line is okay where it is. The same cannot be said for everyone else.
Dan Salem:
I like the Rams' line because of the simple reasoning you mentioned. They have a solid defense, so competent quarterbacking gets them to eight wins. I don't believe it happens just yet for this football team, but its a good betting line. I'm also on board with the 49ers' line. Despite them being the worst team in this division, I believe they truly surprise people this season.
San Francisco isn't great, but with Chip Kelly as their new coach, I don't see them bottoming out with five or fewer victories. However, Vegas placed their over/under perfectly, because you aren't alone in thinking they will be really awful. I take serious issue with the Arizona Cardinals' line alone.
Since Arizona's line is WAY too low, that makes Seattle's too high by default. I kind of like it, however. The Seahawks are a good football team, one that could win 10 or 11 games, a step up from last season. But Arizona is better—significantly better. Perhaps gamblers just aren't throwing money at the Cardinals, so Vegas made them a sweet bet at 9.5 wins. I'd honestly be shocked if this team did not win at least 10 games.
Put Arizona's line at 10.5 or 11 wins and I still really like it. We do a "wins pool" where 10 people each pick teams based on who they think will win the most football games, and I had the second pick. Carolina went first and I was thrilled to snatch up the Cardinals at number two. Take their over if you're into that thing, because Arizona is winning a lot this season.
This article originally appeared on