2016 NFL Power Rankings Week 9: Raider Nation Has Returned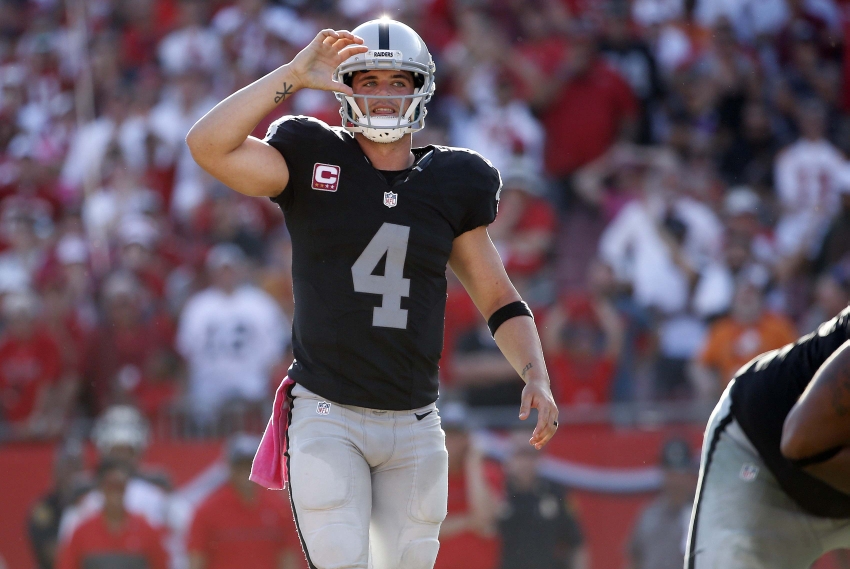 NFL Power Rankings for Week 9 if the 2016 season with the Oakland Raiders looking like an offensive juggernaut and more for real than ever
It was another exciting week of action in the NFL. We had several games come down to the wire and there were even a couple exciting overtime games.
The action got started off with a Color Rush game in which the Jacksonville Jaguars clashed with the Tennessee Titans in what turned out to be a blow out. The next action was a contest overseas with the Cincinnati Bengals and Washington Redskins. It was a game in which it seemed no one wanted to win. And no one did. It was the second week in a row with a game to end in a tie.
The Oakland Raiders and Tampa Bay Buccaneers also went to overtime and they threatened to end without a real result. That was, of course, until quarterback Derek Carr threw a game-winning touchdown. It was a remarkable day from him as he threw for 513 yards and four touchdowns, announcing to the world that he is for real.
Those were just three of the games that shook things up in the NFL in Week 8. Here we look in depth at how each team did as well as how they all stack up now that we are just about half way through the 2016 NFL season with the newest edition of our NFL Power Rankings.
32. Cleveland Browns (32)
Not only are the Cleveland Browns bad, but they may be historically bad when all is said and done. After losing to the New York Jets the question comes up about whether or not they can get any wins the rest of the season.
Many believed this one was quite possibly the most "winnable" game left on their schedule as New York came in at just 2-5. Only one team has ever gone 0-16, which would be the 2008 Detroit Lions. Cleveland is threatening to do just that.
In all fairness, it's not all due to issues in their control. They have seen an alarming number of injuries at the quarterback position as they have had to turn to rookies Cody Kessler and Kevin Hogan for long stretches. They've also been forced to use quarterback-turned-receiver Terrelle Pryor, Sr. at his former position as well during the first half of the year.
The good news foe them is that Josh McCown is back, and he is hands-down their best option at the position. The bad news is, he still has some incredibly bad people around him. After dropping a lead and then ultimately the game in Week 8, 0-16 is looking more possible by the second.
31. San Francisco 49ers (31)
The San Francisco 49ers are a bad football team. They benched one bad quarterback (Blaine Gabbert) for another bad quarterback (Colin Kaepernick) and the results were the same. They simply keep losing. Not only is the quarterback play bad, but their offensive line can't block which is limiting the effectiveness of the one talented player they have on offense, running back Carlos Hyde.
Their wideouts not only don't fit what they try and do, but they just aren't very good either. Their top guys are Torrey Smith (who they may be trying to trade) and Jeremy Kerley. Those names don't scare any secondaries in the league. Moreover, their defense is no longer the staple it once was in the NFL and thanks to head coach Chip Kelly's fast-paced (and bad) offense, they end up on the field way too much.
It's obvious now that the Kelly experiment isn't working in the NFL. Either he needs to change his approach or head back to the college ranks. The players are bad, but he isn't helping them succeed. Things are looking quite obvious in that this season isn't turning around for the 49ers.
30. Chicago Bears (30) — Play on Monday Night
The Chicago Bears have had an awful start to the 2016 season. Their offense has been rather inept and they then suffered the loss of their starting quarterback, Jay Cutler. From that injury, though, a bright spot started shining through as former Houston Texans starter Brian Hoyer was showing signs of being good enough to replace the aloof Cutler.
Wouldn't you know the Bears' luck, Hoyer then saw a nasty broken arm end his year. Now they will be turning back to a healthy Cutler on Monday Night Football. As fate would have it, the first game back for Cutler is a divisional game against arguably the best defense in the game, the Minnesota Vikings. Considering the fact that he was quite abysmal against anyone prior to his injury that's kept him out, this could be even worse for the veteran quarterback in Chicago.
The 1-6 Bears have their work cut out for them as the 5-1 Vikings are coming in angry after suffering their first loss of the season in Week 7. It's probably safe to place some money down on these guys dropping to 1-7 on the season. Injuries (beyond Cutler even) and a general lack of talent don't bode well for this team.
29. Jacksonville Jaguars (29)
What an ugly, ugly game that was for the Jacksonville Jaguars on Thursday Night Football. They not only have one of the worst Color Rush uniforms in the game, but also one of the worst teams. They have no running game whatsoever and their passing game is turning into nothing but garbage time numbers. Blake Bortles (the garbage time stat king) had numbers on Thursday that looked great. He threw 337 yards and three touchdowns on the night.
His stats from that game are so deceiving as the Jags were down 27-0 at one point in the third quarter. From that moment on the Titans were playing a prevent style defense in which they just wanted to keep Jacksonville at bay. That's when Bortles and the rest of this team loves to "shine." They turned on their offense and started padding their stats. But it's all hollow. This is not a good football team.
Bortles was also the leading rusher for the losing team with 22 yards. For some perspective, Titans running back DeMarco Murray had a long run on the night of 22 yards. It looks like head coach Gus Bradley's seat went from hot to on fire.
28. New York Jets (27)
Well a win is a win, so they can't be upset to put a notch in that column. What they can be upset about is how hard it was for them to put the worst team in the NFL away. The New York Jets spent most of the day trailing the lackluster Browns. In the end they were able to sneak back into the game and eventually take the game with a score of 31-28.
Anytime that you need a comeback in the second half to beat the worse team in football, it's not going to make you look particularly great.
They gave up 341 yards passing to Josh McCown while their own starting quarterback, Ryan Fitzpatrick was just 16-of-34 on the day. Shockingly, that wasn't the QB duel of the century that everyone was expecting. Who could have predicted…?
The running of Matt Forte and Bilal Powell was the lone bright spot for the Jets. Forte had 25 runs for 82 yards and two touchdowns. His yards per carry average wasn't great, but he proved he still can be a workhorse who gets the tough yards. Powell was the more explosive player, recording 76 yards and a score on just six carries. They did find something in receiver Quincy Enuwa, but at just 3-5 on the season there are still a lot of issues for a team that won ten games last year.
27. Carolina Panthers (28)
After a 1-5 start, it looked like the defending NFC Champions were in a full-blown free fall. Their offense was stagnant and their defense was pretty much non existent. Then they woke up on Sunday in Week 9. Quarterback Cam Newton started connecting on some deep passes to receiver Kelvin Benjamin and the defense looked like themselves again.
They started the scoring off on the first drive of the game with a defensive touchdown thanks to a fumble recovered and returned by the great Thomas Davis. From there, the Panthers just kept harassing Cardinals quarterback Carson Palmer the whole game. They also happened to slow down running back David Johnson, who had been running wild all season until the rebirth of the Panthers stout D.
Thanks to their division being one that is pretty tight in terms of records, Carolina isn't out of things in the NFC South. No one would have thought it after their horrendous start to the season, but if they can have the same team that showed up this weekend show up for a few more games in a row, they could stand a chance.
Speaking of showing up, Cam Newton not only showed up to his press conference following the win, but he actually even stayed! What progress.
26. Indianapolis Colts (20)
Nothing is worse than watching a talented player wasted on a terrible franchise. Quarterback Andrew Luck is a once-in-a-lifetime talent stuck with arguably the worst owner and general manager in the NFL. Such is life when you're the quarterback for the Indianapolis Colts, but it's unfortunate to have to watch a player of Luck's talent deal with it.
Somehow their owner escaped much criticism for off-field stupidity and their general manager somehow keeps his job despite putting awful players around Luck. Their gameplan now is as bad as it was during the Peyton Manning years: just do whatever and hope the quarterback wins games for us. It worked for Manning, but they most likely robbed him of several Super Bowls thanks to the continued fails of the Jim Irsay era.
On Sunday they once again saw what things are like when they expect Luck to do it all alone. They were blown out by the Kansas City Chiefs—a Chiefs team that was forced to bring Nick Foles into the fold, no less. It was ugly and will only continue to get uglier until new people are calling the shots.
25. Baltimore Ravens (26)
After three wins to start the season, the Baltimore Ravens have come back to earth with four-straight losses before being on their Week 8 bye. The hard part is figuring out if they're really good and had some bad breaks or if they're really bad and started out with some good breaks.
They won against the Buffalo Bills by six, the Browns by five, and then the Jaguars by two. Since then they continued the trend of being i close games. However, their ultimate fortunes changed with a one-point loss to Oakland, a six-point loss to the Redskins, a four-point loss to the Giants, and their biggest defeat of the year was an eight-point game against the Jets.
Their offense is explosive at times. They will hit deep passes off the arm of Joe Flacco into the hands of Mike Wallace. Then they will go several plays in a row where it looks like no one is on the same page.Running back Terrance West will run all over teams and look like a Pro Bowl player at times as well. Then he also comes out and can't find a lane to run through and gets stuffed. However, there's nothing consistent.
To sum them up, if they had a few more bounces and they could be 7-0. They also could have had a few more bounces and be 0-7. Just a strange, strange team.
24. Los Angeles Rams (25)
The Los Angeles Rams did something in England that no NFL team has ever done. They lost a game on a potential game-winning drive when their quarterback, Case Keenum, decided to punt the ball to Giants cornerback Dominique Rodgers-Cromartie with his arm.
Apparently Keenum was trying to throw a fade pass to receiver Brian Quick, but his throw was the ugliest lob ever. The pass floated in the air for what felt like an eternity and Quick looked like he had no intention of making a play for it. The Giants defender could have called a fair catch on the play and it probably would have been granted.
Now they go into the bye week sitting with a losing record (not a shocker because head coach Jeff Fisher always has a losing record). This week off should give them time to realize that if they want to compete at all in 2016, they need to play Jared Goff in favor of Keenum.
Keenum has proven that he can't be the reason a team wins, but he sure can be the reason they lose. Goff will have some growing pains, but why put those pains off till next season when you know Keenum won't take you anywhere anyway.
23. Tampa Bay Buccaneers (22)
This team still just feels like they should be better than they are. After a 30-24 overtime loss to a very good Oakland Raiders team the Bucs are now sitting at 3-4. Although they were almost 3-3-1 as this game came pretty close to being the third tie in the past two weeks.
Just like the Panthers though, they aren't out of it in the NFC South, but they need to get going quick to avoid being done. The positive spin is they do have the potential on their roster to be a competitive team. Quarterback Jameis Winston looks like the real deal and receiver Mike Evans is one of the best in the NFL. Defensively they have a ton of young, talented players who should be able to make plays.
For whatever reason though they just haven't put it all together. At this point it remains a mystery as to why they fired head coach Lovie Smith and promoted Dirk Koetter to his position from offensive coordinator. The results have not been any better and he isn't finding anyway to unlock the team's potential and turn them into consistent winners. Who knows what it's going to take, but they do look just a flip of the switch away from making noise in the NFC, though.
22. Cincinnati Bengals (21)
What a bad way to end a pretty decent game. The NFL may now be forced to look into their overtime rules yet again since we had the first back-to-back weekends with a tie since 1997. It just seems so unsatisfying for a game to end without a winner, but the Bengals had their chances to get to .500.
Quarterback Andy Dalton threw an interception deep in Washington territory and also lost a fumble late in overtime after Washington missed a potential game-winning field goal. They just simply couldn't get it done, and now they make their record look all weird thanks to a third slot in the win-loss column. The good news for them was wide receiver A.J. Green stayed sensational and they also had tight end Tyler Eifert looking like himself again with over 100 yards and a score.
They also are still in a rather weak division, so they aren't out of it. The talent and potential for Marvin Lewis' bunch is still there. However, they need to get things rolling sooner rather than later if they're to avoid falling completely out of it.
21. New Orleans Saints (24)
New Orleans got the win against the favored Seahawks on Sunday by a score of 25-20. Seattle wasn't at their best on Sunday, but that didn't matter. Just because their quarterback, Russell Wilson, is running around on one leg doesn't mean their win Sunday wasn't hard. The Saints took the best shots that Seahawks defense had to give out and they left standing.
Their own defense did enough to get the win—and that's not something you normally hear out of them. It also looked like head coach Sean Payton decided it was time to make people pay for mistakes.
After running back Mark Ingram lost a fumble early in the game, he never saw the ball again. Instead they decided to run it with Tim Hightower all day. It looked as though that was truly all about the fumble and had nothing to do with injury.
It will be interesting to see if that move inspires Ingram going forward to not only hold onto the ball, but also to play so well that the team feels like they can't stand to take him off the field ever. Either way, the Saints are now more alive than ever in a winnable division as a winning streak could shake things up in a big way.
20. Buffalo Bills (17)
Four-straight wins had the Buffalo Bills climbing up NFL Power Rankings. Now two-straight losses have them plummeting back down. They were bullied by running back Jay Ajayi of the Miami Dolphins for over 200 yards rushing last weekend and then that was followed up with them being bullied by Tom Brady of the New England Patriots. So that means that they can be exposed on defense by the pass, or the run. That's not a great recipe for success.
Just a few weeks ago Buffalo shut the Pats out at home with third-string rookie Jacoby Brissett at quarterback. That obviously made Tom Brady mad to watch because on Sunday he looked like he was the older brother exacting revenge on a bully for a beating that happened behind his back. New England dropped 41-points on the Ryan twins, who are supposed to be defensive geniuses.
Granted, Buffalo was without their star running back in LeSean McCoy for this game. However, one player isn't going to make the difference in a game where they were blown out. Moreover, Shady McCoy doesn't play on the defensive side of the ball. Even eight weeks into the season, it's hard to know what to make of the Bills. What we do know, though, is that they aren't nearly as good as we thought just two weeks ago.
19. San Diego Chargers (18)
They weren't able to complete the sweep of the defending Super Bowl Champions. San Diego dropped an eight-point game to the Broncos, the same team they defeated earlier this month on Thursday Night Football. That game was an upset, which helped the Chargers move up in the NFL Power Rankings. The loss to Denver moves them down some, but not much because they stayed pretty competitive despite playing a better team.
Quarterback Philip Rivers is still explosive and can put points up in a hurry. Sure, they just had 19 on Sunday, but that was against perhaps the best defense in the NFL. Other bright spots for San Diego include the great play this year of second-year running back Melvin Gordon and a pair of exceptional rookies, defensive end Joey Bosa and tight end Hunter Henry.
Gordon has become a grind-it-out type of back who is getting the tough yards. He's also developed into a weapon in the passing game, something he never did much of in college at Wisconsin. Bosa ended a long hold-out after being drafted third-overall and his penetration is proving he was worth the wait. As for Henry, he looks to be the second-coming of Antonio Gates in this offense.
Even with a five-loss record and at the bottom of the AFC West, it's still hard to be too critical of this Chargers team.
18. Miami Dolphins (19)
One of the biggest overreactions over the past few weeks has been the idea that running back Jay Ajayi will just continue his monster tear of back-to-back 200 yard games. Obviously that pace isn't sustainable. That doesn't mean his effectiveness isn't, though, Ajayi is a great talent who excelled at Boise State and should have been drafted much higher then the fifth round last season. He also should have never started the season on the bench.
He was head and shoulders better than Arian Foster, who recently decided to retire. Foster being placed ahead of the younger Ajayi shows where the real issue for Miami is.
Their head coach, Adam Gase, may be in over his head if he kept such a talent benched so long. For those who say it's because of Foster's track record, remember that Gase also tried out Kenyan Drake (who was a backup in college) and Damien Williams before finally giving their best offensive weapon a chance.
Maybe Ajayi will have Gase coming out smelling like roses when it's all said and done if he keeps torching defenses on the ground. However, don't be fooled by that. This isn't a good head coach from what we've seen thus far in Miami and he basically lucked into a productive offense by being forced to give Ajayi the rock.
17. Arizona Cardinals (12)
Over the last two weeks things have looked progressively worse for the once feared Arizona Cardinals. After a beatdown of the New York Jets three weeks ago they looked like they were on pace to become the team everyone thought they should have been.
Instead they have gone the other way.
Last Sunday night they played in one of the least entertaining games ever, a 6-6 tie against the Seattle Seahawks. This Sunday they got smacked in the mouth by the Carolina Panthers, who had come into the game with just one win on the season and coming out of their bye week.
The final score ended up being 30-20, but that score is misleading. Arizona was destroyed in this game. Running back David Johnson couldn't get going and quarterback Carson Palmer looked like a rookie rather than one of the older quarterbacks in the game.
Their defense struggled as well in this one. They had a hard time covering Kelvin Benjamin and Greg Olsen, which is understandable because those two are great. It's just not the norm for these guys to struggle with anyone. Instead of finding their rhythm against a struggling team, the Cards helped may have helped the defending NFC Champions get their groove back.
16. Tennessee Titans (23)
Thursday Night was a glimpse of how good this Tennessee Titans team can be. They finally got to .500 with their 36-22 win over divisional rival Jacksonville and did so in brilliant fashion.
Quarterback Marcus Mariota had surgeon-like precision with his 18-of-22 passing for 270 yards and two touchdowns. The field was opened up for him thanks to their two-headed monster at running back, DeMarco Murray and Derrick Henry. Murray gashed the Jaguars for 123 yards and a touchdown on 21 carries. Henry added another touchdown with 60 yard rushing on 16 carries as well as 37 yards on four catches.
If these two can keep churning out the yards, Tennessee could be a team to look out for in the AFC South race. They currently are sitting just one game behind the division leaders, the Houston Texans, but they can actually play on the road unlike the Texans.
Next week the Titans have another winnable game against the Chargers. They should be up for that thanks to the extra time allotted to them by playing on Thursday night this week.
15. Detroit Lions (13)
A win in Week 1 was followed up with three straight losses. Those three straight losses were then followed up with three straight wins. All of those games were one-score decisions, which when all that is added up it makes the Detroit Lions a hard team to figure out.
The one thing that seems sure about them is that they will keep scores close, and they did that again on Sunday. After falling behind 14-0 the Lions were able to get back into the game against the Houston Texans, but they just couldn't do enough.
They fell to .500 on the season with a 20-13 loss on the road, ending their three-game winning streak. Offensively they looked lost at times, but their defense made things tough on Houston.
They threw for less than 200 yards on the day and the running backs were stuffed pretty much all game. Their next game is against the defensive powerhouse Minnesota Vikings, which doesn't bode well for trying to avoid another losing streak. However, you never know what you're going to get from Detroit, so you can't rule out the possibility for an upset win in the division either.
14. Washington Redskins (15)
The Washington Redskins just can't get out of their own way. They got 458 yards passing out of quarterback Kirk Cousins as well as 87 yards and a touchdown out of their backup running back Robert Kelley, who was filling in for an injured Matt Jones. Even with that offensive production, they couldn't get a win in England, but instead settled for a tie. The biggest reason they couldn't win was because of 15 penalties.
Every time they seemed like they were in position to get a W, they would get hit with a mindless penalty. They also had a makable field goal try, which Dustin Hopkins did make before Cincy called a timeout. Thanks to the pause in the game, Hopkins missed his next try and that was all she wrote.
It's a disappointing way to end a game, but it's not as bad as taking a loss. They head into the bye week now trying to figure out how to get back on track after following up a four-game winning streak with a loss and a tie in the past two weeks. With the Dallas Cowboys running away in the NFC East right now, though, they need to get things shored up immediately after the bye or they could be in trouble.
13. Houston Texans (16)
Why are the Houston Texans a decent team at home that finds ways to win, but an awful team on the road that looks like they're made up of a bunch of guys who were cut from an NCAA team? Looking at their 5-3 record you would think things have been great for the defending AFC South champions. Nothing could be further from the truth.
All five wins have come on their home turf, mostly on the back of a tough defense. Quarterback Brock Osweiler hasn't dominated any of those games, but has made enough plays to ultimately get the job done.
On the road he is different. The first-year starter looks indecisive and incapable of playing the position. They are 0-3 on the road and have five more contests away from home to finish the second half of the season. They are on a bye in Week 9, which could buy Osweiler time to find some rapport with his receivers. With the Titans starting to come on strong in the South, though, the Texans might need to find a sense of urgency in regards to figuring out how to become more consistent.
12. New York Giants (14)
Sometimes when you watch the New York Giants, you can't help but wonder how they have a winning record. Other times when you watch them you wonder how they don't have a better record. They have had several games in which it looked like they would be blown out, but then they come back and get a big win. Then they will have games where it looks like things are all in hand and then the bottom falls out.
The bye week came at a great time for them as rookie head coach Ben McAdoo can regroup his guys and get the second half of the season headed in the right direction. There's talent on both sides of the roster, especially after the front office went all in on revamping the defense in free agency this past offseason. Even still, they have to find a way to maximize that talent if they want to become a more consistent football team.
Despite their struggles at times, they're in a good place at 4-3. But thanks to the sudden rise of talent in the NFC East, they need to be better to keep up and make the playoffs. In the second half of the season, it'll be interesting to see what McAdoo and the Giants have in store.
11. Pittsburgh Steelers (11)
The Pittsburgh Steelers had their bye in Week 8 and there may not be a team that could have used it more than them. Not just because they've dropped two-straight games, but also because they are currently waiting for their starting quarterback to return to the field.
Ben Roethlisberger was injured in their loss to the Miami Dolphins in Week 6. In Week 7 their backup Landry Jones did all he could with 281 yards and a touchdown, but they dropped one to the New England Patriots. However, Jones showed in relief of Roethlisberger last season that he's not the player you want to rely on to be a consistent leader under-center. For the Steelers to stay atop the AFC North, they're going to need to figure things out—or to get their starting quarterback into the fold sooner than expected coming off of his knee injury.
Big Ben says he is feeling better every day and is hopeful for a Week 9 return. Even if he can't get ready for their game against Baltimore next week, the week of rest for him with no risk of dropping another game is great for both the team and the player. Now they have to hope that their losing streak doesn't continue and ultimately put them in a tough spot.
10. Philadelphia Eagles (9)
It looked for a minute like the Philadelphia Eagles were about to steal a road win and take over first place in the NFC East. Then they just started falling apart.
With their Sunday night game against Dallas well in hand, they started trying to throw too many short passes, included several behind the line of scrimmage. At one point late in the game they had a bevy of options on second down following a beautiful eight-yard run by running back Darren Sproles. They threw a pass well behind the line of scrimmage and set them up for a third-and-long when it was sniffed out.
The coaching staff also let the clock run down at the end and go to overtime rather than force the Cowboys into potentially punting. Doug Pederson is a rookie coach and he made a few moves in this last game to remind us all.
Still, the arrow is pointing up for this team thanks to their solid rookie quarterback, Carson Wentz, and their tough to deal with defensively. Even though their 3-0 start feels like ages ago as they now sit at 4-3 on the season, Philly is a team with the talent to make things happen. Especially if they add another offensive weapon at the trade deadline, the Eagles will be just fine.
9. Green Bay Packers (7)
Green Bay's reign as one of the top five teams in the NFL is looking to be done. For too long, the team has tried to win simply by drafting skill players. They need to start focusing some on their lines though. There's talent all over the offense, but quarterback Aaron Rodgers just doesn't get comfortable in the pocket.
It seems like as soon as the ball is snapped he's trying to find somewhere he can stand still and deliver a pass. They've also suffered a ton of injuries all over the place, which hasn't helped them at all. On Sunday they once again had to try to win on the shoulders of quarterback Aaron Rodgers. He was spectacular and did all he could. In the end it just simply wasn't enough. Their defense didn't have any answers for the passing attack of the Atlanta Falcons. Yes, that was partially do to the aforementioned injury-bug, but you have to give Rodgers some kind of help.
They are falling behind in the NFC North race really fast all of a sudden. At this point, earning a Wild Card postseason berth seems like the likely option. If they don't get healthy or start to help out Rodgers (or both) soon, though, even that might start to fall out of their reach—as shocking as that would be.
8. Atlanta Falcons (8)
Atlanta should be sitting at 6-2 or 7-1. This team got absolutely robbed by a couple of no-calls late in their two recent losses. The worst of which is still the arm bar that receiver Julio Jones was put in by Seahawks cornerback Richard Sherman a couple of weeks ago. Had the refs called that obvious pass interference, they would have been in field goal range and had a chance to pick up the victory.
Another no call late cost them against San Diego last week. The fans started to worry after those two losses though that Atlanta may be back to their previous ways of starting out the season hot, but falling apart after that.
Sunday may have been enough to convince people that 2016 is different. They stopped the bleeding with a one-point win in a thriller against Green Bay. However, they now have a quick turnaround as they face Tampa Bay on Thursday Night Football in a couple of days. After the two no-call-fueled losses, this is a must-win game for the Falcons. The race in the NFC South could start to heat up and dropping a game on Thursday in the division would not be great for their momentum or for their comfort-level as division-leaders.
7. Seattle Seahawks (4)
Russell Wilson is hurt. Whether he wants to admit it or not, he is not himself right now and it's showing on the field. He's having a hard time getting going and he looks to be struggling to move when he scrambles. Their defense is still one of the toughest in the league, so they should be able to stay atop the suddenly weak NFC West.
However, there's got to be a question about whether Wilson could stand to rest up his injured leg. The good news for them is running back Thomas Rawls could be back next week. His return could give the offense a huge, and much needed, shot in the arm as they try to separate from everyone else in their division.
Despite preseason expectations, the NFC West isn't looking nearly as strong at the top as it was supposed to be. It's the Seahawks' to lose at this point. However, losing games like Week 8's defeat at the hands of the New Orleans Saints isn't going to do this Seattle team any favors. They have to find ways to be effective and not put as much pressure on the hobbled Wilson.
6. Kansas City Chiefs (6)
Kansas City is a deep team. They lost their starting quarterback twice in their game against the Indianapolis Colts, but that didn't slow them down one bit. Instead Nick Foles came in and looked better than some team's starting quarterbacks (sorry Los Angeles, looks like he wasn't the problem). Maybe it was him reuniting with head coach Andy Reid, or maybe it was the porous Colts defense.
Who knows for sure. One thing you can say for sure, Kansas City has a stubborn defense and they're in a good spot even though they are in an incredibly competitive division. A division that is all over our top ten. What helps Kansas City in this race is their balance. They're good in all phases of the game and, thanks to Tyreek Hill, they suddenly have a deep threat as well.
And with all of this, it also appears like the Chiefs are getting closer to having one of their biggest defensive weapons back in the fold in Justin Houston. He's returned to practice and you have to believe that he'll be suiting up in the coming weeks as he gets back to 100 percent. Throwing in one of the league's best pass-rushers on an already great defense could have Kansas City looking more like a contender than not moving forward.
5. Denver Broncos (10)
How is this formula still working? The Denver Broncos have been stagnant on offense all season, but they keep winning. They're not terrible, but they also aren't getting the most out of their big receivers. Instead they keep going with the short plays that keep their defense off the field and fresh.
Then the guys on that side of the ball take over and dominate anyone they need to. Chargers quarterback Philip Rivers spent all day avoiding pressure, which is the norm for whoever Denver plays in a given week.
Who are we to judge, though? This is what they did last season with Peyton Manning at the end of his career. He couldn't push the ball down the field, but they won a Super Bowl playing it safe and counting on the defense. It seems like this style of play should run it's course eventually. Yet, it still hasn't.
That said, Denver is now going to be put to the test in Week 9. They have an AFC West matchup with the exceptionally dangerous and red-hot Oakland Raiders that will essentially determine the leader in the division. We'll see just how well their defense-first formula works in a matchup of this nature.
4. Oakland Raiders (5)
Raider Nation is alive and well. Quarterback Derek Carr keeps making teams look foolish for letting him fall into Round 2 of the NFL Draft in 2014. He's one of the best young passers in the game and his 513 yards were insane to watch. Speaking of looking foolish, how bad do the 49ers look for not getting the same results out of receiver Michael Crabtree that Oakland has.
The scary part about this 6-2 team though is that they still found a way to win despite an NFL record 23 penalties in the game. They kept their composure despite making bad choices and found a way to win. They will be deadly if they ever clean that stuff up. They will be even better if they can start to improve at home. They're 1-2 at home on the season and 5-0 on the road. Raider Nation travels well.
As stated when talking about the Broncos, the Raiders too will be tested in Week 9 with that AFC West matchup for the division lead. However, it's clear that Oakland is 100 percent for real in the 2016 season. There are holes and inconsistencies on the defense, but you can't argue with 6-2 and the way that his offense has been producing and coming through in clutch situations.
3. Minnesota Vikings (2) — Play Monday Night
In Week 7 the Minnesota Vikings were dealt their first loss of the season. They were on the road and facing the team that traded them quarterback Sam Bradford earlier in the year.
The game was ugly as Bradford and Carson Wentz, the Eagles rookie quarterback who replaced him, were having a battle to see who could turn the ball over the most times. That turnover-fest hadn't been the norm for the Vikings, but they still could use a self-esteem building game. That's exactly what it looks like Monday Night Football will be as they travel to Chicago to face the 1-6 Bears.
Bradford shouldn't have the same issues against the soft Bears defense that he had the previous week against the motivated Eagles. They also should be able to handle missing Jerrick McKinnon, who won't be able to make the game. It would take some huge breaks going Chicago's way in order for the Vikings to drop their second in a row.
With the Packers struggling to find consistency, the NFC North looks to be the Vikings' to lose. If they can right the ship coming off of their first loss and continue to win with grinding, defense-first football under Mike Zimmer, they should have no problem winning on Monday and getting the ship pointed north.
2. Dallas Cowboys (3)
Talk about giving your fans a heart attack. The Dallas Cowboys spent most of Sunday Night Football looking like they were about to surrender their lead in the NFC East while also ending their five-game winning streak.
They fell behind by a couple of scores against the Philadelphia Eagles on a night when rookie quarterback Dak Prescott looked like a rookie for the first time. The prayers for Tony Romo to become healthy were growing louder.
Then Prescott settled down in the fourth quarter. he started to move the ball and ended up hitting Dez Bryant for a game-tying touchdown. Then in overtime he made a very Romo-esque type of play to throw a game winning touchdown to Jason Witten.
After a one-point loss to start the season, Dallas has won six-straight, but no one wanted to buy into them. NBC color commentator Cris Collinsworth kept referencing wanting to see Prescott play from behind. Well, he did. And even though he had a rough outing, Dallas still won. If Romo is healthy next week for their game in Cleveland things could get very interesting in Big D.
1. New England Patriots (1)
With quarterback Tom Brady sidelined for the first four games the New England Patriots looked like serious contenders and they went 3-1. Since Brady has returned to the lineup they look absolutely unbeatable. Brady and company have reeled off four straight wins to get to 7-1 on the season.
They now head into the bye week on the heels of a thorough beatdown of the team that stole a win from them a few weeks ago while Brady was making Ugg Boots commercials about doing nothing.
The Pats went off early and headed to the half with a 24-10 lead and never let up from there. The scary part? New England hit more than 40 points for the first time this season which means they're actually getting better each and every week.
Tight end Rob Gronkowski is back to full speed, receiver Julian Edelman is improving, and his fellow receiver Chris Hogan is turning into quite the playmaker. On top of all this, their most dynamic running back Dion Lewis could be returning to the lineup soon.
Let's just go ahead and pencil them in for the AFC East title.
This article originally appeared on