2016 NFL Power Rankings Week 15: The Streak Is Over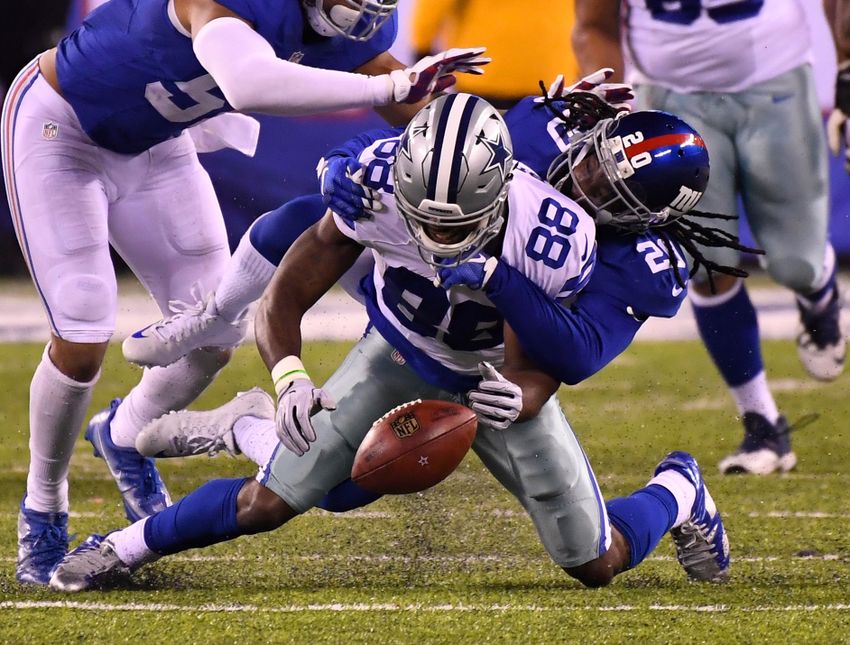 2016 NFL Power Rankings Week 15 edition, following the end of an 11-game winning streak by the Dallas Cowboys agains the New York Giants
NFL Week 14 has seen it's Sunday come and go, and once again things were exciting. The Seattle Seahawks were supposed to be the team that everyone feared in the NFC, but then they laid an egg against the Green Bay Packers.
The Atlanta Falcons had to play against a supposedly tough defense without their top two receivers. Instead of panicking and falling apart, they dropped 42-points in the first three quarters before taking their foot off the brake.
Their win coupled with the Tampa Bay Buccaneers defeat of the New Orleans Saints set up an exciting finish in the NFC South as those two teams are tied up. Also tied up is the AFC South as both the Tennessee Titans and Houston Texans were able to secure close games to move to 7-6.
All this excitement went on throughout the first rounds of games before we all were tortured with the mistake-fest of a game between the Dallas Cowboys and New York Giants. Both teams were turnover prone and had a thing for dropping passes. Which is how the game ended.
With all the dust settled, outside of the New England Patriots and Baltimore Ravens game on Monday Night Football, we can now look at how each team stacks up in our weekly NFL Power Rankings.
No. 32 Cleveland Browns (32)
It's called the "Factory of Sadness" for a reason. The Cleveland Browns can change whatever position they want and the result will be exactly the same, a loss.
On Sunday they were at home, rested off a bye week, and facing a team with a losing record in the Cincinnati Bengals. They also had their initial starting quarterback on the field again as Robert Griffin III was back after suffering an injury in Week 1.
This was the best chance they had all season to get a win. Instead, they laid yet another egg on the field. A 23-10 loss puts them at 0-13 on the season.
Cleveland was held scoreless in the first half as the Bengals took a 20-0 early lead. The second half was all about Cincy just trying to run out the clock and get out of the cold, snowy weather.
RG3 was absolutely awful in the game and only got over 100-yards passing thanks to a few last second passes as the Bengals allowed them to catch a few to kill the clock. On the day Griffin was 12-of-28 yards passing for 104 yards and a turnover.
With questions about whether or not there will be a franchise type quarterback available in the 2017 draft, the Browns are looking worse every day for not drafting Carson Wentz.
No. 31 San Francisco 49ers (31)
The first half San Francisco 49ers looked like the team that used to be a threat in the NFC. The second half San Francisco 49ers looked like the unit that's lost 12 in a row now. They were rolling all over the New York Jets for 30 minutes. Yes, it was the New York Jets so that's nothing to brag about. It was also the New York Jets with Bryce Petty at quarterback, again the brags should subside.
Even against a bad team though, they looked like a cohesive unit and they may have finally snapped their losing streak. Then their 17-3 halftime lead was cut to 17-6 in the third. No worries right? Still a lead. Still against the Jets.
Then the fourth quarter came and the Niners collapsed. They gave up 11 points in the final 15 minutes and went scoreless for the whole second half.
It's time to admit a couple of things. One Chip Kelly is a horrendous coach. Two, Colin Kaepernick is not a winning quarterback. It looked like the two were a perfect fit for one another, but in all honesty they both are just destined to be searching for jobs next season. Neither will have an easy time with that.
No. 30 Jacksonville Jagurs (30)
Blake Bortles leads the NFL in interceptions this season. That's not the best stat to lead in, but at least the Jacksonville Jaguars have one player who can say he's the best in the league at something.
Well on Sunday, Bortles didn't protect his lead in that category as he played an interception-free game, but still wasn't able to lead his team to a win. Now 2-11 for the season it seems apparent that head coach Gus Bradley is done after this season, if not before.
His tenure has been laced with terrible seasons and poor defense. The second part of that equation is the most troubling as Bradley was a defensive coordinator in Seattle before coming to Jacksonville and was supposed to fix that side of the ball.
The team as a whole needs a lot of work, but there's so much young talent on the team that has failed to meet expectations and that often falls on the coach. While the players should also be held accountable, it's easier to switch out the coach and see if he can work with this core before entering full-on rebuilding mode.
Well, can you call it a rebuild if the build was never complete?
No. 29 Los Angeles Rams (28)
How did the Los Angeles Rams respond to all these reports of dysfunction in their ranks of executives? By proving that any dysfunction that goes on behind the scenes is nothing in comparison to the dysfunction they put out there for all to see.
This team is a complete mess on the field. They are 4-9 after head coach Jeff Fisher made it seem like 7-9 was just not going to happen this season. Well at least he was kind of right. There's no way this team will win three more games. After watching them Sunday it's mind-boggling that they've somehow mustered up four wins in 13 tries.
The defense is all of a sudden a joke. The offense has no weapons. Their coach is absolutely clueless. This team is a straight dumpster fire. Thanks to recent extensions to the survivalist of a coach in Fisher and the general manager Les Snead, their ineptitude has no hopes of ending soon.
It used to be a joke that July 9 was Jeff Fisher's holiday because of how many 7-9 seasons he had. It may start to look more like his holiday can become a spring thing. I really feel bad that the fans of Los Angeles waited so long for football to come back, and yet they still have to keep waiting.
No. 28 New York Jets (29)
Maybe Bryce Petty can play quarterback at the highest level. The second-year quarterback has gotten some extensive playing time this season and after a rough start, he had a decent second half against the San Francisco 49ers.
He finished with an impressive 23-of-35 stat line with 257 yards. He had no touchdowns, but he also didn't throw an interception on the day. This doesn't mean he's the next starting quarterback for the Jets. It probably only means he's a decent backup in this league.
What New York has to figure out is if they believe in 2016 second-round selection, Christian Hackenberg. The Penn State product needs to be given some time to see if he can be the guy going forward or if they need to keep looking.
They could have a decent chance of landing one in the draft, assuming they have their eye on anyone coming out of the NCAA this offseason. With a record of 4-9, they could be drafting extremely high. Especially considering that they needed a fourth quarter come back to be able to beat the 1-12 49ers.
Other bright spots in their most recent win included a defensive shutout in the second half and running back Bilal Powell running for 145 yards and two touchdowns.
No. 27 Chicago Bears (27)
Sure seems like it doesn't matter who plays quarterback for the Chicago Bears. As long as it isn't Jay Cutler, they have a shot to win games. Again Matt Barkley got the start and again he did all he could to help his team out. He has looked much better than many expected and finished Sunday's game with 212 yards passing with a touchdown and no interceptions.
The first-year starting quarterback (by way of injuries to Cutler and his backups Brian Hoyer and Connor Shaw) completed 20-of-32 passes, but again saw several catchable passes fall to the turf. He doesn't look like he is going to be the franchise guy that will win a Super Bowl, but his presence keeps them from overreaching in an upcoming draft that's less-than-inspiring in the quarterback department.
Speaking of drafts, one position they look set on is running back. Jordan Howard was effective yet again as he rushed for 86 yards on just 13 carries. He's turned into a dependable player that could be counted on for years to come.
A lot of improvement is needed in Chicago for sure as they sit 3-10 on the year, but at least they're not the Browns.
No. 26 Buffalo Bills (25)
Well Rex Ryan is one step closer to getting to his projected season total. The Buffalo Bills head coach seems destined to hover around 8-8 or 7-9 and after a loss to the Pittsburgh Steelers his team is now sitting at 6-7 on the year.
Every time they look like they have a shot at anything, they fall apart. Back-to-back wins got them to 6-5, but then they dropped their next two. The problem is they win against teams like the Jaguars and Bengals, but then falter when playing winning teams like Pittsburgh or the Oakland Raiders, who beat them in Week 13.
Ryan always talks a big game, but he never produces anything. His first couple of seasons as the New York Jets coach saw him get to the AFC Championship game, but it's been nothing but empty promises since then. Outside of him there will also be some serious questions about retaining quarterback Tyrod Taylor.
He shows glimpses of being gifted, but often misses the mark and at times holds the ball way too long. On the bright side, the Bills are facing the Cleveland Browns next week and then they get the Miami Dolphins without quarterback Ryan Tannehill and then finally the New York Jets.
They still can get to 9-7. Or they could be the one team the hapless Browns beat this season. Who knows.
No. 25 Philadelphia Eagles (24)
This one was a back-and-forth game but the Philadelphia Eagles were unable to get it done against a divisional opponent. They lost to the Washington Redskins by a score of 27-22, but they missed several opportunities to play spoiler to the 'Skins playoff hopes.
With an early 3-0 lead the Eagles marched down the field on a seven-play drive that covered 77 yards. On the final play of that drive, rookie quarterback Carson Wentz threw a terrible pass that missed tight end Zach Ertz, but landed in the hands of Washington safety Deshazor Everett.
The end zone interception hurt, but it wasn't the only mistake by the team. Later in the game, running back Darren Sproles broke free on a punt return which resulted in a long score. That one was called back thanks to a block in the back call on the return.
Despite leaving all those points on the board, they still were in it at the end. After going up 22-21, the Eagles gave up their lead yet again, but had a shot for a game-winning drive. Instead, Wentz was hit and fumbled the ball at the Washington 14 with less than 30 seconds to go in the game.
They were close enough to go for the win, but again let it slip through their grasps. It's been a tough season for the Eagles. But at least Chip Kelly is gone.
No. 24 San Diego Chargers (22)
No team has suffered as much loss this season as the San Diego Chargers this year. Well, sure the Cleveland Browns still haven't won, but the Chargers just keep losing players at an alarming rate.
Heading into the game Sunday they had 15 players on the injured reserve. The biggest names among that list would have to be wide receiver Keenan Allen and running back Danny Woodhead. Both are vital to their offense, and both have been sorely missed.
The one player limiting the sting of their loss so far has been second-year running back Melvin Gordon. The former first-round pick has 992 yards rushing and 10 touchdowns on the season. He has looked much improved this season after a rough rookie year. Sadly, he was carted off the field during their latest loss with what is being called a hip injury. It didn't look good when it happened, and it is starting to feel unfair that the Chargers keep losing talent.
The sting didn't stop there however. Their first-round pick this season defensive end Joey Bosa, also left the game Sunday. He was taken out with a neck injury.
Bosa has been great for the defense, recording 5.5 sacks on the season after ending a holdout and missing some time due to a hamstring issue. The future looks bright for the Bolts with their young talent, but this just isn't their season thanks mainly to health problems.
No. 23 Indianapolis Colts (23)
You know for someone who is supposed to have a photographic memory, Indianapolis Colts quarterback Andrew Luck sure doesn't remember what he's seeing in the film room.
He already had 63 career interceptions in this his fifth-season and added another two on Sunday. They were both incredibly ugly interceptions as well. On one he seemed like he didn't even see Texans safety Quintin Demps. On the other he held the ball for an eternity before defensive end Jadeveon Clowney drilled him and he laid up a floater for safety Andre Hal.
Of course, Luck isn't the only one to blame for the loss or the 6-7 record. Their roster is full of skill-players but no one to do the dirty work. They have no real talented offensive linemen and their defensive line is a complete mess.
Their defense as a whole isn't any better and they were only in this game thanks to Houston being incompetent on offense. A couple of turnovers and bad defensive plays gave Houston short fields all day, but they couldn't close the deal. They were held to five field goals, which allowed the Colts to make the game look closer than it should have.
No. 22 Carolina Panthers (26)
The Carolina Panthers are a shell of what they were a season ago. After going 15-1 and heading to the Super Bowl, they've completely fallen apart now as they sit 5-8 on the season.
On Sunday they did get the win, but they looked less than impressive in the outing. Quarterback Cam Newton won the MVP award last season, but this year he's been just bad. In their latest win he was a pathetic 10-of-27 passing for just 160 yards and threw another interception.
So far this season he has just 2,614 yards with 14 touchdowns and eight picks. His completion percentage is a low 54.7 percent. He's playing bad, and it's hard to say why.
On defense, they look like they miss Josh Norman at corner more than anyone thought. The latest absence of Luke Kuechly at linebacker has also played a part in their struggles, but he should be back soon.
A lot of times teams that lose in the Super Bowl struggle the next season, but Carolina is looking worse than most do. There needs to be some serious tweaks in the offseason and some soul searching by the leaders of this team. They're too talented to have a losing record.
No. 21 Arizona Cardinals (21)
Carson Palmer looked bad in this one. The Arizona Cardinals quarterback was 18-of-33 passing and had just 145 yards. He also threw two picks as their once feared passing game has been grounded. They now sit at 5-7-1 and will not have a double-digit winning season for the first time in head coach Bruce Arians tenure in the desert.
This season they were supposed to put it all together. They had their trio of receivers in Larry Fitzgerald, John Brown and Michael Floyd. They had their star running back David Johnson. They even added some pass rushing after realizing that was their one weak spot last season.
This was their year.
Yet, something just hasn't worked out. It's not fair to pin it all on the quarterback, but a lot of times that's what happens. Palmer hasn't been as efficient this season as he was in past years working with Arians, and the team may look elsewhere in 2017.
One possibility could be seeing if current Dallas Cowboys backup Tony Romo wants to head over to Phoenix for a chance to show what he's made of. His career may be winding down, but he could be an upgrade over Palmer and may be exactly what this team needs to get over the hump.
No. 20 New Orleans Saints (18)
On Nov. 27, the New Orleans Saints offense was amazing. They put up 49-points and people were remembering how good they were during their magical Super Bowl run following the 2009 season.
Since then they have scored 24-points in two weeks. The latest outing included a safety which aided them in getting a whole 11-points. That means this once-explosive offense was responsible for nine points in an NFC South showdown against the Tampa Bay Buccaneers.
Never did that seem possible out of an offense led by head coach Sean Payton and quarterback Drew Brees. Whether it's age on Brees, or just the league figuring out Payton, the magic is gone in New Orleans.
The Saints are now 5-8 on the season and in danger of having their third-straight losing season should they drop just one more game. In most cases this would lead to a call for some jobs, but the Saints seem like they want to keep trying to get Payton and Brees to find their fire one last time.
It's probably not going to happen as the 37-year old Brees may be nearing the end. There's still too much rebuilding around him to do. This team still struggles to protect him and their defense is nothing to get excited about.
No. 19 Cincinnati Bengals (21)
It's not like a win against the Cleveland Browns is anything to celebrate this season, but the Cincinnati Bengals did take of business quickly on Sunday.
It took just two-and-a-half minutes for the Bengals to take the lead. On the opening drive quarterback Andy Dalton hit tight end Tyler Eifert for a 14-yard touchdown. It was the first of two first-half touchdowns for Eifert.
Sandwiched between that was a touchdown rush by running back Jeremy Hill. A missed extra-point was their only blemish on the first half as they were up 20-0 at the break. In the second half they just allowed the clock to run down as they planned to just leave the Dawg Pound with a win.
Dalton finished with 180 yards, but was an efficient 20-of-28 passing with two touchdowns and no picks. Hill finished the day with 25 rushes for 111 yards and his one score. On the year the Bengals are now 5-7-1.
Their season now is all about getting above .500 for their own pride since they would need a miracle to win the AFC North. Sunday was at least a step in the right direction if they hope to go into the offseason with some hope for the future. It was also a good step for head coach Marvin Lewis who is now coaching for his job in all likelihood.
No. 18 Minnesota Vikings (20)
After a disheartening loss to the Dallas Cowboys last Thursday Night the Minnesota Vikings looked poised for a big day. They were headed to Jacksonville to take on the porous Jaguars and even had some extra rest thanks to the early game last week.
In the end they got the win, but it sure wasn't pretty. Trailing 16-12 in the fourth quarter, the Vikings needed a 13-point finish in that quarter to win the game. They are now 7-6 on the season and quarterback Sam Bradford is now 6-6 as the starter for the Vikings.
For his career, he is now 31-43-1 as the starting quarterback. While attaching a winning record to a quarterback isn't always fair, the fact is mediocrity follows Sammy Sleeves wherever he goes.
That average-at-best skill level of his makes the trade of a first round pick for him look worse every time he steps on the field. Excuses are made for Bradford at every turn, but he rarely throws the ball more than five yards downfield and is holding the team back.
Also, the loss of a first round pick will hurt them in the future as well. Imagine how much worse it will look if the Eagles use that pick on someone like running back Leonard Fournette just as Minnesota needs to look at replacing Adrian Peterson.
No. 17 Houston Texans (16)
After winning in Indianapolis for the first time in 13 tries last season, the Houston Texans decided they wanted to do it again this year. This one was a tight contest, but in the end the Texans walked out with a win, 22-17.
The win keeps them in first place, as a tie-breaker with the Tennessee Titans is the difference. Houston has been anything but perfect this season, but they're winning the most important games, the AFC South contests.
They're 4-0 on the year in divisional games now and two of their final three games are against divisional opponents. Sweeping the Colts was huge, and next week they can try and do the same thing against the 2-11 Jacksonville Jaguars.
From there they face the Cincinnati Benglas (5-7-1) in another game they should be able to win. The schedule makers must have foreseen how things would shake out this season, because as fate would have it, the final game after those two will be the Houston Texans heading to Nashville to take on the Tennessee Titans.
That game could very well be what decides the division once and for all between these two teams. The Texans control their own destiny now thanks to their latest win. They just need to hope their offense finally gets it together because they struggled to finish drives this week, settling for five field goal attempts.
No. 16 Tennessee Titans (17)
The Tennessee Titans are a scary football team. Late in the year the best recipe for success is running the ball and no one has the three-punch combo that these guys possess. The star running back is DeMarco Murray, who put up another solid performance in their win over the defending Super Bowl Champions, the Denver Broncos.
Murray rushed 21 times for 92 yards and had the team's lone touchdown of the game. His backup is rookie Derrick Henry. The 2015 Heisman Trophy winner from Alabama would be a starter for almost any other team in the NFL, but instead just serves as a bruising change of pace back.
On Sunday he was effective as well with 42 yards on 12 carries. The third option they have running is their quarterback, Marcus Mariota. He ran for 38 yards on eight carries Sunday and was able to use his legs to make up for an ugly day passing.
Mariota was an ugly 6-of-20 passing for just 88 yards. They proved they're a great team though by winning despite having a poor outing on offense. Their defense recorded three sacks and recovered two fumbles in their upset win. They now have a shot to win the AFC South as they're tied for first place with the Houston Texans at 7-6.
No. 15 Miami Dolphins (14)
A dream season in Miami could be coming to an end. After a rough start to the year, this unit found a way to put it all together. They lost in Week 13, which ended their six-game winning streak.
The loss to the Baltimore Ravens was ugly and it could have been the kind of game that destroyed a team's confidence. Instead, they bounced back and came out on fire against the Arizona Cardinals.
A 14-point fourth-quarter by the Red Birds threatened them getting back in the win-column, but that's not what the worry is. The worry instead is what they will do moving forward because they lost starting quarterback Ryan Tannehill to a torn ACL in this game. His backup, Matt Moore, did come in and played well.
He was 3-of-5 passing for 47 yards and led them down for the game winning field goal. However, Moore is a step down from what Tannehill had finally blossomed into over the last couple of months of the season.
The good news is they're now 8-5 and can still make the postseason. They will just have to lean a lot more on their running game and defense should they be able to get in.
No. 14 Washington Redskins (13)
Running back Chris Thompson got free for a 25-yard game-winning touchdown and outside linebacker Ryan Kerrigan got a strip-sack on Eagles quarterback Carson Wentz in their latest win.
The 27-22 victory over Philadelphia was a strong team effort and they kept fighting back no matter what was thrown at them. Quarterback Kirk Cousins has put together a great season with the franchise tag being placed on him.
With his pending free agency right around the corner, the team is going to have a big decision to make. Do you trust Cousins for the long haul? Because if so, he will command somewhere in the $100 million range over the next five or six seasons. Then there's the risk of letting him go and not having a suitable replacement.
There would be just one thing worse than not having a franchise quarterback. That would be watching the guy you deemed unworthy of being a franchise quarterback winning elsewhere while you don't have one.
Someone will give Cousins that huge deal. For anyone who doesn't believe that, see Brock Osweiler. For Washington the question is will they be the ones to do it. Perhaps a postseason appearance could help them make up their minds.
No. 13 Denver Broncos (9)
Maybe both teams from last season's Super Bowl won't even make the post season. The Denver Broncos (8-5) are much better than the Carolina Panthers (5-8) this season, but they are still in danger of missing the playoffs after dropping two of their last three games.
This weekend was especially tough as they managed a season low of just ten points on the day. Their defense stayed strong, but the 13 points Tennessee put up was too much for the offense to overcome.
Quarterback Trevor Siemian did all he could as he threw for 334 yards and a touchdown, but it was all on him in this one. He had to throw the ball 51 times on the day as their running game was just flat out non-existent.
Newly acquired running back Justin Forsett ran just 17 yards on six carries and rookie Devontae Booker added one more yard on three carries. This team needs some upgrades on offense. They are good at moving the ball, but not efficient enough to get points equal to the yardage. Ironically they could be sitting at home watching the guy they let walk in free agency play in the post season.
Brock Osweiler and the Houston Texans are looking like they could wrap up their division. Wonder if John Elway will still keep making fun of his former player.
No. 12 Green Bay Packers (15)
Well, Aaron Rodgers may not have told us all to R-E-L-A-X, but he did say the team could win out. After falling to 4-6 on the year, the Green Bay Packers starting quarterback expressed confidence in his team despite others losing it.
"I feel like we can run the table, I really do," Rodgers said per Rob Demovsky of ESPN.com. "The offense is starting to click a little bit more; we've just got to put together a game where we're more consistent from the first snap to the last. We've been, I think, getting closer to that. We've really been clicking, at times, in the last few games.

"But it's going to be important that we get going early. We had three three-and-outs to start the [Redskins] game, but overall on the season, we've done a better job of limiting our three-and-outs; we've been sustaining drives pretty well."
Maybe after a couple wins some were buying it, but after thoroughly throttling the Seattle Seahawks, there are more believers.
Green Bay is a dangerous group that most NFC teams probably secretly wish would just stay home this post season. With the way they're playing on both sides of the ball right now, that's not looking too likely.
No. 11 Baltimore Ravens (11) — Play Monday Night
It would be much appreciated if someone could please explain exactly who the Baltimore Ravens really are.
Maybe their game on Monday Night Football will help explain it. Currently the team sits at 7-5 and they've had some serious ups and downs this season. They won close games against poor teams like the Cleveland Browns and Jacksonville Jaguars. They also lost to another less-than-average group this season in the New York Jets.
Then they also hung tough with some very good teams. They lost by a point to the Oakland Raiders, four points to the New York Giants and hung with the Dallas Cowboys until the fourth quarter.
Defense is the reason they find themselves in games. Offense is the reason they dropped some close ones and struggled to close out the bad ones. This past week though they put it all together. Quarterback Joe Flacco had 381 yards and four touchdowns. Two of those went to tight end Dennis Pitta, who finally looked healthy and ready to produce.
Now they head to Massachusetts to face the New England Patriots. Still considered by most the best team in the AFC, the Pats will be a huge test for Baltimore. They will either prove that they're contenders or they will be exposed as pretenders.
No. 10 Tampa Bay Buccaneers (10)
Since losing to the Atlanta Falcons in Week 9, the Tampa Bay Buccaneers have been one of the best teams in the league. Sunday was their fifth-straight win as they stayed tied for the NFC South with those very Falcons who handed them their last lost.
A lot of the credit goes to second-year quarterback Jameis Winston, as it should. He's developed into a solid pro under head coach Dirk Koetter's tutelage.
He and Marcus Mariota of the Titans went one and two overall in the NFL Draft next season and neither have disappointed. These two both got big wins on Sunday and are in the thick of their divisional races. It's exciting to see young talent break out.
However, Winston isn't the only talented young player the Bucs have. His favorite target is wide out Mike Evans, who is developing into one of the best receivers there is. Defensively they have young talent all over the place. In recent years they've netted stars like linebacker Kwon Alexander, cornerback Vernon Hargreaves III and defensive end Noah Spence.
Paired with veterans like defensive tackle Gerald McCoy and corner Brent Grimes they're becoming a force on that side of the ball. So much so they held Saints quarterback Drew Brees and company out of the end zone en route to a 16-11 win on Sunday.
No. 9 New York Giants (12)
Has anyone else noticed that Eli Manning is quite possibly the luckiest quarterback in the history of the NFL? This guy throws some of the dumbest passes ever, but it never seems to hurt him.
In their 10-7 win over the Dallas Cowboys he threw one interception and lost two fumbles. However, he could have easily had three more interceptions. Safety Barry Church dropped two passes thrown directly to him and linebacker Justin Durant had another go through his hands.
Now the team is sitting at 9-4, and they are the only team to beat the Dallas Cowboys, but eventually Manning's luck has to run out. Right?
Maybe not. The guy is still heralded as an "elite" quarterback thanks to plays like receiver David Tyree catching a ball with his head and former Patriots receiver Wes Welker dropping passes thrown directly to him.
In the end, the Giants are a good team and they find ways to win despite having Eli slinging it around like a mad-man with no concern for what colored hat the ball is sailing towards. And on Sunday night, that defense which they overhauled this offseason looked like the real deal. If they keep pressuring quarterbacks like that and playing blanket coverage, they will be tough to beat.
No. 8 Atlanta Falcons (8)
What happens when the highest scoring team in the NFL meets a team trying to dispute reports of tension between their coach and management? A 42-14 blowout is what happens.
The Atlanta Falcons made a mockery of everything the Los Angeles Rams stood for as a football team on Sunday with the huge win. At one point, Atlanta was up 42-0 and they simply just didn't try in the fourth quarter. Making their win even more impressive was them doing this damage with both receiver Julio Jones and Mohamed Sanu out of action due to injuries.
Even with the depleted unit, quarterback Matt Ryan was on fire. While most may have thought they would lean on their running game without their top receivers, Ryan picked apart the Rams.
He completed 18-of-28 passes for 237 yards and tossed three touchdown passes. That was even with starting running back Devonta Freeman managing six yards on six carries and his backup, Tevin Coleman, adding just 36 on eight carries.
Atlanta is one of the best teams in the NFL right now, and they would have their division wrapped up if not for the sudden turnaround by their divisional rivals, the Tampa Bay Buccaneers. The two teams are sitting at 8-5 and ready for a showdown to claim the NFC South as the season winds down.
No. 7 Seattle Seahawks (5)
Depending on what day you watch the Seattle Seahawks play, your opinion of the team may vary greatly. They have put up some amazing games this season, and then they've put up some stinkers.
This weekend against the Green Bay Packers, it was a stinker. Quarterback Russell Wilson had arguably his worst day as a pro. If not his worst personal day, it was his most lopsided loss according to Sheil Kapadia of ESPN.
But there's no brushing aside this loss. A couple of weeks ago, after a 14-5 defeat to the Tampa Bay Buccaneers, players said the adversity was something they needed. Given the Seahawks' track record and their 40-7 win over the Carolina Panthers last week, that seemed reasonable.

Now though, for the second time in three weeks, Seattle has been thoroughly outplayed. This was the first time during the Carroll/Wilson era that the Seahawks lost by more than 10 points.
He threw five interceptions against a Packers team that isn't known as a defensive powerhouse.
Speaking of defensive powerhouses, the 'Hawks didn't look like one whatsoever without stud safety Earl Thomas patrolling the defensive backfield. Without their star safety, Packers quarterback Aaron Rodgers threw for 246 yards and three scores

No. 6 Pittsburgh Steelers (7)
Thanks to the Baltimore Ravens having to play the New England Patriots on Monday Night Football in Foxborough, this could be a very fruitful week for the Pittsburgh Steelers.
Their seven-point win in the snow filled Buffalo Bills stadium moved them to 8-5 on the season and they now own a half-game lead against those Ravens. Should Baltimore fall to the Patriots, Pittsburgh will be all alone in first place in the AFC North.
It's been tougher for them than expected, but they're starting to look like themselves again now that running back Le'Veon Bell is playing out of his mind and quarterback Ben Roethlisberger is fully healthy. That doesn't mean there won't be bumps.
Big Ben proved that this weekend as the weather conditions affected his throwing. He threw three picks and no touchdowns on the day. What makes them so scary as a team though, is that didn't stop them.
They were able to lean heavily on their workhorse Bell and the running back rushed for 236 yards and three touchdowns. He toted the ball an impressive 38 times and reminded people that the Steelers can still beat people with a power running game any time they want to.
No. 5 Detroit Lions (6)
There's not a Detroit Lions fan on the planet with full-grown fingernails. This team loves close games, evidenced by them being involved in a one-score outing every week until their win on Dec. 4 against the New Orleans Saints.
Surely, that 15-point win must have done something to make them turn into a tea that runs away from people. Not exactly. This weekend they returned to their nail-bite inducing ways against the lowly Chicago Bears.
A touchdown with less than four-minutes remaining was needed and the defense then had to hold as Chicago tried to march down the field in an attempt to tie things up. They were unable to get in range for a field goal try and Detroit won, 20-17.
MVP-candidate quarterback Matthew Stafford wasn't brilliant on the day as he threw a couple of picks to just one touchdown, but that could have been thanks to discomfort. He suffered an injury to his throwing hand early in the day and wore a glove to help pad the sore spot.
He switched the glove out several times throughout the game as it obviously kept bothering him. Still, he was able to do just enough and their improving defense did their part to keep them in first place in the NFC North.
No. 4 Oakland Raiders (3)
It's funny how quickly a narrative can change. After leading a franchise back to prominence, a bad showing on Thursday Night Football trumps it all. Oakland Raiders quarterback Derek Carr has led his team to ten wins on the season with just three losses.
Those three losses have now been at the hands of the Atlanta Falcons and the Kansas City Chiefs twice—both are winning teams. Carr went 17-of-41 passing in the second loss to their divisional rivals, the Chiefs, and now has his MVP credentials being questioned. Which is crazy because he is still leading a team without a good defense to the post season while putting up phenomenal numbers.
In 13 games, Carr has 3,492 yards with 24 touchdowns and just five interceptions. He still has not had a game with more than one interception thrown and twice has thrown four touchdown passes in a single game.
Oakland still has a shot to win the AFC West, but did relinquish control to the Chiefs this week. While that does hurt, they're light years ahead of where many thought they should be this season and Carr is still an MVP-worthy quarterback in 2016.
With the Chargers, Colts and Broncos left on the schedule, they have a real shot at getting to 13 wins. They already have notched wins against the Broncos and Chargers this season and the Colts defense looks very inviting for this Raiders offense.
No. 3 Kansas City Chiefs (4)
The Kansas City Chiefs are a scary football team. Their defense has been great all year, surrendering less than 20-points per game. Their specialty is getting after opposing quarterbacks.
While the numbers haven't been there in terms of sacks, they do come at opposing quarterbacks with defensive Tamba Hali as well as linebackers Dee Ford and Justin Houston. Ford has already hit 10 sacks on the season in a breakout season.
His emergence has been huge since the team has been without Houston for all but four games this season. That fact is what makes them so scary. They've been holding teams to such a low scoring total while not even being at full strength.
With all three pass rushers playing, they can stop anyone. Detractors will point to their offense, which is in the bottom third of almost every single category. Yet, that seems like it has changed some.
A couple of weeks ago they went toe-to-toe with the Denver Broncos and pulled out an overtime comeback win. This past week they had a 21-point second quarter which led to their 10th win on the year. The biggest weapon they have is rookie receiver/return man Tyreek Hill.
The rookie was responsible for two of their touchdowns on the day, one as a receiver and one as a return man. His explosion makes them a serious threat come playoff time.
No. 2 Dallas Cowboys (1)
Not too long ago the Dallas Cowboys offense looked absolutely unstoppable. Now they're starting to struggle. Over the last couple of games they've managed just 24-points, including a mistake-riddled Sunday Night Football game in which they had just seven points.
After scoring early on a wide open touchdown pass to receiver Terrance Williams, they completely fell off the tracks. Quarterback Dak Prescott seemed shaken by the cold weather and the Giants defense made him look like a rookie for the first time since the opening day game in which New York also beat Dallas.
Now at 11-2 on the season, they fall out of first place in our NFL Power Rankings for the first time in a while. Also for the first time, it's because of their offense they are being criticized instead of their defense.
Suddenly next week's game against the Tampa Bay Buccaneers is huge for Dallas. They went from looking like they could lock up home field advantage, to worrying if they may lose the NFC East to the Giants if they drop a couple more games.
That could happen as they face the 9-4 Lions after their game against the 8-5 Bucs. They then finish off the season against NFC East foe Philadelphia, a team they had trouble with earlier in the season.
No. 1 New England Patriots (2) — Play Monday Night
The New England Patriots had a mini-bye last week as they played against the Los Angeles Rams, a team in disarray. Their 26-10 win seemed like a let down because of how much better New England is than L.A., but a win is a win.
Now they will host the 7-5 Baltimore Ravens on Monday Night Football. The Ravens were on fire last week as they stopped the Miami Dolphins win streak. Quarterback Joe Flacco threw all over the Dolphins defense, but the Pats are much better in that department. They also own a much more efficient offense.
Which they will need against the Ravens stout defensive groups. It all makes for a great game in the bright lights. The outcome matters less to New England though as they pretty much have the AFC East in hand with their record of 10-2.
It feels like forever ago that quarterback Tom Brady was suspended, Jimmy Garoppolo was injured and the team was worried about who would be under center should anything happen to their third-string rookie Jacoby Brissett. Now they're running away with their division yet again and they are one of the favorites to represent the AFC in the Super Bowl. Again.
This article originally appeared on