2016 NFL Power Rankings Week 11: Cowboys the New No. 1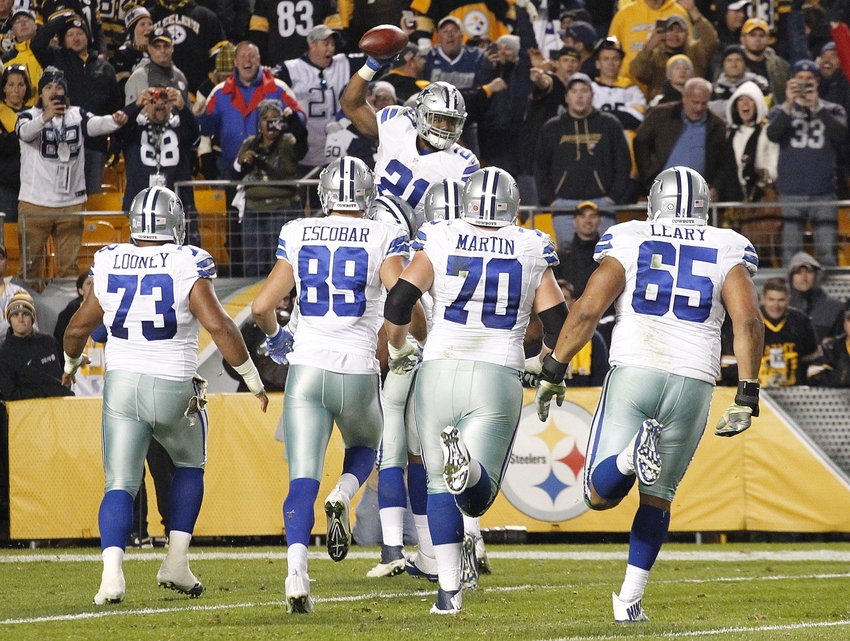 The latest 2016 NFL Power Rankings have a shake up at the top heading out of Week 10 with several wild finishes and wilder results.
Yet another fantastic weekend of football is in the books. It started out with a dud as the Cleveland Browns were embarrassed on Thursday Night Football by the Baltimore Ravens, but only got better from there. We saw some teams like the Dallas Cowboys and Miami Dolphins continue their hot streaks. Both games came down to the wire as each team looked to be in danger of ending their winning ways.
We also saw the Green Bay Packers and Minnesota Vikings continue their absolute implosions. The Packers were dismantled by the Tennessee Titans and the Vikings dropped their fourth-straight game.
Some games came down to the wire. The Arizona Cardinals barely beat the dreadful San Francisco 49ers and the Kansas City Chiefs escaped a scare against the Carolina Panthers. None were as exciting as the blocked extra-point that led to a defensive two-point conversion for the win as Denver shocked New Orleans. Other games of interest included a Sunday Night Football battle between two powerhouses, the New England Patriots and Seattle Seahawks.
With all those dominoes falling into place, we can now sift through the teams and tell you how they stack up with our Week 11 NFL Power Rankings for the 2016 season.
No. 32 Cleveland Browns (32)
The Cleveland Browns have been a really bad team this season. Going into Week 10 with no wins, they hoped to score an upset victory over the Baltimore Ravens. Through 30 minutes, they looked like they had a chance to notch their first win of the season.
At halftime, the Browns were leading in an ugly game, 7-6. Their offense was sluggish as always, but a 25-yard touchdown pass from rookie quarterback Cody Kessler to rookie tight end Seth DeValve was enough to give them the lead thanks to their defense.
That unit was playing extremely well, with newly acquired linebacker Jamie Collins leading the charge. He ended the game with seven tackles and a quarterback sack. His efforts on the field were great and were enough to evoke pity that he was shipped from the New England Patriots (who own the NFL's best record) to the Browns.
The offense never got going, though, and even benching Kessler for veteran Josh McCown didn't help. Instead, the 37-year old journeyman threw two picks and eventually the defense caved in thanks to being on the field too often. Now the Browns have just six games left to try and avoid becoming the second 0-16 team in NFL history. It's not looking promising.
No. 31 San Francisco 49ers (31)
It was quite possibly the best game of the season from the San Francisco 49ers since their season-opening weekend win. That's not much consolation when they still managed to lose on a last-second field goal by the Arizona Cardinals, a rival in the NFC West.
Quarterback Colin Keapernick was responsible for most of the offense during their 23-20 loss on the road. He managed 210 yards and a touchdown on 17-of-30 passing. More importantly, he looked like a dual threat quarterback again as he rushed 10 times for 55 yards and another score.
Running back Carlos Hyde returned from injury, but was highly ineffective. He looked rusty and got just 14 yards on 13 carries. He should improve as he knocks off the rust, but it wasn't an encouraging day for him. Defensively they managed to force four turnovers, two picks and two fumble recoveries, but it wasn't enough for them to get the win.
Head coach Chip Kelly is looking more and more like he lost his team in his first season. It's not surprising to see a locker room tune him out; it already happened in his only other head coaching job with the Eagles. What is surprising is how quickly it happened.
No. 30 Chicago Bears (27)
Nothing hurts a team like overvaluing a player. Well, nothing except when you do it twice. The Chicago Bears did just that. They put quarterback Jay Cutler on a pedestal when they traded quarterback Kyle Orton and a couple first-round picks for the former Denver Broncos passer.
As if that overvaluation wasn't bad enough, they then gave him a seven-year deal worth up to $126.7 million in 2014. That contract came after the team looked better during a stretch with Josh McCown under center while Cutler was hurt. The debate about Cutler's talent was real, but Chicago didn't want to believe it. Since then, Cutler has become such a wreck that the team actually was going to start journeyman Brian Hoyer over him. A broken arm ended that plan and the team looks completely lost now with the lackadaisical Cutler at the helm.
After Sunday's loss to Tampa Bay, the former first-round pick is 68-70 in his career and he really couldn't care less. That's been the knock on him his whole career—that he simply doesn't care. That non-energetic attitude has a lot to do with their 2-7 start.
It's not the only issue the Bears are having, though. They are also awful on defense and can't hold onto a football. Cutler throws picks like crazy, but even running back Jordan Howard had a key turnover during their latest beatdown. This team is going nowhere fast.
No. 29 Jacksonville Jaguars (30)
All of the assistant coaches for the Jacksonville Jaguars may want to start getting their resumes ready. After yet another loss, the Jaguars fall to 2-7 on the season and are a pathetic 1-4 at home this season.
They were the first team to allow the inconsistent Houston Texans to win on the road this season and they did it in ugly fashion, despite a last minute surge to make it close. Quarterback Blake Bortles had yet another game where he threw an interception and it could have been even worse as he threw another pass right to Texans safety Quintin Demps, who was unable to haul it in.
Their running game hasn't done much to help Bortles. They can't make up their mind on a runner, going with the committee approach between T.J. Yeldon and Chris Ivory. Neither has been great, but Sunday was a better outing than normal for them. They just simply couldn't stick with the run thanks to being behind all game yet again.
Head coach Gus Bradley is now 14-43 in his career. His seat is no longer hot…it's a straight-up wild fire for him. He has a lot of talent around him, but can't figure out how to get them to play together as a team.
No. 28 New York Jets (28)
Well, putting Bryce Petty in at quarterback didn't look to be the answer to the team's woes after just one game. The second-year player got his first NFL start after veteran Ryan Fitzpatrick was unable to go. With the second-year quarterback at the helm, the New York Jets managed just six points on the day.
Those six points came in the second quarter on a hook-and-lateral touchdown pass. Petty threw the ball on a short pass to receiver Brandon Marshall, who lateralled it to running back Bilal Powell, who then ran it in for the only score of the day by the Jets. Not shockingly, they missed the extra point that followed.
Petty finished 19-of-32 for just 163 yards and had an interception in addition to the one touchdown that Marshall threw for him. It was really a bad performance all around as the offense wasn't the only ones to blame here.
They didn't give up a touchdown, but the defensive-minded team allowed quarterback Case Keenum to have an interception-free day while getting his team in short field goal range three times. Los Angeles kicker Greg Zuerlein was 3-of-3 kicking on the day, but his longest was just 38 yards. This was a sad game between two sad teams. And now at 3-7, the Jets are a complete dumpster fire.
No. 27 Los Angeles Rams (29)
The Los Angeles Rams are the worst 4-5 team in the NFL. They proved that on Sunday with a sad performance against one of the worst teams in the league, the New York Jets. Not only have the Jets been bad, but they were even on their third quarterback of the season as second-year signal-caller Bryce Petty got the start. They limited Petty in yardage and held the Jets to just six points, which is what they should have done.
LA also should have won easily. They didn't. The Rams managed just nine points in the game. It was enough to win, but a 9-6 score does nothing to inspire confidence. Even worse, it took them until the fourth quarter to get their ninth point and the lead.
Quarterback Case Keenum continues to be average at best. He was 17-of-30 on the afternoon and had just 165 yards. They also have been unable to get running back Todd Gurley going. The second-year back had 64 yards on 21 carries.
Their defense is good enough to keep them in games, but their offense looks like they're getting worse every game. It's way past time to go to the rookie Jared Goff in favor of Keenum.
No. 26 Carolina Panthers (18)
The Dab is back—unless it isn't.
Carolina Panthers quarterback Cam Newton was finally starting to look like he was enjoying himself again as the reigning MVP had his team close to stealing a win against the Kansas City Chiefs. In the end, it wasn't meant to be and the Panthers fell by a field goal.
They now sit at 3-6 on the season, but they were so close to making it interesting in the NFC South. With Atlanta and New Orleans losing, the Panthers nearly joined the Buccaneers in the win column this week which would have left everyone behind Atlanta sitting at 4-5.
This would have been a remarkable feat for Carolina after their terrible 1-5 start to the season. Instead, they sit all alone in last place. Newton was still impressive in defeat as he threw for 261 yards and rushed for another 54.
He had a touchdown through the air as well as on the ground. But like always, he was the entire offense. This offseason needs to be all about finding a solid running back to take some pressure off Newton because, honestly, Jonathan Stewart isn't getting it done.
Defensivel,y they've shown signs of life, but it's starting to really look like they may have erred in letting cornerback Josh Norman walk in the offseason. Their defense seems to have lost the edge they had during their 15-1 season in 2015.
No. 25 Tampa Bay Buccaneers (26)
After getting some extra rest as they played on Thursday Night Football in Week 9, the Tampa Bay Buccaneers came out ready to play this weekend against the lowly Chicago Bears. They beat a bad team, but they did it with great ease by a score of 36-10.
The win ends a two-game skid as Tampa was coming off losses against divisional Atlanta and the talented Oakland Raiders. Thanks to the Atlanta Falcons and New Orleans Saints dropping games this week, Tampa made up some ground and now find themselves tied for second place in the NFC South at 4-5. They are within striking distance of the Falcons, despite owning a losing record.
On Sunday, they were able to get their top running back Doug Martin back, which should help them down the stretch. He looked rusty, which is to be expected after a long layoff, but carried it 16 times and crossed the goal line once.
Their defense also looks like it's rounding into shape. They had four sacks, three tackles for a loss and intercepted two passes. A lot of times when a game features two teams with losing records it's much closer than this one. Tampa owning Chicago like they did is a good sign for them.
No. 24 Cincinnati Bengals (25) — Play Monday Night
This team is getting ready for a Monday Night Football date with the 5-3 New York Giants. It should be a tough game for the Cincinnati Bengals. Then again, it's been a tough season for them overall. Their streaks of five-straight playoff seasons and four-straight 10-plus-win seasons is in serious jeopardy as they are sitting at 3-4-1 on the year.
The losses they've suffered have been nothing to be ashamed about, no matter what the critics may say. After winning against the New York Jets they dropped games against the Pittsburgh Steelers and Denver Broncos. They then beat the Miami Dolphins, but lost to two more good teams in the Dallas Cowboys and New England Patriots.
Even their tie was against a solid team as they were unable to score an overtime win against the Washington Redskins. Now they look to get their first win against the NFC East in a game that would do wonders to keep them in the AFC North race as the leader is just 5-4.
They have the offense with quarterback Andy Dalton, receiver A.J. Green and tight end Tyler Eifert as the main cogs. Their defense just needs to find a way to get back to the dominant unit they used to be.

No. 23 San Diego Chargers (14)
After wins against the Denver Broncos, Atlanta Falcons and Tennessee Titans over three of their past four games, the San Diego Chargers suffered a setback on Sunday.
That loss against the Miami Dolphins was a close one, but drops them nine spots in our NFL Power Rankings. The reason for such a drop is they now have two more losses than wins and this game made it seem like the three wins if four games was more of an anomaly than a true indicator of who the Chargers are.
They started out the season 1-4 before their solid stretch and now are in last place in the best division in the AFC. With the Broncos, Chiefs and Raiders all having seven wins, things are looking bleak at the moment.
Starting quarterback Philip Rivers is still excellent at putting points up in a hurry, but they keep asking him to do miracles without the talent around him he needs. While they finally have a solid running back in Melvin Gordon, there's not much else around them. On the other side of the ball, rookie Joey Bosa looks the part of the No. 3-overall pick, but there's a lot of rebuilding that needs to be done.
No. 22 Buffalo Bills (22)
The Rex Ryan era in Buffalo is quite simply a roller coaster. They're sitting at 4-5 after losing in a close game against one of the best teams in the NFL, the Seattle Seahawks. The Monday Night Football game in Seattle went down to the wire and the Bills were within 10 yards of taking the lead. They were held out of the end zone and dropped back under .500 with a 31-25 loss.
After the game, their animated head coach got into a war of words with the Seahawks head coach, Pete Carroll. This tough game came on the heels of being blown out by the New England Patriots the week before.
To further confuse people about the Bills, they lost one game to a poor team, the Los Angeles Rams, blew out another bad team in the San Francisco 49ers and even shut out the Patriots earlier in the year. Sure, that one came with quarterback Tom Brady sidelined, but they were the lone team to hand New England a loss during that four-game stretch. It's a sad reality for teams coached by Ryan.
They are excellent at times, bad at others. The only constant thing is that he will run his mouth and upset people. This experiment may not last much longer in western New York.
No. 21 Arizona Cardinals (24)
It's hard to get too excited about the Arizona Cardinals this season. They own a 4-4-1 record on the season. They tied with the Seattle Seahawks and hung with the New England Patriots on opening night in a two-point game. They blew out the New York Jets and Tampa Bay Buccaneers. Yet, they outscored the 1-8 San Francisco 49ers by a total of three points in their Week 10 win.
It's true that a win is a win, so they shouldn't be upset with themselves about the wins. Yet, in power rankings it makes a difference how you win.
This Sunday, quarterback Carson Palmer threw 376 yards, but also had two interceptions. As a team, they had four total turnovers as they helped the Niners look like the solid defensive group they used to be before the Jim Harbaugh/Jed York explosion a few years ago.
Their defense is still good, despite not getting a pick against quarterback Colin Kaepernick. They did manage three sacks, which good since that was their one weak point last season. They aren't out of the NFC West divisional race just yet, but to get back into it they really need to play better than they did against San Francisco and need to do so quickly.
No. 20 Indianapolis Colts (19)
The Indianapolis Colts went from last place to second place in the AFC South after upsetting the Green Bay Packers just before their bye week. The 31-26 win was shocking, but it almost got away from them.
Indy had a 24-10 lead at the half, but gave up 13 in the final quarter as Packers quarterback Aaron Rodgers tried in vain to bring his team back. That fourth quarter defensive letdown is indicative of why it's hard to believe in this Colts team even after a big win.
They sit at 4-5 right now, but should be better. They had a fourth-quarter meltdown against the Houston Texans on Sunday Night Football in Week 6. After dominating the first place AFC South team for roughly 50 minutes, they gave up two quick scores in the final quarter, which sent it to overtime where the Texans stole the win.
Another potential win slipped through their hands on opening night. After they took a late lead against the Detroit Lions, they allowed Matthew Stafford and company march right back down the field and take the game. Quarterback Andrew Luck is a great player. The problem is they've ignored the defensive side of the ball so long that all the pressure is on him to win.
Of course, as long as he's under center they stand a chance. They just really need someone on the other side of the ball to step up as well. Perhaps they can use this bye week to figure out a way to get someone to do just that.
No. 19 Green Bay Packers (11)
Back-to-back losses to AFC South teams is a pretty good reason to knock a team down a few pegs. When one of those losses comes by a score of 47-25, then a few pegs isn't enough of a drop.
The Green Bay Packers are officially a bad team in 2016, as evidenced by the beat down they took at the hands of the Tennessee Titans this weekend.
Quarterback Aaron Rodgers kept fighting and completed 31-of-51 passes for 371 yards and two touchdowns. He also had two interceptions in what was his second multi-interception game of the season. That's not something that Packers fans are used to seeing out of their former MVP.
The issue for the Pack is that they simply don't have the playmakers this season. Wide receiver Jordy Nelson still looks like he is getting into shape after missing all last season and the rest of the receivers aren't getting the respect from defenses he does.
They also have pretty much no running game. Their best runner on Sunday was Rodgers, who had 27 of the teams 69 yards. He managed those yards on just three carries and had the only rushing touchdown of the game. For years they have been avoiding spending in free agency and putting all the pressure on Rodgers to perform. This year, they may have finally asked too much of him.
No. 18 Pittsburgh Steelers (17)
It looked like, for a minute, the Pittsburgh Steelers were going to beat the Dallas Cowboys and end their seven-game winning streak. Then it didn't. Then it did. Then it didn't. On and on this went as seven times the lead changed in the 35-30 Dallas victory. Four of those lead changes came in the fourth quarter and three were in the final 1:55 of the game.
The Steelers showed a lot of resolve to keep fighting no matter what Dallas dealt them. Quarterback Ben Roethlisberger was spectacular in his second game back from knee surgery.
Big Ben had 408 yards and three touchdowns on the night with no interceptions. Other offensive weapons were on display as well as running back Le'Veon Bell had 57 yards on the ground and 77 through the air. He had a touchdown both as a runner and receiver. Receiver Antonio Brown was also on fire, cacthing 14 passes for 154 yards and a score.
The other side of the ball was where their issue was. They couldn't stop the two Dallas rookies as quarterback Dak Prescott and running back Ezekiel Elliott carved the Steelers defense all day long. Elliott had two late touchdowns where no one even got a hand on him. Until that unit cleans up their issues, the offense will keep having to hope they can win shootouts.
No. 17 Baltimore Ravens (23)
Again, the Baltimore Ravens are out to confuse everyone. They won their first three games of 2016, but never looked great in doing so. Then they dropped four-straight and looked to be in free fall mode. They ended that skid last week with a seven-point victory over one of their divisional rivals, the Pittsburgh Steelers. After that win things should have been easy against the 0-9 Browns, but it wasn't—for the first half, at least.
Baltimore struggled to move the ball and quarterback Joe Flacco was under immense pressure. They went to the locker room down 7-6 at the intermission. The second half was a different story. Baltimore quickly took the lead and never looked back, scoring 22-unanswered to win 28-7.
Flacco threw a couple of picks, but still managed three touchdowns and 296 yards. Another positive was the burst shown by rookie running back Kenneth Dixon. Their fourth-round pick out of Louisiana Tech rushed for 38 yards on just six carries. He added another 42 yards on five receptions.
Dixon was a dual threat at Louisiana Tech who was as dangerous running routes out of the backfield as he was in the running game. Baltimore could find a way to end up winning the AFC North if they continue to get the exciting rookie going.
No. 16 New Orleans Saints (13)
Anyone who wants to argue about why giving a starting quarterback a win-loss record to gauge their skill level needs to look no further than the game between the Denver Broncos and New Orleans Saints on Sunday to refute that outdated notion.
Saints quarterback Drew Brees is far and away the superior player to Broncos quarterback Trevor Siemian. He had a better completion percentage, more yards and more touchdowns.
To top it off, Brees led a comeback with a sensational second half. He hit wide receiver Brandin Cooks for a 32-yard touchdown with 1:22 left to play, which should have won the game. All New Orleans had to do was kick the extra point and go up 24-23. Instead, the kick was blocked and returned for a two-point conversion by Will Parks of the Broncos.
The Saints played their hearts out in this one and could have beaten the now 7-3 Broncos who also happen to be the defending Super Bowl Champions. The good news for them is that the Atlanta Falcons also lost, so they stay within striking distance for the NFC South title. They just happened to drop a golden opportunity to make up some much needed ground.
No. 15 Tennessee Titans (21)
What a game this was by the Tennessee Titans. They took it to the Green Bay Packers in a way no one expected them too. It wasn't enough to just beat them, though. They humiliated Green Bay by dropping 47 points on them, including 21 in the first quarter.
Quarterback Marcus Mariota had four touchdown passes on an extremely efficient day. Running back DeMarco Murray continued to prove that his lackluster season in 2015 was more of a product of the system he was in, rather than an indication of his skill.
Murray had 123 yards rushing and ran for a 75-yard touchdown on his first carry. He even managed to throw a touchdown pass on a beautiful pitch play that became a halfback pass. Their tight end Delanie Walker is playing as well as any tight end in the league and their no-name receiving group is becoming a force. They also feature a very underrated defensive unit.
Suddenly, they're right in it for the AFC South and have two winnable games coming up next. They host the Indianapolis Colts and Chicago Bears before getting a late Week 13 bye. If Tennessee is able to close some ground on Houston, it could make their Week 17 game against the Texans much more exciting.
No. 14 Minnesota Vikings (6)
Another loss for the once-feared Minnesota Vikings. After a 5-0 start, they have completely fallen apart and dropped four-straight. They now find themselves tied with the Detroit Lions for first place in the NFC North when they should have been running away with it after their hot start to the season.
Quarterback Sam Bradford did all he could to help Minnesota win this past game. After falling behind 14-0 against the Washington Redskins, he helped lead a 20-point second quarter which saw the Vikings take the lead away from Washington. They were unable to score again, though, as the Redskins put up 12 in the second half to seal the deal. Bradford was 31-of-38 on the day for 307 yards and two touchdowns and an interception.
He had to do too much on his own in this one, which led to the loss. The running game was simply pathetic. As a unit they rushed for 47 yards on 21 carries. Their leading rusher was Jerrick McKinnon, who managed just 16 yards on six carries. That included a long of 13 yards. That means, without the lone 13-yard run, McKinnon had five carries for three yards. Minnesota hosts Arizona next week as they try and end this horrid streak they're on.
No. 13 Miami Dolphins (16)
What got into the water in South Beach? After a 1-4 start, things looked about as bleak as they could for the Miami Dolphins. Questions were coming about whether or not head coach Adam Gase would be able to keep his job and if quarterback Ryan Tannehill should be pulled.
A running game was found somewhere along the way though and that seems to have solved many of their issues. They now are 5-4 and climbing in our rankings thanks to their fourth-straight win.
Second-year running back Jay Ajayi ripped off two straight 200-plus yard games to get things going for the Dolphins. His hard nose running seemed to rejuvenate the team and, although he isn't topping the 200-yard mark every game still, he is bringing a tough attitude to the offense.
Ajayi had another 79 yards on the ground on Sunday and helped take some of the pressure off Tannehill. Without having to be one-dimensional, the quarterback tossed 240 yards and two scores in their 31-24 road win against the San Diego Chargers.
With the Los Angeles Rams and San Francisco 49ers next up on the schedule, this winning streak could grow for the Dolphins. After that they face the Ravens, Cardinals, Jets, Bills and the Patriots. This could wind up being a winning season after all for Miami.
No. 12 Philadelphia Eagles (20)
This was a signature win for the Philadelphia Eagles as they upset the Atlanta Falcons. After a couple weeks in a row of questionable play-calling, they decided it was time to get back to the basics. Those basics included running the ball early and often. They rushed 19 times with Ryan Mathews for 109 yards and two touchdowns, but his backups got some work in as well.
Rookie Wendell Smallwood added another 70 yards on 13 carries for Philly on the day. Altogether they had 208 yards on the ground. This great ground game set the Eagles up to get their rookie quarterback, Carson Wentz, into a good rhythm. He completed 25-of-36 passes for 231 yards with no interceptions.
Philadelphia also showed some signs of mental toughness in this one. They've had issues in the past with allowing teams to come back and steal some wins. Again on Sunday, they allowed Atlanta to take control of the game in which they had been in the lead for the most part. This time they didn't panic. After falling behind 15-13, they just scored the final 11 points of the game to seal the win and get themselves to 5-4 on the year.
No. 11 Detroit Lions (8)
The Detroit Lions have been a pretty good team this season. They have upset teams like the Philadelphia Eagles and Minnesota Vikings. They also have dropped games to less-than-great teams like the Chicago Bears.
Fortunately for them, they entered this bye week on a positive note after that Minnesota win. They now find themselves right in the thick of the NFC North race, which seemed unlikely after they had dropped three of their first four games of the season.
Perhaps they can use this bye week to find themselves a running game, because that's been sorely missing from their offensive attack this season. Theo Riddick has been their best option in the ground game as the running back has 297 yards rushing with just one touchdown.
Riddick has been much more efficient in the passing game, which goes for the team as a whole. Riddick is one of five guys on the team to record more than 30 receptions.
Tight end Eric Ebron along with receivers Golden Tate, Marvin Jones and Anquan Boldin are all catching passes at a superb rate. Quarterback Matthew Stafford has delivered the ball rather evenly among the bunch and is playing the best football of his career. Finding some balance will only make them a bigger threat to contend for the North title.
No. 10 Houston Texans (12)
Maybe it wasn't pretty, but it was a much needed win. The Houston Texans came out of their bye week and got their first road win of the season in a hard-fought game against the Jacksonville Jaguars.
The final score made it look closer than it really was as a late touchdown and two-point conversion made it 24-21. That score also doesn't include the two missed field goals by Texans kicker Nick Novak, which could have put this one away much earlier.
For Houston, the best news had to be that quarterback Brock Osweiler had a turnover-free game for the first time all season. The bad news is that he threw for a measly 99 yards on 14-of-27 passing.
Their defense held their own and even had an interception returned for a touchdown by veteran corner Kareem Jackson. Defensive touchdowns have become the norm for Houston against Jacksonville and it was much needed to make up for the anemic offensive output.
In fairness to Houston, their offense did have some positives. Running back Lamar Miller managed 83 yards on the day and his backup, Akeem Hunt, added another 52 on just eight carries. Even Osweiler got in on the running as he added another 23 yards as the team managed 181 on the ground for the day.
At 6-3, they are in a great position to win their division. They did good to clean up the turnovers, now they just need to figure out how to find a passing game.
No. 9 Washington Redskins (15)
Remember how the Washington Redskins didn't want to pay quarterback Kirk Cousins long-term? That may not be much of an issue anymore. The second-year starter has been a beast since being called out by teammates following a Week 2 loss to Dallas.
He had another great day this weekend, completing 22-of-33 passes for 262 yards with two touchdowns and no picks. He has become accurate and deadly over the past few games and has his team looking good at 5-3-1.
Making them an even better unit is the running game they found with undrafted rookie running back Robert Kelley. The Tulane product is a punishing 228 pounds and rumbled for 97 yards on Sunday. He has been such a revelation that former third-round pick Matt Jones was a healthy scratch for their latest win over the Minnesota Vikings.
Head coach Jay Gruden has developed into a solid coach who brings a dynamic gameplan to the field. Their defense matches the offensive production as well. They may have surrendered 20 points in the second quarter, but after the Vikings took the lead 20-14, they pitched a shut out the rest of the way. They keep looking better and better for finally choosing Cousins over Robert Griffin III.
No. 8 New York Giants (10) — Play Monday Night
At 5-3, we should all know exactly what the New York Giants are. But no one really does. They are the only team to defeat the red-hot Dallas Cowboys, but then they struggle against teams like the Baltimore Ravens and Los Angeles Rams.
What has them this high though is how dangerous they can be. They defeated the Philadelphia Eagles last week and now take their high-powered offense to the big stage for a Monday Night Football contest against the Cincinnati Bengals.
This should be an interesting game, because neither team seems to make things easy on themselves despite being talented. The Bengals have a good offense with a potentially excellent defense. The Giants have a good defense with a potentially excellent offense. Quarterback Eli Manning hopefully will have some help in this one as they try and figure things out.
Rookie running back Paul Perkins has been getting more playing time as of late and the G-Men may be ready to put him in the game more than veteran Rashad Jennings. Such a move would be welcome, as the Giants have been so one dimensional this season. A decent running game would do wonders to open things up for Manning and his star receiver, Odell Beckham, Jr.
No. 7 Atlanta Falcons (4)
First place in the NFC South still belongs to the Atlanta Falcons, but it's all of a sudden incredibly tight. They dropped a winnable game against the Philadelphia Eagles by a score of 24-15, which puts them at 6-4 and just a couple games ahead of both the Tampa Bay Buccaneers and New Orleans Saints (both of which are now 4-5).
Still, Atlanta is a team to reckon with. They have one of the most powerful offenses in the NFL and the way they play is incredibly sustainable. They have a great ground game led by running back Devonta Freeman and their quarterback, Matt Ryan, is having an MVP-type season.
Helping him, of course, is the amazing Julio Jones, who is arguably one of the best two-or-three receivers in the entire league. They now enter their bye week and have a favorable schedule the rest of the way.
After games against the Arizona Cardinals and Kansas City Chiefs they then face the Los Angeles Rams and San Francisco 49ers. They finish the year off against the Carolina Panthers meaning the final five games have just one team (Kansas City) with a winning record. Atlanta should be able to win their division still.
No. 6 Denver Broncos (9)
Sometimes it's just your day. The Denver Broncos were outplayed in the second half of their game against the New Orleans Saints, but their tough defense and special teams once again found a way to get the job done.
Quarterback Trevor Siemian had some ups-and-downs in this one completing 25-of-40 passes while also throwing a couple of picks. Siemian was also sacked six times and the running game struggled some as well. They finished with 103 yards rushing, but it took 37 carries for them to get there.
This all was against a bad defense in the New Orleans Saints. As the game wore on, the Broncos defense started to give. They allowed three touchdown passes and over 300 yards from veteran quarterback Drew Brees, including a 32-yard bullet to Brandin Cooks with just over a minute to play to tie things up.
Even with all that going wrong, the Broncos didn't flinch. They lined up for the Saints extra point and they were able to block the kick. Keeping the scored tied wasn't enough as Will Parks picked up the loose ball and took it back for the extremely rare defensive two-point conversion. Denver won 25-23 and is now sitting pretty at 7-3 on the season.
No. 5 Kansas City Chiefs (5)
This is the best boring team in football. Yet, the Kansas City Chiefs are 7-2 on the season after a come-from-behind victory over the Carolina Panthers on Sunday. They didn't have a receiver over 90 yards and their top runner had 61 yards. On the day they managed 91 total yards on the ground and quarterback Alex Smith threw for just 178 yards and no touchdowns.
On offense all they managed was four field goal attempts, all of which kicker Cairo Santos nailed. Still, they just keep winning. Their defense has a lot to do with that as safety Eric Berry scored their only touchdown of day for the Chiefs in this one.
He ran a Cam Newton interception back 42 yards for a score as they limited the defending NFC Champions to just 17 points on the day. They also held the strong rushing attack to just 99 yards on 29 carries.
It's a formula for success as they play efficient football, but it's weird to see out of head coach Andy Reid. For years, the offensive-minded Reid fielded one of the best and most innovative offenses in the NFL as the coach for the Philadelphia Eagles. Since coming to Kansas City, he has switched up his specialty and now has a stout defense which makes them a true contender year-in and year-out.
No. 4 Seattle Seahawks (7)
For the first time in 2016, the Seattle Seahawks looked like the Seattle Seahawks. Quarterback Russell Wilson finally looked healthy as he threw 348 yards and receiver Doug Baldwin hauled in three touchdown passes in an upset over the New England Patriots. It was the first loss for New England with Tom Brady under center, and the Hawks got a little revenge for their loss in the Super Bowl a couple of seasons ago.
New England got within a yard of tying things up, but Seattle held and won the game 31-24. It was their turn to say the opponent was just a yard short.
Rookie running back C.J. Prosise was effective as the team was still without starter Thomas Rawls. They also didn't have a fully healthy Christine Michael, but the rookie made that seem like a non-issue with more than 150 total yards.
Their defense is still great, as always, but the awakening of their offense has to scare some teams in the NFC. They struggled through most of the first half, but still fought their way to a 6-2-1 record. Now they are wide-awake and it looks like Rawls should be ready next week. Seattle is not going away anytime soon.
No. 3 Oakland Raiders (3)
The Oakland Raiders are for real.
At 7-2 they're all but guaranteed to score their first winning season since 2002. That was the same year they lost to the Tampa Bay Buccaneers in the Super Bowl. But since then, they have not finished better than third place in the AFC West.
As fate would have it, the one season they get on a great tear, the AFC West is arguably the toughest division in the NFL. The good news for them is they're sitting at 2-1 in the division. They have a win against the San Diego Chargers as well as a beat down of the defending Super Bowl champions, the Denver Broncos, in primetime.
Their lone loss in the West came at the hands of the Kansas City Chiefs, who they can try and get revenge on during a Thursday Night game on Dec. 8.
All season they have been winning with their passing game. Quarterback Derek Carr is playing out of his mind right now and veteran receiver Michael Crabtree is looking like the player the San Francisco 49ers thought they were getting when they selected him 10th-overall in 2009. In their last game, though, they found a running game with Latavius Murray bulldozing his way through the Broncos tough defense.
With their offense more balanced and defensive end Khalil Mack recording six tackles in the last four games, the Raiders are looking like they're just getting started.
No. 2 New England Patriots (1)
A fall from grace right? Not so much. While the 31-24 loss at home hurts, the New England Patriots are still one one of the best teams in the NFL. The team they lost to is not too far removed from back-to-back Super Bowl appearances. Those appearances included a one-score victory by these very same Patriots.
The truth is, whenever the Seahawks and Patriots play one another, it's always a great game. It really doesn't matter what's at stake, these are simply two teams with a ton of pride trying to win a ball game.
Quarterback Tom Brady was stellar with 316 yards passing, but he was held without a touchdown and threw one interception. He also had a key fumble at the one-yard line that stopped him from rushing in the game-tying score. Running back LaGarrette Blount rushed for 69 yards and three scores as he also was impressive in the loss.
The defense had their worst performance of the year, surrendering 348 yards passing to Seahawks quarterback Russell Wilson. They also allowed 66 yards rushing and 87 yards receiving by a rookie as C.J. Prosise filled in for Thomas Rawls at running back.
This was a temporary setback by New England. Nothing to be alarmed about.
No. 1 Dallas Cowboys (2)
Will these guys ever lose again? It seems like each and every week is a new test that people think Dallas will fail on. This time they went on the road and faced a dangerous team with their backs to the wall. This was the game quarterback Dak Prescott would look like a rookie as the Pittsburgh Steelers always win these games. Well, not always.
The Cowboys gave up points quick as Dak was sacked and fumbled the ball early in the game, giving the home team a short field. From then on Dallas was playing catch up. Each time they took a lead, they would surrender it.
It went this was all day as there were seven lead changes, including three in the final two minutes. In the end, Prescott found a way to lead a drive of less than one minute to take the lead for good.
He hit passes to tight end Jason Witten and receiver Cole Beasley on the drive and then handed it off to fellow rookie Ezekiel Elliott, who ran in the game-winning score from 32 yards out. Zeke had 114 yards rushing and 95 receiving. He had three total touchdowns and is already over 1,000 yards on the year after just nine games.
At 8-1, this team is for real and their two rookies are in the discussion for not only rookie of the year awards, but also for the MVP. Yes, both of them are playing that good.
This article originally appeared on