2016 NFL Playoffs Bracket Simulation at Week 14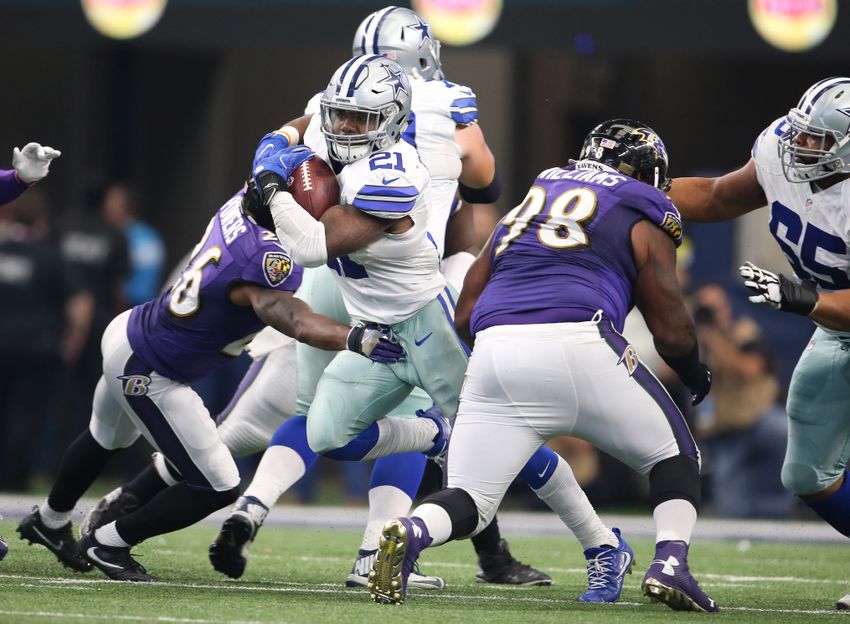 As the race to the 2016 NFL Playoffs ramps up, we simulate the bracket as it stands entering Week 14.
There is still plenty left to be determined for the 2016 NFL Playoffs entering Week 14 of the regular season. In both the AFC and NFC, the Wild Card races look like they might come down to Week 17. The same can be said of divisions such as the AFC North, AFC West, NFC South, AFC South, and potentially even the NFC North.
Fans are surely going to be in for a treat down the stretch of the regular season with these kinds of stakes at play. Teams are going to be pulling out tricks, raising the bar, and so on throughout this four-week run and it's going to be a pleasure to watch. And in the end, the NFL Playoffs will be better for it.
But what if the regular season ended today and the postseason was set to begin. What would then happen in the playoffs? What would the matchups be and, more importantly, who would emerge as the victor in Super Bowl 51?
We aim to answer that as we simulate the 2016 NFL Playoffs bracket as it stands entering Week 14.
AFC Wild Card: 6. Denver Broncos at 3. Baltimore Ravens
Ah, we kick things off with a timeless quarterback battle between two of the greats as Trevor Siemian goes toe-to-toe with Joe Flacco. Okay, maybe that's not actually how things would go down. Instead, the Denver Broncos and Baltimore Ravens meeting in the AFC Wild Card round would likely turn into a defensive struggle between two of the best units in the league.
It's fitting that a game between these two teams would likely pay off in that way. The Ravens have been arguably the best defensive team in 2016. Meanwhile, the Broncos are the defending Super Bowl Champions after getting to that point on the laurels of their defense. However, the Broncos won't be repeating in these simulations. In fact, they aren't making it out of the Wild Card Round.
Ultimately what I see being the difference is the fact that Denver has at least one weakness defensively that the Ravens might be able to exploit. With rookie Kenneth Dixon getting more carries in Baltimore along with Terrance West showing life, they should be able to attack a Broncos run defense that has ranked a paltry 25th in the league in DVOA against the run this season (per Football Outsiders). With the Ravens then being able to get after Siemian and bottle up Devontae Booker, Baltimore advances at home.
Winner: Baltimore Ravens
AFC Wild Card: 5. Kansas City Chiefs at 4. Houston Texans
Whoever comes out of the AFC South is going to get a home playoff game in the Wild Card round and it's almost surely going to be against a team with the better record. More specifically, it's almost surely going to be against a team who's downright better. So as the Houston Texans sit in the division lead entering Week 14, they would then welcome a Kansas City Chiefs team who is far superior to them.
On every level, the Chiefs look like the better of these two teams in this matchup. Though the Houston defense is solid, they are still without their biggest weapon in J.J. Watt and don't possess that extra gear he brings to the table when on the active roster. Meanwhile, Justin Houston has added even more life to an opportunistic and dangerous KC defense. Though Alex Smith isn't exactly the inspiration of confidence you want in the postseason, he looks like Tom freakin' Brady in comparison to what Brock Osweiler has been for the Texans this season.
Even on their home field, there's just no area of the game where I can find an advantage for the Texans. Their offense has shown no real signs of life (despite what Osweiler might be saying) and their defense is vulnerable because of the fatigue they suffer from the offense's shortcomings. Frankly, I don't think the Texans are the team that comes out of the South as they're in free-fall mode. However, they're in the spot now and fall to the Chiefs.
Winner: Kansas City Chiefs
NFC Wild Card: 6. Tampa Bay Buccaneers at 3. Detroit Lions
Well this is certainly a matchup that I don't think anyone was predicting heading into the 2016 season. Yet, both the Detroit Lions and Tampa Bay Buccaneers have far exceeded preseason expectations and look primed to be a dangerous team heading into the NFL Playoffs. Instead of having the chance to knock off one of the bigger fish in the pool, though, they face one another in the Wild Card round.
For starters, this would be a potential show-stealer in terms of entertainment. Both the Jameis Winston-led Buccaneers offense and Matthew Stafford-led Lions offense are capable of reaching tremendous peaks. What's more, both of these defenses are also quite susceptible to getting burned as there are talent deficiencies throughout each. Those units have improved as the regular season wears on, but there propensity for getting torched remains.
But in this matchup, determining the result ultimately comes down to two things, both of which relate to the quarterback. Winston has been phenomenal this season and has turned it up a notch to make this recent run into a playoff spot. However, his current style of play and youth both lend themselves to turnovers on occasion. When matched up against Stafford, who has thrown just five picks through 12 games, that could prove to be costly—even more so if this were to be a high-scoring affair. What's more, Stafford in high-pressure situations this season has been cash-money. That's not to slight Jameis, but merely to say that the Detroit signal-caller has been insanely clutch. Obviously that's pivotal to postseason performance and, in the end, gives the edge to the Lions.
Winner: Detroit Lions
NFC Wild Card: 5. New York Giants at 4. Atlanta Falcons
Midway through the regular season, everything looked better-than-peachy for the Atlanta Falcons. Following a pair of bad losses, they picked up two key wins and looked back on track at 6-3. After losing two out of their last three games, though, things now look far less favorable for the Dirty Birds. They look on the verge of another late-season collapse and potentially are in danger of losing their division lead. What's more, they come up against a Giants team in this Wild Card matchup that has a better record than them and that had won six-straight games prior to a letdown in Week 13.
Clearly the biggest change from last season for the Giants has been on the defensive side of the ball. They've gone from being one of the worst units in the league to being a top-10 scoring defense through 12 games. Considering that they handed out $200 million in contracts this offseason to the defense alone, that should be the case, but it's refreshing that it actually has been. However, that defense is at least somewhat of a question mark entering Week 14 with news that Jason Pierre-Paul had surgery on a sports hernia and is likely out for six weeks.
Even without JPP and without a semblance of a running game, though, I'm never betting against Eli Manning and the Giants in a close playoff matchup. With the Falcons defense looking more banged up with each passing week, you can totally imagine Eli flipping that switch and becoming his superiors postseason version of himself. I suspect that the defense for New York slips a bit without Pierre-Paul, but they'd win against Atlanta in a shootout.
Winner: New York Giants
AFC Divisional Round: 5. Kansas City Chiefs at 1. Oakland Raiders
To be fair, we'll know a lot more about this matchup following Thursday Night Football in Week 14. The Oakland Raiders will travel to Arrowhead Stadium for the primetime matchup looking to avenge one of their two losses on the 2016 regular season. Oakland was dominated in that game, looking unprepared for a physical matchup. However, I suspect a revenge game happening in KC with the Raiders coming out on top. Again, that's merely speculation and we'll know more about this after 60 minutes of play on Thursday.
With that being said, this Oakland team is built far better for the playoffs than the Chiefs. For all of the great things that Kansas City does, they aren't going to be able to catch the Raiders by surprise in this game. When prepared, the big offensive line for Oakland can handle the pass-rush of the from Houston and Dee Ford. What's more, Derek Carr has been even more lights-out as of late than he was early in the season. Though the Chiefs defense is opportunistic and has created a bevy of turnovers, that's not something you can bank on against Carr and this offense.
If there's one thing that the Raiders should fear, it's the emergence of Tyreek Hill. The speedster has come on strong of late and Oakland doesn't have anyone on the defense capable of keeping up with him. Of course, Khalil Mack has also been coming on strong of late and could limit the already limited Alex Smith by creating a consistent pass-rush. To me, the Raiders just seem more likely to be able to put points on the board and execute defensively. Plus, you can never rule out an Andy Reid being Andy Reid moment that costs his team when the playoffs roll around.
Winner: Oakland Raiders
AFC Divisional Round: 3. Baltimore Ravens at 2. New England Patriots
Following up the first Divisional Round matchup in the AFC, we have another matchup that we'll also get a potential preview of as the New England Patriots face the Ravens in Week 14. These two franchises, despite not being in the same division, have a long-standing rivalry due to their success over the past decade-and-a-half. So seeing them match up in the postseason once again would be a tremendous treat for fans.
Again, we'll know more about this matchup once Monday Night Football in Week 14 has subsided. With what we do know now, though, this really is a matchup between polar opposites. Even without Rob Gronkowski, the Patriots still have Tom Brady and that makes them a dangerous offensive team. Yet, their defense has been shaky all season long and has even less talent following the Jamie Collins trade. Meanwhile, Joe Flacco and the Baltimore offense have been anything but consistent and have been downright bad at times. But this Ravens defense may very well be the best in the league, able to stifle both the run and pass.
So what gives when these two teams square off with a trip to the AFC Championship hanging in the balance? Obviously I'm less confident than if Gronkowski were playing, but I lean towards the Patriots advancing past the Ravens. Brady will be able to move the ball and Bill Belichick will have something up his sleeve. John Harbaugh will likely have the same, but I'm just not sure he has the offensive weapons around him to ultimately match what Tom Terrific and the Pats are capable of.
Winner: New England Patriots
NFC Divisional Round: 5. New York Giants at 1. Dallas Cowboys
What do you know, a third game that we'll see in Week 14—and another that will be in primetime as the Giants welcome the Dallas Cowboys for Sunday Night Football. Cowboys fans won't soon forget that, despite winning 11-straight games, it was the Giants who handed them their lone loss of the season back in Week 1. Especially given the Pierre-Paul injury, best believe that Dallas will be out for blood against their division rival in primetime.
In that Week 1 matchup, the Cowboys had two rookies leading the way on offense in Dak Prescott and Ezekiel Elliott. You may know them now as the leading Offensive Rookie of the Year candidates and potential MVPs. For the season-opener, though, it was abundantly clear that they were still getting their footing in pro football. Prescott, who has completed 67.9 percent of his passes on the season, went just 25-of-45 (55.56 percent) against New York. Elliott, who has averaged 4.9 yards per carry and over 107 yards per game on the year, managed just 51 yards on 20 carries in the opener. Both were pressing and looked nothing like the current versions of themselves.
Though the playoff Giants and Eli still give me pause because they have an extra gear, the Cowboys are simply the better team. Even with Prescott and Elliott not looking like themselves in the opener, Dallas still lost by just a point and would've had a chance at a game-winning field goal if not for a mental gaffe by Terrance Williams. By my estimation, Dallas wins on Sunday to clinch the NFC East and would win in this matchup in the Divisional Round.
Winner: Dallas Cowboys
NFC Divisional Round: 3. Detroit Lions at 2. Seattle Seahawks
After beating the Buccaneers in the Wild Card, the Lions get the unwieldy task of traveling to CenturyLink Field and facing the Seattle Seahawks in the Divisional Round. However, this is a Seattle team that's far from operating at full-strength right now. Not only has their offense line been a carousel of guys you've never heard of, but their defense took a big hit in their last game as Earl Thomas was lost for the year with a broken bone in his leg.
Though the defense remains strong, not having such a force on the back end of the secondary is huge for the Seahawks in matching up with the Lions. Detroit has a solid array of pass-catchers from Golden Tate to Marvin Jones to Eric Ebron (among others) that can really exploit not having that help over the top. What's more, the singular thing the Lions defense can boast consistently is a bit of a pass-rush from the likes of Ziggy Ansah. With Seattle's offensive line woes, that could play into the Lions' hands.
But I'm still taking the Seahawks to move on to the NFC Championship.
Aside from the home-field advantage for them being so pivotal (6-0 on the season), I simply have more trust in the likes of Pete Carroll and Russell Wilson. Even if pressured, Wilson has proven he can still make plays and he has weapons to feed. Moreover, Thomas Rawls (if he can stay healthy) is a hellacious runner that could gash Detroit up the middle. It might be more high-scoring than you'd think at first-glance, but Seattle holds at home.
Winner: Seattle Seahawks
AFC Championship Game: 2. New England Patriots at 1. Oakland Raiders
So we've made it here with the top two teams in the AFC squaring off for the right to play in Super Bowl 51. And really, this is the only sensible matchup at this point when you look at the rest of the conference. The Patriots and Raiders have far and away been superior to every other team in the AFC in terms of production, consistency, and obviously record as a result of that. Consequently, it's only fitting that they meet here.
But what to make of this matchup. As we talked about previously, the New England defense has been a glaring weakness that is more problematic than people seem to admit. Against a balanced, dynamic, and lethal Raiders offense led by Carr, that's obviously a huge problem. And once again, it's worth noting how largely mistake-free the Oakland quarterback has been this season. He won't be giving the ball away to concede extra chances to Tom Brady and company.
What's more, I still believe in this Oakland defense and New England simply doesn't match up well with them. The Raiders secondary struggles with speed and playmakers and the Pats don't have that type of receiver on their roster. Moreover, the absence of Rob Gronkowski and still-unproven effectiveness of Martellus Bennett in the offense won't afford the Patriots the ability to take advantage of the Raiders in the middle of the field.
I know that it's the Patriots with Brady and Belichick against an upstart team that seems to have some sort of magical late-game formula. And yes, LeGarrette Blount could potentially have a big game against Oakland. But top-to-bottom in the matchups for this potential AFC Championship Game, the Raiders have the advantage in more areas than the vaunted Patriots. Thus, their magic continues on to Houston.
Winner: Oakland Raiders
NFC Championship Game: 2. Seattle Seahawks at 1. Dallas Cowboys
My apologies for not stirring the pot enough, but much like in the AFC, there are two clear-cut best teams in the NFC this season. And they meet in this simulated NFC Championship Game, the Cowboys playing host to the Seahawks. This is the matchup everyone is expecting and, barring some unforeseen circumstance, it's the matchup that everyone should ultimately get.
As the top two seeds in the conference square off, the billing would obviously be the classic Offense vs. Defense battle that the postseason is built on. Dallas has the arguably the league's best offense and Seattle arguably the league's best defense. That's undeniable, but there's more at play than just something that simplistic.
For the Seahawks, their defense has been predictably above-average, but not as dominant as it has been in years past. And with the Earl Thomas injury, that puts them in a tough spot against a Cowboys offense that is one of the most balanced in the league. And while the Seahawks have been stifling on a per-carry basis against the run, Dallas has made a habit out of dominating in the run game regardless of matchup. Subsequently, the advantage goes to the Cowboys in terms of strength versus strength.
Yes, Russell Wilson is dynamic and could give the Cowboys problems. But the sneaky thing about Dallas is that they can make the Seahawks one-dimensional by eliminating Rawls as they have been one of the best run defenses in the NFL this season. And though Dallas needs to add talent moving forward, DeMarcus Lawrence has proven to be able to be able to get after the quarterback and Sean Lee able to get out in space in make plays if things develop outside of the pocket. That too could hurt Seattle and their offensive line.
Say I'm getting too caught up in the numbers and not the talent or believing the hype in the Cowboys. That's fine. Dallas is the better team in this NFC Championship matchup. And they move on to face the Raiders in the Super Bowl.
Winner: Dallas Cowboys
Super Bowl 51: Oakland Raiders vs. Dallas Cowboys
Here it is; the Big Game. And frankly, it's hard to ask for a better matchup than one between these two. Though the Cowboys would be playing Super Bowl 51 in-state, the Raiders have one of the best traveling fanbases. Subsequently, it would be absolutely rocking in NRG Stadium if these two teams were to meet. Moreover, I don't think that the NFL would have to worry too much about the ratings crisis when it comes to a matchup like this to cap off the year and determine the league's champion.
Now it all comes down to how these two teams match up and even that offers good times. You're talking about two of the NFL's best offenses going head-to-head here, which would be a far cry from the defensively dominated Super Bowl of last year. What's more, both of these defenses have been playing well enough to get these teams to having a combined three losses entering Week 14, but are both vulnerable.
Derek Carr is going to be able to move the ball against the questionable secondary of the Cowboys and hold off the lackluster Dallas pass-rush with their big offensive line. Furthermore, the Raiders may be able to run a bit more than other teams because of that line, but the Cowboys defense can still hold their own so to not get burned too badly. On the other hand, Dak Prescott and Ezekiel Elliott should be able to gash the middle of the field time and again. That's the weak area of the Oakland defense and where the Cowboys excel, in addition to Dez Bryant being a matchup problem on the outside.
So ultimately, what gives when these two teams face off? Both have distinct advantages over the other and should be able to do what they want on offense. With that said, the playmakers on the Cowboys defense like Sean Lee, Byron Jones, and maybe even Morris Claiborne are less susceptible to being taken out by Oakland's strengths on offense whereas the Dallas offensive line can slow the Raiders' biggest assets in Khalil Mack and Bruce Irvin (and maybe Aldon Smith) in the pass-rush. Ultimately, that potential for one big defensive play gives the edge to Dallas.
Keep not believing in them because they're young or whatever other reason you can find. The Dallas Cowboys are for real and have a viable shot at winning Super Bowl 51.
Winner: Dallas Cowboys
This article originally appeared on