2016 NFL Picks, Score Predictions For Week 13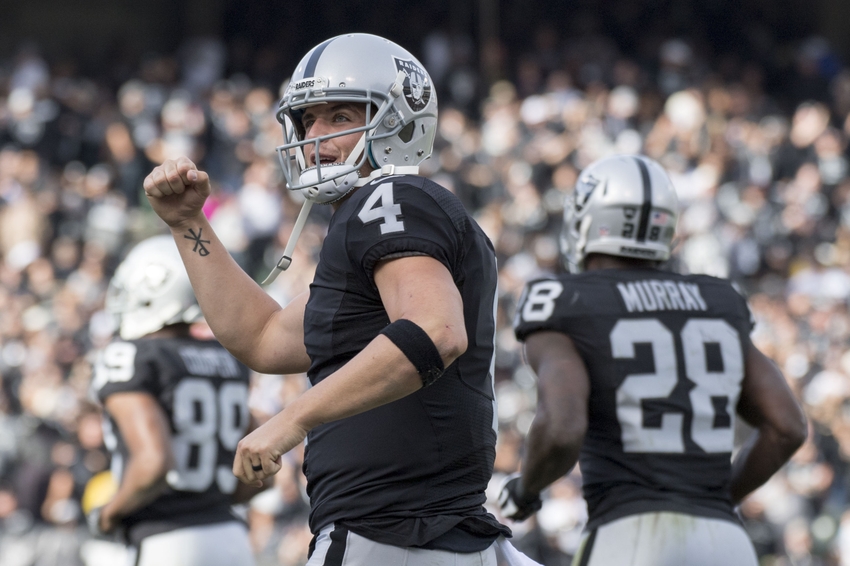 With Week 13 of the 2016 season just around the corner, it's time to take a look at the latest round of NFL picks and score predictions.
As we inch closer and closer to the 2017 NFL playoffs, we've got another exhilarating round of NFL picks and score predictions to get you through Week 13. It's been a bonkers season so far, with 12 weeks overflowing with surprises and letdowns.
This week should be no different, especially considering some of the intriguing matchups on the docket. While there are a couple of snoozers scheduled, I'd anticipate it being a pretty exciting weekend as teams continue to jockey for playoff positioning.
Thanksgiving weekend worked out well for me, as I finished off Week 12 with a solid 11-5 record. That improves my overall record on the season to 103-72-3, which looks a lot better than it did a few weeks ago. It's certainly not the best record out there, but it could definitely be a lot worse based on how unpredictable this 2016 campaign has been.
Here are my NFL picks and score predictions for Week 13. As always, I assume no financial responsibility if you choose to follow my advice and loss.
Week 13 Byes: Cleveland Browns (0-12), Tennessee Titans (6-6)
Dallas Cowboys (10-1) at Minnesota Vikings (6-5)
The Vikings know this is a must-win matchup, especially if they plan on making the playoffs this season. Unfortunately, they face off against a Cowboys team that appears unstoppable at this point.
Right now, Dallas is riding a 10-game winning streak as rookies Dak Prescott and Ezekiel Elliott continue to impress. Both have played well beyond their years in 2016 and the other players are feeding off of that success. Even the Cowboys defense, which was expected to be subpar this season, has held its own.
Meanwhile, the Vikings have lost five of their last six and can't seem to overcome the onslaught of injuries they've endured. The offensive line is in shambles, which has allowed Minnesota to field the NFL's worst offense through 12 weeks.
Even if Sam Bradford can get the ball moving with the short passing game, I don't think the Vikings have enough scoring potential. The running game can't get going and Bradford can't make enough big plays having to throw so quickly. I just don't see Minnesota being able to keep up on the scoreboard.
It'll be hard-fought battle with how exceptional the Vikings defense has been this year. When the clock strikes zero, though, the Cowboys should come away victorious.
Prediction: Cowboys win 24-20
Kansas City Chiefs (8-3) at Atlanta Falcons (7-4)
Realistically, the Chiefs have had a fairly tame trip to 8-3. Apart from their defeat of the Raiders, all of their wins have come against teams with losing records. Not exactly an impressive feat, if you ask me.
Now, they head into a Week 13 matchup with a Falcons team that can light the scoreboard up in the blink of an eye. Just ask the Arizona Cardinals, who got devoured by Atlanta's offense a week ago.
How exactly does Kansas City plan on slowing down the likes of Matt Ryan, Julio Jones and Devonta Freeman? Even if they pull that off, I'm sure Taylor Gabriel will break off some video game-esque run to put six on the board. It's a daunting task for any defense, let alone the NFL's 27th-ranked unit.
I know Atlanta's defense isn't any better, but it's not like the Chiefs offense is a powerhouse. Alex Smith makes a few decent throws every game, but is no superstar under center. And Spencer Ware hasn't been the same since his concussion a few weeks ago. It's pretty much all Tyreek Hill and Travis Kelce at this point. I just don't see how Kansas City is going to be able to keep up.
The Chiefs got destroyed by the Steelers in a 43-14 Week 4 shellacking. I wouldn't be surprised to see something similar happen on Sunday.
Prediction: Falcons win 35-10
Detroit Lions (7-4) at New Orleans Saints (5-6)
It seems surprising, but the Lions are actually leading the NFC North after an impressive midseason surge. However, they still have a slim lead over the Vikings, and need to keep winning to ensure their first divisional crown since 1993.
The Saints will be no pushover, though.
New Orleans has had a solid season, despite their sub-.500 record. Drew Brees is shredding secondaries like usual, and Mark Ingram has the ground game rolling. If it wasn't for their wretched defense, the Saints may be leading the NFC South right now.
A win against the Lions could keep them in the race, though. Unfortunately, I don't think that happens. Their defense just doesn't have the talent to slow Matthew Stafford and a Detroit offense that's more than capable of putting up points in a hurry.
I'm thinking this one will be a shootout, with Brees and Stafford both putting up big numbers. When it's all said and done, though, I'd expect the Lions to seal the deal with yet another clutch Matt Prater field goal.
Prediction: Lions win 37-35
Los Angeles Rams (4-7) at New England Patriots (9-2)
At this point in time, I wouldn't be surprised if the Rams failed to win another game this season. It just seems like, no matter what, Jeff Fisher's squad just can't seem to put a complete performance together.
In most of their losses, the Rams have failed to get much of anything going on offense. However, in Week 12, it was their defense that couldn't answer the call. Rookie Jared Goff actually did an okay job under center, but the Los Angeles defense was embarrassed by Brees and the Saints passing game. If Los Angeles can't handle the Saints, how are they going to slow Tom Brady and Co.?
Yes, New England struggled a bit in Week 12. However, as we've seen all season, there's little hope for keeping Brady and the Patriots offense in check for long. Especially if Rob Gronkowski is healthy and Dion Lewis can get going, I can't see the Rams keeping up on the scoreboard.
It'll be another valiant effort from Goff. It just won't be enough to keep the losses from piling up in Los Angeles.
Prediction: Patriots win 31-16
Denver Broncos (7-4) at Jacksonville Jaguars (2-9)
It's been an up-and-down year for this Broncos team. They've yet to find their identity, as the offensive and defensive units never seem to show up on the same day. Hopefully they can iron out some issues in this Week 13 gimme.
I mean, Denver couldn't have asked for a better bounce-back opportunity than a showdown with the Jaguars. Gus Bradley's group has been a mess this season, turning high expectations into nothing but disappointment after a strong offseason showing.
The worst part, though, has been the regression of Blake Bortles. It looked like he was primed for a breakout season in 2016, but has instead reverted back to his rookie self, turning the ball over at an alarming clip. It's a disappointing development for him, but an excellent opportunity for the Broncos defense to get itself back on track.
It'll also be a good test for Trevor Siemian, who is coming off another impressive performance in Week 12. It still blows my mind how little credit the sophmore quarterback gets, although it's obviously difficult to fill the shoes he's filling.
Either way, look for Denver to dominate this one—at least defensively. Jacksonville has a good pass defense, but Siemian will still find ways to move the ball while the defense berates Bortles all game long.
Prediction: Broncos win 27-13
Houston Texans (6-5) at Green Bay Packers (5-6)
The NFC North is wide open, especially after the Packers secured a big Monday Night Football win in Week 12. Now, with the overrated Texans coming to town, there's another perfect opportunity for Green Bay to close the gap.
While the Packers have been off this year, we all know what Aaron Rodgers and Co. are capable of. Especially when the veteran gunslinger gets into a rhythm, Green Bay is a difficult team to beat. Even the Texans' stout defense is going to have their hands full on Sunday.
When it comes down to it, though, I believe it'll be Brock Osweiler who does Houston in. The team's prized free agency addition has been a bust up to this point, as evidenced by his three-interception performance a week ago. Between poor ball security and wildly inconsistent accuracy, Osweiler just isn't capable of lighting a fire under this Houston offense.
The Packers defense has certainly flopped in recent weeks, but showed up against Philadelphia on Monday night. With their window closing quickly, I'd look for the group to stiffen up and show Houston what they're made of.
Honestly, I wouldn't be surprised if the Packers ran away with this one. The talent is there for them to embarrass the Texans, blowing the NFC North and AFC South races wide open.
Prediction: Packers win 41-21
Philadelphia Eagles (5-6) at Cincinnati Bengals (3-7-1)
I know I'm probably going to regret this decision, but I'm going with the Bengals in this one. Neither of these teams have been any bit impressive in recent weeks, but I'm just not feeling like the Eagles can win one on the road right now.
Heading into Week 13, Philadelphia is 1-5 when they're the visiting team. Not exactly an impressive road record for a team that looked like it was headed for a division crown at the beginning of the season.
To make matters worse, Carson Wentz has regressed over the second half of the year. It's almost as if opposing defenses have figured him out, because he's not nearly as effective as he was during the Eagles' first few games.
At least the Bengals have a proven group of playmakers on offense. While they tend to not show up for some games, Andy Dalton, Jeremy Hill and Tyler Eifert are all dependable, productive parts of the Cincinnati offense. I don't know how many Philadelphia players you can say that about right now.
This should be a snoozer, with most folks besides fans tuning out before halftime. Still, someone has to win, and I'm predicting it'll be the Bengals. They end their three-game losing streak while extending Philadelphia's to three.
Prediction: Bengals win 17-7
Miami Dolphins (7-4) at Baltimore Ravens (6-5)
Both of these teams have been pleasant surprises this season, although their roads to relevance have been vastly different through 12 weeks. While the Ravens started out strong and slowed down the stretch, the Dolphins are riding a six-game winning streak after starting 1-4.
Unfortunately for Miami, I believe that streak will come to an end in Week 13.
Put simply, I don't believe the Dolphins have enough offensive firepower to overcome the Ravens' suffocating defense. Jay Ajayi has quieted down in recent weeks,= and the passing game is strong but inconsistent. Going up against the Ravens' second-ranked defense is going to be the toughest test yet.
Obviously Baltimore doesn't offer much potential on offense. Joe Flacco has been a major letdown this year and the running game is unreliable at best. However, they're producing just enough points to provide support for their impressive D.
This will be a low-scoring affair, with a last-minute field goal likely providing the knockout punch. My guess is the Ravens force a late turnover that gives them the edge against the Dolphins.
Prediction: Ravens win 16-14
San Francisco 49ers (1-10) at Chicago Bears (2-9)
This very well may be the worst matchup of the 2016 campaign. Two teams desperately wishing it was already the offseason being forced to play 60 minutes of football. It's not going to be pretty for anyone who decides to tune in or show up to Soldier Field. But we have to pick a winner, so here it is—the Bears are going to win this one. There are a couple of reasons why I'm confident Chicago will come away victorious.
The first is the Bears are at home, the only place where they've seemed any bit comfortable this season. Soldier Field has always given this team an edge, and should continue to do so in Week 13 against a San Francisco team that's winless on the road (although they do only have one total win).
The second is they're simply a more talented team. Even with Matt Barkley as the starting quarterback, the Bears looked solid against a quality Titans team in Week 12. Jordan Howard should also be drooling over this matchup against the NFL's worst run defense.
The 49ers should keep it close with Colin Kaepernick making a few big plays with his feet. However, between turnovers and terrible defense, San Francisco should fall to 1-11 at the hands of the Bears.
Prediction: Bears win 20-17
Buffalo Bills (6-5) at Oakland Raiders (9-2)
No matter how hard I try, I just can't see the Bills winning this one. Sure, these two teams' records aren't that far apart. However, what we're seeing on the field are two completely different clubs playing at completely different levels right now.
I mean, the Raiders may just be the hottest team in football apart from the Cowboys. They're finding ways to win nearly each and every week, and have momentum on their side heading into Week 13. Who are the Bills to stand in their way of reaching the playoffs for the first time in over a decade?
Derek Carr will do his thing, putting up big numbers and looking like the MVP candidate he is. Latavius Murray will punish the Buffalo defense with tough, physical running. And the Oakland defense will bend but not break, with a few clutch plays being made towards the end of the game to help seal the deal. Tyrod Taylor better know where Khalil Mack is on every play.
I'm sure the Buffalo offense will make a few plays themselves. The Raiders have struggled to slow the running game, so look for LeSean McCoy to have a big day on the ground. However, pressure on Taylor and the subsequent turnovers will eventually do the Bills in. Oakland keeps on rolling towards the playoffs with another tough win against a tough opponent.
Prediction: Raiders win 28-21
New York Giants (8-3) at Pittsburgh Steelers (6-5)
I had high expectations for the Steelers in 2016. I may have even predicted a Super Bowl appearance at one point. Heading into Week 13, I don't feel that way at all based on what we've seen from this squad in the past few weeks.
Pittsburgh is riding a two-game winning streak, but those wins came against the Browns and the Andrew Luck-less Colts. Before that, they had dropped four-straight—albeit against quality teams. Unfortunately, in Week 13 they'll again be facing off against a quality Giants team.
In fact, the G-Men have their own winning streak going at this moment. They've secured six victories in a row and are trying desperately to keep pace with the Cowboys in the NFC East. A win against the Steelers would do a lot for them in that regard.
So you better believe Eli Manning and Odell Beckham Jr. will do everything in their power to put another notch in the win column. I believe that will happen, especially since New York will be pitting its 12th-ranked pass offense against the Steelers' 22nd-ranked pass defense.
This will be a close content, with the winner likely be decided in the final minute of the game. However, given the Giants' clutch play this season, I have to give it to them—even if they are on the road.
Prediction: Giants win 23-21
Washington Redskins (6-4-1) at Arizona Cardinals (4-6-1)
At this point in the season, I've lost all confidence in the Cardinals. I thought at season's start they'd at least be a playoff team with some contention potential, but obviously that isn't the case. So there's little reason for me to pick them in this matchup.
There's more to my selection of the Redskins as the winners in this one, though.
As you may know, Washington sports one of the best offenses in the NFL right now. Kirk Cousins has this passing game firing on all cylinders, and the Redskins are even getting impressive production on the ground from undrafted rookie Robert Kelley.
Meanwhile, the Cardinals have been gouged on the scoreboard in recent weeks. Just ask the Falcons, who put on an offensive clinic in Week 12 against Arizona's suspect defense. They made it look too easy, and chances are Cousins and Co. will do the same in Week 13. Look for someone like Jamison Crowder to fill the Taylor Gabriel role for Washington.
The Cardinals will put some points up as well, as keeping David Johnson out of the end zone is simply too difficult a task. However, nothing Arizona's offense can do will be enough to outlast the onslaught of offense from the Redskins.
Prediction: Redskins win 34-20
Tampa Bay Buccaneers (6-5) at San Diego Chargers (5-6)
Both of these teams have found ways to stay relevant, even as we head down the final stretch of the 2016 season. The Buccaneers are riding a three-game winning streak, while the Chargers continue to win the ones they shouldn't. So why wouldn't the latter remain true in Week 13? The Chargers are coming off an impressive showing against the Texans, and will have home-field advantage.
Better yet, they have Philip Rivers under center. And as we've seen more often than not this year, the wily veteran is an expert at putting his team in position to win. It doesn't always pan out, but he's done a great job of putting points on the board and avoiding too many mistakes (except against the Dolphins).
Now I don't want to completely discredit Tampa Bay. The offense can get hot at times and the defense is definitely an improved unit from a season ago. There's still work to be done, but the overall product on the field every week is one worth taking seriously.
It was a bit shocking to see the Buccaneers topple the Seattle Seahawks in Week 12. Unfortunately, they'll come back down to Earth in Week 13 with a demoralizing loss to the Chargers.
Prediction: Chargers win 41-28
Carolina Panthers (4-7) at Seattle Seahawks (7-3-1)
After getting embarrassed by the Buccaneers a week ago, the Seahawks need a bounce-back win in the biggest of ways. Luckily for them, a matchup with the Panthers is on the docket in Week 13. It won't be a cakewalk, but it's definitely a winable game for Seattle.
Is there reason to be concerned? Absolutely. When a contender can only muster five points in a game, it's understandable to look for the panic button. However, pressing it would be a bit premature. This is still a quality Seahawks team capable of winning on any given Sunday.
As mentioned previously, it helps that they get Carolina this week. While the Panthers looked to be improving, they dropped a nail-biter in Week 12, proving they are a team that can't win in the clutch moments. All year long, they've been bitten by the turnover bug. I'd expect more of the same against Seattle.
Especially with their physical, instinctive defense, look for the Seahawks to make life difficult for Cam Newton and the Carolina offense. They'll bring pressure early and often, forcing the reigning MVP into more mistakes than his defense can make up for. This one should be closer than Seattle would like. A few big plays from Russell Wilson and a timely takeaway or two should help it secure the W on Sunday, though.
Prediction: Seahawks win 17-14
Indianapolis Colts (5-6) at New York Jets (3-8)
It's too bad this Monday Night Football matchup is a bit of a snoozer. However, as strange as it seems, the Colts are still in contention, which makes it one worth watching.
It makes it even more interesting when you consider that Andrew Luck should be back under center for Indianapolis (via Colts.com's Kevin Bowen). Whenever Luck is on the field, big things are bound to happen, which should allow some sparks to fly between these two sub-.500 clubs.
Realistically, this should be a big game for Luck and the Indy passing game. The Jets have not done a good job of slowing the pass this season, as the aging Darrelle Revis has been a shell of his former self. I'd expect a big game from players such as T.Y. Hilton (if he plays), Donte Moncrief and Phillip Dorsett.
As for the Jets, it could be a very different story. While the defense has stood its ground at times this year, the offense is absolutely unreliable. Assuming Ryan Fitzpatrick is still starting, there's a very good chance New York will turn it over more often than they find the end zone. Even against the Colts porous pass defense, it shouldn't be pretty.
With Luck back in the driver's seat, things should play out in Indianapolis' favor. They stay alive in the AFC South race with a late-season win.
Prediction: Colts win 28-16
This article originally appeared on