2016 NFL Picks, Predictions For Week 9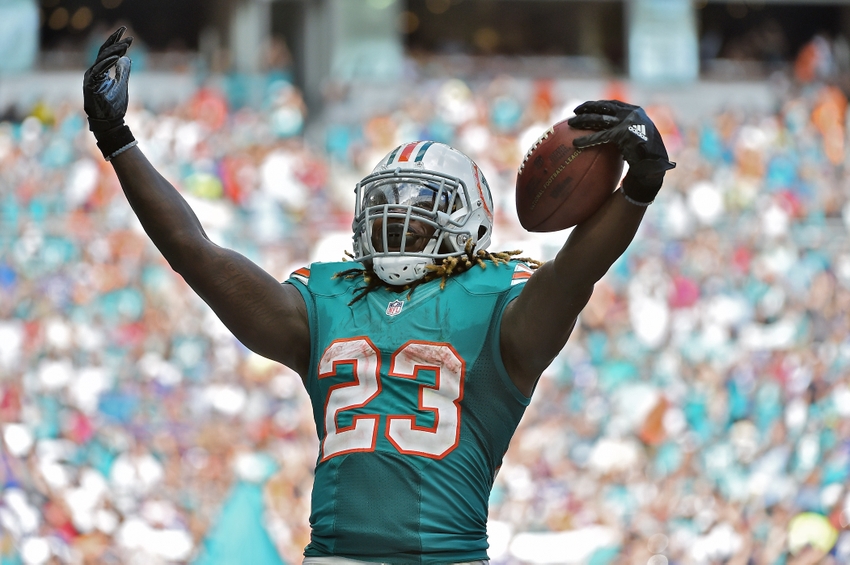 Week 9 of the 2016 campaign is upon us, and with it follows the latest look at NFL picks for the slate of 13 games waiting just around the corner.
Believe it or not, we're essentially midway through the 2016 NFL season. Eight weeks are in the books, and we now have another round of NFL picks prepared for Week 9.
So what can we expect from this week's slate of games? There are 13 matchups on the docket, including some battles between contenders and a couple of outings that are sure to be snoozers. No matter what it looks like on paper, though, there will definitely be some wrinkles before Week 9 is in the books.
That's why I'm here—to help you get a better idea of what could go down between Thursday and Monday night.
Now I'm no expert, and I'm not afraid to admit that. My picks yielded a 7-5-1 record in Week 8, which improves my season record to 66-52-2. It's nothing to write home about, but it could absolutely be worse based on the way this season has gone.
So without further ado, here are my picks for NFL Week 9. As always, I assume no financial responsibility if you choose to follow my advice and suffer as result.
Week 9 Byes: Arizona Cardinals, Chicago Bears, Cincinnati Bengals, Houston Texans, New England Patriots, Washington Redskins
Atlanta Falcons (5-3) at Tampa Bay Buccaneers (3-4)
Somehow, the Buccaneers have managed to keep pace in the NFC South race this season. That's despite an average offense and miserable defense. Besides their Week 1 fluke win against the Falcons, they've beaten teams that have combined for three wins this season.
While the Falcons have had their own issues, they're coming off an impressive win against the Packers. They've proven they can stand toe-to-toe with some of the NFL's best, and are likely eager to get revenge for that botched season opener.
Right now, the Falcons offense is firing on all cylinders—it's ranked first in the league, after all. The defense may not be nearly as stout on Sundays, but it's doing just enough to put Atlanta in the win column more often than the loss column.
Meanwhile, it's been a bumpy ride for Jameis Winston and Co. this year. They've had some ugly performances, and aren't living up to expectations after what appeared to be a strong offseason. The fact that the defense is ranked 26th in the NFL doesn't help. I think this will end up being a close battle between two division rivals. However, when all is said and done, the Falcons should come out on top.
Pick: Falcons
Detroit Lions (4-4) at Minnesota Vikings (5-2)
I'm not sure whether the Vikings' 5-0 start was a fluke or if they're just in a rut following two ugly losses. It could also be that opponents have figured out how to beat them. Either way, they need a bounce-back win in a big way against the Lions in Week 9.
Luckily, they'll be going up against one of the worst defenses in the NFL when Detroit comes to visit. While they're currently sitting at 23rd overall through eight games, it's the Lions' inability to keep opponents out of the end zone that should have Minnesota feeling good about its chances.
Detroit has given up a league-high 19 touchdowns through the air this year. While they've managed to do a decent job of corralling opposing running games, it's looking like Sam Bradford should be able to get back on track.
As long as the Minnesota defense doesn't lie down like it did against the Bears, the Vikings will be fine. They've faced and defeated tougher teams this year, and the Lions are definitely beatable on the road. Some better blocking for Bradford will also make getting the win that much easier in Week 9.
Pick: Vikings
Philadelphia Eagles (4-3) at New York Giants (4-3)
You never know what you're going to get from this Eagles squad. One week you get a giant slayer, and the next you get a team that can't come up big in the clutch. So which Philadelphia team will show up against the division rival Giants? My guess is we'll see the group that started the season 3-0.
Even after another loss to the Cowboys in Week 8, the Eagles looked like a contender. Carson Wentz is still playing well beyond his years, and the other offensive playmakers are stepping up as needed. As long as the defense can continue to create turnovers and collapse the pocket, Philadelphia should keep rolling.
New York has obviously held its own this season as they sit at 4-3. Eli Manning and Odell Beckham Jr. are doing enough to keep the offense afloat, and the defense has shown improvement in recent weeks.
Another NFC East showdown should prove fruitful for the viewers, and will likely come down to the wire. However, even despite his relative inexperience, I have to give the edge to Wentz and this Eagles team. If Dak Prescott can do it, so can he.
Pick: Eagles
New York Jets (3-5) at Miami Dolphins (3-4)
The Jets may have strung together a couple of wins, but they're far from a quality team. The Dolphins, however, are looking like a team worth taking seriously after a couple of wins against contenders.
So really, it'll come down to whether or not the Jets top-ranked run defense can slow down Jay Ajayi. The sophomore runner is coming off back-to-back 200-yard outings and doesn't appear eager to slow down anytime soon. Can New York find a way to slow him down?
I honestly don't think so, especially with the way he's been playing. To make matters better for Miami, his presence has given the rest of the offense a shot in the arm. Ryan Tannehill is playing well with defenses wary of the run and his receivers are enjoying the relaxed coverage as safeties try to cheat up.
Obviously the Dolphins defense is a concern, but it's not like the Jets offense has much to offer. They can't seem to avoid turning the ball over early and often and barely managed to outscore a pitiful Cleveland Browns team in Week 8.
This'll be an interesting showdown between two very different AFC East teams. The Dolphins should have enough offensive firepower to stay ahead on the scoreboard.
Pick: Dolphins
Jacksonville Jaguars (2-5) at Kansas City Chiefs (5-2)
At this point, these two teams are headed in completely different directions. It's just about time to stick a fork in the Jaguars, while the Chiefs are looking like serious contenders in the AFC West. Realistically, there's little reason to believe they won't continue down those paths in Week 9.
Based on what we've seen from Blake Bortles this year, he's going to have a rough day against the Kansas City defense. They've been creating turnovers at a remarkable clip, while Bortles has been giving the ball away far too often. It's a recipe for disaster for Jacksonville and their turnover differential.
I also believe this Chiefs offense is a bit underrated. While they'll never be an elite unit, Alex Smith is making plays when he needs to and Spencer Ware has emerged as one of the NFL's most versatile backs. Even with Jamaal Charles proving nearly irrelevant this season, the Kansas City offense is rolling.
Considering everything I've mentioned, this one could get ugly early. The only hope for the Jaguars is that Bortles keeps his turnovers to a minimum and the Chiefs offense hits a speed bump—which isn't out of the question if Nick Foles gets the start for a concussed Smith.
Pick: Chiefs
Dallas Cowboys (6-1) at Cleveland Browns (0-8)
As I mentioned last week, I'm not going to pick the Browns until they give me a reason to do so. Still winless through eight weeks, it's safe to assume there's no reason.
It also doesn't help that they'll be taking on the Cowboys, who have been running roughshod on opponents through the first half of the season. They put together an impressive comeback against the Eagles on Sunday night and should have little trouble disposing of Cleveland.
Dak Prescott is still working his rookie magic on opposing defenses and Ezekiel Elliott continues to be an unstoppable force in the running game. Especially with Dez Bryant back in the mix, it's difficult to imagine them dropping a game against the laughingstock of the NFL.
As much as people will pull for the underdog in this one, it's not going to happen. The Browns will stay winless in Week 9 by way of an embarrassment at the hands of the Cowboys. They'll need a lot more than Jamie Collins before we start seeing wins in Cleveland.
Pick: Cowboys
Pittsburgh Steelers (4-3) at Baltimore Ravens (3-4)
Both of these teams are currently on losing streaks, but will be fresh off the bye. It should be a fairly even matchup against two AFC North rivals, which means just about anything could happen.
That's why I believe, even if Ben Roethlisberger is forced to sit, the Steelers should still come out victorious. Even a Landry Jones-led Pittsburgh team should be able to overcome the Ravens squad we've seen in recent weeks.
I mean, have you seen the Baltimore offense? It's been pitiful at best as Joe Flacco seems to be a shell of his former self. They can't seem to get things going through the air, and the ground game is proving just as ineffective. Heck, they're averaging only 19 points per game through seven outings.
Obviously the potential absence of Roethlisberger will hurt, but the Steelers still have Le'Veon Bell and Antonio Brown. The defense is also still intact and has more than its fair share of playmakers. If they can force some Flacco turnovers, the Pittsburgh offense has enough firepower to stay ahead on the scoreboard.
I'm hoping for another hard-hitting battle between these two long-time foes. When the dust settles, though, I'm anticipating the Steelers walking away with another notch in the win column.
Pick: Steelers
New Orleans Saints (3-4) at San Francisco 49ers (1-6)
I just can't seem to figure out this Saints team. They've had some tough losses this year, but then come out of the blue to knock off the Seahawks in Week 8. Thankfully, they'll face a pathetic 49ers squad this week.
Even with Colin Kaepernick back in as the starter, San Francisco can't seem to get anything going. They've been blown out in their last two outings, and are currently only five points ahead of the Browns for the worst point differential in the NFL. To top it all off, they boast the 30th-ranked defense in the league. Put simply, there's little reason to believe they can contain Drew Brees and the Saints top-ranked passing attack.
I mentioned the 49ers offense was bad, but I should note they have the worst offense in the NFL. Yes, they've managing a whopping 290 yards per game, almost half of which is coming from the ground game. Even with New Orleans' lackluster defense, San Francisco will still struggle to get anything going in Week 9.
With this win, the Saints pull that much closer to actually being in the playoff picture—as crazy as it seems.
Pick: Saints
Carolina Panthers (2-5) at Los Angeles Rams (3-4)
It took eight weeks, but the real Panthers finally came to play on Sunday. And they left the Cardinals that much further behind in the NFC West race as a result. So why not help the Seahawks out a little more?
This week, they head west to face the Rams, who are currently riding a three-game loing streak. And as we've seen in recent weeks, there's little evidence to convince us the Rams can beat the Carolina team we saw in Week 8.
Cam Newton and Co. finally got going, although the return of Jonathan Stewart has been a huge help. The Carolina offense is making plays and putting up big points, giving them enough of a cushion to overcome the Panthers suddenly susceptible defense. I mean, the unit that helped Carolina reach the Super Bowl a year ago is currently giving up the sixth-most points per game.
Still, a matchup with the miserable Los Angeles offense should prove an easy one. Case Keenum is  shockingly still the starter and he's coming off a four-interception performance in Week 7 before the bye. Even after the week of rest, there's little to like about this Rams team right now. You can never count out a Ron Rivera-led team. Could this be the start of a comeback for Carolina?
Pick: Panthers
Indianapolis Colts (3-5) at Green Bay Packers (4-3)
There's reason to like and dislike both of these teams heading into Week 9. The Colts looked like a contender at the start of the season, but have watched a one-dimensional offense and porous defense kill their stock. The Packers are still a good team, but remain inconsistent.
That's part of why I believe this will be such an exciting matchup—two teams still hoping to make their marks on the 2016 campaign.
However, when looking at the matchup, I just can't see Indianapolis coming out on top. That's because of their 31st-ranked pass defense, which is going up against the elite Aaron Rodgers. Even with his so-called struggles this year, it's impossible to imagine the future Hall of Famer missing out on an opportunity to shred this Colts secondary.
Obviously we can expect some big plays from Andrew Luck, who always finds ways to keep the Colts alive. Unfortunately, he can only bear so much of the burden on a weekly basis. Rodgers and the Green Bay offense will need to come up big in this one. Luckily for them, I don't think that'll be too tall a task.
Pick: Packers
Tennessee Titans (4-4) at San Diego Chargers (3-5)
I'm still convinced the Chargers are better than their 3-5 record would indicate. They've had some really close calls this season. As for the Titans, they've notched most of their wins against subpar squads and haven't seen the progress they were hoping for from Marcus Mariota.
Through eight games, Tennessee has been relying on the ground game and a solid defense to win games. While that may sound like a decent recipe for success, both units are too unreliable to carry the Titans through to the playoffs. The Chargers, however, have the talent to make a move up the ranks.
Philip Rivers is obviously a star in his own right, and will continue to make big plays until the day he retires. Melvin Gordon has cooled in recent weeks, but is still more than capable of going off. The San Diego defense also possesses playmakers, but has battled injuries and some poor luck this season.
I'd expect this to be a high-scoring affair. When all is said and done, though, the Chargers will secure a win in the final minutes of the game.
Pick: Chargers
Denver Broncos (6-2) at Oakland Raiders (6-2)
The Raiders are 5-0 on the road this season. Unfortunately, the Broncos will be coming to Oakland, which isn't exactly a place of love and affection for the Silver and Black at this moment. So it's very possible a home collapse could be in the Raiders' immediate future. In fact, that's what I'm predicting here.
Now it's more than just who's at home and who's on the road. The Broncos still possess one of the NFL's best pass defenses. Meanwhile, Oakland depends on its passing attack to win games. As we saw in Week 9, it took over 500 passing yards from Derek Carr to overcome a subpar Buccaneers team.
The fact still remains that the Raiders boast the second-worst defense in the league. Especially with Sean Smith likely to miss at least this game (via NFL.com's Ian Rapoport), the Broncos should have little trouble moving the ball through the air. While Trevor Siemian hasn't exactly been a star for Denver, he's more than capable of making plays with guys like Demaryius Thomas and Emmanuel Sanders to throw to.
It'll be an interesting matchup between two polar opposites. However, as we've heard before, defense wins championships. The Broncos should come up with enough big plays on defense to leapfrog the Raiders in the AFC West race.
Pick: Broncos
Buffalo Bills (4-4) at Seattle Seahawks (4-2-1)
Both of these teams are coming off disappointing Week 8 losses. So, it's easy to understand why I believe this will be a hard-fought battle between two teams jockeying for positioning in the standings, right? Based on what I've seen through eight weeks, I believe the Seahawks will walk away victorious.
Realistically, this matchup will come down to the defense. Seattle is still one of the NFL's best, even after letting Brees steal a win in Week 8. It also happens that they're going up against an average Buffalo offense that may still be missing a healthy LeSean McCoy in Week 9.
Obviously the Bills aren't a total pushover on defense either. However, they've been up and down this season and may not be prepared to slow down a Seahawks offense that has flashed some serious firepower throughout the 2016 campaign.
This should be an exciting Monday showdown between two playoff-caliber teams. It'll be close, but home-field advantage should give the Seahawks the final push towards victory if all else fails.
Pick: Seahawks
This article originally appeared on