2016 NFL Picks, Predictions For Week 6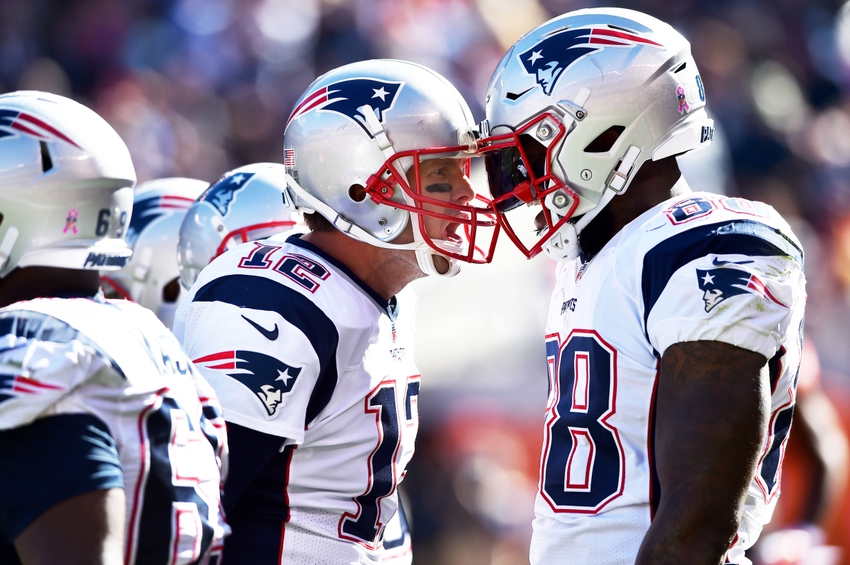 It's Week 6 of the 2016 NFL season, which means we've got a fresh helping of NFL picks to get you ready for another round of gridiron greatness.
This season continues to get more and more twisted with every passing week. Just when you think you've got it figured out, a contender takes a tumble while a pretender puts on a show. Realistically, it's not that surprising—it's just the NFL.
That's why I'm here for you. I'm here to do the research and help you make decisions every week in regards to who will win. While I don't claim to be perfect and accept no responsibility for your financial losses, I know we sometimes need that extra opinion before we can make up our minds.
Unfortunately, the NFL is not an exact science.
It seemed like things were headed in the right direction for me as Week 5 got under way. Instead, I put together a pitiful 7-7 performance on the weekend, bringing my season tally to 45-32. While it could definitely be worse, I hold myself to a higher standard than that. I apologize.
Still, I'm not going to call it quits. So here is my latest round of NFL picks, with a look at every one of the 15 games on the docket for Week 6.
Week 6 Byes: Minnesota Vikings (5-0), Tampa Bay Buccaneers (2-3)
Denver Broncos (4-1) at San Diego Chargers (1-4)
It's amazing how successful the Chargers have been this season, yet they're 1-4 through five games. They've put on some impressive performances, but seem adamant to blow every lead they get in 2016.
That's why I have to pick them to lose in Week 6, especially against a Broncos team that needs a bounce-back win after suffering a heartbreaking loss on Sunday. It also helps that Denver will enjoy the return of Trevor Siemian under center (via NFL.com's Ian Rapoport).
Let's be honest—Paxton Lynch is still a work in progress. He struggled mightily in his first start, and clearly needs more time to learn before he's ready to play significant snaps. Siemian, however, was just hitting his stride before injuring his shoulder. Now he's back and ready to roll for Denver.
The fact that the Broncos sport one of the NFL's top defenses is just the icing on the cake. Sure, Philip Rivers and Melvin Gordon are exciting playmakers, but they aren't going to do enough to outscore Siemian and the Broncos offense.
Pick: Broncos
San Francisco 49ers (1-4) at Buffalo Bills (3-2)
It took two weeks to get things in gear, but the Bills are finally looking like a team worth taking seriously. They've now won three in a row, and boast one of the NFL's better defenses heading into Week 6.
Unfortunately for the 49ers, that won't make life any easier as they attempt to stay relevant after a miserable 1-4 start.
Realistically, unless San Francisco benches Blaine Gabbert, there's little chance of victory in Week 6. Their signal caller has been a complete disaster this season, and stands almost zero chance of defeating Buffalo and its passing defense that's allowed only two touchdowns, intercepted seven passes and accumulated 17 sacks.
Not to mention, the Bills offense has been pretty solid as well, at least when it comes to running the ball. That's why LeSean McCoy should run rampant, and Buffalo's defense should makes enough plays to secure win No. 4.
Pick: Bills
Philadelphia Eagles (3-1) at Washington Redskins (3-2)
Honestly, my mind was a bit blown by the Eagles' Week 5 loss to the Lions. They weren't the same team we had seen in weeks past, but I don't think that's the team we'll see moving forward. That doesn't bode well for the Redskins.
Carson Wentz has been a sensation this season, quickly proving the Eagles got the better of the two rookie quarterbacks. The offense is firing on all cylinders, and Philadelphia also happens to boast the league's second-best defense. It's all falling into place for new head coach Doug Pederson.
Meanwhile, the Redskins have a winning record but have earned it in less-than-impressive fashion. Kirk Cousins has taken a step back this season, and the defense has been a mess. I find it hard to believe that Washington will be successful on either side of the football come Sunday.
I'm guessing the Eagles' letdown last weekend was a fluke. They'll relish in the opportunity to pound on an NFC East rival, handing the Redskins an embarrassing loss similar to the one the Steelers suffered in Week 3.
Pick: Eagles
Cleveland Browns (0-5) at Tennessee Titans (2-3)
I'm sorry Cleveland fans, but the winlessness isn't going to change in Week 6.
While the Titans haven't exactly been an impressive bunch this season, they're easily a better bet in a matchup with the pitiful Browns. Marcus Mariota is coming off a strong showing in Week 5, and the duo of DeMarco Murray and Derrick Henry appears to be getting it done on the ground.
On the other hand, the Browns have been a disaster from the start. They've already played five quarterbacks this season, and will likely be on their fourth starter in this one. The constant change and general ineffectiveness of this roster should prove too much to overcome yet again.
This will not be an exciting game–I wouldn't tune in unless you're a fan of one of these teams. Still, when all is said and done, the Titans should improve to .500 with a win.
Pick: Titans
Baltimore Ravens (3-2) at New York Giants (2-3)
Both of these teams have talent, but are also riding losing streaks heading into Week 6. For one, the wheels will start to fall off. For the other, they'll get back on track with a big win.
If I had to guess which will be the latter, I'd go with the Ravens.
They've been the better team through five weeks, and possess a more talented roster–especially on the defensive side of the football. What really makes me believe Baltimore has the edge, though, is Monday's news.
The Ravens named Marty Mornhinweg the new offensive coordinator, which should breathe new life into this offense. They've struggled to get things going in recent weeks, but the transition away from Marc Trestman should do this team some good.
Eli Manning and the Giants offense has been miserable in recent weeks, and I don't foresee that getting much better against this stout Ravens defense. That means it'll be four straight losses for the G-Men.
Pick: Ravens
Carolina Panthers (1-4) at New Orleans Saints (1-3)
Through five weeks, I'm not sure what to think about either of these teams. The Panthers went from the Super Bowl runner-up to the potential owner of a Top 10 pick. As for the Saints, they've played well but always seem to end up on the short end of the stick.
I had significant confidence in both squads heading into the regular season, but I have less in Carolina right now. That's why I'm picking the Saints to get their second win of the year in Week 6.
There's no denying the Panthers' defense has taken a big step backwards in 2016, currently ranked 15th against the pass. So how do they plan on slowing down Drew Brees and the Saints' second-ranked passing attack?
Simple–they won't.
It's going to be a high-flying game between two teams holding out hope they can stay relevant. However, even if Cam Newton plays, I'm still banking on Brees and Co. coming out on top in the friendly confines of the Superdome.
Pick: Saints
Jacksonville Jaguars (1-3) at Chicago Bears (1-4)
At some point this season, Blake Bortles is going to have his breakout game–at least for 2016. We saw glimpses of his potential a year ago, but he's gotten off to an ugly start through four games. The Bears aren't the best team to do it against, but I'm confident it's going to happen.
It's not like the Jaguars offense doesn't have the weapons. Allen Robinson is one of the NFL's most underrated wide receivers, and so is Allen Hurns. If Jacksonville can finally get its running game going, there's more than enough firepower to overcome an overrated Bears defense.
It will be a challenge, though, with the way Brian Hoyer has been playing. He's completed 71.4 percent of his passes for 1,094 yards, six touchdowns and zero interceptions this season. That's not going to be easy to keep at bay, even with how successful the Jaguars defense has been in 2016.
When it all comes down to it, I think Jacksonville will make a key play on defense to secure the team's second-straight victory.
Pick: Jaguars
Los Angeles Rams (3-2) at Detroit Lions (2-3)
I'm not very confident in either of these teams, even after the Lions knocked the Eagles from the ranks of the undefeated on Sunday. However, there's one thing that has me thinking the Rams should get the W in Week 6.
It's the Detroit defense, which has been downright depressing this year. They're giving up big yards through the air and on the ground, meaning the Rams shouldn't have too much trouble putting points on the board. It may even be Todd Gurley's opportunity to get out of this rut he's been stuck in.
My biggest issue with Los Angeles is Case Keenum, who is far from a reliable option under center. Luckily, he's facing off against a Lions secondary that has given up 14 touchdowns while only intercepting two passes. Seems like an ideal matchup for Keenum–or anyone, for that matter.
I expect this to be a low scoring affair, even with the way Matthew Stafford played this past weekend. When the final whistle blows, the Rams will be the owners of a shiny new win.
Pick: Rams
Pittsburgh Steelers (4-1) at Miami Dolphins (1-4)
I find it hard to fathom the possibility that the Dolphins have any actual chance at winning this game.
The Steelers have been an excellent team throughout the early part of the 2016 campaign. If it wasn't for an uncharacteristic showing against the Eagles in Week 3, they'd be right where I'd expected them to be–undefeated.
As we've seen in the last two weeks, Pittsburgh can be a dominant force. They ruined the Chiefs on Monday night before laying waste to the Jets this past Sunday. Ben Roethlisberger and Antonio Brown are on fire, and the return of Le'Veon Bell has been a nice touch.
As for Miami, they've been a wreck this season. Apart from a pitiful overtime win against the Browns, the Dolphins have looked like a lost cause. It's been a rough start for new head coach Adam Gase, and it's only going to get worse before it gets better.
This one should be a snoozer as the Steelers take an early lead and never look bad.
Pick: Steelers
Cincinnati Bengals (2-3) at New England Patriots (4-1)
I liked this Bengals team coming into the season, but there's little way they overcome a red-hot Patriots team. As we saw in Week 5, the return of Tom Brady has this team firing on all cylinders–even if it was against the winless Browns.
We all knew the Patriots were a solid bunch, but Brady really brings it all together. He brought out the best in Martellus Bennett on Sunday, and now should have the rest of the offense running smoothly moving forward. Imagine the possibilities if Rob Gronkowski can get fully healthy and stay there.
The Bengals, meanwhile, got trounced by the rookie-led Cowboys in Week 5. As much as I believe Cincinnati has a talented team, there's just little to have much faith in at this moment. Even with the 11th-ranked pass defense, I find it hard to believe the Bengals will be able to slow Brady and Co.
Obviously it's hard to crown the Patriots this early, but they looked good with Brady back in the driver's seat. Week 6 should see them put another impressive win on the board.
Pick: Patriots
Kansas City Chiefs (2-2) at Oakland Raiders (4-1)
So far this season, the Raiders have not had a game end with a margin of more than seven points. Every game has come down to the wire, but they've managed to win all but one up to this point. I think they'll pull it off again in Week 6.
Realistically, it's difficult to bet against this Oakland offense and the fearless leadership of Jack Del Rio. As close as their wins have been, they always seem to come up with the big play or two that gets it done in the end. The defense obviously needs a lot of work, but this is definitely a team built to win.
The Chiefs, meanwhile, have been a mixed bag. They put together a dominant performance in Week 3, but got demolished in prime time in Week 4. They're coming off a Week 5 bye, but are far from a reliable squad. The only time they've faced a contender this season, the Steelers wiped the floor with them.
It'll be a good game, and Kansas City will likely keep it close. However, when it comes down to crunch time, the Raiders will find a way to keep the momentum rolling.
Pick: Raiders
Atlanta Falcons (4-1) at Seattle Seahawks (3-1)
If you just look at the stats for this one, it's a tantalizing matchup. The Seahawks sport the top defense in the league, while Atlanta offers the best offense. You can't ask for a better test of wills than that.
However, I think you have to take a deeper look before making any judgments.
The Seahawks may have the No. 2 pass defense, but they've yet to face anything like what the Falcons bring to the table. The best passing offense they've faced through four games is the Jets', which is currently ranked 18th in the NFL. The second best? The Dolphins' 24th-ranked air attack.
The Falcons have racked up 333 passing yards per game this year, and have found the end zone through the air 12 times. The combo of Matt Ryan and Julio Jones has been devastating, and it took until Week 5 for someone to finally slow it down.
As much as I like the potential of this Seahawks team, they can't handle Atlanta.
Pick: Falcons
Dallas Cowboys (4-1) at Green Bay Packers (3-1)
Okay, I'm officially done doubting this Cowboys team. Even with two rookies serving as their offensive stars, they've rolled through their early slate of games and look like serious contenders. It's time to jump on the bandwagon if you haven't yet.
While the Packers are an exceptional team in their own right, they haven't been quite as impressive this season. Green Bay continues to endure close calls against subpar teams, and lost to the only quality club it faced this year. While the Cowboys have seen similar results, they've done it in more convincing fashion.
This will be one of the games of the week, with two potential contenders squaring off. However, I have more faith in Dak Prescott and Ezekiel Elliott than Aaron Rodgers and an injured Eddie Lacy at this point.
I hope I'm not wrong, but the pieces appear to be falling into place for Dallas. Especially with some of their defensive playmakers back in the mix, this could be a turning point for America's Team.
Pick: Cowboys
Indianapolis Colts (2-3) at Houston Texans (3-2)
I'm sorry, but based on the way they've played lately, I have no faith in the Texans' offense.
Brock Osweiler and Co. have been overwhelmed in two of the last three weeks. Lamar Miller has been shutdown in recent weeks after getting off to a quick start. All of that money Houston spent this offseason isn't paying dividends like they so hoped it would.
So I'm going to go with the underdog here, and say the Colts pull even in the AFC South race in Week 6.
Realistically, it all comes down to Andrew Luck. He's been what's kept Indianapolis alive this year, and should do the same against the Texans. They may have the league's top passing defense right now, but Luck can certainly excel if Sam Bradford can.
Things were looking good for Houston when the season began. However, it appears as though the train has come off the tracks. A Week 6 loss to the Colts will solidify that theory.
Pick: Colts
New York Jets (1-4) at Arizona Cardinals (2-3)
I can't seem to figure out this Cardinals team in 2016. I saw them as serious contenders heading into the season, and am now watching them struggling just to remain relevant in the NFC West.
Luckily, they find themselves heading into a Week 6 matchup with what's turned out to be a bad Jets team. New York has dropped its last three games, and it's looked miserable in the process. I don't expect that to change against a very talented Arizona team.
Carson Palmer should be back in Week 6, which bodes well for an explosive Cardinals offense. The defense showed its true form against the 49ers last Thursday, even if it was against one of the NFL's worst starting quarterbacks. A matchup against a turnover-prone Ryan Fitzpatrick, though, shouldn't be a significant challenge.
What really gives me confidence in Arizona is the matchup against New York's defense. The Jets' secondary is giving up the third-most passing yards per game, and has allowed a league-high 118.6 passer rating to opposing quarterbacks.
Whether it's Palmer or Drew Stanton under center, the Cardinals should come away victorious in this one. The Jets simply won't be able to slow down David Johnson, Larry Fitzgerald and the rest of the Arizona offense.
Pick: Cardinals
This article originally appeared on