2016 NFL Picks, Predictions For Week 3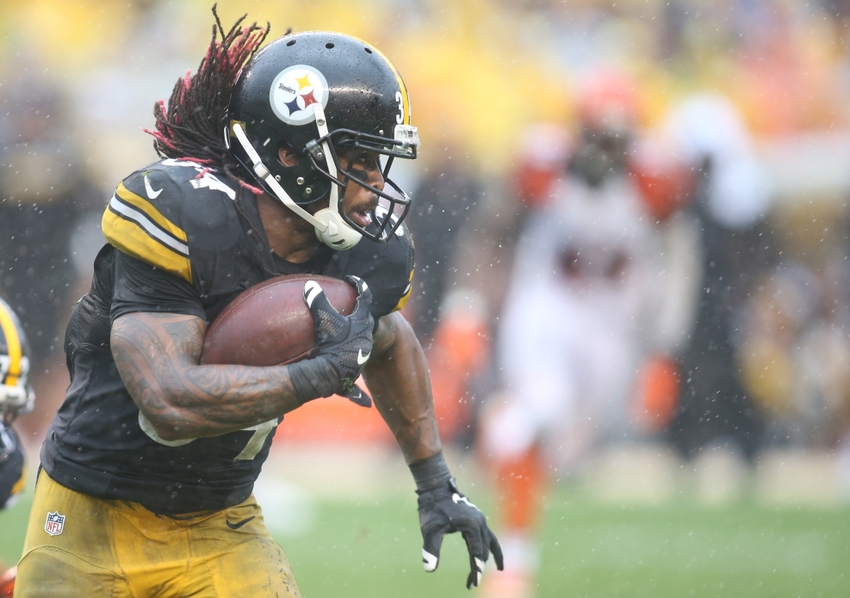 It's Week 3, which means another round of NFL picks and predictions is on its way as we continue to watch the contenders separate from the pretenders.
We're only two weeks into the 2016 NFL season, and it's already been quite the roller coaster ride. We've seen several unexpected contenders emerge from the pack, while injuries and inefficient play have other teams searching for the reset button.
Unfortunately, that's not how the NFL works. Every week is do-or-die, and there are no re-dos.
That's why I can confidently say that I was pleased with my showing in Week 2. After going 10-6 in Week 1, I stepped my game up to the tune of 11-5 (you can see my picks here). That puts me at 21-11 on the season, which I'd like to think isn't too shabby for someone who isn't a million-dollar salaried talking head.
The season is only going to get more crazy as the weeks roll by. So fasten your seatbelt, because it's only Week 3 and there are plenty more NFL picks and predictions still to be made.
With that in mind, here's my look at all 16 games scheduled for Week 3.
Houston Texans (2-0) at New England Patriots (2-0)
Both of these teams are worth taking seriously in 2016, but the Patriots are heading into this Week 3 showdown short at the most important position. Tom Brady is obviously suspended still and Jimmy Garoppolo has a shoulder injury that will sideline him for at least a couple of weeks.
That leaves rookie Jacoby Brissett as the starter, which isn't a good situation for New England. As you may know, the Houston Texans sport an excellent defense that's currently ranked third in total yards allowed. Not exactly the type of scenario you want to throw a rookie quarterback into.
But that's the situation, even if the Patriots do sign a veteran to serve as backup.
Houston also sports a solid offense capable of putting up consistent points. While the Patriots defense has done some damage this season, they won't be able to slow the Texans enough to allow Brissett and Co. to outscore them.
Pick: Texans
Arizona Cardinals (1-1) at Buffalo Bills (0-2)
I apologize for picking against the Cardinals in Week 2—they let me down in Week 1 and I took it out on them a little too harshly. However, I won't make that same mistake again this week.
Unless half of the Arizona offense misses the plane, there's little hope for the Bills.
They've looked miserable through two weeks of action, failing to get anything going on either side of the ball. They've fielded one of the worst offenses in the league and the defense hasn't been much better. It's not looking good for the future of Rex Ryan in Buffalo.
Meanwhile, the Cardinals are coming off an eye-opening performance against the Buccaneers. They destroyed what is an above-average Tampa Bay team, running up the score while allowing only seven points.
If I had to guess, I'd say Arizona cruises to victory in this one.
Pick: Cardinals
Oakland Raiders (1-1) at Tennessee Titans (1-1)
I had a lot of hope for this Raiders team heading into 2016, but I'm starting to worry their roster isn't complete enough to live up to the internet's expectations.
My reasoning for this? Oakland currently boasts the worst defense in the NFL, by far. They've given up an average of 517.5 yards through the first two games. The play of their secondary has been horrendous and they've only managed to keep it close in both games due to fourth-quarter comebacks.
So why am I picking them against the Titans? Because the Tennessee offense hasn't looked any better in 2016.
Marcus Mariota's sophomore year is off to a rocky start and the running game hasn't been gangbusters like so many expected. They narrowly pulled out a one-point win over the Lions last week. If they're going to beat the Raiders, they'll need to take huge steps forward in Week 3.
I don't see that happening just yet, which is why I believe the Raiders win this one.
Pick: Raiders
Washington Redskins (0-2) at New York Giants (2-0)
Coming into the season, the Redskins appeared primed for another run at the division crown. Based on what we've seen so far, that's lightyears away from reality.
Their 0-2 start is only making things worse. There appears to be some animosity brewing in the locker room, as ProFootballTalk's Mike Florio reported that Redskins players have been complaining about the underwhelming play of Kirk Cousins. Washington's "franchise" quarterback has been unimpressive thus far and appears to be losing the confidence of his teammates.
That's a big reason why I decided to go with the Giants in this one.
I mean, yes, New York is currently undefeated and has looked solid through two games. The revamped defense is making the big plays when they're needed, although the offense has sputtered. The leg of Josh Brown certainly played a big part in their success in Week 2.
With internal issues arising, Washington just doesn't seem prepared for a tough divisional test. This could be a turning point in 2016 for both teams and I foresee the Giants taking advantage.
Pick: Giants
Cleveland Browns (0-2) at Miami Dolphins (0-2)
At this moment, both of these teams look ready to pack it in. The Dolphins have been a disaster through two weeks, while the Browns have watched two solid starts turn into meltdowns. And yet, someone has to come away victorious this week.
I'm hesitant to choose either team, but I'm going with the Browns in this one.
The offense seemed to awaken with Josh McCown at the helm. Corey Coleman enjoyed an early breakout performance. If it wasn't for blowing a 20-2 lead, this Browns team wouldn't look nearly as bad as people assumed they'd be in 2016. Of course, now they'll likely have rookie Cody Kessler starting, so who knows how they start now.
Miami, however, are close to becoming a lost cause. The offense is a mess, and the defense isn't any better. If it wasn't for the injury to Garoppolo in Week 2, who knows how ugly that game could have gotten?
I wouldn't suggest tuning into this one if you have a better option. Heck, mowing the lawn might be more exciting than this snoozer. Still, a winner must be crowned, and I believe it'll be Kessler and the Browns.
Pick: Browns
Baltimore Ravens (2-0) at Jacksonville Jaguars (0-2)
I was really rooting for this Jacksonville team heading into 2016. Blake Bortles looked ready to emerge as a franchise quarterback, and the defense had taken significant steps forward following a free agency spending spree.
Their Week 1 loss didn't dissuade me, as they narrowly dropped one to the Packers. However, after Sunday's blowout loss to the Chargers, I'm no longer convinced this Jaguars team is ready to contend—even for an AFC South crown.
The offense has been lackluster, Bortles is turning it over too much, and all of that new defensive talent isn't getting the job done.
Meanwhile, the Ravens have been a pleasant surprise. The defense has been a brick wall, while the offense is doing just enough to come out ahead on the scoreboard.
Barring some light-bulb moment from the Jaguars, it's looking like the Ravens will move to 3-0 riding the broad shoulders of their stout defense.
Pick: Ravens
Detroit Lions (1-1) at Green Bay Packers (1-1)
It sounds crazy, but this Packers team looks a little unstable this season. Sure, the defense appears to be firing on all cylinders, but the offense can't seem to keep up. Just watch the Sunday night game against the Vikings if you need evidence of my claim.
Still, I don't foresee them falling to the Lions in Week 3.
Why? Because Detroit hasn't been any better despite sporting an identical record. Both of their games were too close for comfort, and the defense hasn't been able to muster the big plays needed to secure Ws in this league.
The Packers still have the offensive talent to get the job done on a weekly basis. Aaron Rodgers may not look like the same quarterback from a few years ago, but he's still an outstanding option under center. Especially with Jordy Nelson back in the mix, you can tell he's playing with confidence.
Detroit will put up a fight early on, but we should see Green Bay take control by the fourth quarter.
Pick: Packers
Denver Broncos (2-0) at Cincinnati Bengals (1-1)
Part of me wants to pick the Bengals in this one, but I just can't. The offense has been solid, but their defense is just too unreliable—especially against a Denver team that has shined through two weeks.
What really has me thinking the Broncos will win this one, though, is their elite defense. Von Miller and the Denver de-construction crew have been demolishing anything that dares stand in their way this season. They dismantled the Carolina passing game and made the 49ers look inept.
Can an inconsistent Cincinnati offense really overcome that? I don't think so.
Sure, Andy Dalton, A.J. Green, and Jeremy Hill will make some plays. They may even keep it relatively close. However, the Broncos simply offer too much defensive firepower to be kept from putting another mark in the win column.
Look for Dalton to be running for his life all game. On the other side, Trevor Siemian will do just enough to come away with his third-straight win as the starter.
Pick: Broncos
Minnesota Vikings (2-0) at Carolina Panthers (1-1)
This is going to be an epic showdown—one of the must-watch games of Week 3.
The Vikings are coming off an impressive Sunday night win over the Packers, while the Panthers rebounded in Week 2 by pummeling the 49ers. Both teams should be considered serious contenders in the NFC at this point.
It's not going to be easy for the Minnesota defense to slow Cam Newton and the Carolina offense, but I think it's possible. They're loaded with defensive playmakers, doing an excellent job of creating key turnovers and consistently pressuring the passer. Newton will not have an easy outing on Sunday.
Especially if Sam Bradford can put on an encore, the Vikings should be able to score just enough points to outlast the Panthers. The loss of Adrian Peterson won't be a death sentence considering how ineffective he's been this season. But not having Jonathan Stewart could put Carolina in a hole.
The Vikings force another timely turnover that moves them to 3-0.
Pick: Vikings
Los Angeles Rams (1-1) at Tampa Bay Buccaneers (1-1)
The Buccaneers are coming off a miserable showing against the Cardinals, getting overpowered in just about every aspect. Luckily, they face off against the Rams in the NFL's inadvertent show of mercy.
Despite their win last week, the Rams are far from an impressive squad. They currently have the worst offense in the NFL—they've yet to score a touchdown this season despite their 1-1 record. It's been a laughable showing from a team that was supposed to have improved considerably this offseason.
Tampa Bay, however, offers much more firepower, especially on the offensive side of the ball. Jameis Winston will be looking for a rebound game, and should get it despite the Rams' ninth-ranked defense.
While the Buccaneers don't exactly have an excellent defense, I wouldn't be surprised to see them keep the Rams out of the end zone for the third week in a row. That's just how bad the Los Angeles offense is.
Pick: Buccaneers
San Francisco 49ers (1-1) at Seattle Seahawks (1-1)
What is going on with the Seahawks?
They've looked lost through two weeks, squeaking past a miserable Dolphins team before falling flat on their faces against a hapless Rams offense. It's not looking good for a team that seemed primed for another playoff run in 2016.
Luckily, they get a break this week against a 49ers team that is somehow actually worse.
San Francisco pulled off a win against the aforementioned awful Rams in Week 1 and then got demolished in Week 2 by the Panthers. The offense has been wildly inefficient, while the defense can't be relied upon after being mauled by Carolina.
Sure, Seattle has plenty of issues of its own that need to be worked out. However, they still have the more talented roster and should find a way to walk away from Week 3 with another win in their pocket.
Pick: Seahawks
New York Jets (1-1) at Kansas City Chiefs (1-1)
I'll admit this one was a bit of a toss-up for me. The Jets and Chiefs are both in fairly similar situations as we head into Week 3. Both have strong rosters, but have suffered their fair share of setbacks so far. Unfortunately, one team will need to take another step back in 2016.
I believe that will be the Chiefs, a team that has sported a much more inconsistent offense so far.
Meanwhile, the Jets have done a great job of moving the ball—and slowing the opponent. Their Week 1 loss was by a whopping single point, and they handled themselves against the Bills last Thursday.
The Chiefs will put up a fight and should keep this one close. However, when it comes down to it, I think Ryan Fitzpatrick and Co. should be able to put together a game-winning drive. This is the time for the Jets to make a move, especially considering the Patriots' quarterback situation.
Kansas City falls to 1-2 in a nailbiter.
Pick: Jets
San Diego Chargers (1-1) at Indianapolis Colts (0-2)
Heading into the season, I had much more confidence in the Colts than the Chargers. However, as we head into Week 3, it's the complete opposite in my mind.
The Chargers put on a show against the Jaguars last week. Philip Rivers has still got it, and tossed four touchdowns against a solid Jacksonville defense. Even with Danny Woodhead done for the year, there's a lot to like about this San Diego offense.
When it comes to the Colts, there's not as much to be optimistic about. The defense has been a mess, largely due to their struggles in the secondary. They can't keep any offense in check, and Andrew Luck simply can't will this team to win on his own.
It's looking like another disappointing year for Indianapolis, while the Chargers are doing everything they can to stay relevant as the early season rolls along.
Pick: Chargers
Pittsburgh Steelers (2-0) at Philadelphia Eagles (2-0)
Based on what we've seen through two weeks, I truly believe this Steelers team could be the real deal. Especially once Le'Veon Bell returns to the lineup, it's going to be hard for any NFL defense to keep them from lighting up the scoreboard.
So why should we expect anything different against the Eagles? It's simple—we shouldn't.
I'll admit I've been surprised by how good this Philadelphia squad has looked. I really liked Carson Wentz coming out of college, but I didn't think he'd look this under control so soon. He's got the Eagles offense running like a well-oiled machine.
Unfortunately, I don't think it'll be enough to outscore the Steelers.
Ben Roethlisberger and Antonio Brown are obviously a lethal combination in the passing game. The real x-factor, however, is DeAngelo Williams, who is currently leading the league in rushing yards. As good as the Eagles have been against the run, they haven't seen a back like Williams yet.
This one is sure to be a thriller. When all is said and done, Pittsburgh will earn the win.
Pick: Steelers
Chicago Bears (0-2) at Dallas Cowboys (1-1)
After what we saw on Monday night, I have minimal confidence in this Bears team. The offense can't get it going, and that defense they spent big bucks on this offseason isn't making plays when needed. They couldn't even keep a rookie quarterback from picking them apart.
In most cases, facing two rookie gunslingers in a row would be a good thing. Not for Chicago, though.
The Cowboys' young signal caller is coming off another impressive performance, leading Dallas to its first win of the year. Dez Bryant got going through the air, and the defense made enough plays to secure the victory against their division rivals.
Realistically, it should be more of the same against the Bears. They haven't shown much through two weeks, so there's little reason to believe they can knock off this Cowboys team on the road.
Could we be seeing the start of the Dak Prescott era in Dallas? I'd be worried if I was Tony Romo.
Pick: Cowboys
Atlanta Falcons (1-1) at New Orleans Saints (0-2)
I'm still not sure what to think about either of these teams. Both have been excellent on offense and brutal on defense, both currently sitting in the bottom four in total yards allowed.
Maybe that just means we'll have a shootout of epic proportions, with upwards of 100 total points scored? I wouldn't be surprised if that was the case, but it doesn't necessarily mean it'll be a good game—just a test of two of the NFL's most inept defenses.
Still, I guess it'll mean good Monday-night ratings.
In the end, someone has to win. While it won't be pretty, I believe the Saints will secure their first win of the year in the friendly confines of the Superdome. It's difficult to say why because these teams are nearly identical, but the home-field advantage should give them just the nudge they need.
If you're hoping for a well-played football game, don't look here. However, if you've got one of receivers in this game on your fantasy team, be prepared for a big night.
Pick: Saints
This article originally appeared on