2016 NFL Picks, Predictions For Week 12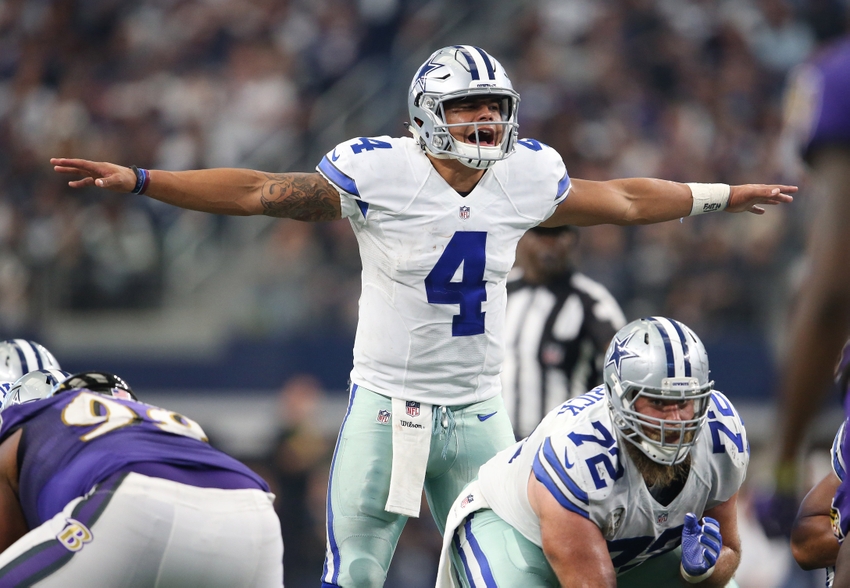 With only six weeks of action before the playoffs, let's take a look at NFL picks and predictions for the upcoming Week 12 slate of games.
The 2016 season has flown by, as we're already preparing for Week 12 with another round of NFL picks and predictions. It's going to be another interesting week as the race for playoff positioning gets tighter with every passing game.
And while we're finally starting to get a better idea of what each team brings to table, making weekly NFL picks still isn't easy. That's why I'm here—to help you determine the winners of every Week 12 matchup. We're going to get through this together, one game at a time.
While my picks haven't been absolute money this season, I'm confident coming off a 10-4 Week 11 showing. That improves my overall 2016 record to 92-67-3. It could be better, but I'm still proud of my effort considering how unpredictable this NFL season has been.
So here they are—your NFL picks and predictions for Week 12 of the 2016 campaign. As always, I assume no financial responsibility if you choose to follow my selections and lose.
Week 12 Byes: None
Minnesota Vikings (6-4) at Detroit Lions (6-4)
I don't think anyone expected the NFC North race to look the way it does right now. The Lions have a slim lead on the Vikings, but that could change on Thanksgiving. It's not like the Green Bay Packers have any plans to compete for the crown this season.
This will be an exciting way to kick off Turkey Day. Both of these teams have had their ups and downs this season, and put on a thriller a few weeks ago that allowed the Lions to take the aforementioned lead. You can bet the Vikings will be looking to pull ahead in Week 12, though.
As we saw against the Arizona Cardinals, Minnesota is capable of moving the ball and making big plays. The offensive line did a decent job of protecting Sam Bradford, the defense finally got out of its rut, and the special teams even created some sparks.
Meanwhile, Detroit is coming off a subpar showing against the miserable Jacksonville Jaguars. They narrowly edged out a team that enjoys shooting itself in the foot, showing their vulnerability. That's part of why I believe the Lions will suffer defeat at the hands of their division rivals on Thursday. The Lions did the Vikings dirty on the road. Now it's time for Minnesota to return the favor.
Pick: Vikings
Washington Redskins (6-3-1) at Dallas Cowboys (9-1)
I have to give the Redskins credit for the job they've done in recent weeks. Unfortunately for them, the Cowboys have done even better. In fact, they currently own the NFL's best record and are red hot with only six weeks to go before the postseason.
A lot of people will say that the rookie duo of Dak Prescott and Ezekiel Elliott will eventually hit a wall. However, based on what we've seen through 10 games, I'm not thinking that time will come this week.
Right now, the Cowboys are firing on all cylinders. They've had some close calls, but continue to secure wins despite being led by two rookies. As good as the Redskins have been down the stretch, they don't have the defense to slow Prescott, Elliott and the rest of the Dallas offense.
Sure, Kirk Cousins will make some plays—there's a reason Washington has one of the top passing offenses in the NFL. However, the Cowboys have one of the best run defenses and a couple capable playmakers in the secondary. It'll be more than enough to keep the Redskins in check.
This will be an excellent Thanksgiving showdown between two NFC East rivals. However, when the clock strikes zero, the Cowboys will have asserted their dominance.
Pick: Cowboys
Pittsburgh Steelers (5-5) at Indianapolis Colts (5-5)
I'll admit I've underestimated this Colts team at times in 2016. They looked like a lost cause early in the season, but have maintained their relevance with clutch wins and outstanding play from Andrew Luck. That's the problem, though—Luck probably won't play in Week 12 (via the Indy Star's Zak Keefer).
Indianapolis' golden arm is currently dealing with a concussion, and likely won't be cleared before Thanksgiving. That'll leave the Colts with Scott Tolzien as their starter. I'm not sure if you're familiar with him, but he's not exactly an exciting option under center.
Meanwhile, the Steelers are starting to look a little healthier after some injuries crippled their offense a few weeks back. Ben Roethlisberger had a solid outing against the Cleveland Browns in Week 11 and we all know the type of damage Le'Veon Bell can do when he gets going.
I'm still not sure this Pittsburgh team can steal the divisional crown, but they should pull off the win here. Ultimately, though, my decision to pick against the Colts comes down to loss of Luck. He's been the driving force behind this Indy team and not having him will be too much to overcome.
Pick: Steelers
Tennessee Titans (5-6) at Chicago Bears (2-8)
I just can't seem to figure out this Titans team. One week I'm ready for them to tumble and they pull off a huge win. The next, I put my trust in them and they drop the ball against a beatable opponent. In Week 12, though, I have little doubt they'll live up to my expectations.
My reasoning behind this? The Bears are a disaster at this point in the season, and the loss of Jay Cutler was the final nail in the coffin. With Cutler out of the mix, that leaves Matt Barkley to lead one of the NFL's worst teams. On top of that, the Bears are without Alshon Jeffery. That essentially puts all of the pressure on a rookie running back to provide the offensive production. I hope we're in agreement that that isn't a good situation for any team to be in.
Meanwhile, the Titans have been able to produce points at a consistent clip this year. Marcus Mariota has been hit or miss, but the ground game has been unstoppable with DeMarco Murray currently sitting in second in rushing yards on the season. And when Mariota does hit, it leads to very good things for his team.
Even if Mariota throws three picks and Murray has a bad day, Tennessee will still find a way to win. There's nothing left for Chicago to do but play for draft positioning.
Pick: Titans
Jacksonville Jaguars (2-8) at Buffalo Bills (5-5)
If there was one week during which the Bills needed an easy win, this is it. In Week 11, Buffalo watched two of their top offensive playmakers fall to injury. Although LeSean McCoy is expected to be ready by Sunday after suffering a dislocated thumb, he's been banged up all season and may need some rest. Robert Woods is also expected to be out with a sprained knee.
Thankfully, the Bills will welcomed the Jaguars to town this week.
As you may know, Jacksonville has fallen flat on its face this season. Blake Bortles has undergone an ugly regression and the injuries continue to pile up. While the Jaguars defense has seen some improvement, they can't keep up with the ridiculous amount of turnovers Bortles continues to commit.
Even if the Buffalo offense sputters again, the defense should come up with a timely turnover or two. That will allow Tyrod Taylor with enough opportunities to outscore the inept Jacksonville offense and secure the win. It won't be pretty, but a win is a win. The Bills will take what they can get while holding on to slim playoff hopes.
Pick: Bills
Cincinnati Bengals (3-6-1) at Baltimore Ravens (5-5)
It's about that time—I'm throwing in the towel on the Bengals. I've been holding out hope they'd get it together at some point, but that time just isn't going to come in 2016.
I mean, they'd already put together a below-average showing up to this point. Now, with A.J. Green and Giovani Bernard done for the year, they just don't have it in them to stay competitive. It doesn't help that they have to go on the road to face a Ravens team that's better than their record suggests.
Yes, Baltimore isn't perfect. The offense can be lethargic at times, especially if Joe Flacco can't get things going through the air. Terrance West has had a solid season, but is far from a star running back. The only thing the Ravens really have going for them is their terrific defense, which is currently ranked second in the NFL.
So how do the Bengals plan on scoring without two of their top offensive playmakers? It's just not going to happen. The Ravens will shut down Jeremy Hill, force Andy Dalton into a few mistakes and keep Cincinnati from putting many points on the board. It should be a low-scoring affair, with Baltimore coming out on top.
Pick: Ravens
Arizona Cardinals (4-5-1) at Atlanta Falcons (6-4)
After exploding out of the gates, the Falcons have cooled in recent weeks. Luckily, they face off with a wildly inconsistent Cardinals team in Week 12, providing them an opportunity to get back on track.
Despite their recent struggles, the Atlanta offense is still the second-ranked unit in the NFL. Unfortunately, they'll be squaring off with Arizona's top ranked defense. The silver lining, though, is that the Cardinals defense is beatable, and their offense has been a bit lethargic as of late.
As we saw against the Vikings in Week 11, the Cardinals offense is a hollow shell of what it was in 2015. Sure, Carson Palmer, David Johnson and Larry Fitzgerald can do serious damage in a hurry. However, the offensive line was exposed last week, forcing Palmer to spend most of the game running for his life.
That should open the door for a subpar Falcons defense to gain some confidence. We've seen a strong showing in the pass-rush department, specifically from former first-round pick Vic Beasley. This could be the week where we see Dan Quinn unleash what is a young defensive unit on the rise.
I'd anticipate this one being close, with the final possession or two deciding the winner. That's why I'm giving the edge to the better offense, which happens to be owned by Atlanta.
Pick: Falcons
New York Giants (7-3) at Cleveland Browns (0-11)
Another week and another opportunity for me to pick against the Browns. As I've said for the last few weeks, I'm not going to pick the Browns until they give me a reason to. They didn't do that in Week 11, so I'm again picking against them in Week 12. It helps that the Giants are rolling right now, too.
The owners of a five-game winning streak, New York is picking up some serious steam as the playoffs come into view. They've taken down some quality teams, and are watching the evolution of one of the NFL's most exciting young safeties.
Not to mention, the Giants offense has been pretty solid through Week 11. They currently boast a top-10 passing game led by the dynamic duo of Eli Manning and Odell Beckham Jr. and are getting production from the rushing attack as well. Everything seems to be trending upward for New York at this moment.
We all know how big a train wreck Cleveland has been this year. No matter who's under center or who they acquire via trade, it's not going to get better anytime soon. Chalk up another loss for the Browns.
Pick: Giants
Los Angeles Rams (4-6) at New Orleans Saints (4-6)
I've lost all confidence in both of these teams heading into Week 12. Neither has shown any bit of consistency this season, often winning the ones they shouldn't and losing the ones they shouldn't. But someone has to win this matchup since we've already had enough ties in 2016. So I'm giving the edge to the Saints for two reasons.
The first is that their offense has way more firepower than the Los Angeles offense. Drew Brees and Co. are still moving the ball with ease, and putting up plenty of points in the process. As for the Rams, the switch to top pick Jared Goff didn't make a difference—they managed only 10 points against a middle-of-the-road Dolphins defense in Week 11.
The second is that the Saints have home-field advantage. The Superdome always gives them a big edge, which doesn't bode well for the Rams' 31st-ranked offense.
The Los Angeles defense will keep this one fairly close. However, when all is said and done, Brees should be able to pull away by the fourth quarter. That'll keep the Saints in the playoff picture for at least another week.
Pick: Saints
San Francisco 49ers (1-9) at Miami Dolphins (6-4)
Boy, are these two teams headed in completely different directions. The Dolphins are currently enjoying a five-game winning streak, while the 49ers have dropped nine-straight games. It seems pretty clear how this one will pan out.
Just take this into consideration. San Francisco currently boasts the worst run defense in the NFL. In fact, the 5.17 yards per carry they're allowing would rank the unit as the 13th-worst run defense in the history of the league. Let that sink in.
Unfortunately for the 49ers, they're going up against one of the NFL's breakout backs of 2016. The Dolphins' Jay Ajayi has emerged as a serious star this season, pulling off back-to-back 200-yard performances earlier in the year. You better believe Miami will be eager to unleash Ajayi on this pitiful San Francisco run defense.
Obviously this Dolphins team still has some kinks to work out. Ryan Tannehill has the passing attack ranked near the bottom of the league and the defense has been rather inconsistent this season. A matchup against the 49ers, however, should give Miami some extra confidence moving forward. This one will be closer than it probably should be. And yet, the Dolphins shouldn't have too much trouble securing the W.
Pick: Dolphins
San Diego Chargers (4-6) at Houston Texans (6-4)
I'm very intrigued by this matchup, and can honestly see it going either way. Both teams have had some outstanding performances in 2016, but have also suffered some ugly losses. It should be an entertaining Week 12 affair. When it's all said and done, I have to give the win to the Texans.
I mean, there are a couple of reasons to think the Chargers have the edge. Philip Rivers is clearly the better quarterback and Melvin Gordon has also done a great job of giving the San Diego offense some balance this season. Even the defense has held its own at times.
The Texans, however, possess the NFL's fifth-ranked defense that should be able to shut that all down on Sunday. They nearly pulled off the upset against the Oakland Raiders in Week 11 and should be able to slow a lesser Chargers offense. Expect a lot of pressure on Rivers and at least a couple of interceptions.
I don't like Brock Osweiler and I'm confident Houston will regret signing him eventually—if they don't already. But he can keep this offense afloat when the Texans defense makes plenty of plays. That'll happen in Week 12, allowing the overrated quarterback to secure the team's seventh win.
Pick: Texans
Seattle Seahawks (7-2-1) at Tampa Bay Buccaneers (5-5)
I was buying what the Buccaneers were selling in early September. They seemed like a young team ready to prove their status as contenders. While it hasn't quite panned out that way, they've managed to stay alive as we head into Week 12.
It's just too bad they're matched up with a red-hot Seahawks team that appears to finally be hitting its stride. I mean, Seattle has won three straight and currently owns the second-best record in the NFC.
What really gives me confidence in this pick, though, is what I've seen on the field. The Seahawks not only possess one of the NFL's best defenses, but the offense is even getting hot. Russell Wilson has put on some elite performances in recent weeks, with the help of stars Doug Baldwin and Jimmy Graham. The return of Thomas Rawls will also give the Seattle offense a boost.
Now don't get me wrong—there's a lot to like about the Buccaneers as well. Jameis Winston is one of the league's top young quarterbacks and he's got some exciting weapons in his arsenal. However, their defense just isn't ready to overcome what Seattle can throw at them. I'm sure this will be an entertaining matchup between two exciting young squads. When the dust settles, though, the Seahawks will be the team to emerge victorious.
Pick: Seahawks
New England Patriots (8-2) at New York Jets (3-7)
Apart from a Week 10 letdown against the Seahawks, the Patriots have been unstoppable since Tom Brady's return. I don't expect another hiccup in Week 12, even on the road against a division rival.
Realistically, the Jets don't stand much of a chance against New England. Their offense is a mess right now and the pass defense is getting shredded on a weekly basis. With the way Brady and Co. have been playing, it's difficult to imagine the Gang Green secondary slowing them down.
I mean, can we really expect a Ryan FItzpatrick-led offense to outscore the Patriots? Even with New England's leaky secondary, the turnover machine has been a thorn in the Jets' side this season. And it's not like Bryce Petty stepping in when things start to fall apart is going to make it any better for New York.
Either way, it's going to be a tough outing for the Jets. Between the ineffective offense and one-sided defense, it'll be nearly impossible for them to keep up on the scoreboard. The Patriots will widen the gap in the race for the AFC East title with another impressive win.
Pick: Patriots
Carolina Panthers (4-6) at Oakland Raiders (8-2)
It's easy to imagine this being a closer game than you'd think. The Panthers have shown some improvement in recent weeks, but I don't think they're ready to topple a contender like the Raiders.
Realistically, Oakland is one of the hottest teams in the NFL right now. The Raiders have secured four straight wins, and continue to take down the toughest opponents on their schedule. They showed well against the Texans on Monday night, which should have provided the needed prep for an underrated Carolina team.
No matter how good the Panthers can be, though, the Raiders are better. Derek Carr is having an MVP-caliber season, and the defense is playing opportunistic football. Playmakers like Khalil Mack, Sean Smith and Bruce Irvin are making up for Oakland's inability to keep opposing offenses from racking up big yards. The bend but don't break mentality is working for them, though.
And seeing how turnover prone the Panthers have been, it's difficult to imagine Cam Newton and Co. overcoming the Raiders. They'll fill the highlight reel, but they won't put enough points on the board to keep pace with Carr and his dynamic duo at wide receiver.
Carolina put up a valiant effort to stay alive, but this should bring their 2016 campaign to a disappointing end.
Pick: Raiders
Kansas City Chiefs (7-3) at Denver Broncos (7-3)
This was another one I was really on the fence about. Both teams have their strengths and weaknesses and are playing excellent football as we head down the final stretch of the season. When it came to making a final decision, I had to give the edge to the Broncos stingy defense.
As we saw in Week 11, the Chiefs offense isn't all that reliable. Alex Smith may be a smart quarterback who minimizes mistakes, but he isn't a star and doesn't have a ton of consistent star power around him. It doesn't help that Spencer Ware hasn't been the same since his concussion.
Meanwhile, the Broncos possess a bit more firepower on offense. Trevor Siemian has been a decent surprise as the starting quarterback and Devontae Booker is facing a plus matchup against the Chiefs average run defense. Not to mention Denver has a couple of great receivers capable of shredding ailing secondaries with ease.
So while both teams possess exceptional defenses, the Broncos should have the easier time on Sunday. Slowing Smith and Co. will definitely be a more achievable task, which should ultimately result in a Denver win.
Pick: Broncos
Green Bay Packers (4-6) at Philadelphia Eagles (5-5)
Honestly, I'm a bit surprised by both of these squads in 2016. I thought the Packers would once again be contenders—they haven't been. As for the Eagles, I thought they'd be among the NFL's worst—they started strong and are still within striking distance.
At this point, though, they're trending in very different directions. Specifically, Green Bay has dropped four-straight games and is quickly becoming irrelevant after years of dominating the NFC North. It's to the point where there's even talk of Mike McCarthy getting canned.
Philadelphia has had its own issues after starting out 3-0. And yet, the Eagles are still considered a contender due to their stout defense and the tough leadership of rookie Carson Wentz.
So why am I picking the Eagles in this one? It's simple; they're the better team right now. Wentz may have come down to Earth after his impressive start, but he's still making plays and putting Philadelphia in position to be competitive. As for the Packers, they're a franchise that's suddenly lost its way.
It also helps that the Eagles are perfect at home this season. It's almost kind of sad to see Aaron Rodgers and Green Bay fall apart like this. That being said, it works out rather well for their opponents (i.e. Philadelphia).
Pick: Eagles
This article originally appeared on