2016 NFL Picks, Predictions For Week 11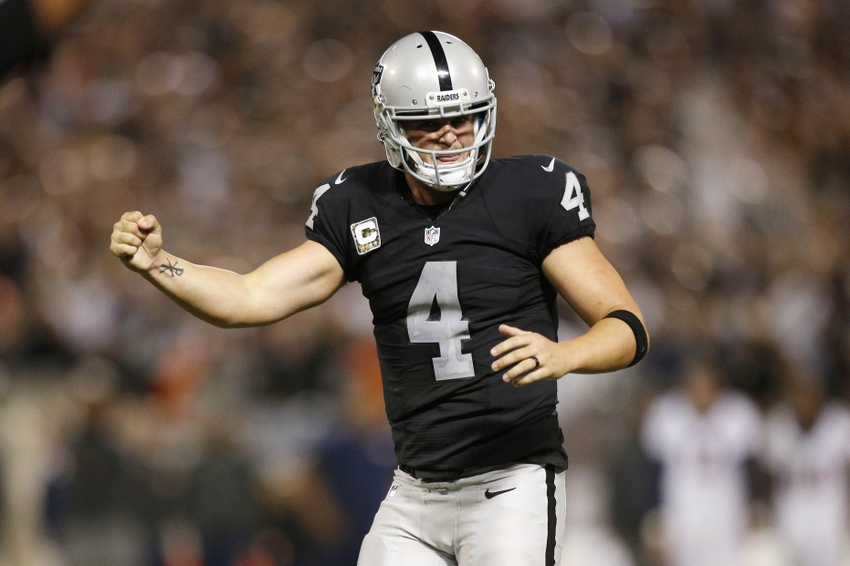 Week 11 of the 2016 season is upon us, which means we've got another round of NFL picks for you to peruse with 14 games on the docket.
We're coming down the home stretch of the 2016 campaign, with Week 11 bringing you another fresh helping of NFL picks. It's sure to be another wild week of action, as teams continue to jockey for playoff positioning—or better draft picks.
As we saw a week ago, anything can happen. The league's hottest team took a tumble, a rookie solidified himself as an MVP candidate and the Minnesota Vikings made history. No matter what week it is, we can always expect madness to ensue in the NFL.
Still, it doesn't hurt to try to pick and predict what the latest round of games has in store for us. And with 14 games on the agenda, there will plenty of opportunities for more history to be made.
I'm coming off another solid week, having secured a 8-6 record in Week 11. That moves my season record up to 82-63-2, which isn't all that bad considering how unpredictable this season has been.
So here they are, my NFL picks and predictions for Week 11. As always, I assume no financial responsibility if you choose to follow my advice and lose.
Week 11 Byes: Atlanta Falcons, Denver Broncos, New York Jets, San Diego Chargers
New Orleans Saints (4-5) at Carolina Panthers (3-6)
Does anyone know what's going on in the NFC South? The Panthers went from a 15-1 team to basically out of the playoff picture by midseason. The Saints looked like they were ready to turn things around, but can't get their defense to complement their offense. Neither of these teams has a clear advantage in Week 11. Still, a decision needs to be made, which is why I'm handing this one to Cam Newton and the Panthers.
Carolina has been a solid bunch this season, especially on offense. However, the amount of turnovers and lack of help from their suddenly subpar defense has them on the outside looking in. It seemed like a midseason turnaround may have been possible, but a Week 10 loss just about brought that type of wishful thinking to an end.
The Saints are also still trying to keep their crosshairs on the playoffs, but can't seem to get out of their own way. The turnovers come at the worst of times and the defense is incapable of keeping opponents at bay. Either that or they get PATs blocked and returned to seal their fate.
This is about as bipolar of a team as there can be—New Orleans owns the best offense and the fourth-worst defense. So which team will shoot itself in the foot more in Week 11? I believe that'll be the Saints. It'll be another grinder for these two NFC South rivals, but Carolina will walk away with the win.
Pick: Panthers
Pittsburgh Steelers (4-5) at Cleveland Browns (0-10)
We haven't seen much from the Steelers recently to incite much confidence. However, the exact same can be said for the winless Browns, who continue to be the laughingstock of the NFL.
I've said it before and I'll say it again—I will not pick the Browns until they give me a reason to do so. The 28-7 loss to the Baltimore Ravens on Thursday was a prime example of how far this Cleveland club still has to go to get back to a competitive state. The 0-10 record doesn't help, either.
So why would they be able to topple the Steelers in Week 11? Obviously Pittsburgh has its own problems right now, especially considering their current four-game losing streak. They almost overcame the Dallas Cowboys on Sunday, but allowed a rookie running back to carve up their defense and put another notch in the loss column.
Against the Browns, I'd expect a different story. Ben Roethlisberger looked more like himself in Week 10 and the defense showed a smidgen of stability against Dallas. Anything the Browns throw at them will seem like they're playing against a college team. This matchup comes at the perfect time for a Steelers team that desperately needs a win.
Pick: Steelers
Baltimore Ravens (5-4) at Dallas Cowboys (8-1)
The Cowboys have to come down at some point, but I don't think that'll happen in Week 11. Although the Ravens have won two in a row, they're not quite ready to take down one of the NFL's most dominant squads.
Even with the top-ranked defense, Baltimore is going to have its hands full with Dallas' ridiculous rookie duo. Ezekiel Elliott is having an MVP-type season, while Dak Prescott is easily right behind him in the Offensive Rookie of the Year race.
It's not like the Ravens have much to offer on offense to keep up with the Cowboys on the scoreboard. Joe Flacco is the leader of the 24th-ranked offense and has had his fair share of struggles this year. He's only thrown more than one touchdown in two games this year—both against the 0-10 Browns.
Like many of the Cowboys' and Ravens' games this year, this one should be close. However, with Dallas' advantage in the firepower department, I think they take home the W when all is said and done. It's looking like the Cowboys are serious contenders. They'll be sitting pretty at 9-1 when Week 11 comes to a close.
Pick: Cowboys
Jacksonville Jaguars (2-7) at Detroit Lions (5-4)
It seems crazy, but the Lions are actually sitting atop the NFC North. The Vikings have crashed and burned since their 5-0 start, while the Packers have had their own struggles. Luckily, Week 11 provides an excellent opportunity for Detroit to keep themselves in that position.
The Jaguars have been a disaster this season, despite seemingly making significant progress this offseason. Blake Bortles can't keep the ball out of opponents' hands and the defense isn't doing enough to overcome the young quarterback's mistakes.
Meanwhile, the Lions have put together a strong showing this season led by their high-flying offense. Matthew Stafford is having another tremendous campaign and his band of receiving threats is carrying its weight. Even the running backs are contributing from time to time.
Although the Detroit defense has been subpar this season, they should have fun facing off against the turnover-prone Bortles. It's another step towards the Lions being the surprise winners of the division.
Pick: Lions
Tennessee Titans (5-5) at Indianapolis Colts (4-5)
Believe it or not, the Titans are actually looking like a team worth taking seriously heading into Week 11. They just put on an offensive onslaught against the Packers and now face off against a Colts team that has severely underwhelmed this season. I had a feeling the Titans would take a step forward this year and they haven't let me down. I'm hoping that'll continue to be the case with this pick.
Marcus Mariota, DeMarco Murray and the Tennessee offense are rolling right now. They're coming off a 47-point performance against what was a respectable Green Bay defense. Now, they head into another plus matchup against the Colts 30th-ranked defense. Not exactly an ideal situation for Indianapolis and its faint playoff hopes.
Obviously it's difficult to count out Andrew Luck, who has kept the Colts competitive this year. The team has just been unable to make plays when it matters most, which is why they currently have more notches in the loss column than in the win column.
In the end, I have to give the edge to the Titans. They're the hotter team right now and appear primed to make a late-season run at the divisional crown. A win against the Colts here would get them that much closer to supplanting the overrated Houston Texans.
Pick: Titans
Buffalo Bills (4-5) at Cincinnati Bengals (3-5-1)
Admittedly, this was a major toss-up for me. Both of these teams have been wildly inconsistent throughout the 2016 campaign. It's so difficult to really depend on one or the other to win on any given Sunday. Still, the purpose is to pick a winner. So I'm going with the Bengals for two particular reasons.
The first is that I believe their offense has more overall potential on gameday. Andy Dalton can be a star when he wants to and having guys like A.J Green and Tyler Eifert to throw to makes it that much easier. Cincinnati also has an exciting running back duo that can run rampant at times.
The second is that the Bills are currently nursing an abundance of injuries, as evidenced by their three-game losing streak. They looked primed for a pursuit of the postseason, but have been dealt too many difficult blows in recent weeks.
I was a firm believer that this Bengals team could make a run in 2016. While that hasn't quite been the case, the talent is still there for them to tally a few more wins before the year is over. One of those will come in Week 11 against Buffalo.
Pick: Bengals
Tampa Bay Buccaneers (4-5) at Kansas City Chiefs (7-2)
They may be one game away from .500, but this Buccaneers team is still a long ways away from being a contender. Apart from their Week 1 fluke win against the Falcons, their other three wins have come against teams with a combined six wins. That's not exactly something to brag about. Which is why I don't see them getting the job done against Kansas City in Week 11.
I mean, the Chiefs have been on fire as of late. They've strung together five consecutive wins and are currently sitting atop the AFC West. While you could also say most of their wins have come against subpar competition, they're doing it in more convincing fashion.
Alex Smith is back under center, and doing enough to keep this offense running smoothly. The return of Spencer Ware also helped and we all know how much of an impact Kansas City's opportunistic defense can have on Sundays.
Jameis Winston gives the Buccaneers a chance to win every week, but I just don't see it happening in Week 11. Against a Chiefs defense that excels at creating turnovers, look for the sophomore quarterback to stumble. For now, Kansas City maintains its lead in the NFL's best division.
Pick: Chiefs
Chicago Bears (2-7) at New York Giants (6-3)
At this moment, the Giants are riding a five-game winning streak. It's an impressive feat for the G-Men, who started off slow but have come on strong through the middle of the season. I mean, they had to in order to keep up with the suddenly competitive NFC East.
Meanwhile, the Bears have been a mess. Despite their offseason spending spree, they've failed to put together many competitive outings, often getting blown out by subpar competition. Chicago simply can't hang against teams that are any bit hot. As we've seen this season, the Bears are also awful on the road. They've lost all five games in which they've been the visitor in 2016. Why would that change against the Giants?
Eli Manning and Odell Beckham Jr. have the New York offense looking strong right now. The defense is also doing a great job of bending, but not breaking. Assuming they don't have a major meltdown on Sunday, that trend should continue against Chicago.
I'd like to think the Bears can keep it competitive. However, if they couldn't handle the Buccaneers in Week 10, there's no way they can steal a win from the Giants as the visitors.
Pick: Giants
Arizona Cardinals (4-4-1) at Minnesota Vikings (5-4)
I had the utmost faith in the Vikings heading into the regular season, but four-straight losses have obviously cooled me on Mike Zimmer's bunch. And with the way the Cardinals are playing, it's difficult to go against Arizona—even on the road.
The Vikings defense hasn't been the elite group it appeared to be at the start of the year. Slowing down a Cardinals offense that consists of weapons like Carson Palmer, Larry Fitzgerald and David Johnson certainly won't help them get back on track. If the Redskins can move the ball on the Minnesota defense, so can Arizona's offense.
Either way, it'll be an intriguing matchup.
Palmer and Co. can do some damage when they get going, as they currently boast the No. 8 offense. Even with the Vikings in possession of the No. 3 defense, we've seen them take significant steps back in recent weeks. However, you never can truly count out Sam Bradford—if the Vikings can find him some pass protection that is.
It'll be another hard-fought battle between two teams clinging to playoff dreams. Unfortunately for Minnesota, their patchwork offensive line will be too much to overcome  in Week 11.
Pick: Cardinals
Miami Dolphins (5-4) at Los Angeles Rams (4-5)
After four-straight wins, there's a lot to like about this Dolphins team. They're starting to get rolling as we move into the home stretch, and may even put themselves into position to make a run at the postseason. A win against Los Angeles will help in that endeavor, and that should be the end result in Week 11.
The Rams offense is an absolute mess right now. They've failed to score more than 10 points in their last three games and won in Week 10 off of three field goals. If it wasn't for the fact they were playing a New York Jets team led by quarterback making his first start, they'd likely be 3-6 right now.
While the Dolphins defense isn't exactly elite, they shouldn't have too much trouble keeping Case Keenum at bay. In fact, if they can force Philip Rivers into four interceptions, slowing Keenum should be a cakewalk.
With the aforementioned advantage on defense and Jay Ajayi doing the heavy lifting on offense, the Dolphins should keep the momentum rolling. It's safe to assume they'll be chalking up their fifth win in a row in Week 11.
Pick: Dolphins
New England Patriots (7-2) at San Francisco 49ers (1-8)
Let's be honest here—the Patriots starting offense could miss the team plane and they'd still probably win. The 49ers are such a bad team that there's no way a Bill Belichick-led squad can lose to them. Unfortunately for San Francisco, though, the New England starting offense will be there.
That means Tom Brady and Co. will be salivating at the possibility of playing this pitiful defense. Brady should move the ball through the air with ease and the running game should also shine. Players like Dion Lewis, LeGarrette Blount and James White should feast on the NFL's worst run defense.
Colin Kaepernick will make a few plays like usual, but he'll also make several mistakes. When all is said and done, the 49ers won't be able to muster anywhere near enough offense to keep up with the Patriots on the scoreboard.
You'll love this game if you're a New England fan. Otherwise, you'll be bored by halftime.
Pick: Patriots
Philadelphia Eagles (5-4) at Seattle Seahawks (6-2-1)
Okay, any skepticisim I had about the Seahawks has subsided. They got off to a rocky start this season, but proved they're ready to contender in Week 10 with an impressive win over the Patriots. It was a huge boost for their confidence as the playoff race heats up.
It also gives me more confidence in picking them against a bipolar Eagles team. We're never really sure what we're going to get from Philly on a weekly basis, as they look like contenders one week and a pushover the next. However, after defeating the Falcons in Week 10, they've got a little momentum going.
However, they are playing in Seattle on Sunday. Not only is it one of the best home-field advantages in the NFL, but the Eagles have been miserable on the road this year. It's like Carson Wentz just can't keep it together outside of Lincoln Financial Field—he's 1-4 away from the nest.
Plus, the Seahawks are playing terrific football right now. The defense is starting to look more like the Legion of Boom we've all come to know, and Russell Wilson is still doing remarkable things. Even the running game is doing some damage.
I'd guess the Eagles will keep this one relatively close. When it comes down to it, though, the opportunistic Seattle secondary will create enough turnovers to secure the win.
Pick: Seahawks
Green Bay Packers (4-5) at Washington Redskins (5-3-1)
Are the Redskins for real? I'm still not entirely sold. But they're doing their best to look the part as we venture into Week 11. A strong showing against the Packers will sway some doubters, though. I think that'll be the case, although it has as much to do with Washington's recent success as it does with the Packers' pitiful play as of late.
Green Bay is riding a three-game losing streak right now. It's gotten so bad that there are rumblings of head coach Mike McCarthy being replaced by season's end. The outlook isn't great for the Packers, a team that can't seem to get out of its own way.
Meanwhile, the Redskins are keeping pace in the NFC East and currently have a flimsy grasp on the NFC's final Wild Card spot. Kirk Cousins has bounced back from an ugly start to put D.C. in this position, and the emergence of undrafted running back Robert Kelley has certainly helped.
With a few big plays from Josh Norman and the Redskins defense, Washington should be able to get another key win at home. The Packers, on the other hand, might start looking towards an eventful offseason if Aaron Rodgers can't pull this one out.
Pick: Redskins
Houston Texans (6-3) at Oakland Raiders (7-2)
The Texans may be 6-3 right now, but it's about the ugliest trip to 6-3 I've seen in some time. The offense is inconsistent at best, and they continue to win against subpar opposition while getting crushed by contenders.
Unfortunately for Houston, that's exactly what the Raiders are—a contender.
Oakland has looked unstoppable this season and is currently riding a three-game winning streak. I have little doubt in my mind they'll extend that to four games with an overrated Texans team coming to town in Week 11.
Derek Carr shouldn't have too much trouble moving the ball against Houston's third-ranked pass defense. Even if he does, the Raiders' group of exciting young running backs should be able to move the ball all day on the ground. They'll likely even pitch in as receivers as well.
What really has me sold that Houston will lose is Brock Osweiler. Although he's had some good games this year, I don't think he's ready for what the Raiders are about to throw at him. They'll get pressure on him, force him into mistakes and walk away with a well-earned victory.
Pick: Raiders
This article originally appeared on