2016 NFL Picks, Predictions For Week 10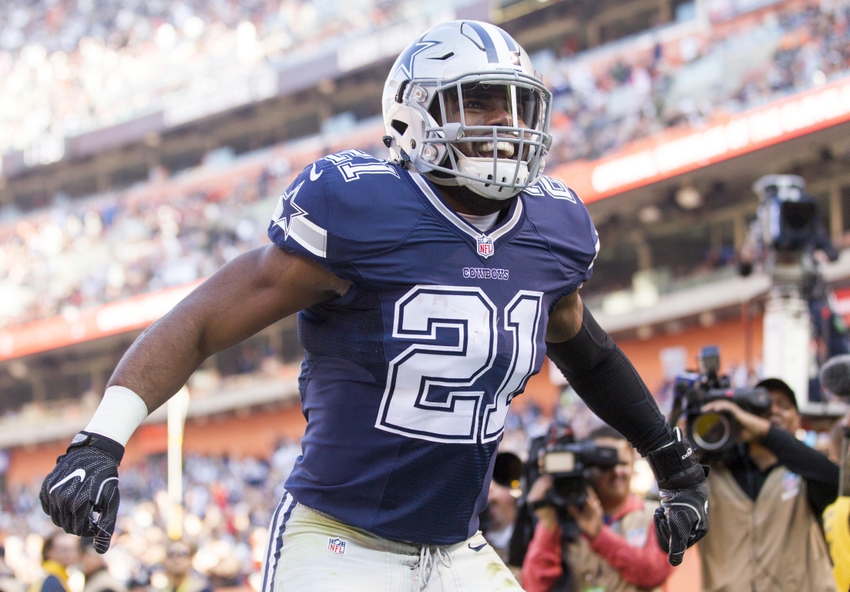 With 14 games scheduled for Week 10 of the 2016 campaign, here's the latest batch of NFL picks as the season continues to roll along at an alarming pace.
Week 10 is upon us, which means another round of NFL action to keep you entertained as we work our way into the winter months. With the season now halfway over, we're nearly to the part where true contenders emerge.
That makes picking these games all the more interesting. Realistically, any team can win at any time. Although the Cleveland Browns may find that hard to believe, it's always a real possibility that an upset can occur during any given game. That's just life in the NFL.
Despite that fact, we continue to try to predict the outcomes of these games.
Now, my performance hasn't been spotless this season. I'm coming off a Week 10 that saw me finish 8-5, improving my record to 74-57-2 on the year. It's not a record I'm entirely proud of, but it could absolutely be worse.
Either way, here are my NFL picks for Week 10. As always, I take no responsibility for your financial losses if you choose to follow my predictions.
Week 10 Byes: Buffalo Bills, Detroit Lions, Indianapolis Colts, Oakland Raiders
Cleveland Browns (0-9) at Baltimore Ravens (4-4)
Can the Browns do anything right at this point in the season? I feel like they have to win one eventually, but maybe not with what we've seen through nine games.
If they are going to get a notch in the win column in 2016, it won't be in Week 10. They face off against a Ravens team on a high after an impressive showing against another division rival in Week 9. Baltimore has faced their own fair share of struggles this season, but this one should be a cakewalk.
No matter who is starting under center, Cleveland just can't conjure enough offense to stay alive. It also doesn't help that they boast one of the NFL's worst defenses. Even with the addition of Jamie Collins, they were utterly overwhelmed by the Cowboys last weekend. That's not going to change against the Ravens.
The Browns are simply playing for pride at this point. The coaching staff is seeing what they have in their young prospects and players are likely just playing for stats and paydays. Baltimore gets an easy win at home with this cupcake matchup.
Pick: Ravens
Houston Texans (5-3) at Jacksonville Jaguars (2-6)
I'll admit I was a big believer in the Jaguars heading into Week 1. I was expecting a breakout campaign from Blake Bortles, and the new-look defense seemed like it was going to overwhelm the rest of the AFC South.
Obviously that was a huge swing and miss for me. Instead, Jacksonville has been a wreck this season. While the defense is showing well, Bortles can't get out of his own way and the running game hasn't given him much support. Realistically, it probably won't get any better before the regular season ends.
While I'm no fan of what Brock Osweiler's done for the Texans, there's no denying they're the better team at this moment. That's why they'll maintain their flimsy hold on the division in Week 10. It won't be because of Osweiler, though. More likely, it'll be the Houston defense that forces Bortles and Co. into too many mistakes to overcome. They are ranked second against the pass through Week 9, which shouldn't make life any easier on Bortles.
Jacksonville takes another step towards a Top 5 pick in the 2017 NFL Draft.
Pick: Texans
Denver Broncos (6-3) at New Orleans Saints (4-4)
Don't get me wrong—this Broncos team is perfectly capable of contending this season. Even with Trevor Siemian under center, there's enough talent on the roster to make a deep run this postseason. That, however, doesn't mean they can't drop a game against the Saints.
I mean, New Orleans does possess the No. 1 offense in the NFL. Drew Brees has been a sensation this season and the running game has even seen its fair share of success in recent weeks. So, what makes this ailing Denver defense think it can slow them down?
It's not like they were able to keep the Raiders in check in Week 9. Even when they managed to slow down Derek Carr, the Oakland ground game ran rampant. I wouldn't be surprised to see something similar happen at the Superdome.
Especially with the home crowd at their backs, the Saints have a great chance of pulling off the upset. Denver is still trying to figure out its identity moving forward and injuries are starting to pile up. It's looking like this could be the point in the year where the Broncos start to unravel. The Saints have kept their playoff hopes alive up to this point. A win in Week 10 will reaffirm that.
Pick: Saints
Los Angeles Rams (3-5) at New York Jets (3-6)
I don't like what I've seen from either of these teams through nine weeks. The Rams are a hot mess on offense and the Jets have been dragged down by miserable pass defense and too many turnovers. Unfortunately, I have to pick a winner. So I'm going with the Jets in this one. Why? Because I just can't count on this Rams offense right now.
Case Keenum continues to deriorate as the season rolls along and Todd Gurley can't get a block to save his life. The offensive line is in shambles, which isn't allowing the offense to provide any support to Los Angeles' exceptional defense. It's been a train wreck offensively for the Rams this season.
The Jets' situation on offense isn't a lot better, but it might be if Bryce Petty starts in place of the injured Ryan Fitzpatrick. With the veteran considered day-to-day with a sprained MCL (via ESPN's Rich Cimini), it's unclear if he'll get the start. Even if he is good to go, the Jets might opt to give the sophomore a shot under center. Either way, the New York defense should make enough plays to keep the Rams from scoring many points.
Pick: Jets
Atlanta Falcons (6-3) at Philadelphia Eagles (4-4)
At this point, it's really hard to pick against this Falcons team. Not only is their offense a juggernaut, but the defense continues to improve on a weekly basis. Believe it or not, this squad is one of the NFC's best heading into Week 10.
That won't bode well for the Eagles, a team that has been to endure some serious ebbs and flows in 2016. They look like a contender one week and a middle-of-the-road team the next. No matter which group we see against Atlanta, I don't think they have what it takes to secure the W.
Even though the Philadelphia defense has been solid this season, they have yet to face a foe like the Falcons. Matt Ryan is having an MVP-esque year and other stars like Julio Jones and Devonta Freeman are racking up the yards. It's been a dominant showing from the NFL's top scoring offense.
Meanwhile, rookie Carson Wentz has taken a step back after a hot start. The play of their wide receivers has been inconsistent at best, and the running game is unreliable. Even the defense has been up and down in 2016. Despite having home-field advantage, the Eagles aren't playing strong football right now. The Falcons, however, are, which will give them the edge on Sunday.
Pick: Falcons
Kansas City Chiefs (6-2) at Carolina Panthers (3-5)
It's a bit surprising how well this Kansas City team has played in 2016. Despite lacking an elite offense, they've done a great job of putting points on the board and keeping opposing offenses at bay. Their ballhawking secondary certainly helps.
Meanwhile, the Panthers are just trying to stay afloat in Week 10. Cam Newton has followed up his MVP season with an unimpressive campaign. Although he's still making plays, the offense continues to sputter at inopportune times. Carolina's stifling defense also took a huge step backwards, which should make life difficult against a sneaky Chiefs offense.
The return of Alex Smith and Spencer Ware should be the difference makers for Kansas City, though. The defense will makes it usual plays and create a turnover or two. However, with Smith finding ways to put the ball in Ware's hands, the Chiefs should be able to outscore Newton and Co with ease. It won't be pretty, but Kansas City should keep pace in the AFC West race with a win on Sunday.
Pick: Chiefs
Chicago Bears (2-6) at Tampa Bay Buccaneers (3-5)
Both of these teams have had their struggles in 2016, but one appears to be headed in a different direction than other. Yes, I'm talking about the Bears, a team that actually looked respectable two Mondays ago against the Vikings. The return of Jay Cutler and the emerge of Jordan Howard has this offense firing on all cylinders, and the defense has enough playmakers to stay competitive.
As for the Buccaneers, the outlook isn't so great. While I thought this would be a playoff-caliber team, the inconsistent play of Jameis Winston and a slew of injuries has them reeling as we move into Week 10.
What really has me leaning towards Chicago in this one is Tampa Bay's pitiful defense. They're currently sitting near the bottom of the league in terms of overall defense, giving up a whopping 29 points per game. How do they plan on slowing Cutler and Howard when the Vikings third-ranked defense couldn't do so?
I don't think either of these teams are contenders at this point, but a win for Chicago would keep things interesting in the suddenly close NFC North race.
Pick: Bears
Minnesota Vikings (5-3) at Washington Redskins (4-3-1)
These last three games have not been easy on the Vikings, who followed up a 5-0 start with three straight losses. Suddenly, their grip on the NFC North isn't so tight, especially with Norv Turner no longer on the staff. However, there's still plenty to like about this team.
Sam Bradford is still making plays and the defense is still making life difficult for opposing offenses. At some point in the very near future, Mike Zimmer is going to figure out how to fix the leaks and get this offense back on track. The possible return of Adrian Peterson would also help.
While the Redskins are also an exceptional team, they're coming off a bye week that followed a rough tie. This team has been rather inconsistent this year, and I believe this is going to be one of those off weeks.
Going up against the Vikings stout defense, Kirk Cousins and Co. should have a hard time keeping the ball moving down the field. He'll make some plays and the running game will get its yards, but Minnesota will come up with a key turnover to end the streak at three.
Pick: Vikings
Green Bay Packers (4-4) at Tennessee Titans (4-5)
I know—it's ridiculous, right? Could the Packers really lose to the Titans, who haven't done much to impress in 2016? Why yes, they could. Now that's not to discount this Green Bay team. Aaron Rodgers is still the quarterback and the defense is still an exceptional unit. However, as we've seen during the 2016 campaign, the Packers are no longer the elite team that once ruled the NFC North.
Instead, they've only won half of their games this year, which isn't much better than what Tennessee has accomplished. Green Bay is on the decline and I'm guessing it'll continue against a Titans team that is better on paper than they've shown on the field.
What really has me thinking the Titans could pull off the upset is their third-ranked running game. DeMarco Murray has been killing it all year long, while the Packers barely managed to contain Frank Gore in Week 10. Imagine the damage a younger, more talented Murray could do against Green Bay's defense.
As has been the case withmost of these teams' games this year, I'm guessing it'll come down to the wire. When the clock strikes zero, Tennessee will be ahead on the scoreboard.
Pick: Titans
Miami Dolphins (4-4) at San Diego Chargers (4-5)
Honestly, this one's a toss up for me. The Dolphins may be riding a three-game winning streak, but it's obvious they're not invincible based on their play in Week 9. And we never know what we're going to get from the wildly inconsistent Chargers. In Week 10, though, we should see the playoff-caliber San Diego squad that's pulled off some exciting wins this year.
Philip Rivers is more than capable of carving up Miami's secondary. Melvin Gordon could also have another career game, especially if players like Matt Forte and Bilal Powell can beat the Dolphins defensive front on a regular basis. Put simply, Miami is going to have a hard time keeping the Chargers offense in check.
The same, however, can be said for the San Diego defense. Jay Ajayi is one of the biggest breakout stars of 2016, and will be looking to put together another stellar performance in Week 10. The Chargers may be allowing only 85.3 rushing yards per game (fifth in the NFL), but they've also allowed a league-high 13 touchdowns on the ground.
I'm thinking this should be a high-scoring affair, with Miami and San Diego trading blows throughout the game. When the final whistle blows, though, Rivers and Co. should walk away victorious.
Pick: Chargers
San Francisco 49ers (1-7) at Arizona Cardinals (3-4-1)
I'm sorry, but there's no way the 49ers win this one. They currently boast the NFL's second-worst record, and have been absolutely awful on both sides of the football. So much for Chip Kelly coming in and saving this franchise.
At this moment, the 49ers are ranked dead last in defense. They've given up almost 50 rushing yards per game more than any other team, which is a bit mindboggling when you think about it. Even though they've kept  opponents' passing yards in check, the San Francisco defense has given up the fourth-most passing touchdowns this year.
I'll admit I've been disappointed with the Cardinals, but they're still twice the team the 49ers will ever be this year. The Arizona offense can get going when it wants to, and the defense just so happens to be ranked first in the NFL. I'd imagine San Francisco will score a touchdown or two and try to keep it close to start. But by halftime, the Cardinals should pull away.
Especially with the 49ers failing miserably to slow opposing rushers, I'm guessing it'll be a big game for David Johnson. Look for the sophomore running back to have a career day, elevating the Cardinals to 4-4-1 in the process.
Pick: Cardinals
Dallas Cowboys (7-1) at Pittsburgh Steelers (4-4)
I'm not sure what's going on with the Steelers, but it's not looking good. Even with their three offensive stars somewhat healthy, the offense has been sputtering. And it's not like the defense is doing enough to put them in the win column. Sunday's divisional defeat makes it three straight losses.
Meanwhile, the Cowboys are riding a seven-game winning streak and appear unstoppable. Dak Prescott is making plays a rookie shouldn't, and Ezekiel Elliott is right in the middle of the MVP conversation. The Dallas defense has also been a pleasant surprise, which has this team sitting pretty as we get deeper into the second half of the season.
That's why I've very confident the Cowboys will go into Pittsburgh and take care of business. It's not like what we saw from the Steelers in Week 9 should inspire much confidence. They were overwhelmed by an average Ravens team, and should be in for another disheartening loss in Week 10.
Pick: Cowboys
Seattle Seahawks (5-2-1) at New England Patriots (7-1)
I'm not going to lie—picking this game was not easy. It's very difficult to pick against the red-hot Patriots, especially with the way Tom Brady has been playing since his triumphant return. I mean, how do you go against the NFL's most talented team, right?
Well that's exactly what I'm doing in Week 10—and for good reason.
Despite all the noise about the Pats, the Seahawks defense is still a force to reckoned with. While they struggled to keep Tyrod Taylor at bay on Monday night, I have a feeling Richard Sherman and the rest of the Legion of Boom will step up in New England. They have to do just that with Brady lining up under center for the Patriots.
It also helps that the Seattle offense has suddenly found its footing. The re-emergence of Jimmy Graham did wonders against Buffalo, and the running game is somewhat respectable with Christine Michael handling the load. And then there's Russell Wilson, who never seems to run out of magic.
I know the Patriots are arguably the best team in football right now. However, they aren't bullet proof. Even with home-field advantage, I'm boldly predicting they'll drop the ball in Week 10 and put their first blemish on the books since Brady's return.
Pick: Seahawks
Cincinnati Bengals (3-4-1) at New York Giants (5-3)
I had such high hopes for the Bengals in 2016. They had the high-flying offense, the defensive playmakers and the quality coaching staff to at least make the playoffs. However, it's starting to look like that might not happen. It's not going to get any easier after they lose to the Giants in Week 10 either.
New York has been an impressive bunch this season, as the offense seems to have been invigorated by the head coaching change. Eli Manning is putting up impressive numbers, and Odell Beckham Jr. is killing it despite his immaturity. Oh, and the defense continues to create heaping piles of turnovers.
While Cincinnati boasts an exceptional offense, it's been a bit inconsistent this season. The real issue, though, is their defense, which can't seem to make plays when they're most needed. There's a reason the unit is currently ranked 25th in the league in yards allowed per game.
The Bengals will score some points and keep it interesting. However, when all is said and done, Manning and the Giants' offense will outscore them and improve to 6-3.
Pick: Giants
This article originally appeared on